The children are our future - that's just a cold, hard fact. But what about the present? Well, we have to account for that too. Children very much live in the present, so it's important you make today's vacation one they'll remember forever. And where better way to do that than in the beautiful city of Barcelona! It may not be a huge theme park dedicated to their every whim, but there's plenty for kids to do in Barcelona!
From fun education excursions to museums dedicated to fun (really), you'll be surprised at the amount of great stuff there is for you and your little one to experience! But with so much to see and so little time to see it, which are the best things to do with kids in Barcelona? Calm your weeping body, settle down, and focus. We've done all the heavy lifting and collated our list of the very best things to do with kids in Barcelona, so you don't have to. You are very welcome.
Including:
Underwater exploration
Historical city wanders
Landmark-laden bus tours
4D fun
The literal museum of fun
and more!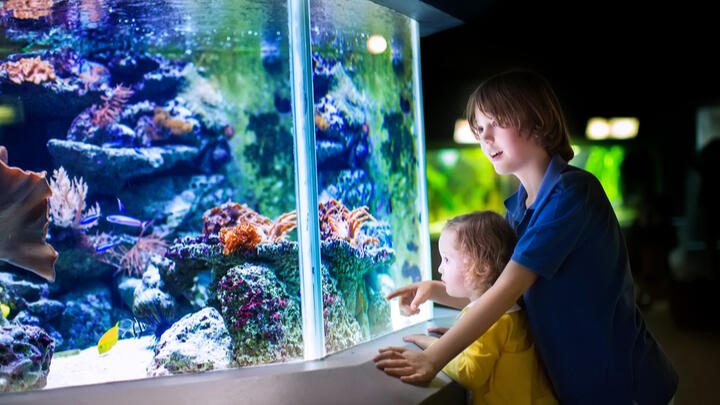 Most kids love animals, especially those of the exotic variety they only see on TV or read about in books. So why not make their fantasy a reality at the Barcelona Aquarium? 
There, they'll have the chance to meet more than 11,000 weird and wonderful underwater critters, pass through the fantastic underwater tunnel where they'll be surrounded by chill sea animals just hanging out, and see live feedings for some of the bigger, spookier sealife. 
They'll also explore 14 Mediterranean aquariums that contain all types of life found in Barcelona's seas. From seahorses to eels, sharks to rays, there's a world of wonderful wildlife down there for young minds to explore. Easily one of the best things to do in Barcelona with kids!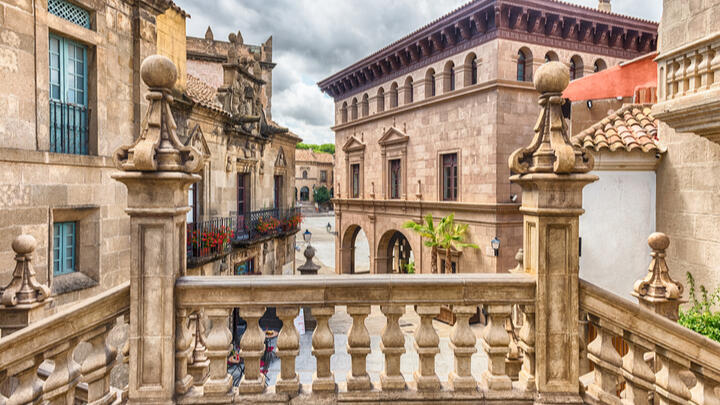 If your kid's the type to always ask questions about what life was like, or how people used to live, then this one should answer some of their questions. Poble Espanyol is a world within itself, an open-air architectural museum that recreates much of Barcelona throughout time. 
This results in 117 buildings, streets, and squares, faithfully recreated from history. You and the little one can gaze up at ancient houses on a residential street, or see a centuries-old monastery up close. Truly a city within the city, it's hard to describe what it is - you really have to see it for yourself. 
They also have expert craftsmen onsite that sell a variety of authentic knickknacks, as well as a whole gallery of art from some of the city's biggest artists. So why not pick something up for the little one to commemorate your visit?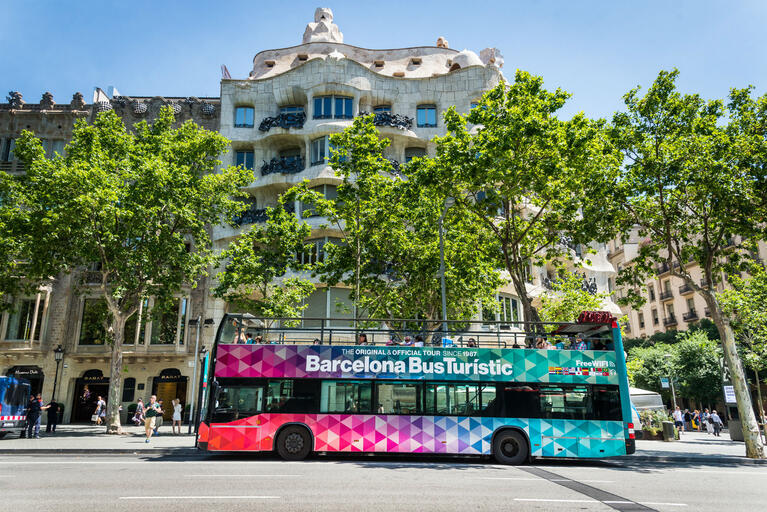 Barcelona is a city packed with history, outstanding landmarks, and bucket-list locations. And with so much to see, it can be tough fitting all of them around a kid-friendly schedule. So why take a hop-on, hop-off bus tour of Barcelona's greatest hits? 
For one day, you'll be able to board and get off any Bus Turístic service. That means you have complete freedom to see whatever you want, whenever you want. If your little one's eyes widen as soon as they set eyes on the Sagrada Familia, we wouldn't blame them. Simply hop off, explore the monumental building, and then hop on another bus to the next destination.
It's a great way to keep kids engaged without dragging them around every landmark until they're bored to tears. Don't worry, you can thank us later.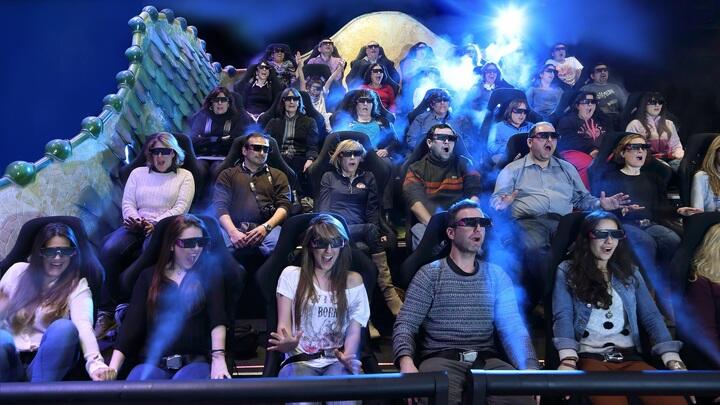 Gaudí's monumental gifts to the architectural world may stand on their own, but to a little mind, they may not be more than a passing interest. This is especially true when you consider the effect that surrealism and strangeness have had on the children's entertainment industry. Do you actually watch those kids' programs with them? They're weird. Really weird. So your little one may be desensitized to the magnificence of the Sagrada Familia or Park Güell in person. Which is a shame but, what are you going to do? 
Well, what you will do is take them on an interactive rollercoaster of an experience through Gaudí's work, thanks to Gaudí Experiència 4D! This state-of-the-art interpretation of the main man's masterworks involves moving cinema seats, water effects, and a high-budget thrill ride to transport you into the mind of Gaudí. You'll learn about what influenced his designs. They'll appreciate flying through the air and feeling the ocean breeze on their face. To each their own!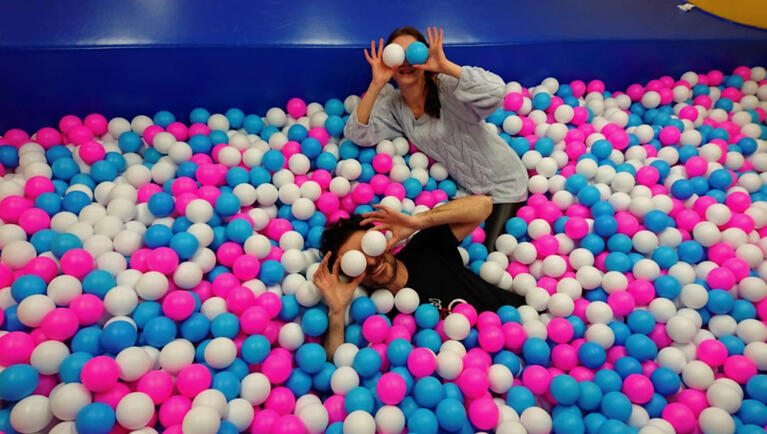 Next up is a two-for-one special. Two museums, two amazing kid-friendly experiences, and only one ticket required! Ladies and gentlemen, welcome to the Big Fun Museum.
This wonderful fun house will see you and your kids shrunk to the size of a bug as you explore a Giant's House. Featuring larger-than-life utensils, apparel, and furniture, you'll have a blast climbing in the giant's massive shoe with them, or tightrope-walking along his teaspoon.
Then, at the Museum of Illusions which is a part of the Big Fun Museum, they'll have their minds warped and their eyes deceived by some dastardly tricks of perspective. Featuring giant dinosaurs, huge chasms, and floating spaceships that feel like they're just a touch away, it's one of the best things to do in Barcelona with kids!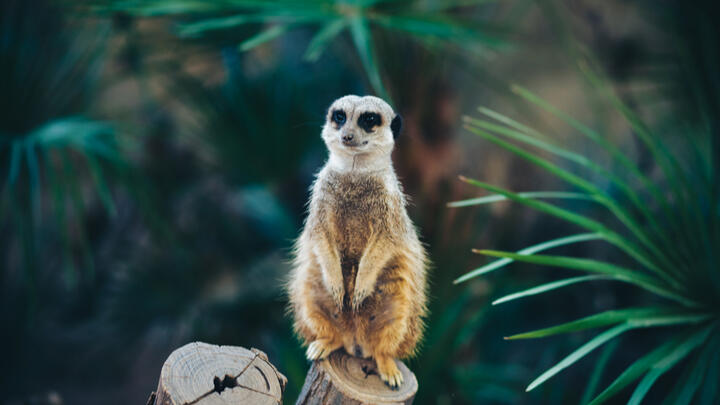 And finally, let's end this list with more kid-friendly animal fun at Barcelona Zoo! Your little one can go face-to-face with over 2000 animals who call it home. They'll find all their favorite animals within, from lions and tigers to giraffes and elephants. If they lean on the scaly side, make sure to visit the Reptile House so they can meet some weird and wonderful green critters.
Plus, there are plenty of hidden opportunities to learn there, thanks to talks from zookeepers, conservationists, and others who work there. There are even live feedings, if your little ones can handle the more grisly stuff!
And that's our list of the best things to do in Barcelona with kids!