While a city with such a huge footprint as Barcelona may be intimidating at first glance, it's more than possible to experience the highlights on a short whirlwind visit.
Whether you're hoping to take a weekend city break or simply to briefly pass through, 3 days in Barcelona gives you plenty of time to see the sights and sample the local cuisine. With our suggested itinerary below, you're guaranteed to see a great deal of what the Catalan capital has to offer.
Our itinerary includes a mix of sightseeing, museums and shopping. Feel free to take our suggestions as inspiration and mix-and-match them with the attractions and activities that most interest you. Use our recommended timings to help you decide how best to organize out your trip.
Day 1

–

Sightseeing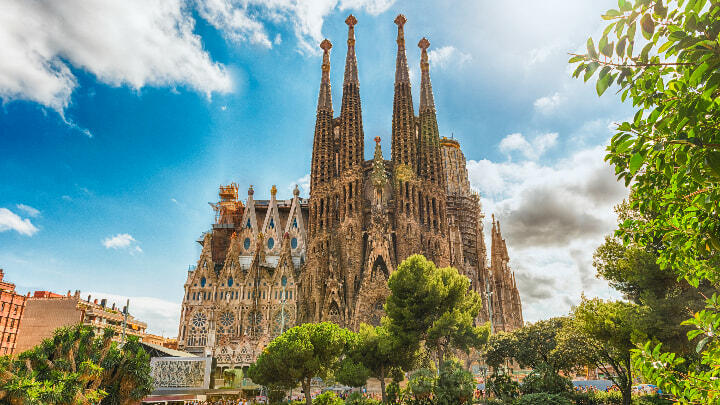 What better way to acquaint yourself with Barcelona than by packing your first day full of the city's best sights? As a city famous for its mix of gothic and modernist architecture along with the unique labyrinthine design of its streets, it's only fitting that you get a taste of these right away.
Park Güell – One of renowned modernist architect Antoni Gaudí's most famous works, this park is most well-known for its central Monumental Zone. From the mosaic salamander at its entrance to the sea serpent bench encircling the main terrace, this eccentric space is a perfect place to start your day.
Recommended visit: 1h – 2h
Sagrada Familia – The Belle of Barcelona's ball, this yet unfinished basilica is truly a sight to behold. Take some time to explore the rich architectural mastery of this UNESCO World Heritage Site on your own, or book onto a guided tour for a full insight into the site's artistic, cultural and historic significance.
Recommended visit: 1h – 1h30
Avinguda Diagonal – One of Barcelona's most popular and important streets, Avinguda Diagonal runs diagonally right through the city, cutting it in two. A vast array of stores and restaurants are dotted throughout the length of the avenue.
Recommended visit: 45m
Casa Milà – Also known as La Pedrera ('the stone quarry'), this modernist building was the final residence designed by renowned architect Antoni Gaudí. As per its nickname, it's most famous for its rough-hewn exterior façade, somewhat resembling an open stone quarry.
Recommended visit: 15m – 1h30
Casa Batlló, Casa Amatller and Casa Lleó i Morera – This trio of modernist buildings are widely considered the most important on Barcelona's famous Illa de la Discòrdia, or 'Block of Discord'. Showcasing the masterpieces of Barcelona's prominent modernist architects Antoni Gaudi, Josep Puig i Cadafalch and Lluís Domènech i Montaner, these buildings ooze eccentric design both inside and out.
Recommended visit: 15m – 2h
Plaça de Catalunya – Considered to be Barcelona's most central point and the meeting point of both the old and modern city, this square is a favorite for social gatherings thanks to its wealth of shopping outlets and restaurants.
Recommended visit: 15m – 2h
La Rambla – Perhaps the city's most famous street, La Rambla spans from Plaça de Catalunya all the way to the Columbus Monument on the seafront. You'll find a vast array of streetside cafés and souvenir stands across the length of the street.
Recommended visit : 30m – 2h
Mercat de la Boqueria – Often considered one of the best markets in the world, this historical market houses all sorts of fresh, local produce along with stands to get yourself a hearty lunch while on the go.
Recommended visit: 45m
Plaça Reial – Particularly popular in the evening, this square is home to a whole host of bars, restaurants and some of Barcelona's most famous nightclubs. Why not finish your day here with some fresh Catalan cuisine and a glass or two of the local region's renowned wines?
Recommended visit: As long as you want
Day 2 – History & Culture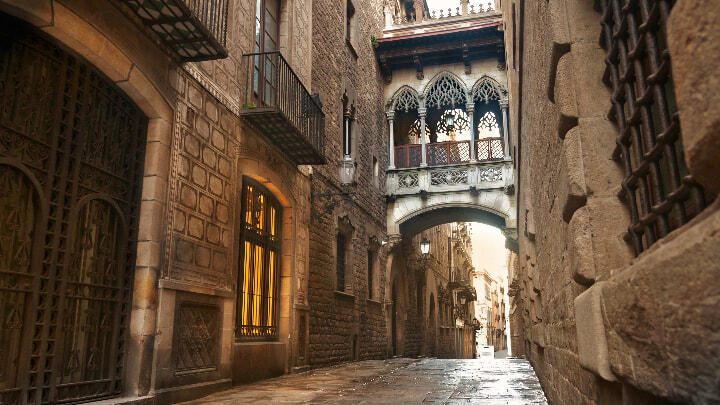 Your second day in Barcelona – should you choose to follow our itinerary – will take you on a cultural tour of the city and the local region. If art, history and music are up your alley, then the following are sure to give you a real kick.
Palau de la Musica Catalana – A true marvel of modernist architecture, this UNESCO World Heritage Site has been host to a magnificent array of musical performances since its opening in 1908. Bask in its colorful exterior from outside, book onto a guided tour of the venue, or even attend one of its legendary musical performances for yourself.
Recommended visit: 1h – 3h
Gothic Quarter – Barcelona's Gothic Quarter sits immediately north of La Rambla and houses a number of the city's best sights. It's worth spending a decent period of time here to explore everything its historic streets have to offer.
Some popular attractions within the Gothic Quarter include Barcelona Cathedral, the Museu Frederic Marès and the Museu d'Història de Barcelona.
Recommended visit: 3h – 5h
Museu Picasso – This museum possesses one of the world's most complete collections of Pablo Picasso's artworks, housing over 4,000 of the renowned painter's famous pieces
Recommended visit: 2h
Carrer de Sant Domenec del Call – Replete with charming bars, restaurants and cafés, this street at the heart of the Gothic quarter is a perfect rest stop to draw your day to a close.
Recommended visit: As long as you want
Day 3 – Montjuïc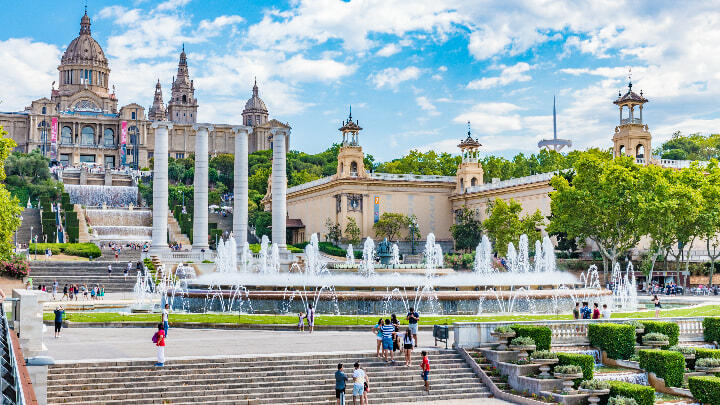 Day three of our itinerary will take you up Montjuïc, a prominent hill by the Barcelona harbor overlooking much of the city. The surrounding park is rich with popular attractions and cultural sites, such that it would be difficult to visit them all in just one day.
We've listed some of the most noteworthy sites atop and around Montjuïc. Feel free to pick and choose those which seem most worthwhile for your own visit.
Montjuïc Castle – On the peak of the hill sits Montjuïc Castle, a former military fortress dating back to the 17th Century. Offering both insights into the region's history and stellar views over the entire city, you can ride the cable car up here to start your day or set it as your end destination and make the climb yourself.
Recommended visit: 1h30
Museu d'Art de Catalunya – Housed within the impressive halls of the Palau Nacional, this museum exhibits one thousand years of visual art pieces from throughout the Catalonia region.
Recommended visit: 2h
Fundació Joan Miró – This modern art museum honors the works of local contemporary artist Joan Miró, offering rich insights into both his art and his life, alongside those of comparable artists of the 20th and 21st Centuries.
Recommended visit: 1h30
Olympic Ring – Host to the 1992 Olympic Games, this park now serves as a monument to the event and to Barcelona sports as a whole. Sporting fans can also spend some time at the on-site Olympic and Sports Museum.
Recommended visit: 2h
Poble Espanyol – Translated literally as the 'Spanish Village', this open-air architectural museum is made up of replica buildings from across the country and serves to emulate a genuine Spanish town. 
Complete with charming traditional stores, restaurants and cafés, the Poble Espanyol aims to provide you with a near-authentic experience of traditional Spanish life.
Recommended visit: 2h
Las Arenas de Barcelona – Built into a former bullfighting arena, this commercial center offers an impressive selection of stores and restaurants, along with 360-degree views of Barcelona from the rooftop.
Recommended visit: 2h30
Magic Fountain of Montjuïc – Located at the base of Montjuïc, the Magic Fountain is most renowned for its spectacular light shows in the evening. See out your tour of Barcelona's highlights in style by catching one of its famed displays for yourself.
Recommended visit: As long as you want
Getting Around
Our recommended attractions are listed in such an order to allow you to easily walk from one to the other, though most are also within short walking distance of transport hubs should you prefer to take public transport. Alternatively, a Bus Turístic will also allow you to hop on and off along a similar route while offering an audio commentary of the sights along the way.