The city of Barcelona as a whole is humungous. With a footprint of almost 40 square miles, the heart of Catalonia serves as the fifth most populous city in Europe, close behind Paris, Madrid and Milan. Add to that the fact that the city sees roughly 20 times its population visit each year
With millions of annual tourists all trying to see everything that Barcelona has to offer in an often fairly short time span, an efficient and reliable transport system is vital. Fortunately, the city has a plethora of fantastic transport solutions to make getting around Barcelona a breeze.
Metro & FGC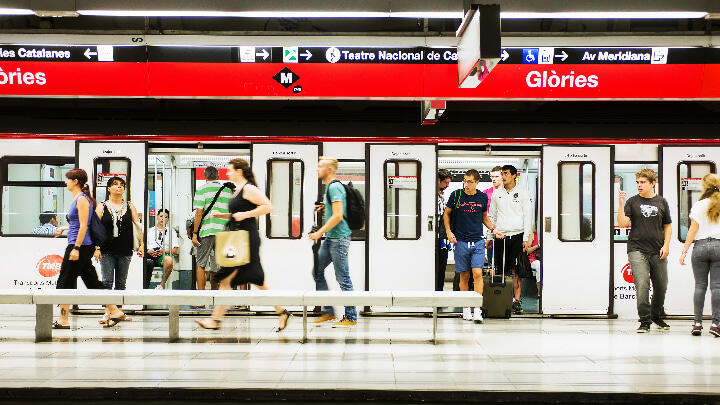 For the most part, getting around Barcelona is as simple as hopping on one of the city's eight metro and four railway lines. Easily identified and often referred to by their respective colors, each line typically connects the city center with a separate suburb.
While these lines may be operated by two different services, namely TMB (Transports Metropolitans de Barcelona) and FGC (Ferrocarrils de la Generalitat de Catalunya) they effectively offer one collective transport system.
You'll find metro stops dotted all over the city for your convenience, connecting you to just about anywhere you want to go. Whether it be as central as the Sagrada Familia and Park Güell or as far out as the airport, there's just about always a station on hand to get you from A to B in a flash.
Operating Times*
Monday – Thursday: 5AM – Midnight
Friday: 5AM – 2AM
Saturday: Continuous Service
Sunday and Public Holidays: 5AM – Midnight
Trams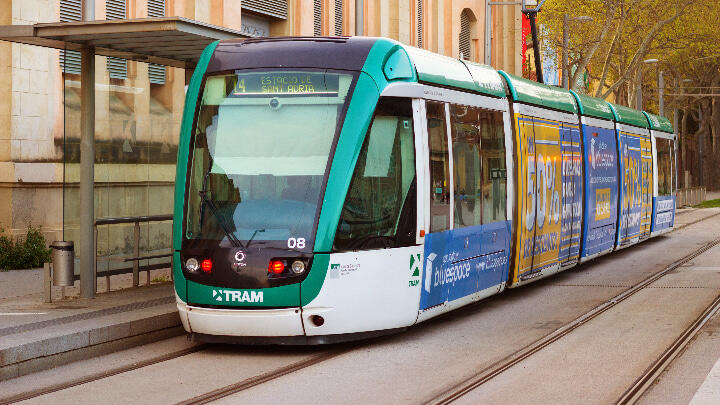 The Barcelona tram system is the overground counterpart to the metro's underground service. While the metro serves to transport you around the city center and central suburbs, the tram offers two major lines to take you to the city's major shopping areas and residential zones.
Operating Times*
Monday – Thursday: 5AM – Midnight
Friday – Saturday: 5AM – 2AM
Sunday and Public Holidays: 5AM – Midnight
Buses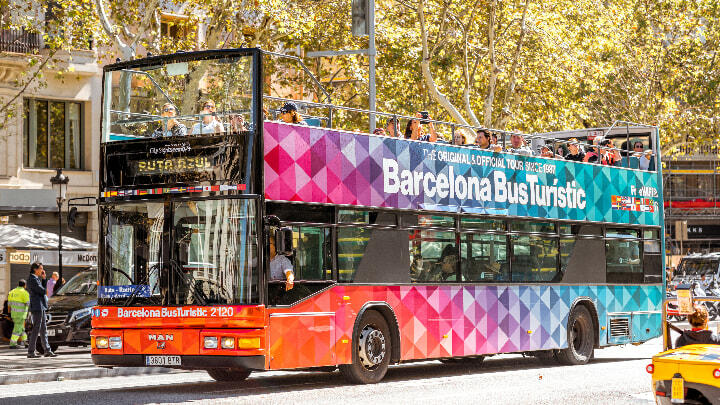 Should the metro, railway and tram systems not be quite sufficient for your trip, the city's fleet of over 1000 buses should be able to pick up the slack. One of the most environmentally friendly in Europe, the Barcelona bus system offers a plethora of routes to help you get around.
Operating times will differ according to the route, but the vast majority of services will suit the schedule of most tourists. You can expect most routes to begin operating somewhere between 5AM and 8AM and end between 10PM and 11PM.
Alternatively, you could also take a Bus Turístic for a more scenic journey around the city. This hop-on, hop-off service offers three different routes to show you the best sights that Barcelona has to offer alongside audio commentary of their history in 16 different languages.
Montjuïc Funicular & Cable Car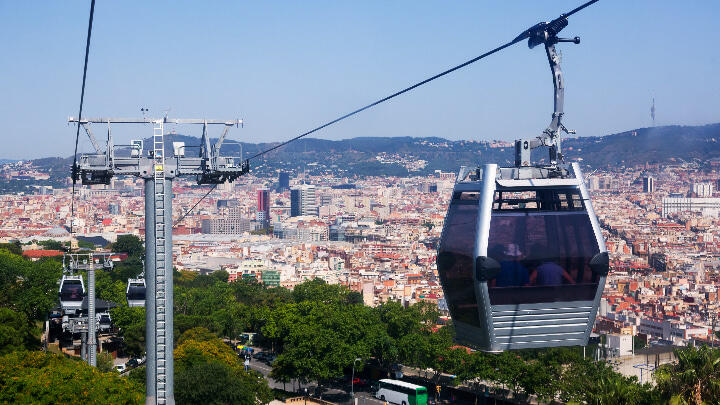 Montjuïc Mountain is home to many of Barcelona's best attractions, and it's likely you'll want to fit it into your itinerary. The Montjuïc Funicular is integrated into the Paral.lel metro station, accessible from the L2 (Purple) and L3 (Green) lines. From there, the funicular will take you straight up to the foot of the hill.
At that point, you'll immediately find yourself at the Montjuïc Cable Car which, alongside offering you spectacular panoramic views of the city, will then take you to the top of the mountain by the Castell de Montjuïc. Alternatively, you can also take a walk through Parc de Montjuïc yourself and make your own way up the mountain.
Operating Times*
January – February: 11AM – 6PM
March – May: 11AM – 6:30PM
June - September: 11AM – 7PM
October: 11AM – 6:30PM
November – December: 11AM – 6:30PM
Tickets and Passes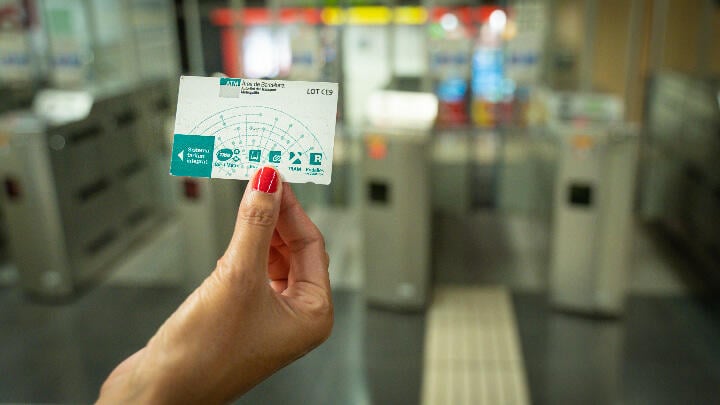 Public transport throughout Barcelona all works on one integrated ticketing system. Tickets can be bought either online or from any station, which you should then validate as you take your chosen method of transport. You then have 1 hour and 15 minutes from the point of validation to make any further connections.
Aside from single-journey tickets, there are multiple different passes you can purchase depending on your travel style, how long you're staying for and how often to plan to use public transport. Some of the most common passes include:
T-Casual Card: 10 individual journeys
T-Usual Card: Unlimited journeys for 30 days
T-Familiar Card: 8 individual journeys for 30 days (multi-user)
T-Grup Card: 70 journeys for 30 days (multi-user)
T-Jove Card: Unlimited journeys for under-25s for 90 days
T-16 Card: Unlimited free travel for under-16s
Taxis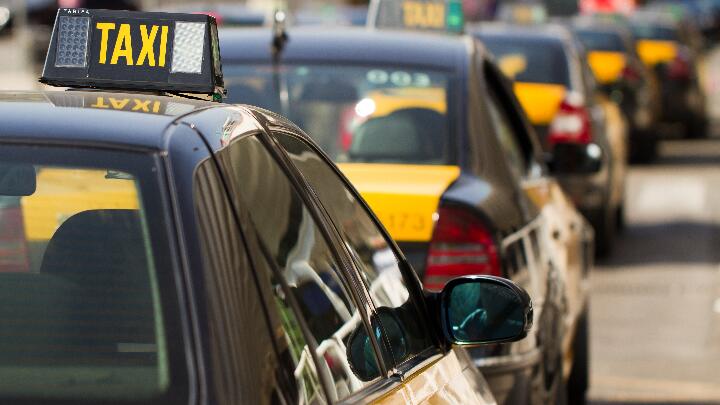 If you're looking for a more direct transfer, Barcelona has a vast fleet of taxis ready to get you where you need to be. Easily noticeable by their yellow and black design, taxis in Barcelona operate much like in any other destination.
Taxis with their green rooftop lights illuminated can be flagged down at the side of the road, or you can simply call up your preferred firm to make a specific booking. Note that journeys to or from the airport, transport hubs or cruise terminals will incur supplementary charges, as will late-night callouts.
E-Vehicles & Rentals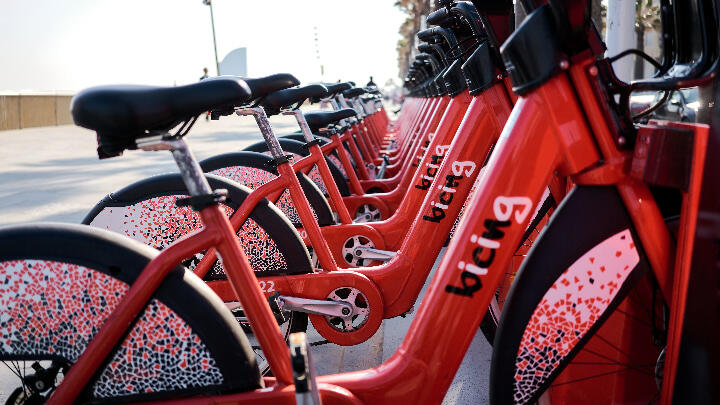 As with many major cities in Europe, vehicles such as electric scooters and e-bikes are becoming more and more popular as a means for getting around Barcelona. You can often find branded vehicles at various charging points or parking spots around the city, which you can typically rent via its proprietary app.
Many vehicle rental stores also offer electric vehicles alongside their usual range of rentals that you can choose to borrow for a period of time. Terms and rates will vary depending on the provider, but many typically offer hourly, daily and weekly rates.
Be sure to read up on local laws and restrictions pertaining to the use of electric scooters and e-bikes before you choose to rent one of these vehicles for yourself. The rules for their use may change over time and may differ significantly from other destinations.
* Subject to change. Exact operating times may differ on specific days. We recommend you always check the official times with the service providers.