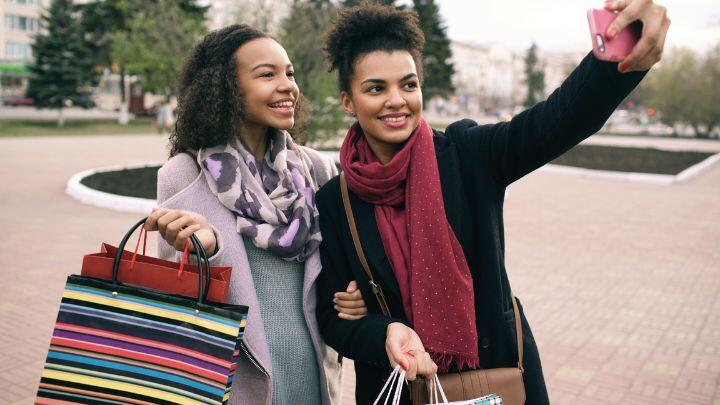 Sights, sunshine… whilst there's no shortage of reasons to visit the cosmopolitan capital of Catalonia, shopping in Barcelona is pretty high on the list. As well as being home to some of the best markets in Europe, the city boasts one of the biggest open-air shopping routes. The Barcelona Shopping Line covers five whole kilometers of retail paradise, winding from Port Vell to uptown Diagonal, along La Rambla, through the historic centre and into the Eixample district. So whether you're a determined shopaholic, a savvy souvenir hunter or simply browsing in between gazing at Gaudi's architectural masterpieces, you might want to save some room in your suitcase. From bijou boutiques to big name brands, discount designer-wear to the locals' favourite deli, let us help you pack your bags…with bargains!
Best markets in Barcelona
Barcelona's markets are famous the world over with food, fruit and vegetables, art, books and bric-a-brac piled high for your delight. Why not join the Ancient Markets Walking Tour to  drop in on a few of them, whilst exploring the ancient streets of the Barrio Gótico (Gothic Quarter)?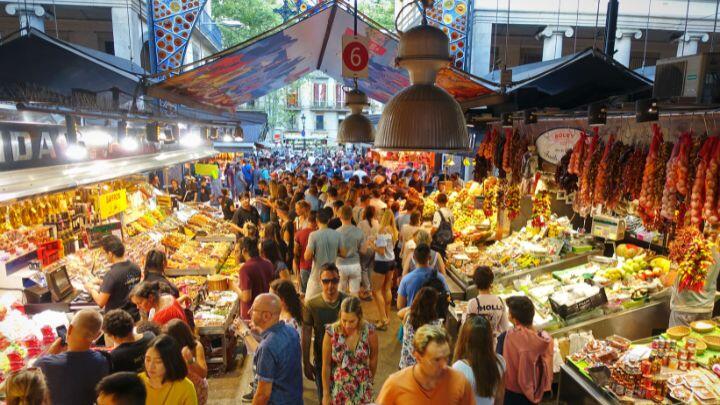 Mercat de la Boqueria 
Barcelona's famous market, La Boqueria, is a must-do destination for visitors. Enter through its distinctive Art Deco arch from La Rambla and your senses go into overdrive. Crowds of locals and tourists jostle amid rainbow fruit and vegetable displays, brightly coloured smoothies, open-mouthed fish, zingy spices and mountains of meat, cheese, chocolate and much more. Once you've selected your savoury souvenirs - or picked up perfect picnic ingredients - perhaps you'll pause at one of the food trucks for a churro dipped in hot chocolate or a chilled glass of Cava?
Mercat de Sant Antoni
Over in the Eixample District, outside stalls sell clothes and homewares whilst, housed in an impressive steel structure that spans an entire block, you'll find more tempting displays of fresh fruit, veg, meat and seafood. On Sundays the market transforms into a magnet for memorabilia collectors - second-hand books, stamps, coins, comics and magazines are all on offer, alongside vintage clothing, handmade homewares and hand-crafted jewellery.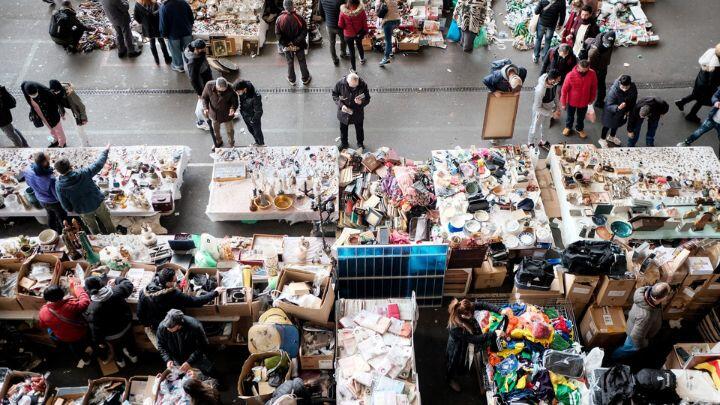 Mercat dels Encants
Meanwhile, at Barcelona's famous flea market, remember that one person's trash is another's treasure! Amid the random rubbish keep your eyes peeled for gems amongst the second hand clothes, books and especially furniture. This chaotic temple of sustainability is open Mondays, Wednesdays, Fridays and Saturdays. Get there early for the best bargains at the 8am auctions, then pop back at midday when unsold items are reduced!
Mercadillo de la Plaça de Sant Josep
If you're in the market (see what we did there) for some art to remind you of the beauty of Barcelona, this small but perfectly formed market is made up of Catalan artists, their easels nestled in the shadow of the church. From watercolours to oils, their work covers every style and medium - and sometimes they are joined by musicians or fortune-tellers to add to the boho vibe. Go see.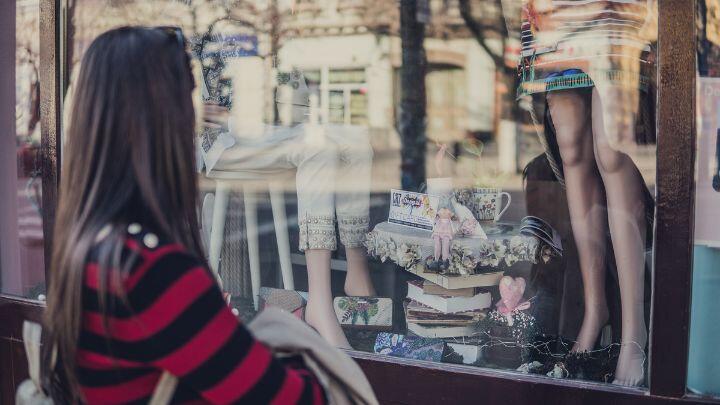 Best shopping streets in Barcelona
Of course, if sifting through stalls is not your scene there are many, many stupendous stores! But where to start? Here's a retail rundown of some of Barcelona's best shopping areas for high street names, designer boutiques and more besides.
Plaza de Catalunya is not only the city's main square and meeting point but a buzzy retail hub. Just off the square, Calle Pelai is packed with fashion stores, whilst a giant neon thermometer hanging over Portal del Angel shows you it's a shopping hot-spot for European fashion chains including Zara, Pull & Bear, Benetton, H&M and Berska. Look out for quirky independent stores too - and delicious snacks including turrón (a kind of nougat) and artisan ice-cream.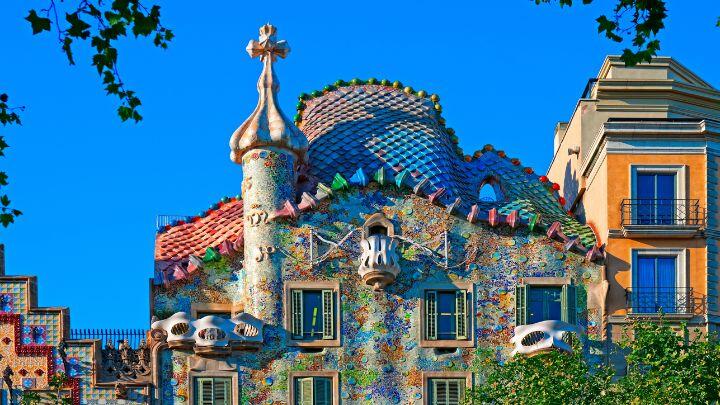 Paseo de Gràcia (Passeig de Gràcia in Catalan) is one of Barcelona's most elegant promenades, home to both designer stores and high street names, as well as distinctive Art Nouveau buildings including Antoni Gaudi's visionary Casa Batlló and Casa Milà. 
Running parallel, the equally lively Rambla de Catalunya is also packed with high end stores - not only clothes but beauty products, electronics and unique furniture. Both streets run into Avenida Diagonal, the place to be for international luxury brands including Calvin Klein, Armani, Versace and Gucci.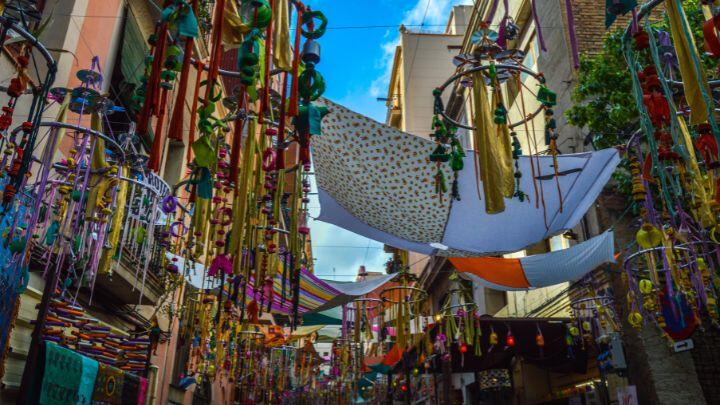 To the south of La Rambla, the Raval district is popular with those seeking alternative shops. Vintage lovers should head to Calle Riera Baixia and look out for ethnic, Goth and handmade clothes on Calle Tallers. Nearby Sant Antoni sees less tourists but boasts some of the best book shops in Barcelona.
For the best boho vibe however, head to the oldest parts of the city. The narrow winding streets of El Born and the Barrio Gòtic are packed with not only upmarket stores but independent shops selling antiques, books, handmade clothes, hats, cutlery and gifts galore.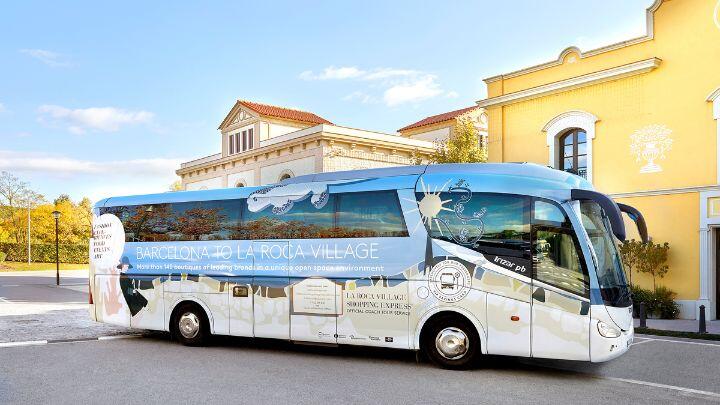 Best for designer bargains
Barcelona is full of big name brands but to bag some at a fraction of the usual price you'll need to hop on the bus to La Roca Village, part of the same outlet group as London's famous Bicester Village. This fantastic designer mall, just 30 minutes from the centre, is designed to look like a Spanish town centre, with Gaudi-style mosaics and colourful plants but savvy shoppers come for the discounts not the decor, enjoying savings of up 60% off usual retail prices. Grab your credit card and run amok in almost one thousand boutique stores featuring Spanish fashion and luxury brands like Desigual, Loewe and Balenciaga - and international names including Prada, Burberry, Gucci and Jimmy Choo.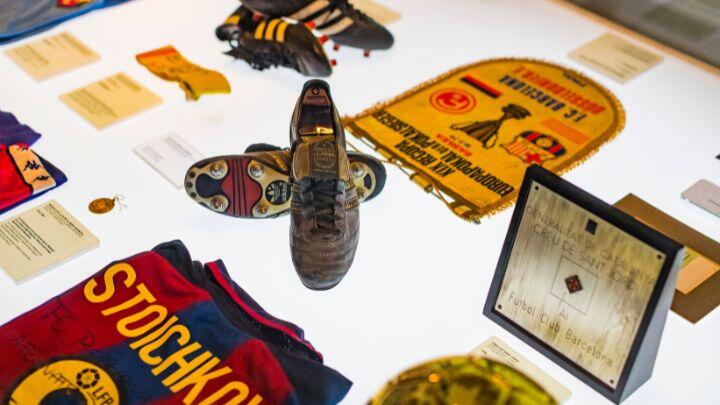 Best shops for souvenirs
FC Botiga
Since FC Barcelona is one of the world's biggest football teams, fans won't want to miss their chance to pick up memorabilia featuring the famous red and blue colours.
Take the tour at Camp Nou, Europe's largest football stadium, then visit the FC Botiga Megastore to pick up and personalize some team kit. You'll find three whole floors crammed with Barcelona football shirts, scarves, hats, balls, boots and signed team photos. There are several more official FC Barcelona stores around the city, including in Barri Gòtic and Eixample. See what you can score.
La Capell
Part of the Collegi de Arquitectes in the Gothic Quarter and originally opened as a bookstore dedicated to architecture and art, this is now a fabulous three-storey gift store of uniquely designed souvenirs from Barcelona. The mural outside was designed by Picasso and the gadgets, toys, jewellery, stationery, furniture, homeware and gourmet gifts inside are equally original.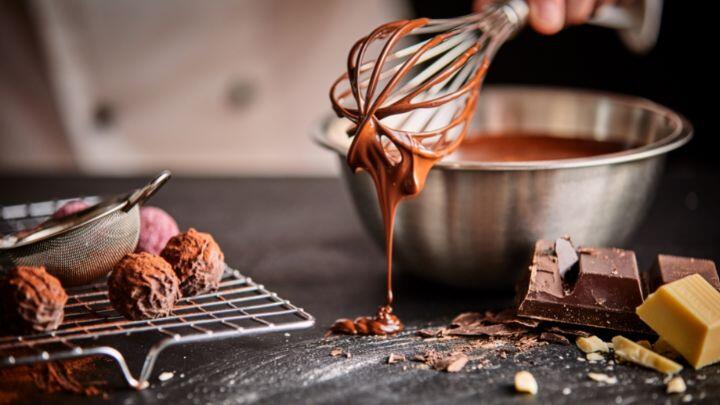 Best for chocolate lovers
From handcrafted bon bons to hot chocolate to churros and even a chocolate museum, Barcelona is heaven for chocolate lovers. Pasteleria Escriba is one of the most famous chocolate shops in Barcelona. Its flagship store in the Antigua Casa Figueras has been open on La Rambla since 1906 and its edible murals, chocolate sculptures and spectacular displays are as intricate and popular as the building's unique facade.
Xocoa
For a more contemporary take on chocolate follow your nose to over 15 Xocoa boutiques around the city. At Petritxol Xocoa, the original store in the old city, you'll find a cafe, bakery and endless irresistible creations presented in super chic packaging. Look out for chocolate beauty products, exotically flavoured chocolate bars including orange, rosemary, Jamaican pepper and green tea and, even better, chocolate beer!
Best department store
If you still don't know where to find what you're looking for, make tracks for El Cortes Inglés; after all it's hard to miss the huge brutalist concrete building looming over the Plaça de Catalunya. It's much prettier inside though, with 9 endless floors of…well everything you can think of… from fashion to furniture, kitchenware to a cosmetics floor to die for. You'll either find just what you need or, should you be overwhelmed by the sheer scale of availability, maybe just take the lift to the top floor, enjoy the view of the square and plan where you'll go next - with Go City.