The sightseeing in Boston is some of the best in the country. With a rich and fascinating history, the city seamlessly mixes the old with the new in its architecture, attractions and more. Some of the best places to check out include Faneuil Hall, the Charles River Esplanade and the Boston Commons, but there are also many exciting tours and attractions to check out, too. There's so much to see and do in Boston that sometimes it's best to get a little guidance from professional tour guides. Organized tours are some of the best ways to experience Boston. We put together a list of the best Boston sightseeing tours in the city to help you choose one tailored to your interests.
Save on Popular Boston Sightseeing Tours & More
Admission to a bunch of these attractions are included on the Go Boston® Card. Choose as you go from dozens of top attractions and save up to 55% on combined admission vs paying at the gate. See all available Boston passes, attractions & prices. A few of the available sightseeing activities include…
Boston Duck Tour
Hop On Hop Off Trolley
Freedom Trail Walking Tour
Fenway Park Tour
and more!
Boston Duck Tour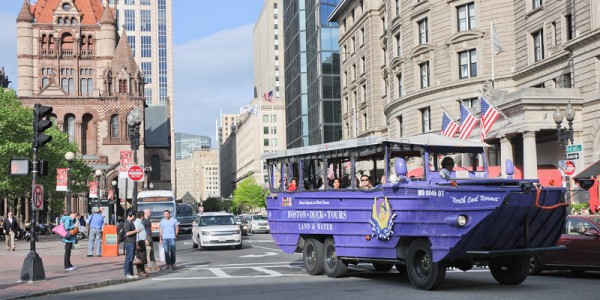 A Boston must-see experience itself, the famous Boston Duck Tours are one part sightseeing tour and one part attraction in itself. Climb aboard one of these amphibious World War II-style vehicle and get ready for an enlightening and enjoyable tour of BOston, led by your equally colorful "conducktour." Before you visit, check out our tips for taking a Boston Duck Tours to make the most of your experience. As you ride through the city streets, you'll learn little-known facts about Boston's history and tour through various neighborhoods and boroughs. The tour will take you on a guided ride across both on land and in water with their amphibious vehicles and you'll see top tourist locations, including the Trinity Church, the Hancock Tower, the Boston Common, the Holocaust Memorial, the Boston Public Garden, the "Cheers" bar, and more. Finally, you'll splash into the Charles River for a relaxing boat ride to end the tour. Getting In: Boston Duck Tour tickets are available as an option of 3, 5, and 7-Day Go Boston Cards.
Hop On Hop Off Boston Trolley Sightseeing Tour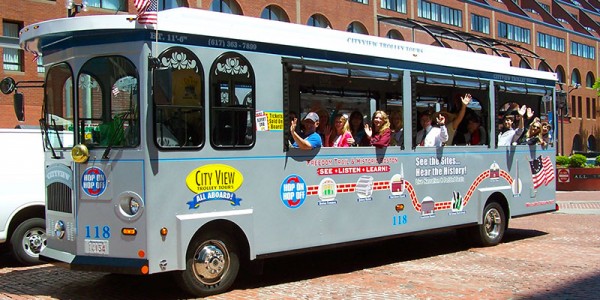 This 90-minute tour is one of the best ways to start your trip to Boston. You'll get guided narration the whole time and check off 125 famous and historical sites with 9 included stops you're free to hop off or on at and explore an area by foot. With the Go Boston Card, your ticket is valid for 2 whole days, giving you the flexibility to really explore the stops. Stops along the tour route:
The New England Aquarium/ Shuttle & Ferry/ Quincy Market/ Faneuil Hall
Paul Revere House/ Little Italy
North End/ Old North Church
USS Constitution "Old Ironsides"
North Station/ TD Bank Garden Sports Museum
Old State House / Faneuil Hall/ Boston Massacre Site/ Government Center
Boston Common/ Public Garden
State House/ Beacon Hill
South Station/ Convention Center/ Children's Museum
Getting In: Hop On Hop Off Boston Trolley Sightseeing Tours are included on the Go Boston Card.
Freedom Trail® Walk Into History Tour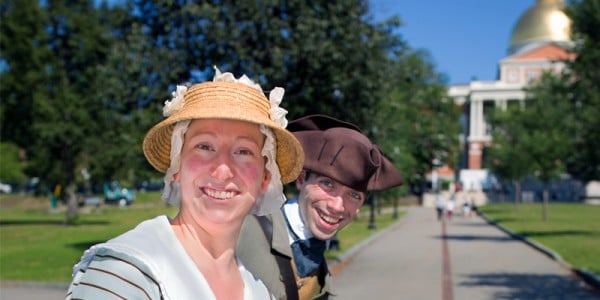 The Freedom Trail is one of the very first historical walking tours in the world. So lace up your walking shoes and join a guided tour of the historic 2.5 mile trail. A guided tour of the iconic Freedom Trail is one of the best ways to see all the sights along the way and learn about the historical significance of each one. Your tour begins in the Boston Common right near the Public Gardens and includes more than 15 historically significant sights and markers that feature information about the American Revolution and historical context at each stop. Insider Tip: be sure to download a helpful map and list of the stops. Getting In: Freedom Trail Walking Tour tickets are included on the Go Boston Card.
Fenway Park Tour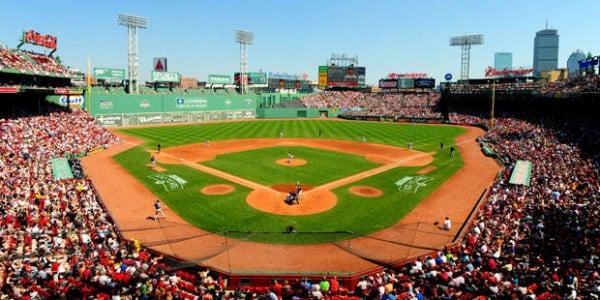 You would be missing out on a major piece of experiencing Boston if you didn't enjoy a tour of Fenway Park - "America's Most Beloved Ballpark". Since 1912, Fenway Park has been the home of many of Major League Baseball's historic and iconic moments. Did you know that it's one of the few ballparks in the country to still use a manual scoreboard. Getting In: Fenway Park Tour tickets are included on the Go Boston Card.
Harvard Walking Tour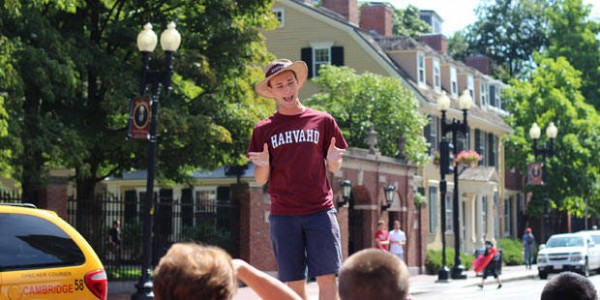 The 70-minute "theatrical Harvard experience," the Hahvahd Tour, is the most popular tour of Harvard University. You'll enjoy a one-of-a-kind entertaining journey through Harvard University's campus and learn about the institution from the perspective of current Harvard students. Packed with information and lots of laughs, the Hahvahd Tour ensures you'll leave the school with a new appreciate for it. Getting In: Harvard Walking Tour tickets are included on the Go Boston Card.
Boston Bike Rental by Urban AdvenTours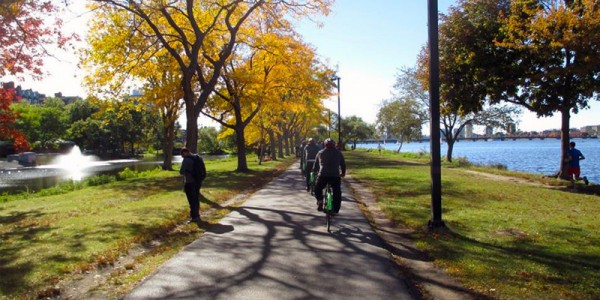 Biking is a part of Boston culture and an exciting way to explore Boston and get to know the city. There are lots of places to bike around Boston and most of the streets even feature a designated biking lane, so you can ride safely among traffic. Head to Urban AdvenTours to get a rental for the day and set out on your own. Urban AvenTours will provide you with a bike lock, helmet, and a map of the popular Boston bike routes. One of the most popular bike routes is a 3-mile stretch that runs along the Charles River called The Esplanade, just ask for directions when you pick up your rental. Getting In: a 1-day Boston Bike Rental is included on the Go Boston Card. Want a little guidance while you ride? Upgrade your rental to a guided tour of your choice: Boston City View Tour, Tour de Cambridge, Tour de Boston, or the Fall Foliage Tour for an additional $35.00 (payable directly to Urban AdvenTours).
Skywalk Observatory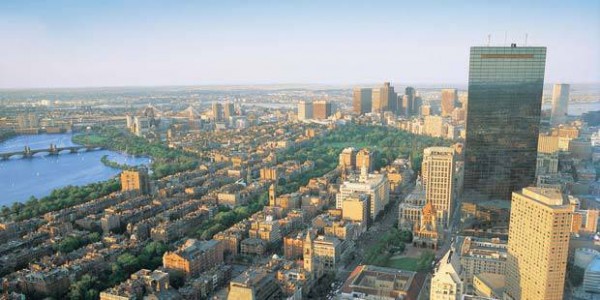 Located inside the Prudential Center, Boston's Skywalk Observatory is the best place to get a bird's eye view of the city, day or night. You can grab an Acoustiguide audio tour to learn about different historically and culturally significant places or just take in the views on your own. Skywalk also has an immigration museum and a multi-media movie theater to experience the best places in the city up close. If you feel like having a five-star meal following your tour, the Top of the Hub restaurant is the perfect place to do so. The delectable meals at the Hub are some of the best in the entire city, and you'll get to enjoy the gorgeous views of Boston while you dine. Getting In: Skywalk Observatory tickets are included on the Go Boston Card.
Remember to Save on Sightseeing Admission
So there you have it. Our list of some of the best Boston sightseeing tours and other fun ways to explore this super fun city. Remember, many (if not all) of these options are included on the Go Boston Card, where you can save up to 55% on combined admission vs paying at the gate. We hope you plan to add a few of these fun touring options to your vacation itinerary.