One of the oldest European settlements in North America, but no enemy of the contemporary, visits to the Massachusetts state capital marry revolutionary history with a great mix of modern sights.
Not even wintry New England weather forecasts can dampen the gaiety of Boston in December. The chance of snowfall and its open-air ice rinks makes it one of the most festive destinations this side of Santa's workshop at the North Pole.
A great alternative to the crowded sidewalks of New York, Boston has no end of charm leading up to the festive and New Year celebrations. Not convinced December is a good time to visit Boston? Check out all the things to do in Boston in December right here.
Check out the historic harbor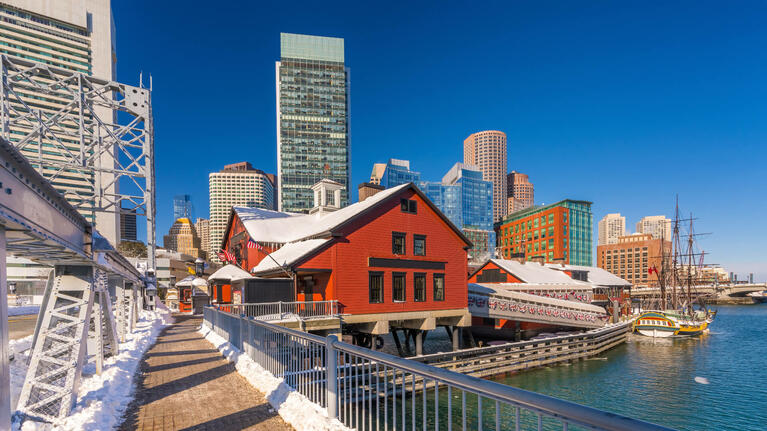 If you're looking for the heart and soul of Boston, you'll want to turn your attention to its expansive harborside. Etched with creeks, rivers and wharves, its waters were the ignition point for the American Revolutionary War when protestors poured an entire shipment of tea into it – an extraordinary insult to any Englishman. Reenactments take place at Old South Meeting House on December 16.
A different view of harbor life can be had at Boston's New England Aquarium on Central Wharf. Spanning the globe's seas and oceans, it's home to a fascinating variety of life usually hidden beneath the waves, be that the sharks, turtles and corals of the magnificent 760,000 liter Caribbean habitat or the octopus of the Pacific Northwest tanks.
Cross by the artworks dotting Rose Kennedy Greenway and you're just a couple of streets away from Faneuil Hall Marketplace. A shopping precinct that has been serving Bostonians since 1743, it hosts a popular December holiday market, but is better known for its street performers.
Do some last minute shopping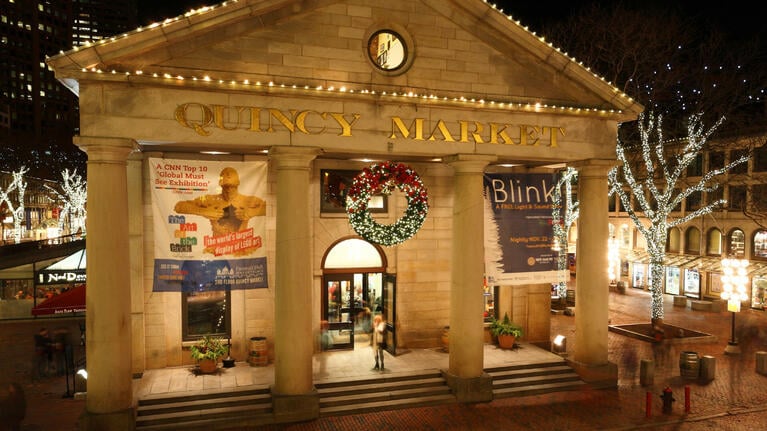 Faneuil Hall certainly isn't the only market in town, with options ranging from European-style Christmas markets serving up steaming mugs of mulled wine and gingerbread to authentic New England craft fairs where you'll find knitted hats, gloves and other handicrafts.
Out of the city center, Harvard Square Holiday Market in Cambridge and Kilroy Square Market in Quincy are ones to keep a close eye on.
Swapping Cambridge Massachusetts for Boston's Cambridge Street you'll be only a few hundred meters from the Charles River Esplanade and the Cheers Bar. Used for the exterior shots of the 1980s sitcom, and containing a replica of the program's bar, it also has a charming location overlooking the city's Public Garden and Common.
Fill up on Christmas cheer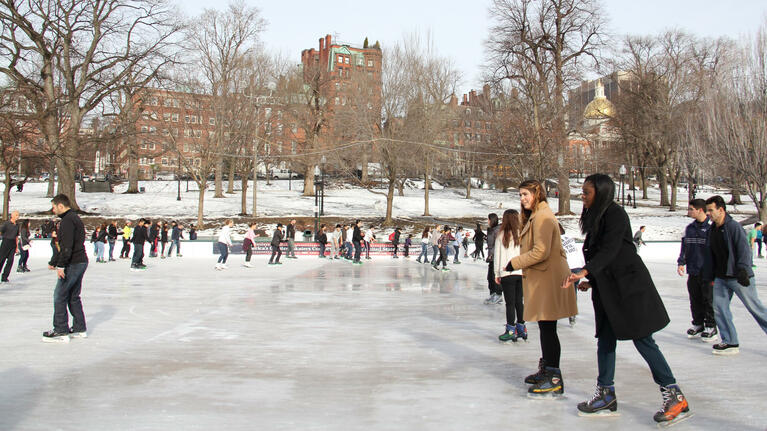 Right at the heart of Boston's Christmas festivities, Boston Common is the location for the annual switch on of the city's lights by its mayor, with a decorated Christmas tree forming the backdrop for the evening.
Elsewhere in Boston the arching trellises of Christopher Columbus Park twinkle with fairy lights whilst Blink! back at Faneuil Hall Marketplace usually boasts the northeast's largest Christmas tree. Around 24 m (or seven stories) tall, it sits alongside more than a quarter of a million individual LEDs.
If that wasn't enough, the common's Frog Pond becomes something like a scene out of Frozen. Skaters can take a turn on the ice before cheering on the Bruins ice hockey team at The Garden Arena. And although it's not baseball season, it's still possible to take a tour of one of the most famous ballparks in America – the Red Sox's Fenway Park.
Line up the snow day activities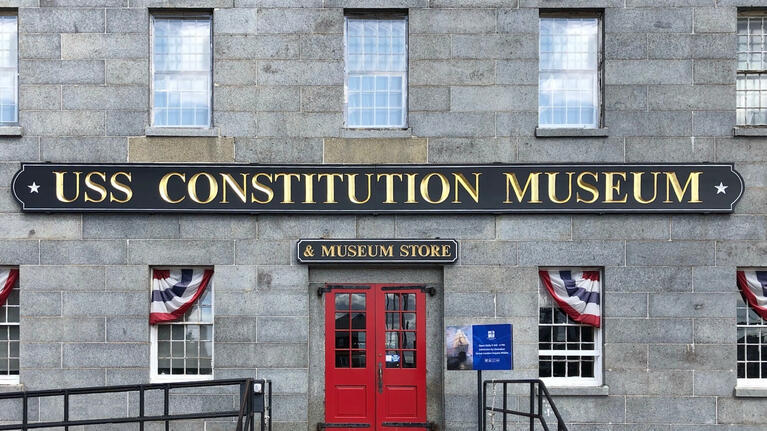 The mildest month of the Boston winter, average temperatures are still less than balmy with highs of 5°C and overnight lows of -2°C. With rain, sleet and snow all possibilities, it's wise to mix up any Boston December itinerary with indoor and outdoor alternatives.
Thankfully, Boston has an extraordinary array of museums to lose a few hours – if not a few days – in. Top of the list has to be the Museum of Fine Arts, Boston. One of the largest galleries in the world, its artworks are by greats from Claude Monet to Andy Warhol.
History buffs won't want to miss the historic ship USS Constitution and its next-door museum. Forming part of Boston's Freedom Trail, the museum details the vital role the ship lovingly known as 'Old Ironsides' (despite having a wooden hull) played during the War of 1812 against the British. She technically remains on active service with the US Navy more than 200 years after her construction.
Keep the kids entertained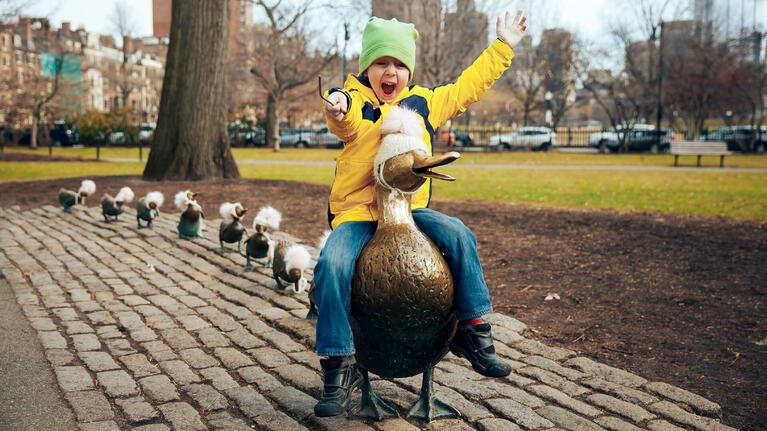 It's multitude of waterways, parks and museums makes Christmas in Boston a perfect treat for the kids. The dinosaur skeletons and taxidermy animals at Harvard Museum of Natural History provide an excellent introduction to the natural world. LEGOLAND Discovery Center Boston will delight and inspire young minds whatever the weather may be doing outside.
To give them a bird's eye view of all the city has to offer, head to the observation deck on the 26th floor of the harborside Marriott Customs House Tower, or climb the 294 steps to the top of the Bunker Hill Monument. A Washington Monument in miniature, it was built to commemorate the first battle of America's Revolutionary War.
New Year Events in Boston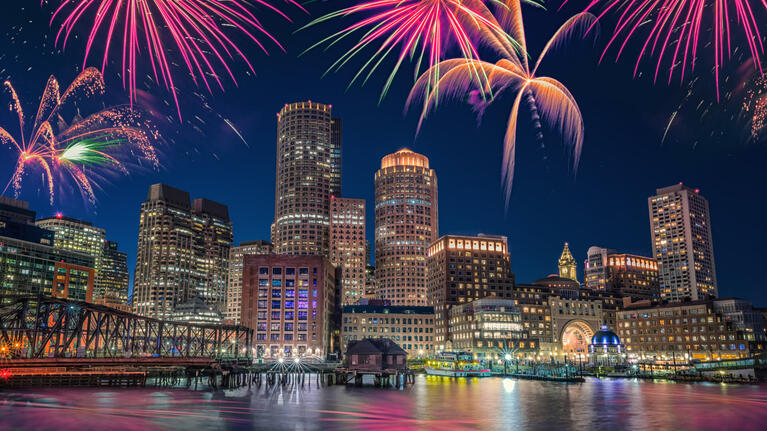 As well as a whole host of Christmas events, Boston sees in the new year with equal amounts of aplomb. Known as First Night, the celebrations of December 31 include a mini-fireworks display at 7PM so younger children don't have to miss out on the fun. This is followed by a grander display over the harbor at midnight, only rivalled by those of Independence Day on July 4.
Copley Square hosts its own pyrotechnic display, and a People's Procession takes place down Boylston Street from Copley Square to Boston Common from 6PM. Gala concerts take place in venues big and small to ensure the new year starts as it means to go on.
Save on December Boston attraction admission
No one wants to have to skimp when on vacation. There's no worse feeling than wanting to do something but knowing you can't really afford it. Explore with Go City and this feeling can be a thing of the past!
How so? We work hard with attractions to allow you the freedom to do what you want, when you want, whilst making incredible savings.