Are you a first-time visitor to Boston? Then hopping on a Boston Trolley Tour is the ideal attraction for you and your family. This 90 minute tour is one of the best introductions to this historic city, offering guided narration of 125 points of interest, and hop-on, hop-off capability at over 15 stops. Plus, the pass is good for two days so you can feel free to use it in a way that fits your schedule best. Get the most out of your time at this exciting Boston attraction with these tips and ideas from our Insider's Guide.
Looking for Boston Trolley Tours Discount Tickets?
We've got you covered – CityView Hop-On Hop-Off Sightseeing Tour: 2-Day Ticket admission is available with the below money saving options, so you can choose the attraction pass that's right for you: 1. All-Inclusive Pass – All you can do. Includes admission to dozens of attractions. 2. Explorer Pass – Choose as you go. Includes admission of up to 5 attractions. 3. Build Your Own Pass – Select the attractions you want to visit prior to visiting. See all available passes, attractions & prices – Learn more.
 Tips for Touring Boston
Remember to pick up your ticket in advance of boarding the trolley at any of the three designated locations. If you're visiting in the winter, the Prudential Center location is closed and the Waterfront location is only open on the weekends.
Consult a map of the trolley route in advance to help plan where you want to disembark – it will make planning your day and any other attractions you want to see a bit easier.
Dress in layers, as you may be cooler when riding along on the trolley than you would be walking around.
Your trolley ticket is actually good for two days, so picking up the ticket early on the first day will maximize its availability.
When to Take a Trolley Ride
Since the Trolley runs their tour continuously throughout the day, you can hop on any time you please (although remember you need to pick up your boarding ticket in advance at any of the three locations). If you're interested in riding the entire loop, we recommend starting early in the morning to maximize your time and leave room for other attraction visits.
Places to See on the Trolley
Although the Boston trolley circulates throughout the city and passes many exciting attractions and landmarks, there are a few areas we recommend hopping off to make the most of your time in Boston.
Faneuil Hall
One of the places along the route where you should definitely disembark is Faneuil Hall. Home to historic meeting buildings and modern shopping and dining, it's a cultural and social mecca in Boston. It's also a great place to stop for lunch or dinner if you're hungry. You're also near the
Old State House Museum
if you're interested in further attraction explorations.
Boston Common & Public Gardens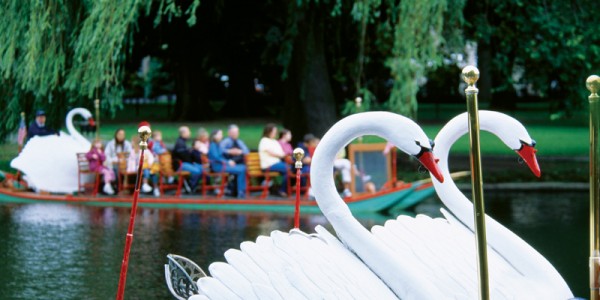 Another must-see area of Boston is the Boston Common and Boston Public Gardens. These urban greenspaces are the heart of downtown Boston and are always filled with people and pets. This is a great neighborhood for a leisurely nature walk or even a picnic. Be sure to check out the famous Swan Boats of Boston while you're there!
Lunch in the North End
Although it's also known for boutique shops and historic buildings (like the Paul Revere House), the North End of Boston is primarily a culinary destination. Hop off here for lunch or dinner and dessert – trust us, you won't regret it. You won't find as much authentic Italian and delicious seafood anywhere else.
Visit Fenway Park & Neighborhood
And of course, you can't leave Boston without a stop at Fenway Park. Whether you're interested in catching a game or taking a tour of the park, the oldest stadium in Major League Baseball is a can't-miss on your Boston itinerary.
Museum of Fine Arts
The trolley also takes you out into the fens for a chance to circle the Museum of Fine Arts, one of the most prestigious and comprehensive art museums in the country. If you want to hop off here, plan to leave at least an hour or two to explore both the beautiful space and compelling artwork.
Explore Cambridge
Explore another side of Boston when you hop over the river into nearby Cambridge. You'll see the Massachusetts Institute of Technology (MIT), plus the sights and sounds of Boston's closest and most famous suburb. Be on the look out for some of the MIT students' famous pranks!
Nearby Attractions
There are so many attractions along the Boston Trolley route that it's almost impossible to name them all. Some of the highlights include: Fenway Park, home of the pennant-winning Boston Red Sox. You can take a tour of the facilities when the team's not playing. Boston Common and the Boston Public Gardens, two beautiful urban green spaces that form the heart of Downtown Boston. Perfect for picnicking or people-watching. Copley Square, a historic districts in Boston that are bustling with people, restaurants, and exciting attractions like the Trinity Church and the Boston Public Library (both great photo opportunities). The Theatre District, where you can either take in a performance at any of the wide variety of theaters that grace the area or just marvel at the historic architecture. The Institute of Contemporary Art, one of the premier modern art museums in the country. The Old North Church, where Paul Revere famously hung those fateful lanterns on the night of the British invasion. The Old South Meeting House, home to early revolutionary activity. And many more!
Places to Eat Nearby
Because this trolley tour takes you all throughout Boston, you have tons of neighborhoods to choose from when making dining decisions. Some of the most popular culinary neighborhoods in Boston include:
The North End (for Italian)
The South End (for innovative, trendy restaurants)
Chinatown (for both Asian cuisine and a stellar German restaurant, Jacob Wirth)
Faneuil Hall (for a good mixture of chains and independent restaurants).
Need to Know
Hours
Hours vary seasonally, with the first tour departing at 9:00 am.
Directions & Address
There are three different pickup locations for the Boston Trolley Tour tickets: Waterfront: near the New England Aquarium. City Place: MA Transportation Building, 16 S. Charles St. Prudential Center: 800 Boylston St. Public Transportation: For Waterfront, take the Blue Line to Aquarium For City Place, take the Green Line to Boylston For Prudential Center, take the Green E Line to Prudential Center
Save on Admission Prices
Remember, you can save up to 55% vs paying at the gate for admission to Boston's top attractions, tours, museums, and more with the all-inclusive Go Boston® Card. Or, save 20% guaranteed when you combine the Boston Trolley with any other attraction and build your own attractions pass.