For many of us, Columbus Day brings the welcome respite of a long holiday weekend in the middle of October. Looking to turn those three days into a great weekend getaway to Boston? If you're looking for seasonal things to do in Boston during Columbus Day weekend 2017, check out our list of some of the best activities and attractions.
Save on Seasonal Activities
Regular admission to a number of these attractions are available on the Go Boston Card. Choose as you go from popular attractions and save up to 55% on combined admission vs paying at the gate. Learn more about all Boston tourist passes, attractions and prices. Please note, some of these special events may be separately ticketed and not available on the Go Boston Card.
Bike Rides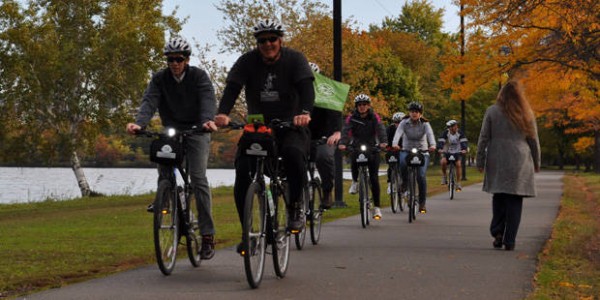 Immerse yourself in the crisp fall weather with a leisurely bike ride along the Charles River. There are plenty of lovely, easy trails along the water, and some more challenging ones inland in places like the Fells. The kids will love the chance to be out and active and you'll appreciate the exercise you're all getting. Getting In: Bike rentals by Urban AdvenTours are included with the Go Boston® Card.
Franklin Park Zoo
Come and see all the wonderful animals at the Franklin Park Zoo now that the seemingly endless summer heat has finally died down and the animals are happy again. Explore 72 acres filled with animals from all over the world and learn about their extensive conservation efforts. After your visit to the zoo, be sure to stick around and explore Franklin Park. It's a lovely greenspace with plenty of room for Frisbee tossing, dog walking, leaf peeping, and more.
Getting In:
Franklin Park Zoo tickets
are included with the Go Boston® Card.
Freedom Trail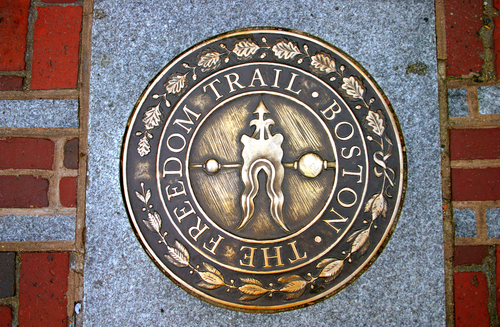 Who wouldn't appreciate the chance to explore Boston's rich cultural heritage – especially on a holiday that's dedicated to honoring our roots? Take a tour of the Freedom Trail and see all the important sites of the American Revolution. You'll wind your way through downtown Boston, the North End, and into Charlestown to see major site of historical and cultural importance. Plus, you'll get some great photo opportunities, too! Getting In: Freedom Trail tour tickets are included with the Go Boston® Card.
Plimoth Plantation
Columbus may have been credited with introducing European culture to America, but it was the English settlers who came over on the Mayflower who really colonized New England. Visit Plimoth Plantation and the Mayflower II to walk through an authentic recreation of 17th century American life. They offer a wide variety of historical programming year round, and have special fall-themed events and workshops for visitors to enjoy during October. Getting In: Plimoth Plantation tickets are included with the Go Boston® Card.
Columbus Day Parade
October 8, 2017 City Hall Plaza, East Boston
Celebrate Boston's rich Italian heritage with a festive parade through the historic East Boston neighborhood. Excellent local entertainment will be provided by marching bands, cultural organizations, military groups, and more. Keep an eye out for the
Duck Boats
!
Getting In: 
Admission to Boston's Columbus Day Parade is free.
Columbus Park Fall Festival
October 9, 2017 Christopher Columbus Park
This fun little kid-friendly festival is hosted right on the beautiful Boston Harbor. It's the perfect afternoon activity, filled with performances by local artists and great family entertainment. Bring a picnic lunch and enjoy the fall weather.
Getting In: 
Admission to the Columbus Park Fall Festival is free.
Fall Foliage Tours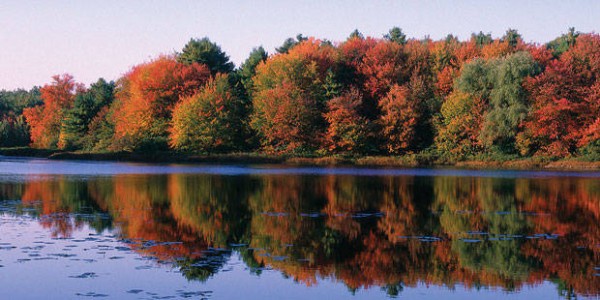 Spend the entire day on a magical journey through New England's most stunning fall foliage. Take a comprehensive tour of the countryside with plenty of opportunities for pictures, stop at a local orchard for cider and apples, and enjoy a hot lunch at a historic tavern. For more information on New England's fall foliage and tips on how and when to see the best colored leaves, check out our Fall Foliage post. Getting In: Guided fall foliage tours are separately ticketed and are not included with the Go Boston® Card. For more information about guided tours and to purchase tickets, please visit your desired tour company's website. Driving yourself, of course, is always free!
Cranberry Harvest Festival
October 7-8, 2017 Wareham, MA
Ever wondered where those Thanksgiving cranberries came from? Well, now's your chance to learn all the industry from one of the nation's largest cranberry growers south of Boston. Take a tour of a cranberry bog, enjoy family-friendly games, and even purchase some fresh cranberries!
Getting In:
Admission to the Cranberry Harvest Festival is separately ticketed, and is not included with the Go Boston® Card. For more information about tickets, please visit the
event website
.
Remember to Save on Attraction Admission
So there you have it. Our list of some exciting things to do in the Boston area this Columbus Day Weekend. Remember, many of these great options are included on the Go Boston® Card, where you can save on combined admission vs. paying at the gate. Please note, the Columbus Day Weekend events taking place at some of these venues may be separately ticketed and not included with the Go Boston Card. Consider adding a few of these fun options to your fall long weekend vacation itinerary.