Nothing can quite compare to the beauty of New England's fall foliage. Leaf peepers come from all over to see these vibrant bursts of color and hope to capture their brilliance with film and photography. Head to Boston and check out these top areas for prime New England foliage viewing.
When is the Best Time to See New England Fall Foliage?
Wondering when to plan your Boston visit to coincide with when the foliage is at its peak? This fall foliage map will help you to make sure you catch the peak of color! Each year, the changing of the leaves tend to begin at different times. However, generally speaking, you'll start to see splashes of color around mid-September.
By early October, fall leaf colors become more pronounced. Peak season usually comes in about the 3rd week of October. By early November, the most vivid fall leaf colors may, unfortunately, be gone, so be sure to get here sooner rather than later.
If you're looking for places to enjoy the best of Boston-area fall foliage, then check out some of our suggestions below. We've combined the possibilities for leaf-peeping with some other fun things to do in Boston to help you make the most of your fall vacation.
Check out Boston Common & The Public Gardens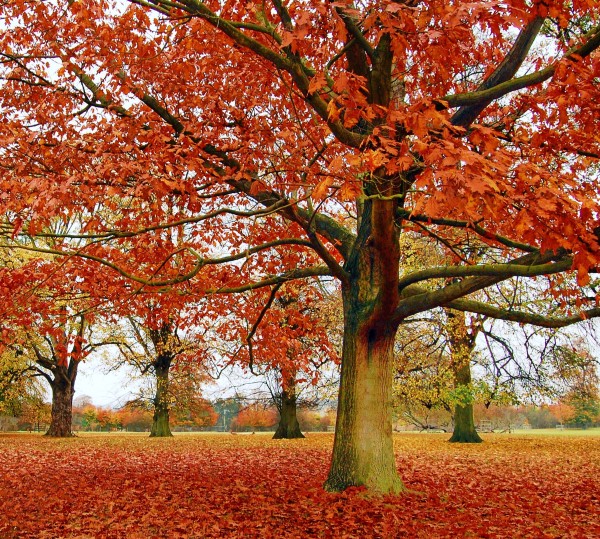 Head here to see a rich array of golds, yellows, and reds against the city skyline and manicured walkways, ponds, and statues. The Boston Public Gardens are a short walk from Beacon Hill, a neighborhood full of 19th-century charm.
You can warm up with cider or coffee in any of the coffeehouses along Charles and Cambridge streets. Many of the trees in the gardens change color earlier in the season, so splashes of autumn color can usually be seen first here.
It's an excellent place to snap photos, too, with the contrast of beautiful trees against grand buildings. While you won't be seeing many of the picnickers or frisbee throwers that throng the park in the summer months, keep an eye out for kids flying kites and plenty of excited furry friends.
Plan a Visit to Harvard Yard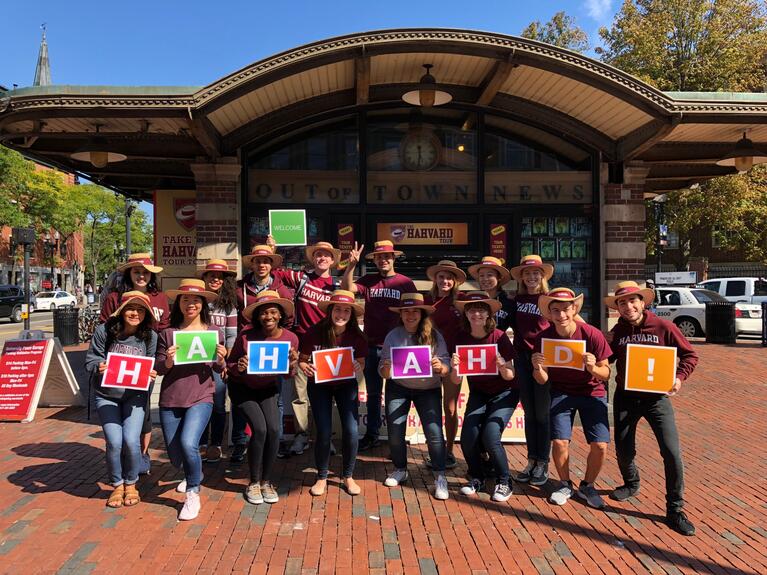 A melting pot of students, professors, dogs, and children, Harvard Yard is a great spot for leaf-peeping. As you stroll through the tree-lined grassy common, stop by the infamous John Harvard Statue, a frequent target of local pranks, to give your New England fall day a collegiate twist (don't forget to rub the statue's feet for good luck!).
Take the Harvard Walking Tour if you've got some free time and/or interest in the school.  It's the most popular tour of Harvard University and you will be sure to learn a great deal about the school while taking in the beautiful colors of the changing leaves.
While you are here, be sure to check out the Harvard Museum of Natural History, which contains a one-of-a-kind glass display of over 3,000 plant species which will be sure to amaze botanists and tourists alike. Plus, they've also got a nice little collection of fossils, gemstones, and other natural artifacts.
Enjoy the Boston Fall Foliage on a Bike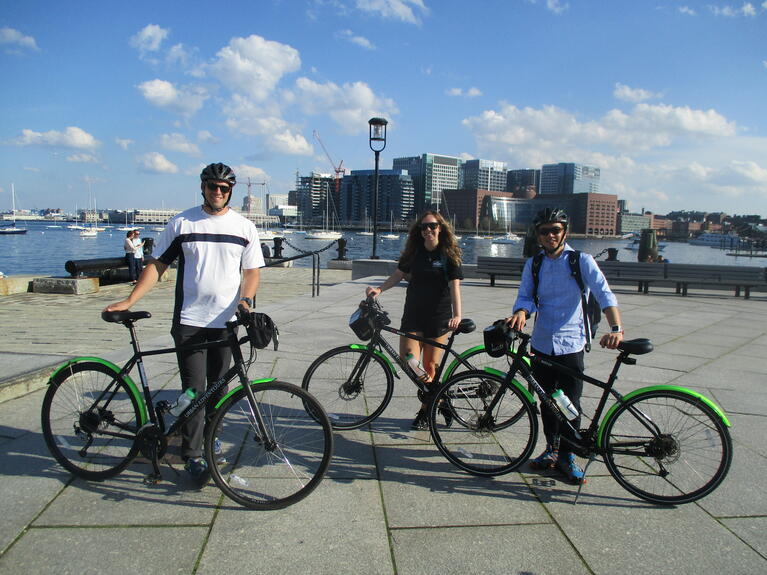 Consider taking a beautiful bike ride around Boston, which is one the best ways for tourists and Boston residents alike to see some of the best sights, smells and scenes that the Hub has to offer in the Fall. A few areas that you should consider checking out for some great Boston Fall foliage include:
The Boston Common and Public Garden
The famous Charles River Esplanade (filled with cyclists, runners, and more basically year-round)
The Dr. Paul Dudley White Bike Path (located on either side of the Charles and great for cycling or running)
The Rose Kennedy Greenway
The Arnold Arboretum
Take a Charles River Tour to See Beautiful Boston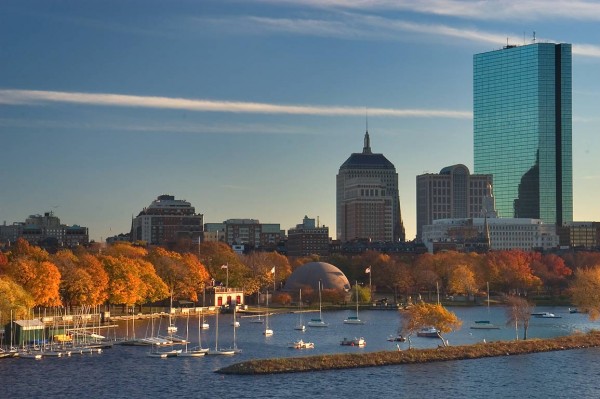 The Charles River Cruise or Boston's famous Duck Tour in the fall months are especially scenic as the leaves reflect off the water of the Charles River.
The Charles River Cruise is a serene 70-minute excursion around the Charles River Basin. It's filled with great photo opportunities and informative yet engaging narration. It's a lovely way to sightsee in general.
The Boston Duck Tour is more interactive but just as educational. Spend part of your time on land, and part in the Charles River for a truly unique sightseeing experience. Both tours are available through October – prime New England foliage time!
New England Foliage Outside of Boston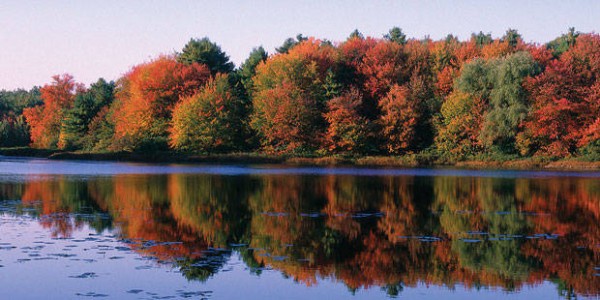 It wouldn't be a proper New England fall visit without a taste of life outside of Boston. Visitors to the area really should experience the gently rolling New England foliage along the countryside. Take in all the hues that are produced by a slowly departing summer. Watching the leaves change color while traveling past quiet ponds, historic farms, weathered roadside taverns, colonial churches, and quaint village greens is a great way to spend a day.
The Lexington and Concord Tour is another great place to visit during the Fall. It will give you a firsthand view of what the historic region has to offer. The 90-minute tour will take you on a trolley ride along historic Battle Road as you visit some of the most important sites of the American Revolution. Guests of the tour will visit the Lexington Battle Green, Buckman Tavern, and the Hancock-Clarke House.
Additionally, you will see Minute Man National Historical Park, Meriam's Corner, the North Bridge, and many other historic places.

Remember to Save on Admission
If you're interested in visiting any of these fall attractions in Boston on your leaf-peeping adventure, then consider picking up a Go City® attraction pass for Boston. You can save on combined admission versus paying at the gate. Choose from these and many other top Boston attractions, many of which will help you enjoy the vibrant colors of fall in New England.