October is one of the best times to visit Salem, Massachusetts, the "witch town" known for its sinister past and spooky aura. For the entire month of October, Haunted Happenings takes over Salem to celebrate Halloween and fall in the area.
Haunted Happenings features a calendar full of events, special programs, and live shows. These distinctive seasonal events complement the attractions, museums, and tours that Salem offers year-round. If you're looking for things to do in Salem on Halloween and October 2021 and nearby Boston, check out our list of the best local activities and attractions, including:
Salem Witch Museum
House of Seven Gables
Peabody Essex Museum
Halloween Cruises
Bewitched After Dark Salem Walking Tours
The People vs Bridget Bishop
Gallows Hill
Haunted Footsteps Ghost Tour
Guided Tour of Salem & Marblehead
Boston Attractions
When to Visit Salem, MA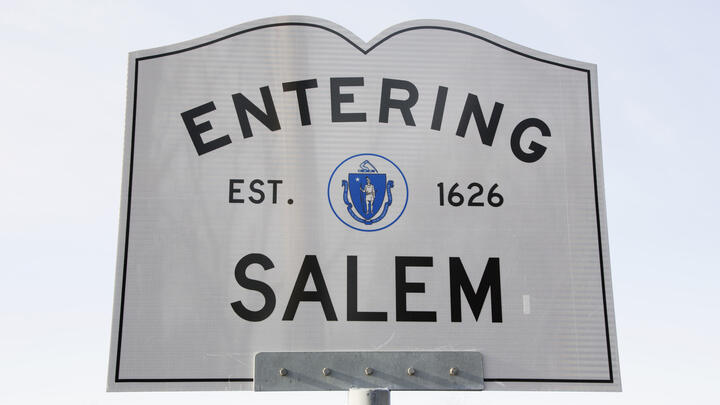 Salem is the busiest on weekends when it fills up with tourists, but it's also arguably its most festive when thronged with people. However, if you're in search of a less hectic experience, you can head to Salem any weekday in October or during one of the first weekends in the month—you'll still find plenty of seasonal things to do.
Dedicate at least one full day to seeing the sites in Salem and consider an overnight stay to join in on some of the spooky nighttime walking tours and ghost tours offered. Some of the top hotels in the area recommended by Haunted Happenings include the Clipper Ship Inn (budget-friendly), Hawthorne Hotel (a historic hotel), and Salem Waterfront Hotel & Suites (an award-winning lodging).
Do remember, however, that October dates will book up fast, so consider making your reservations soon! The closer to Halloween it is, the more difficult it will be to get to Salem in the heavy traffic and to find reasonably-priced parking. If you're coming from the Boston area, we recommend you take either the commuter rail (Newburyport/Rockport Line) or a bus to avoid the hassle of parking.
That said, there's nothing quite like spending Halloween weekend in Salem as it is always jam-packed with fun and spooky things to do.
1. Salem Witch Museum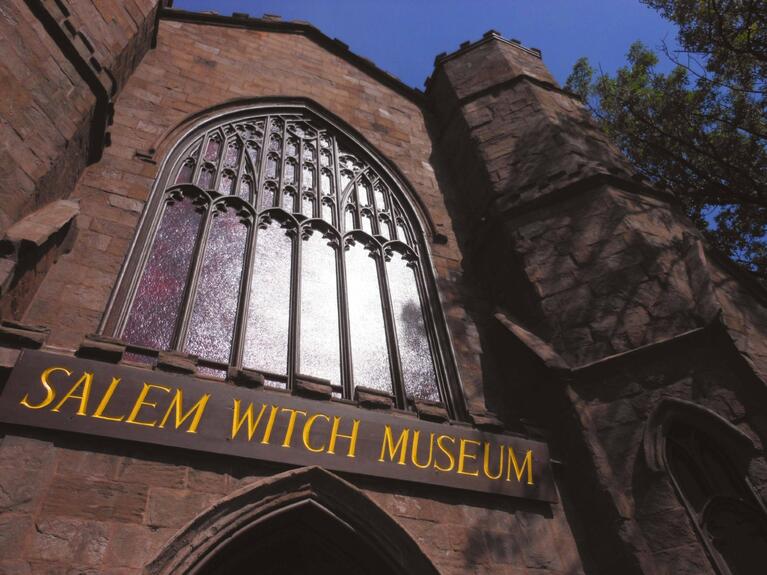 Do you believe in witchcraft? At the Salem Witch Museum, get insight into the complex and evolving perception of witches, "from midwives and healers to witch hunts and Wiccans." Salem's most visited museum presents the witch hysteria of 1692 in a way that is educational, thought-provoking, and a bit spooky.
You'll learn all about the infamous witch trials, events leading up to them, and what life was like in Salem at the time. They also offer a fun and eclectic gift shop that sells everything from artisan wares to the most inspired Halloween costumes you'll ever see. It's a nice place to pick a unique fall souvenir.
2. House of the Seven Gables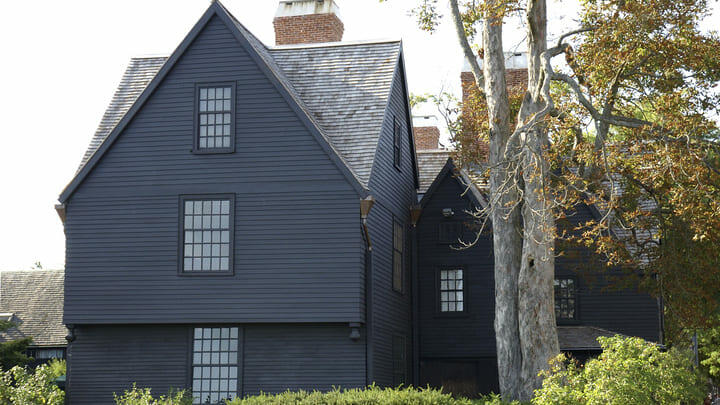 The House of Seven Gables is New England's oldest wooden mansion built in 1668 and made famous through the fiction of Nathaniel Hawthorne, author of The Scarlet Letter. It's a must-visit attraction for book lovers and American Literature fans.
In October, add to the experience with their program of specialized audio tours. Experience a more personal history of Salem from the perspectives of the people who don't make it into the history books with the Passages of the Past Audio Tour, or try out their brand new Immersive 360 Tour where you'll join senior historical interpreter David Moffat for this unique and online venture through over 350 years of history.
3. Peabody Essex Museum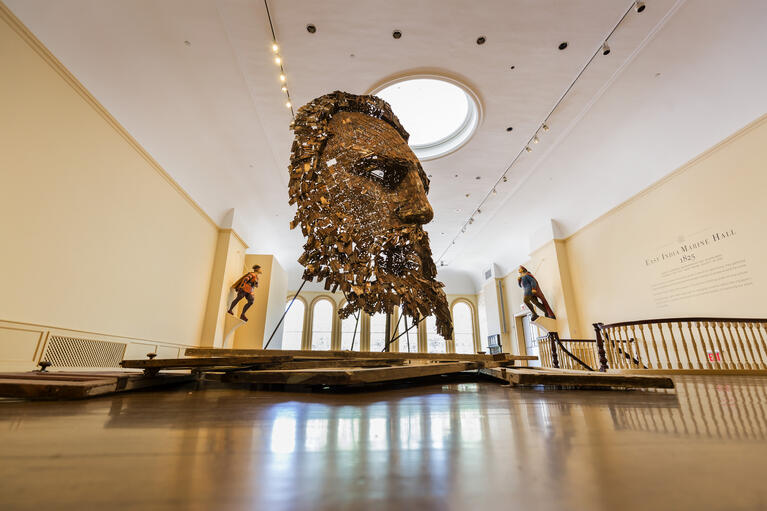 Home to a collection of one million artifacts and natural treasures dating back to 1799, when sea captains would bring home treasures from their travels overseas, the Peabody Essex Museum (PEM) offers Salem visitors a unique examination of world history.
See fascinating exhibitions of African, American, Asian, Native American, Oceanic, and Indian art, including photographs from 1840 (the year photography was invented!).
In 2021, you can catch their fabulous exhibition on The Salem With Trials: Reckoning and Reclaiming. In this exhibition, learn more about factors that fueled the much-storied crisis, including individuals who rose to defend those accused, and explore creative responses by contemporary artists with ancestral links to the trials. Running until March 2022.
4. Halloween Cruises
A cruise around the storied waters of Salem is a fun and different way to get in some prime leaf-peeping during peak season and take in the history of the area.
The 2-hour narrated Lighthouse & Foliage tour goes on a 14-mile loop of the scenic Salem Sound. The Haunted Happenings Harbor Cruise features a 90-minute entertainment cruise. It's complete with face painting, fortune telling, spooky photo ops, scary stories, and more. 
A full bar and grill are available on every cruise. They also offer a Halloween Boo!s Cruise, which is ideal for adults and groups of friends (see image above for a sample of the festivities!) These offerings from Mahi Cruises are seasonal and are available during the fall or the month of October, depending upon the selected cruise.
Salem Haunted Happenings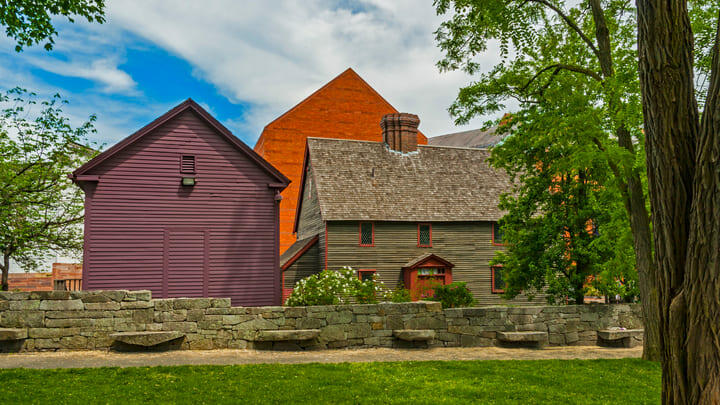 There's no shortage of things to do in Salem Massachusetts. Just check out the Haunted Happenings events calendar for the complete lineup of activities and fun things to do in Salem during this popular time of year.
There's everything from face painting and farmers' markets to cruises and hayrides to haunted houses and witch hunts. Some of our popular picks include:
Salem Psychic Fair and Witches Market
Salem Common Family Movie Night
Salem Haunted Magic Show Presents: Hysteria!
Hollowed Harvest: Wicked Labyrinth
and much, much more!
5. Bewitched After Dark Salem Walking Tours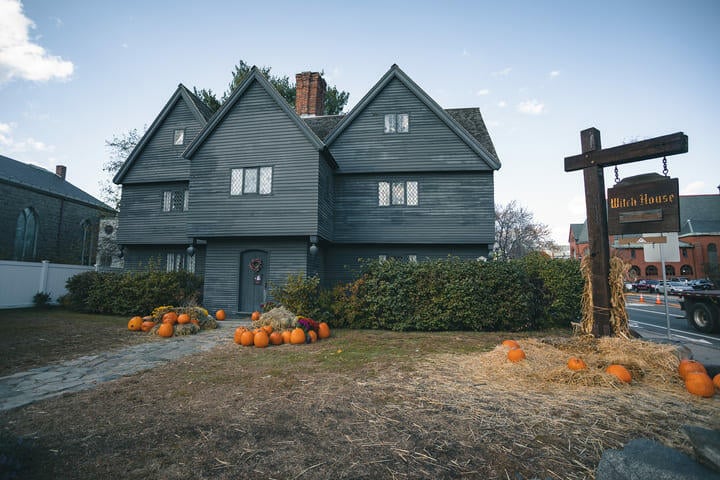 These engaging tours are led by local historians who can't wait to share Salem's eerie history with you. They warn, however, that "history is more frightening than fiction," something easily spooked visitors would do well to remember!
6. Cry Innocent: The People Versus Bridget Bishop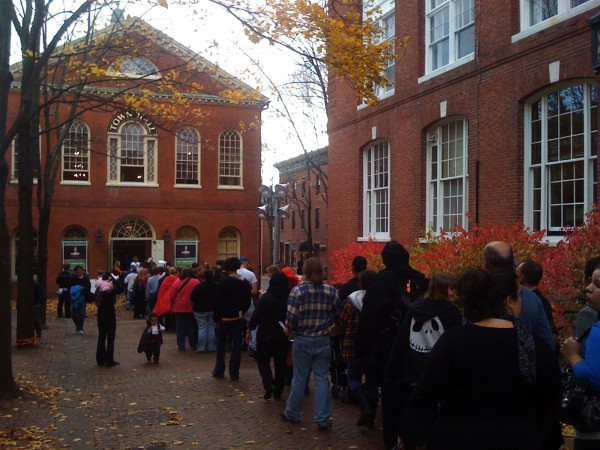 Head back to 1692 when Bridget Bishop was accused of witchcraft and is up for trial. At Cry Innocent, you'll be immersed in the experience by serving on the Puritan jury. You'll hear her testimony, cross-examine the witnesses, and decide the verdict in this critically-acclaimed, interactive theatrical performance. We promise you won't leave the theater without thinking differently about the infamous Salem witch trials!
7. Gallows Hill
This multifaceted attraction has it all - a haunted museum filled with lost objects and abandoned exhibits, an exhilarating, 4-D experience show, and a fascinating Ghosts & Legends Trolley Tour. Gallows Hill is one of the most popular attractions in all of Salem and is great for Halloween explorations. Keep in mind that some attractions might not be suitable for small children.
8. Haunted Footsteps Ghost Tour
The Haunted Footsteps Ghost Tour is one of Salem's most haunting attractions. Experience Salem's longest-running ghostly tour with the city's 'spirited' tour leader! The knowledgeable ghostly guides combine captivating storytelling, macabre humor and stellar presentation to convey Salem's authentic haunted history.
Delve into the Witch City's intriguing and often sordid past on their highly recommended 90-minute nightly strolls. Costumed narrators recount by lantern light true tales of documented paranormal activity, chilling cemeteries, Colonial witchcraft, Victorian murder and more! This tour is leisurely paced and tour distance covered is approximately one-half mile.
9. Guided Tour of Salem and Marblehead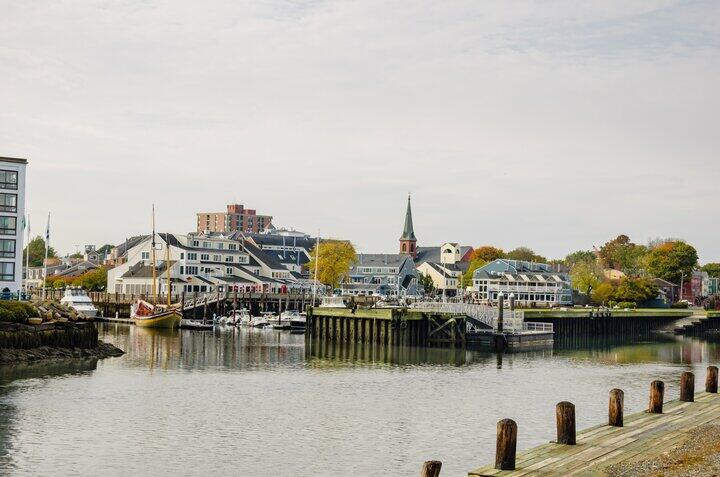 Join on a full-day guided tour to historic Salem and Marblehead. It's an especially perfect tour to take during October, as they highlight many of the Haunted Happenings events. This tour covers lots of North Shore highlights, including Marblehead, Abbott Hall, Salem Harbor, and more. Keep in mind that it's about seven hours altogether, so this will be your main attraction for the entire day.
10. Add Boston to Your Itinerary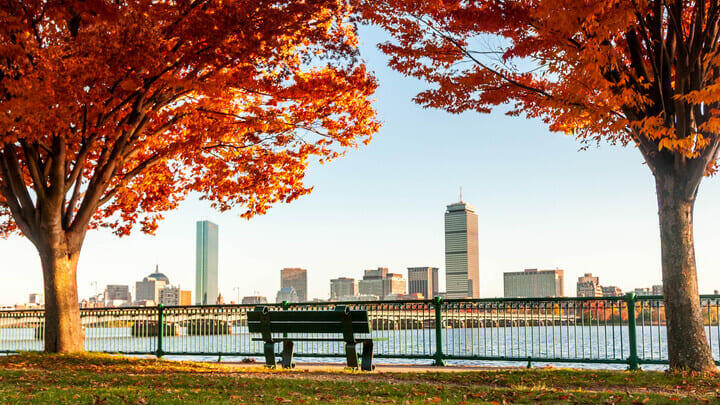 Fall is one of the best times to visit the Boston area; the air is crisp and cool and vibrant orange and yellow leaves provide the perfect backdrop. Want some more fun? Skip almost 100 years in time from the era of witch hysteria to the era of the American Revolution. Explore such historic attractions such as:
Then, stop by the Samuel Adams Brewery to sneak a sample of their special Oktoberfest beers. Looking for more info on Boston? Be sure to check out our guides for things to do in Boston for Halloween or things to do in Boston in fall.

Save on Admission to Fun Seasonal Activities
Regular admission to a few of these Salem attractions is included on the Go Boston pass. Choose as you go from dozens of top attractions and save on combined admission vs paying at the gate. Enjoy your seasonal activities this year, and Happy Halloween!
Share your adventure with us
Remember to tag in your holiday snaps and we'll feature you on our page. Follow the Go City Instagram and Facebook pages for competitions, special offers, and events and inspiration for your chosen destination too!