Are you a lover of all things marine? Can't get enough of the wild and wonderful world of octopi, sharks, and tropical fish? Pay a visit to the famous New England Aquarium in Boston. Use your Go Boston pass to save on admission to the New England Aquarium. For 50 years, the New England Aquarium has been one of the most popular places for Boston visitors. From exhilarating touch tanks to beautiful coral reefs and beyond, the aquarium has everything. Check out our helpful guide for visiting the Boston's aquarium – the New England Aquarium. It's packed full of tips for visiting, ways to save on admission, other nearby attractions, and much more.
How to get Boston's Aquarium discount tickets?
We've got you covered – New England Aquarium admission is available with the below money saving options, so you can choose the attraction pass that's right for you: 1. All-Inclusive Pass – All you can do. Includes admission to dozens of attractions. 2. Explorer Pass – Choose as you go. Includes admission of up to 5 attractions. 3. Build Your Own Pass – Select the attractions you want to visit prior to visiting. See all available passes, attractions & prices – Learn more. In a town that is full of top attractions and exciting destinations, the New England Aquarium is truly a "must-see" spot in Boston.
New England Aquarium Facts
The New England Aquarium opened in 1969, making it 50 years old in 2019.
It is home to more than 20,000 animals and around 600 species.
The New England Aquarium is committed to protecting the ocean's ecosystems.
More than 1.3 million people visit the New England Aquarium each year.
When the Giant Ocean Tank opened in 1970, it was the largest circular tank in the world.
Tips for Visiting Boston's New England Aquarium
On average, visitors spend approximately two hours exploring this attraction. Be sure to wear comfortable shoes!
Bring a camera or a camera phone to snap photos of your favorite critters, especially at interactive exhibits like the Shark and Ray Touch Tank. However, tripods or other large photographic equipment are prohibited.
Take a look at the Aquarium Map to plan your visit; it can save time and energy.
If you're interested, leave time to take in an IMAX film at the Aquarium's impressive theater.
Should you decide you need a break, you'll get a hand-stamp that will allow you to exit and renter the Aquarium on the same day.
If you have luggage or other large bags with you, the Aquarium also offers storage lockers and complimentary storage space.
Save money on admission with the Go Boston® pass, which also includes over 40 other top area attractions for up to 55% savings off combined admission costs.
When is the best time to visit the New England Aquarium?
The New England Aquarium in Boston is among the most popular attractions for visitors and locals alike, especially school groups and families. Therefore, we recommend visiting early in the day if possible. You'll avoid more crowds and will be able to spend more time enjoying each exhibit without the press of people. If you can't make it early in the morning, try late afternoon. Boston is the busiest in the spring (for school groups) and summer (for families and other tourists). However, the New England Aquarium is open year round. If you can plan your trip on the off season, you'll have more time and space when you visit the attraction. Do keep in mind that they have slighter shorter hours during the winter months. However, it shouldn't make a difference in your planning as long as you're aware of the shift.
What is there to see and do at the New England Aquarium?
The New England Aquarium is filled with hundreds of fascinating and wonderful creatures. But there are a few highlighted exhibits that tend to be visitor favorites. We've put together a list of the ones we know are the most popular (and are our most favorite, too!)
Giant Ocean Tank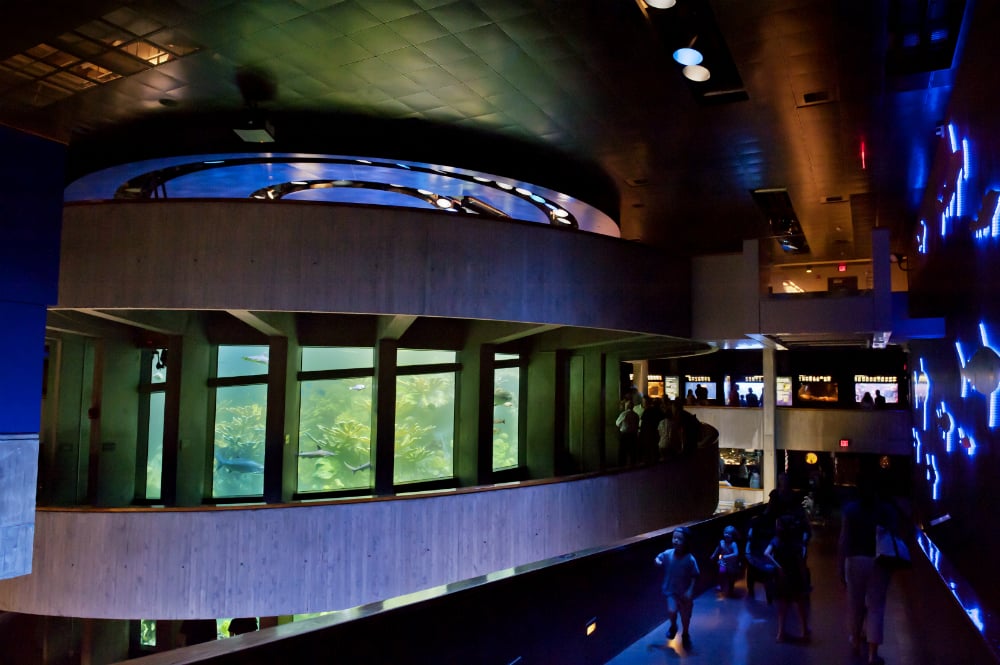 Photo Credit: W. Chappell
The Giant Ocean Tank is home to more than 1,000 fishes. It now houses more than twice the number of animals that were in the old exhibit. Myrtle, the 550-pound green sea turtle that was the star of the old exhibit, is back. Except she now has two loggerhead sea turtles and a Kemp's ridley sea turtle to keep her company. The Giant Ocean Tank is forty-feet in diameter and filled with 200,000 gallons of water. It is also now flanked by iPads loaded with an interactive fish ID application that will allow interested visitors to identify the exhibit's creatures. With rare species like midnight parrotfish, trumpetfish, guitarfish, and yellow goatfish, that app is sure to come in handy.
Penguin Exhibit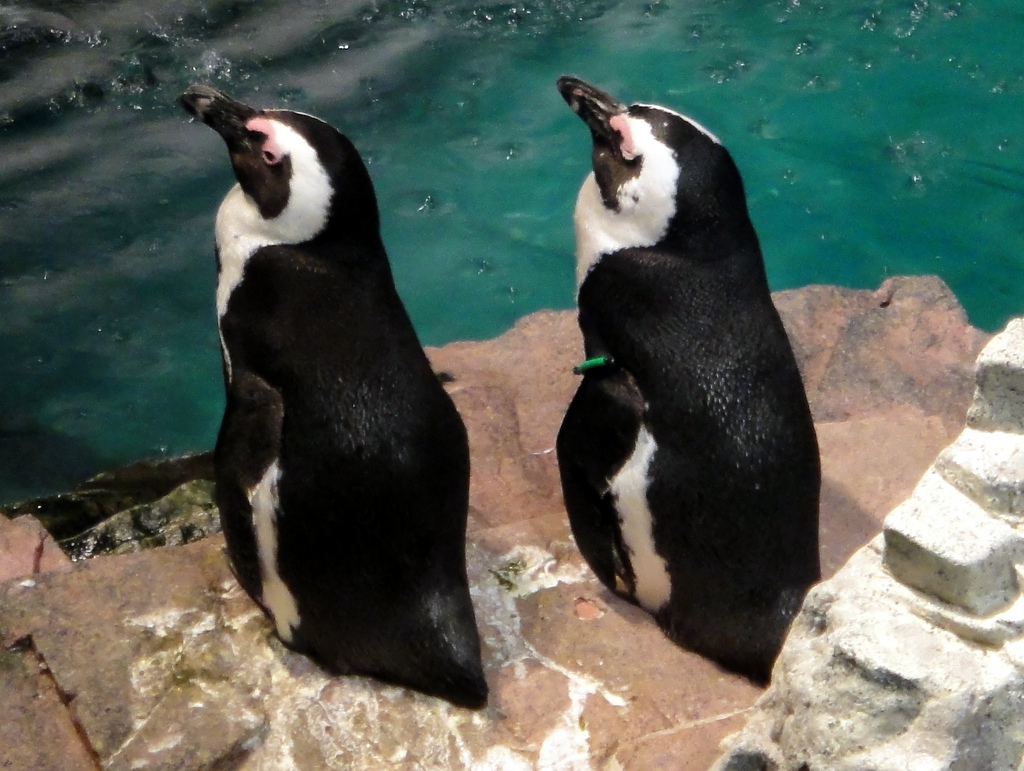 The penguin exhibit is among the most popular of the Aquarium's exhibits. Featuring three different species of penguin, this behind-the-scenes exhibit allows you to see these fascinating creatures up close. You can explore their dwellings, and learn how they move so incredibly fast underwater. The African Penguins are sure to greet visitors loudly, and the rockhoppers have a great little 'do of bright feathers. The little blue penguins are actually the tiniest penguin species in the entire world. (Awwwww).
Yawkey Coral Reef Center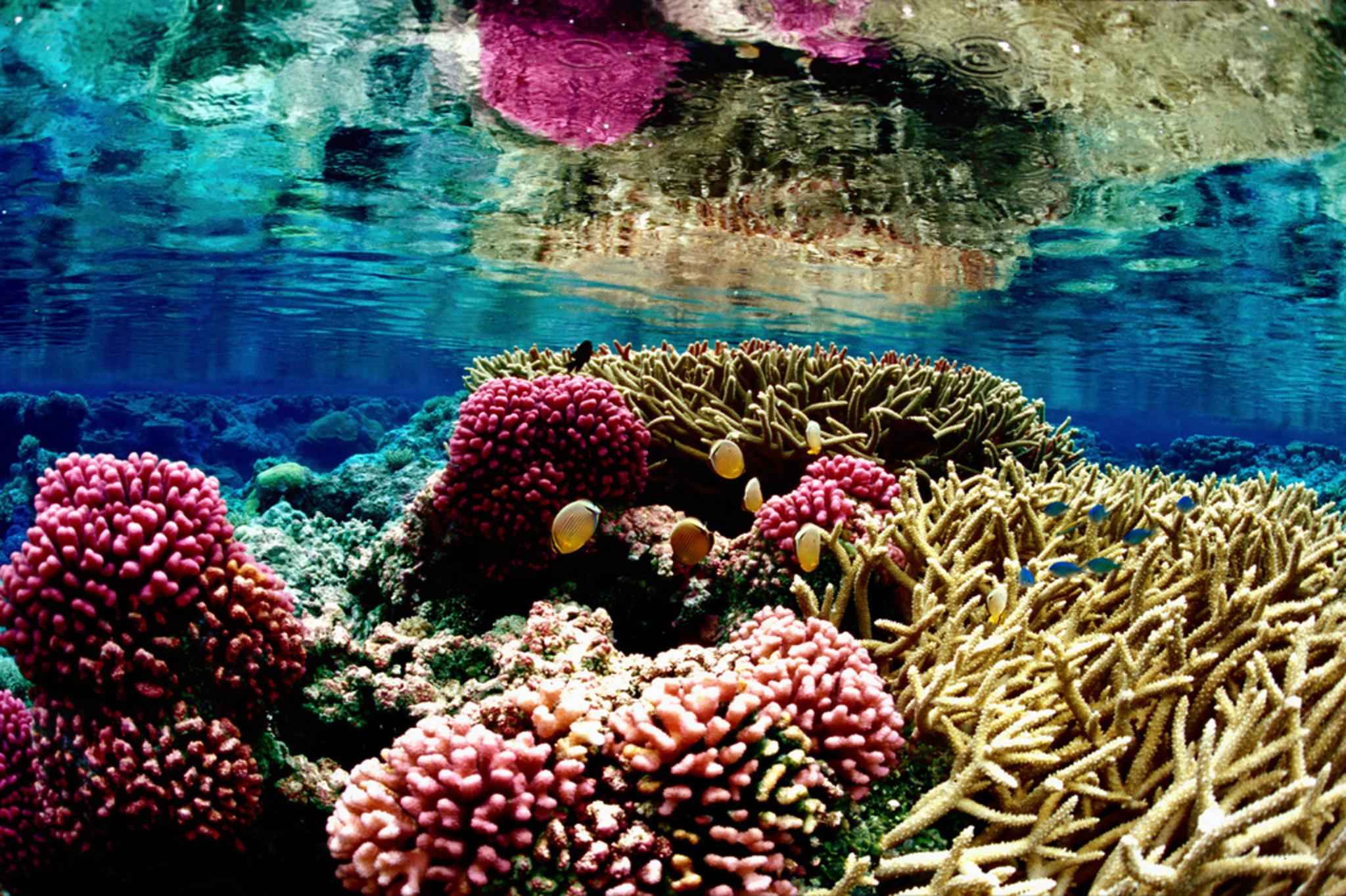 The recently renovated Yawkey Coral Reef Center is a comprehensive reef environment that showcases an entire vibrant ecosystem within a 24-foot-tall tank. From the impressive predators swimming the waters at the top to the subtle creatures populating the tank's bottom, there's just simply so much life to be observed in this one environment. Be sure to be on the look out for the ocellated frogfish (a super elusive fish that's a master of camouflage) and the long-spined sea urchin!
Amazon Rainforest
If you're looking to see something a bit more exotic, keep your eye out for the Amazon Rainforest as it appears in urban Boston. Six different Amazon exhibits will make you feel like you've gone on a jungle adventure. You will be immersed in the amazing tropical world of South America. Look for poison dart frogs, piranhas, anacondas, and more dangerous (but beautiful) creatures.
Shark and Ray Touch Tank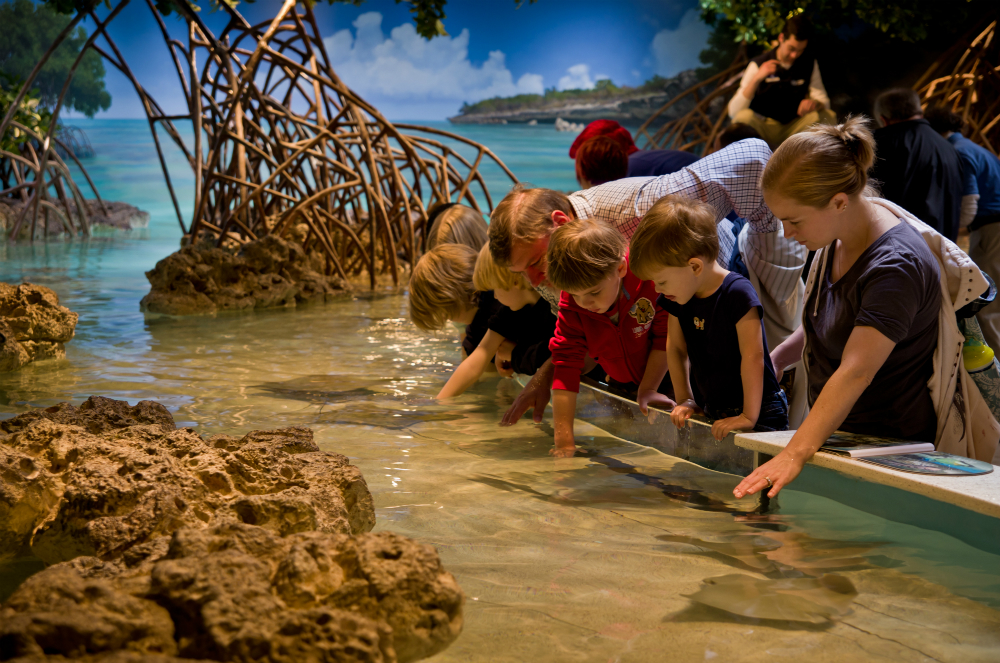 The Trust Family Foundation Shark and Ray Touch Tank - Photo: S. Cheng[/caption] A favorite with kids is the Shark and Ray Touch Tank. It's a totally interactive experience that's actually the largest exhibit of its kind on the East Coast. This mangrove-themed tank features cownose rays, epaulette sharks, and Atlantic rays. It has shallow, clear water that's perfect for observing and reaching out to encounter these magnificent creatures. You'll also see realistic fiberglass replicas of rainforest trees, vines, and more – a truly striking atmosphere.
Gulf of Maine
Want to learn more about the creatures of the Boston Harbor and beyond? Visit the Gulf of Maine exhibits to encounter creatures as varied as lobsters, dogfish sharks, sea stars, cod, and many more. The Gulf of Maine stretches all the way from Boston to the Stellwagen Bank Marine Sanctuary in Maine, so the diversity of sea life alone is impressive. Did you know that the Stellwagen Bank Marine Sanctuary is also home to a wide variety of whales and other sea life? Hop aboard a whale watch after your visit to the aquarium to head out there yourself! Insider Tip: New England Aquarium Whale Watch tickets are available as a premium attraction option with the 3-, 5-, and 7-Day Go Boston passes.
What attractions are near the New England Aquarium?
Since the Boston waterfront is such a bustling neighborhood, there are many other attractions within easy walking distance. In the immediate vicinity, you'll find the aforementioned New England Aquarium Whale Watch, a family favorite!  It's an exciting New England whale watch cruise that's both informative and exhilarating. If you enjoy cruises but are looking for a more historical option, the USS Constitution Cruise is a good bet. This historic vessel sails around the Boston Harbor for 45 minutes of fun.
The Boston Harbor provides some striking photo opportunities, too! Venture into the North End neighborhood for some free historic sites like Old North Church and the Copp's Hill Burying Ground, Boston's second oldest cemetery. Other North End options include the Paul Revere House, home to the famed silversmith who warned of the oncoming British invasion.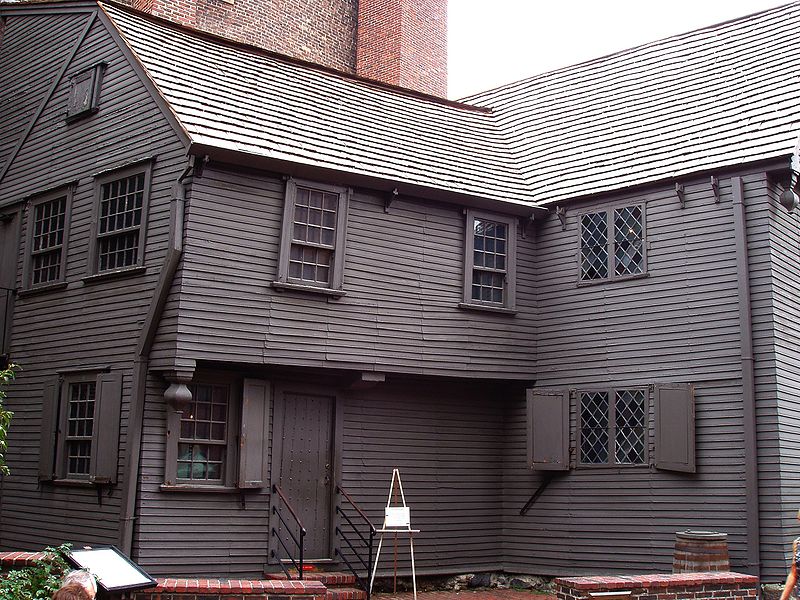 The Paul Revere House[/caption] Head inland to explore must-see attractions for history buffs, including the Old State House Museum and the Old South Meeting House (tickets to both are included with the Go Boston pass!)
Where is there to eat near the New England Aquarium?
The New England Aquarium is conveniently located on the Boston Waterfront, a hotspot for seafood restaurants and other delicious local cuisine.
The Aquarium itself boasts the charming Harborview Café, and there are picnic tables outside for you to bring your own lunch.

If you'd prefer to dine elsewhere and are looking for seafood, some popular options include

Legal Seafoods

,

Chart House,

and

Central Wharf Company

.

Non-seafood options include

The Black Rose

(Irish),

Pasta Beach Boston

(Italian), and various sandwich shops.

If you're willing to walk a teeny bit further, the Boston iteration of the

Hard Rock Cafe

 is just a few minutes away, too.
Save on Admission
Remember, you can save up to 55% on combined admission tickets to Boston's New England Aquarium, plus many more top Boston attractions with Go City®.