Whale watching in Massachusetts is a popular activity when visiting New England. From Maine to Massachusetts, this is the time of year to see the magnificent and elusive humpback whales (among other species). While the prime season runs from April to October, you'll often find that whale watching cruises are less crowded during the late summer and early fall months, making now an excellent time to enjoy such an excursion.
Save on Admission to New England Aquarium Whale Watch
If you're looking to enjoy a New England Aquarium Whale Watch for less, pick up an all-inclusive Go Boston® Card. You'll save up to 55% on combined admission prices to your cruise plus other popular Boston attractions like a hop-on hop-off trolley tour, the Museum of Fine Arts, the Museum of Science, Skywalk Observatory, and more. See all passes, attractions, and prices.
New England Aquarium Whale Watch Details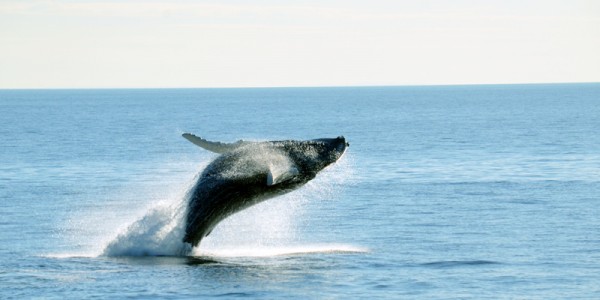 Embark on a Boston aquarium whale watch to see these grand creatures swim throughout the rich feeding ground of Stellwagen Bank Marine Sanctuary. You'll enjoy a leisurely cruise out to the mouth of the Massachusetts Bay, during which you're sure to experience multiple whale sightings alongside plenty of sea birds, dolphins, and other marine life. Your exciting whale watch cruises are hosted by marine mammal experts from the Whale Center of New England, which is affiliated with the iconic New England Aquarium (another top destination for lovers of all things sea life). Their depth of knowledge and love of whales will really show in their presentations.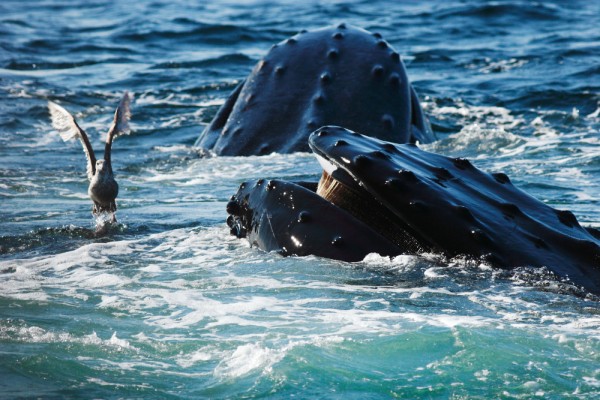 Along the way, you will learn to identify unique whales that have been spotted before in the Stellwagen Bank Marine Sanctuary, including Sundown, Hancock, and Etch-a-Sketch. Experts can identify these whales by virtue of the distinctive black and white markings on their flukes. Whale species seen on this cruise also include minke whales and finback whales, which are respectively smaller and larger than humpback whales. You're also likely to see a few white-sided dolphins, creatures that only swim in the waters of the North Atlantic.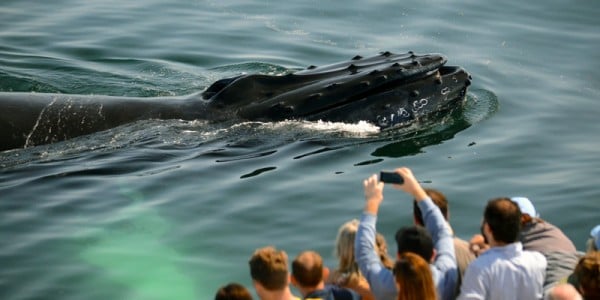 This Boston aquarium whale watch is also distinctive for its commitment to sustainability and responsible wildlife stewardship. Their vessels are "green" catamarans and they adhere to standards for environmental friendliness set out by the Passenger Vessel Association Waters Best Green Practices Program. This New England Aquarium whale watch cruise is also deeply invested in respecting wildlife and working to educate staff and passengers alike in the need to care for whales and preserve their environments. We know you'll disembark from your cruise with a newfound appreciation for these majestic creatures!
Tips to Make the Most of Your Boston Aquarium Whale Watch
During the summer months, bring a light jacket or sweatshirt, as you're sure to be cold out on the water – not to mention the breezes!
If your trip actually falls in September or October, we also recommend a hat, gloves, scarf, and heavier coat.
Regardless of the time of year, sunscreen is a must. Although the New England Aquarium Whale Watch catamarans do offer enclosed areas, you may be spending much of your time on one of their three outdoor viewing decks.
Sandals are nice for walking on land, but not on a boat. We suggest sneakers or other rubber-soled shoes.
Don't forget to bring binoculars! Most whales will appear a decent distance from the boat, and you don't want to be relying upon the zoom function on your phone.
Your resident whale experts will also be happy to provide plenty of advice on how to snap the best photos or take the clearest video, so don't feel pressured to know it all before you go.
The entire cruise will take approximately four hours, so be sure to plan at least half a day for this activity.
Don't Forget to Save on Admission and Whale Watching in Massachusetts 
Interested in a Boston aquarium whale watch? Snag a Go Boston® Card and enjoy this whale watch cruise along with your choice of over 40 top regional attractions. You'll save up to 55% versus paying at the gate, and enjoy the convenience and ease of a digital attractions pass. What's not to love?