Heading to Boston for your vacation, but wondering which area to hoist your holiday flag? Never fear; we're here to give you the play-by-play on the best districts in the city. Read on, and learn where to stay in Boston!
Including: 
Downtown
North End & Waterfront
Beacon Hill
Seaport
Back Bay
and more!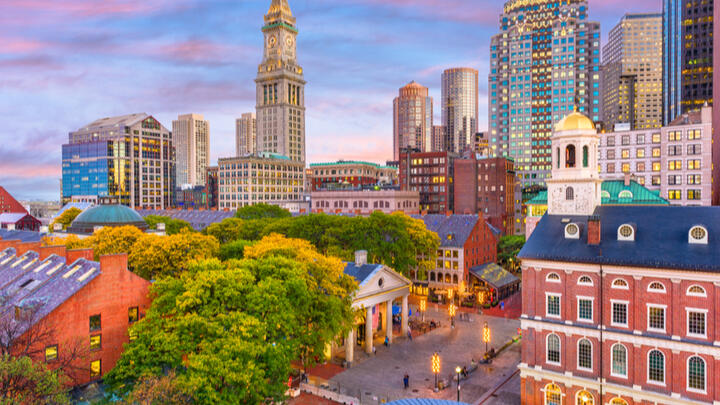 Downtown
Arguably the most popular tourist destination in the city, Boston's Downtown district is also its financial hub. Within, you'll find the biggest collection of landmarks and hotspots, from the Freedom Trail to the Boston Harbor. Given its central position, it's also a great place to use as a home base, with plenty of travel opportunities to neighboring districts. 
Combine all that with a large number of bars, restaurants, and Independence-inspired attractions, and it's just about perfect for shorter or longer-term stays. If you're wondering where to stay in Boston, Downtown could be just the tip. Plus, given its proximity to the water, you'll also find the delightful New England Aquarium nearby. The perfect stop for kids big and small who love the exotic species that call our oceans home!
North End & Waterfront
Downtown might be the city's current midpoint, but North End is Boston's oldest district. Settled back in the 1630s, you'll feel the area's history as you walk its streets. There, you'll find the city's 'Little Italy', where many Italian immigrants settled over the years. That means plenty of charming pizzerias and cafes where you can pick up a slice or three. 
Attraction-wise, you'll find the Boston Tea Party Museum and the Paul Revere House, among many others. And, while you'll be sacrificing the travel connections of Downtown, you'll make up for it with fantastic views of Massachusetts Bay!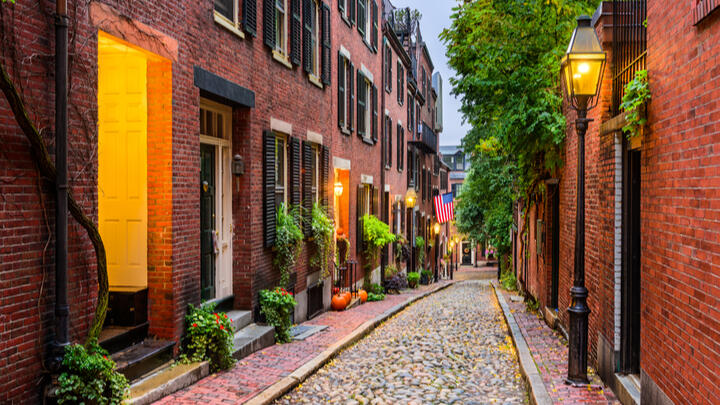 Beacon Hill
Another top tourist choice is Beacon Hill, which has a lot of history packed into its narrow streets. Back in the 19th-century, it was a thriving black community even before the Civil War and the abolishment of slavery. As such, an absolute must-see is the Black Heritage Trail, which winds its way through the district. Other notable attractions include the Nicols House Museum and the Massachusetts State House.
Alongside all the things to see, you'll find plenty to eat and drink too! There are plenty of places to eat on Charles St and Cambridge St, with a wide variety of globe-spanning cuisines available. You'll also be in sneezing distance of Boston Common, the city's biggest green space. It's the perfect place to go and unwind if your legs need a rest on your vacation. 
Seaport
These days, Seaport is one of Boston's most attractive vacation destinations. Given its name, you can expect amazing views of the waterfront and a bevy of eateries, watering holes, and other tourist trappings. However, that wasn't always the case. Only ten years ago, it was a relatively barren area of car lots and the grizzled fishing docks. 
Modern Seaport has all the usual suspects you'd expect from a modern American city. You've got your craft beers at Harpoon Brewery, your prime seafood at Legal Sea Foods, and your upmarket steaks at Del Frisco's. For the little ones, there's Boston Children's Museum, and for the rest of us, there's a wealth of shops, snack bars, and The Lawn on D for fun and games!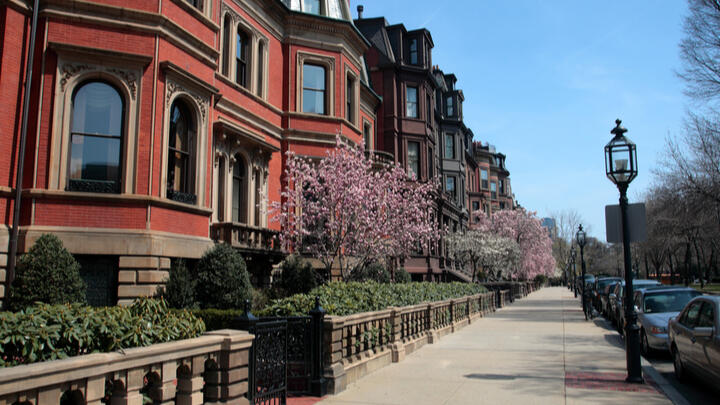 Back Bay
Looking for the perfect mix of bustling Boston and the charming residential districts? Look no further than Back Bay. There, you'll find a wealth of shopping opportunities, from local boutiques to nationwide chains. 
This sophisticated area of the city also has plenty of cozy art galleries, hidden cafes, and great sea views. It also backs onto Boston Common, if you're looking for a big green space with plenty to do. As far as landmarks and attractions, you have to go and see Boston Public Library and Trinity Church, two of the city's most recognizable icons. And, if you want to see more of the city, it has great travel connections and is in walking distance of Downtown and Bay Village!
South End
Boston's own boho-chic location is undeniably South End. It's about as far removed from tourism as you can get, for better or worse. While that means there won't be as many attractions to see or landmarks to snap, it does mean you'll find an amazing selection of restaurants, bars, and shops. 
Along Columbus Ave, you'll discover a boatload of cafes, taverns, and our pick, Charlie's Sandwich Shoppe. Great food in great time, head there early to sample one of their many delicious breakfast options!
For a classier night on the town, check out Barcelona Wine Bar. Their menu is dripping with delicious New American dishes, and their wine selection is predictably sublime. 
And, on top of all that, there's a burgeoning art scene in SoWa, where you can find plenty of independent galleries and pick up a piece for your home, if you're in the market for some unique art!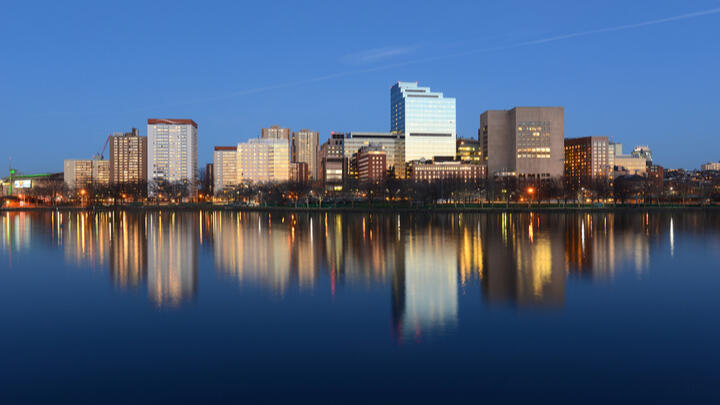 West End
Unlike London's renowned district, Boston's West End is bereft of the arts. In fact, arguably its biggest landmark is Massachusetts General Hospital. However, while it might not have a lot going on within, it's a stone's throw from Downtown and North End, has a smattering of restaurants, and, perhaps best of all, it's relatively cheap.
If that sounds good to you, head east, and you'll find most of the nightlife. The likes of Bodega Canal and Tavern in the Square have you sorted for good food and drinks, and West End Johnnie's does a mean burger. You may miss the variety present in other Boston districts, but you make up for it with affordable hotels and a range of decent to excellent Airbnbs at a reasonable price!
Cambridge
We may have cheated here, as Cambridge is its own city. And yes, you may have to cross the Charles River to actually get there from Boston proper. However, it's here that cultural powerhouses MIT and Harvard reside. Two of the world's best higher education institutions in one city. Not bad.
Cambridge is massive, so you may need some wheels if you want to get about easily. If you do, head to the Harvard Museum of Natural History and the Harvard Art Museums. And, while you're there, why not take a tour of the university? 
And those are our recommendations for where to stay in Boston! Want more? Check out the city's best museums.