When it comes to attractions, Cancun has a lot to shout about. There are the long stretches of pure white sand lined on the one side with palms and on the other by the coral-rich waters of the Caribbean Sea. And there's nightlife so good it's a favorite with the spring break crowd.
But there's also a rapidly-evolving food scene, as well as an extraordinary array of sites left by the Maya – to the extent that this part of Mexico's Yucatan Peninsula is known as the Riviera Maya.
There's probably no better time to check them out than Cancun in April. Eager to know why? We explain all below!
Tip 1 – Cancun weather in April is excellent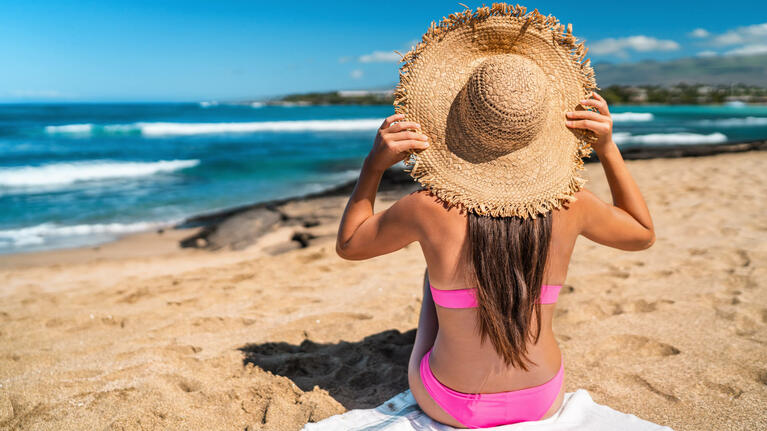 Cancun's climate can be split into just two seasons – wet and dry. April sits at the end of the dry season, when daytime temperatures range from 23 – 33°C. This means that even in the evenings you'll need little more than a light sweater or shawl.
Largely cloud free, visitors can expect ten hours of sunshine per day, so don't forget your sunscreen! Rainfall is limited to around 20 mm for the entire month, falling over three days. It makes April the driest month in the Cancun year.
Anyone looking to jump on a jet ski will be happy to hear that sea temperatures remain at 26°C throughout.
Tip 2 – the beaches are sublime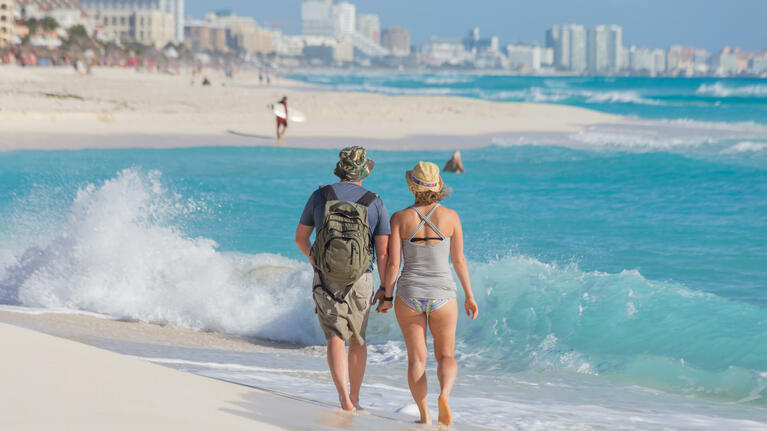 April is the perfect month to enjoy a beach getaway in Cancun. Even if you stick to the shores of the hotel zone (and as gorgeous expanses of soft white sand we can't see why you wouldn't) you've got 11 different beaches to choose between, half of which fly a Blue Flag – the international gold-standard for cleanliness.
Amongst them, Playa Delfines is known for its laid-back vibes, since it's largely undeveloped and all but free from beach hawkers and water sports. Worth the taxi fare for a selfie with the brightly-colored Cancun sign, the surf also regularly welcomes dolphins – hence the name.
For the complete antithesis of Playa Delfines try the likes of Playa Chacmool. Lined with some of the chicest hotel options, there's jet ski rentals and a surf school as well as the chance to observe it all from the viewpoint of a bird with a parasailing adventure.
Tip 3 – don't forget to head beneath the waves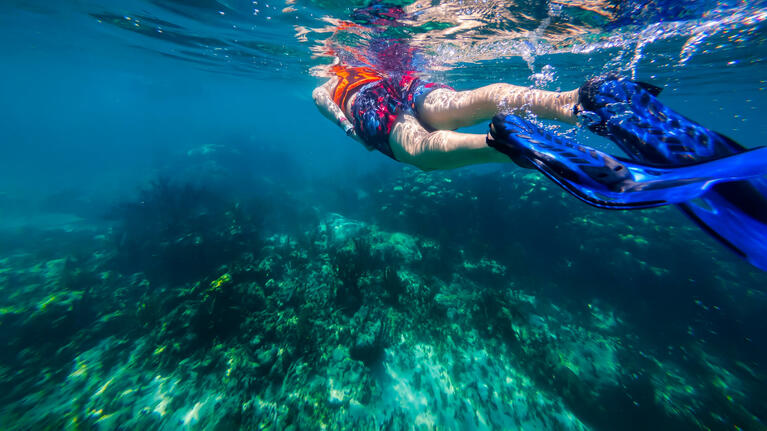 From above, you'll see just how much of the Yucatan remains primary jungle alive with the hoots of howler monkeys, chattering of birds and scuttling of armadillos. This wall of vegetation can be explored in a number of ways, including by taking the controls of your very own speedboat on Nichupté Lagoon on the way to snorkeling on the reefs at Punta Nizuc.
Elsewhere, snorkeling at Isla Mujeres should be high on the list of anyone keen on their own underwater adventures. Forming part of the largest reef system in the western hemisphere, it provides vital habitats for around 500 different species of tropical fish, alongside visiting sharks and sea turtles.
For guaranteed child-friendly encounters, look no further than Interactive Aquarium Cancun. The interaction comes from both touchscreen displays and tanks where you're free to submerge your hands to be tickled by starfish and rays.
Tip 4 – April's a great month for discovering Mayan history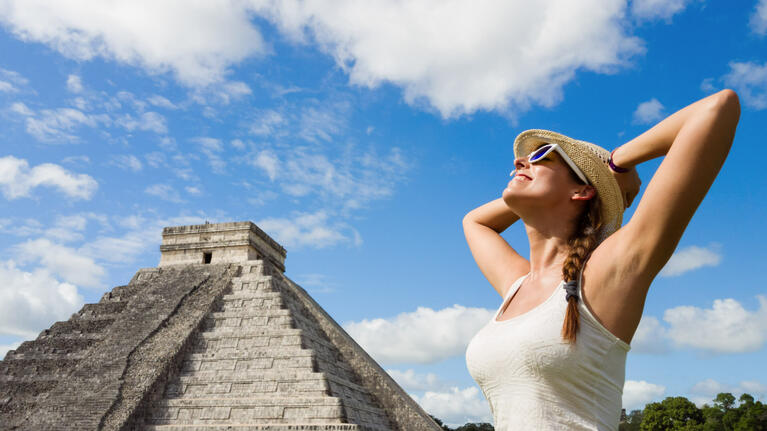 The fact it was almost lost to the surrounding jungle and has been known to the outside world for less than 200 years as a result takes nothing away from the breathtaking beauty and accomplishment of Chichen Itza, a city built by the Mayan people roughly a thousand years ago.
One of the literal pinnacles of their empire is the city's El Castillo pyramid, rising 30 meters over the surrounding plain and topped with a temple to the feathered serpent god Kukulcan. A UNESCO World Heritage Site, it is one of a cluster of major ruins that provide an alternative face to the beaches of Cancun in April.
Immediately behind Playa Delfines, El Rey Archeological Site comprises 47 individual structures and is perhaps the easiest to visit for those with just a casual interest, whilst the remains of the pyramid at Coba is not only tops out a full 12 meters above that of Chichen Itza's El Castillo, but can also be climbed.
Tip 5 – Pick April in Cancun for a slice of festive life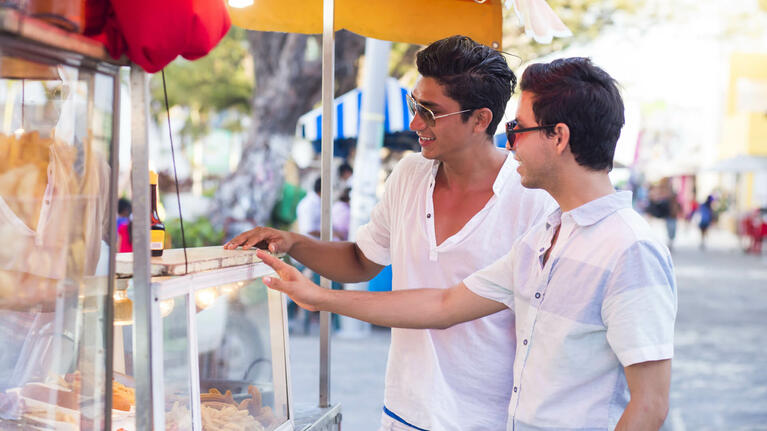 The start of April sees rooms up and down Cancun's hotel zone busy with the end of spring break from US colleges, but the rest of the month is decidedly family orientated. If you need proof of this, look no further than Children's Day on April 30. Although schools remain open, it can be thought of as a Christmas in miniature, with special classroom events, gifts from parents and hotels going all out to welcome their youngest guests.
Most years April will also coincide with Easter celebrations, which means several weeks of festivities for the country's Catholic faithful. In the week leading up to Easter Sunday, or Domingo de Gloria — the 'Sunday of Glory', churches such as Catedral de la Santisima Trinidad in downtown Cancun are richly decorated.
Processions and passion plays reenact the religious events of the period, whilst Easter Sunday sees people enjoy street food, ice cream and fruit ices flavored with pineapple, chia seeds and melon after mass.
Other special Easter treats include roscas enriched bread rings and muéganos – cubes of deep-fried dough doused in honey and other syrups. A salad made from the fleshy leaves of the nopal, or the prickly pear cactus, is also common at this time of year.
For a broader view of Cancun's mouthwatering cuisine, don't miss the chance to explore the city's markets and street food stalls in the presence of an expert guide. Your stomach will thank you for it!
Save on attraction admission with Go City
The biggest tip of all for traveling to Cancun in April has to be Go City! Your friendly go-to pre-pay pass will help you save big on admission to many of the top things to do in Cancun in April, whether they are attractions or activities. Check out @GoCity on Instagram and Facebook to see the latest happy vacationers who've made use of our passes before adding your own snaps to our growing collection!