August is the last opportunity you have to experience Cancun's big three animal encounters – nesting turtles, hatching turtles and whale sharks. A variety of cultural events bring even more color and frivolity to its streets than normal, and balmy evenings mean 'pack light' can become your new vacation mantra.
So although August in Cancun is considered part of the destination's low season, with some chance of rain and growing levels of humidity, you can still enjoy the long list of things to do in Cancun in August. Don't miss any of them with our guide to the best of the summer.
Cancun weather in August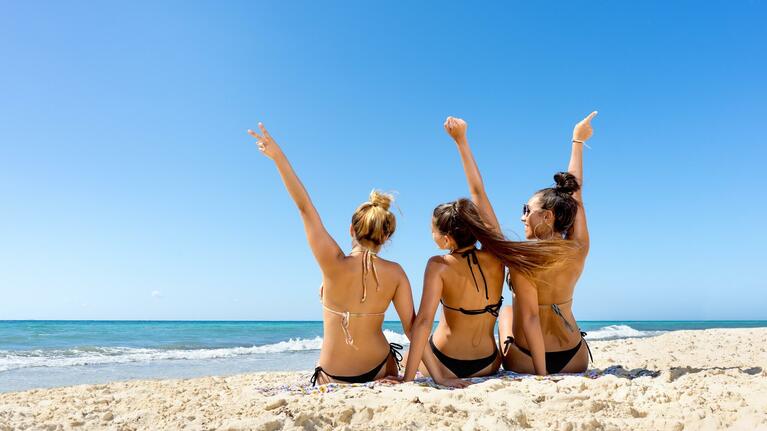 August is the school vacation period, and yet Cancun's Caribbean shores, beachside lagoon and cooling jungle cenotes (sinkholes) are generally much less busy than at other times of year. US and Canadian citizens tend to enjoy the August weather back home. Others can be put off by August's 'wet season' tag.
Don't be. Cancun in August is dominated by hot and humid weather, with average daily temperatures of 29°C. But nestled on the coast of the Yucatan Peninsula, this should hardly come as a surprise. The 'wet' is also quite misleading, with just six days seeing any rain at all, divided relatively evenly across the month's 30 days, though heightening in the latter half of the month.
Grab your swimwear…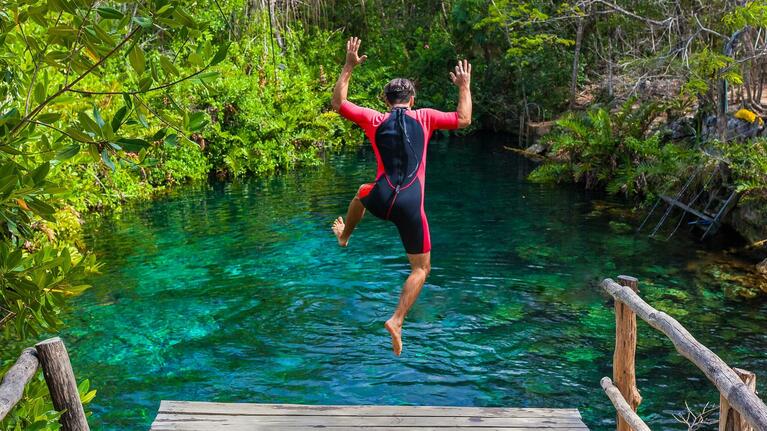 The rest of the time visits to Cancun in August will be a mix of sun and cloud. The long ribbons of white sand see enough of the sun to make renting a lounger and parasol a must. There's even a festival of the beaches – Fiesta de la Playa en Cancún.
At the same time, you shouldn't miss the opportunity to discover the secrets and solitude of the region's cenotes. These naturally-occurring phenomena are found nowhere else in the world and provide a very different swimming and bathing spot to the Caribbean Sea.
Several degrees below the Caribbean's 30°C, many have intriguing histories dating back to Mayan times, such as Tankach Ha close to Coba pyramid. Even more have dramatic stalactite and stalagmite formations.
And don't forget your snorkel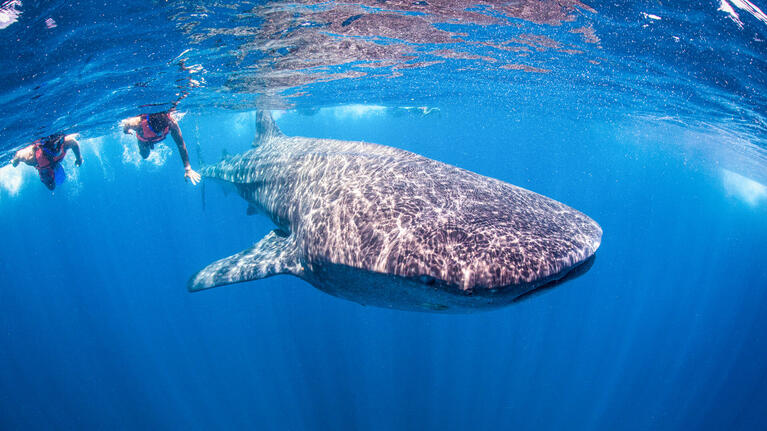 Whilst some cenotes are home to fish, the undisputed giants of the deep – whale sharks – couldn't even fit in many at up to 18 meters long. They can however be admired from both above and below the water on dedicated swimming and snorkeling tours. They continue into August from Cancun as the whale sharks gather to feed for the summer in large numbers.
Other species of shark, most notably bull sharks, can be found swimming amongst the corals and tropical fish of the region's Grand Mayan Reef at any time of year.
Its 14 species of hard coral provide innumerable habitats for around 500 different types of fish, including eagle rays and barracudas. Despite their fearful reputation, they're generally very welcoming of both scuba divers and snorkelers keen to explore the reef.
Greet turtles on the beaches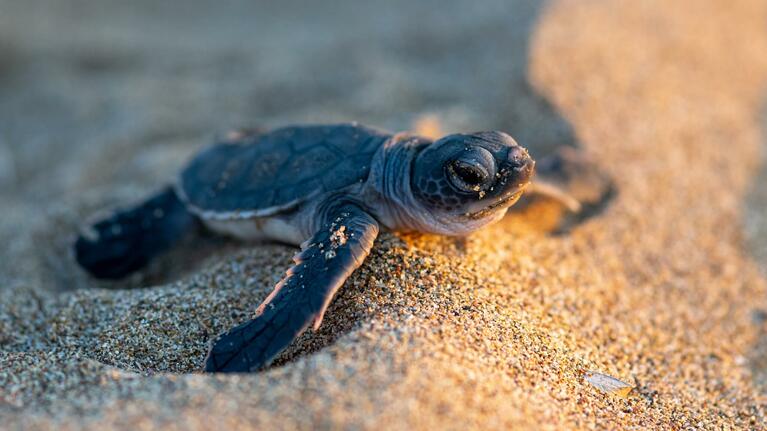 The Grand Mayan Reef drifts for almost 1200 kilometers from Isla Contoy down to Honduras. Set sail for Contoy island in August and you'll come ashore as mature turtles from several endangered species drag their heavy shells up the beaches to lay their soft-shelled eggs, an event which can be witnessed most nights.
Eggs laid in the sands earlier in the season are also hatching, making August one of just a couple of months when it's possible to encounter two generations in the same place.
Turtles nest and hatch on Isla Mujeres too. It can be reached by both ferry, and more romantically, by private catamaran charter. Only seven kilometers long, the island celebrates its founding in 1850 with special celebrations around August 17, encompassing exhibitions, music and culinary demonstrations.
Admire incredible views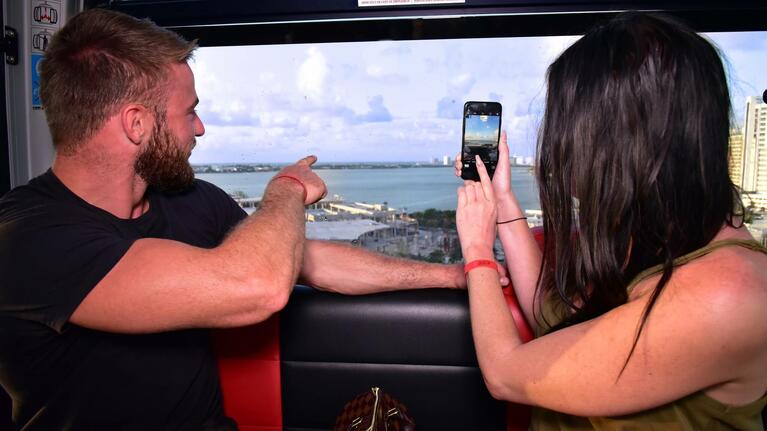 Another feast to look out for is August 15's Feast of the Assumption of the Virgin Mary. Although primarily a religious festival, mariachi bands and festive food and drink all make an appearance.
The warm evenings – temperatures rarely drop below 24°C – make it a great time of year for dining out. Given Mexico's culinary brilliance, there's plenty of options whatever your budget, with a multi-course dinner on board ship as the sun sets surely high on the list.
You could instead settle for the romance of a gondola rising above the main strip on the Gran Rueda Cancun Ferris wheel. Over 50 m high – equivalent to a 16 story building – air-conditioning ensures you'll never feel the heat as you check out 360° views that stretch as far as Isla Mujeres.
Stop by the museums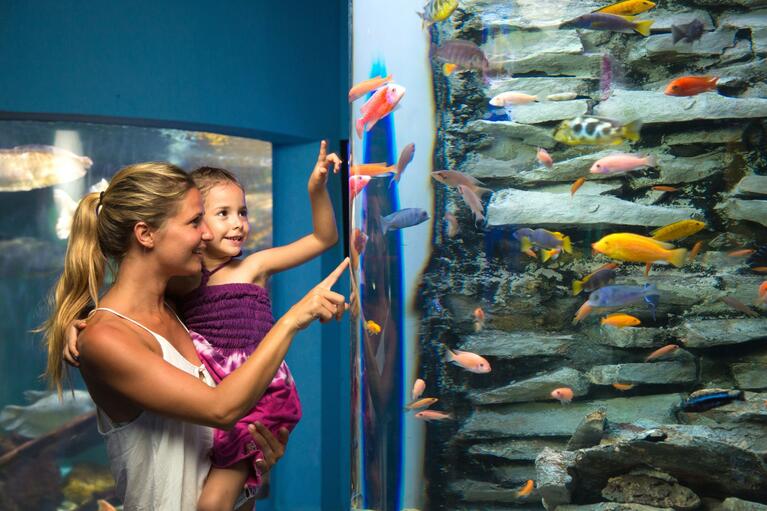 August humidity levels means it's not the best time to leave the coast for day trips to colonial Valladolid and the Mayan masterpiece of Chichen Itza. However, Cancun's museums are another option.
Occupying a modern state-of-the-art building, the Museo Maya takes visitors on a whistle-stop tour of Mayan art and culture through a dazzling array of sacred and everyday objects. Just a few steps away you'll also find the remains of San Miguelito, complete with temples, pyramids and an inquisitive population of semi-wild iguanas.
Sticking with the sea theme, Interactive Aquarium Cancun allows the whole family to explore the Yucatan's underwater worlds without getting their feet wet. Its impressive tanks and displays contain somewhere in the region of 2000 individual species, of which around a quarter are reef favorites. You'll also come face to face with reptiles including crocodiles, as well as sea lions and dolphins.
How to budget for Cancun in August
It might not be the usual month to head to the Yucatan Peninsula but Cancun in August has a lot to recommend it. The sea is as warm as a bath, the beaches less crowded than at other times of year, plus there's the chance for turtle and whale shark encounters.
Forget any worries about August being hurricane season – it's highly unlikely you'll be negatively affected – and explore with Go City. We give you incredible discounts on admission to a huge array of attractions in Cancun whilst giving you the flexibility to pick and choose what you want to do each day of your vacation.