You're in for a treat if you head to Cancun in March! One of the best months to visit this top Mexican beach destination, it provides the dose of sun, sea and sand that anyone tired of the Northern hemisphere's dull winter weather is probably crying out for.
Kissing the Caribbean Sea, and ideally situated for exploring the region's pre-Columbian relics, Cancun is not just for self-proclaimed beach bums. From cultural tours to jungle ziplines, here are our picks of the top things to do in Cancun in March.
What to expect from Cancun in March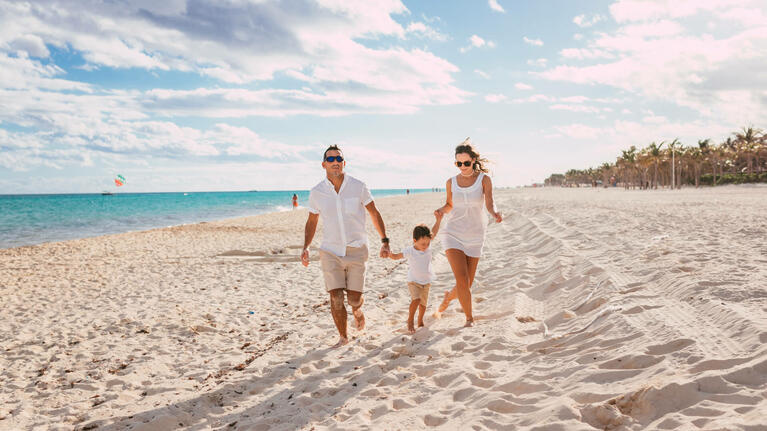 March lies towards the end of Cancun's high season – beginning in December with the Christmas vacation period. However, book your flights and accommodation in good time – the previous November or December should do it – and you'll still be able to find reasonable rates.
The main hotel zone remains busy through to April, with spring breakers from the US filling their rooms from mid-March. And for good reason.
In March, Cancun's climate is perfection. Occupying the dry season, it's neither too hot nor too cold – daytime temperatures average 27°C. Sea temperatures are almost identical and visibility good.
Humidity levels are low, meaning bright, sunny blue skies as alluring for those keen to uncover the region's Mayan roots as those looking to lay a towel on the nearest stretch of sand.
Life's a beach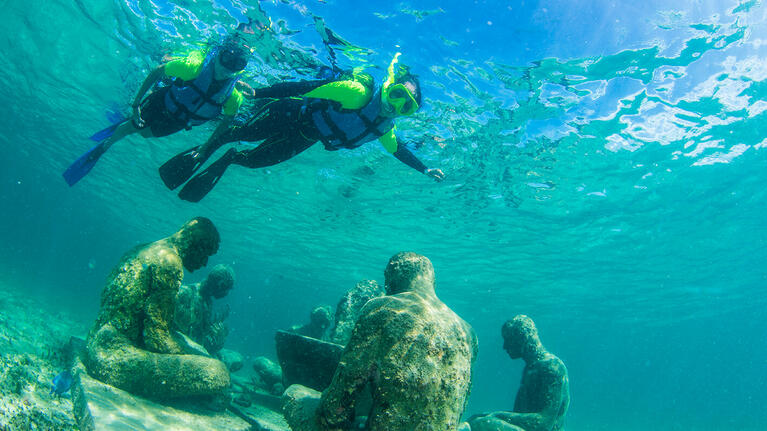 Nor do you have to look far for a ribbon of pristine white sand – there's over 22 kilometers of it. Playas Azul, San Miguelito and Delfines are all within easy reach of the lagoon-side hotel zone. Each offers something different, but edged by crystalline waters, they all share the same sense of there being no better patch of sand anywhere in the world.
When you succumb to the call of their warm Caribbean waters, you won't be disappointed either. That's because the hotel zone is part of the world's second-largest reef system – the Grand Mayan (Mesoamerican) Reef – running all the way to Honduras.
There's therefore plenty of opportunity to get amongst the fire and staghorn corals of Cancun National Marine Park by snorkeling or scuba diving. The most unusual way to do this has to be at Cancun Underwater Museum (MUSA – Museo Subacuático de Arte).
Containing 500 specially sunk sculptures, its three 'galleries' are between three and six meters down. They aim to provide new spaces for coral polyps to grow, and form an integral part of many reef and snorkeling tours.
Staying above the waves, kayaking is an incredible way to check out the nooks and crannies of Nichupte Lagoon, which provides an important area of mangrove habitat for all manner of species.
Mayan majesty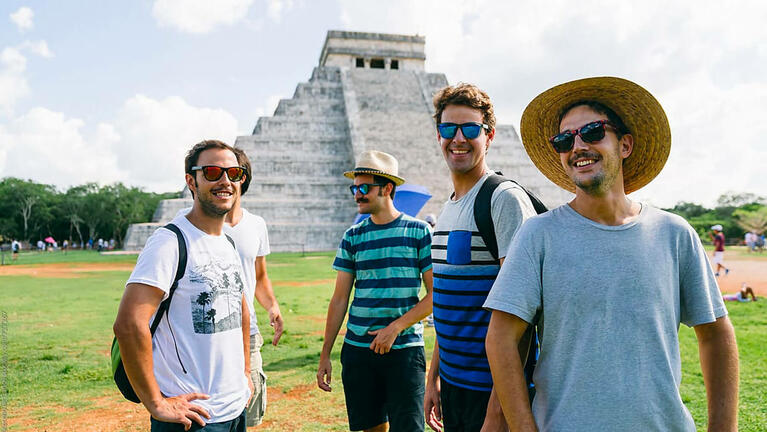 The Mayan stepped pyramids of the city of Chichen Itza, parts of which were constructed 1400 years ago, are wonderful at any time of year, and so special they've been inscribed as a UNESCO World Heritage Site.
One of the civilization's largest cities, its most famous landmark is the Temple of Kukulcan. It's better known simply as El Castillo – the Castle, and by archeologists as Structure 5B18. Extraordinary at any time of year, it was constructed so that the sun on March's spring equinox creates the shape of the serpent Kukulcan on the pyramid's flanks.
Oceanside Tulum, roughly 1.5 hours south, is equally mesmerizing. Ancient city walls up to 5 meters high helped protect it for 250 years, making it one of the best-preserved of any Mexican historic site. Facing the breaking day, it has its very own pyramid called El Castillo, as well as the Temple of the Frescoes, used to track the movement of the sun.
A great way to absorb Cancun's modern persona is with a shopping tour to Mercado 28 and Plaza Las Americas. The first is a mix of swap meet, street food and handmade souvenir stalls full of bright hues and the sound of bartering. The second is a sunlit covered mall with an upscale vibe and the biggest names in brands.
Natural treasures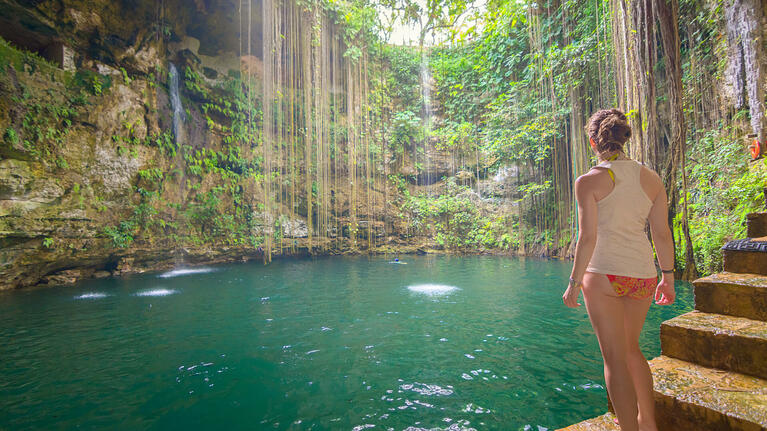 But there's still more to Cancun in March. This area of the Yucatan Peninsula encompasses some magical areas of jungle. Enticing in and of themselves, they also hide spectacular natural sinkholes called cenotes (and pronounced 'se-no-tay').
The perfect place to relax and cool off away from the crowds, there are around 30,000 cenotes ranging from tiny pools to grand cathedrals of rock. They include Tankach-Ha, which pairs perfectly with a trip to the ancient Maya citadel of Coba, where with the help of a rope you can scale the heights of its 42 m pyramid.
Surrounded by the jungle, there's also plenty of opportunity to explore a tree canopy that's home to loose-limbed spider monkeys, cute coati and a staggering array of bird life – toucans and parrots amongst them.
Beyond animal sightings, the adrenaline-junkie is well-served by the jungle around Cancun, with ziplining, rappelling and getting behind the controls of an ATV all popular activities.
Sample the region's cuisine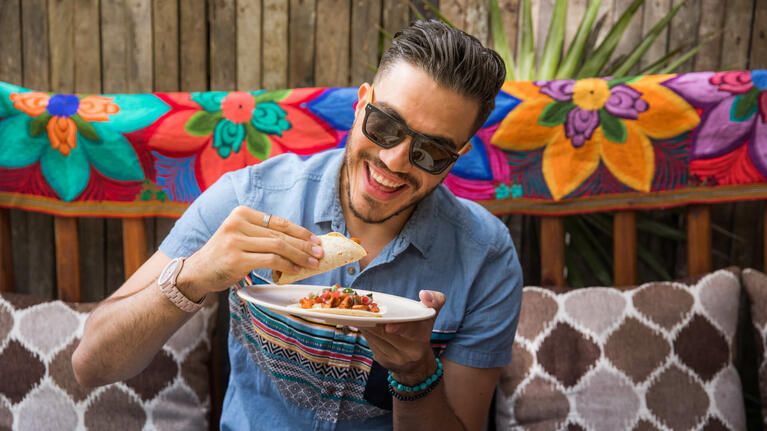 All this action will have your stomach rumbling, and Cancun's culinary scene should not be forgotten when planning a trip to the city. Beyond the usual tacos, burritos and tamales the Yucatan has some intriguing regional delights that will soon have your taste buds crying out for more.
Look out for specialist chicarronería stalls, whose crispy pork belly castacán will have even reluctant carnivores reaching for more. Be sure to leave space for dessert though. Marquesitas should be high on your list to try.
Consisting of thin crepes, they are filled with shredded cheese and sweet ingredients such as chocolate sauce or hazelnut spread before being rolled into a cigar shape. Although it might sound odd on paper, the mix somehow works!
Thirsty? Then wash it all down with pozol, a thin porridge-like drink made from cocoa and corn famed for its revitalizing properties.
Save on attractions in Cancun in March
See more, pay less. It's a crazy idea, but also the very reason Go City exists. Visit Cancun's attractions with us and you can make incredible savings all from one digital pass and without having to forgo the freedom to do what you want when you want to do it!