Lying deep within the low season, September is rarely considered for visits to Cancun. The lack of crowds makes Cancun in September as budget friendly as it comes, with great deals on offer on flights and hotel stays.
What's more, September brings in one of the biggest days in the Mexican calendar, as well as events which only occur two days a year. These are in addition to the usual mix of water sports and beach fun.
Join us as we explore the many things to do in Cancun in September!
Hit the beaches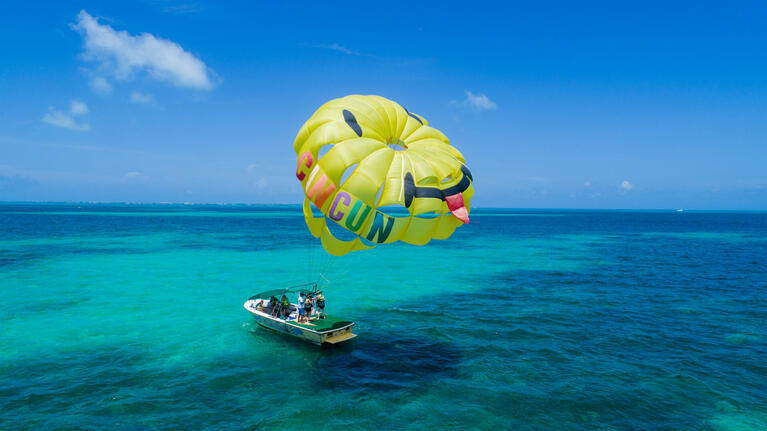 When it comes to Cancun, it's sparkling waters are always a good place to start. Located on the Yucatan Peninsula's east coast, this modern city with an ancient heart faces out into the warmth of the Caribbean Sea.
Edged by the world's second longest coral reef system, its hotel zone is draped with a ribbon of white sand beaches totalling no less than 22 kilometers in length. It catches the gentle breezes to one side and looks out across the jungle around Nichupte Lagoon on the other.
Although it's one of the quieter beaches, Playa Chacmool is still a great example of what you can expect. Beside the sun loungers and parasol rentals there's plenty of opportunities to enjoy the waves, with swimming and water sports including parasailing possible.
The neighboring Playa Gaviota Azul – better known as Playa Forum – is one of the region's top party beaches, whilst Playa Tortugas (Turtle Beach) on the spit of land connecting the hotel zone with downtown Cancun has a local family vibe that's hard to resist.
Delve into the history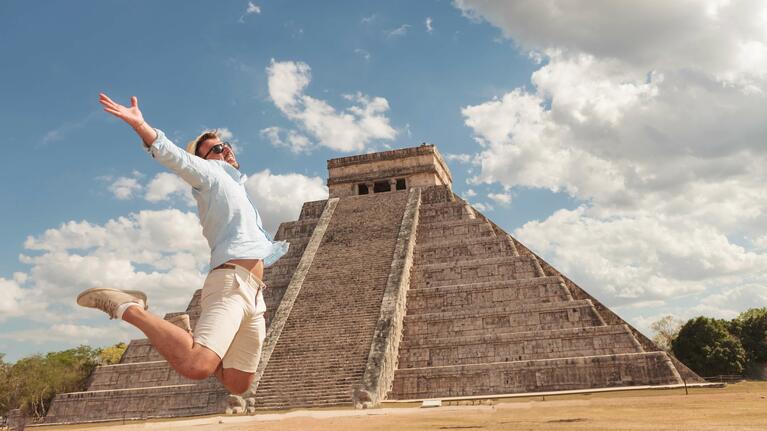 Undeniably, the best place to absorb the culture is at the Palacio Municipal (Town Hall) on Avenida Tulum on the evening of September 15 – Mexican Independence Day.
Commemorating the start of the fight for liberation against the Spanish in 1810 – taking place with little more than clubs and catapults – the festivities begin with the reenactment of a speech given by Don Miguel Hidalgo, now seen as the father of the country. The celebrations continue with mariachi music, dancing, feasting and a late-night fireworks display.
Dating back much further is the abandoned Mayan city of Chichen Itza, founded sometime around AD 600 and home to the magnificent El Castillo pyramid. Although one of the top attractions in the region, we wouldn't usually recommend a visit at this time of year because some travelers can find the humidity levels in land hard to bear.
However, who could resist the chance of seeing the appearance of a snake on the pyramid's sides during the autumn equinox around September 20, given it's a phenomenon only occurring a couple of times a year?
Cool off in a cenote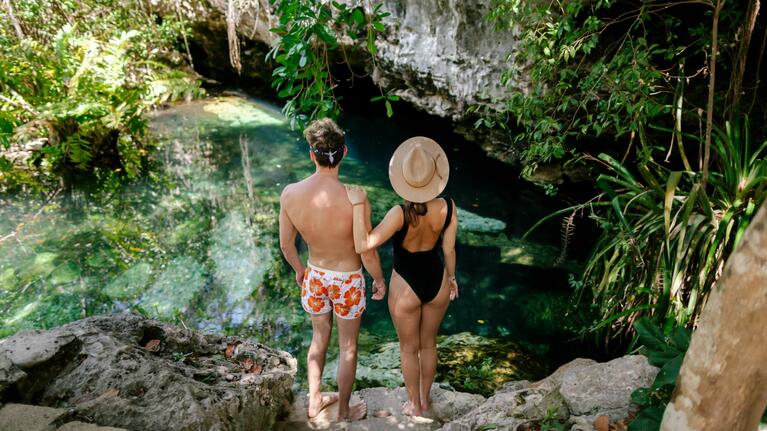 Likewise, jungle adventures are often avoided at this time of year because of the humidity. Follow this trend and you'll be missing out on some of Cancun's other major attractions – its cenotes (flooded naturally-occurring sinkholes).
Extending underground for thousands of kilometers by some estimates, they are accessed through the collapse of cave walls and ceilings, resulting in open, semi-open and pit-like cenotes.
Sought out at this time of year because of their fresh water, which remains pleasantly cool, cenotes are a unique experience. Surrounded by jungle and held sacred by the Maya, their incredibly clear waters are reached by steps, ladders passed through gaps in the rock and even by plunging several meters.
Amongst our favorites are Cenote Yaxmuul beside Jungle Maya Native Park and Gran Cenote, richly decorated with stalactites and stalagmites. Its waters host both fish and small turtles, whilst bats hang out (very literally) around the cave walls.
Go turtle spotting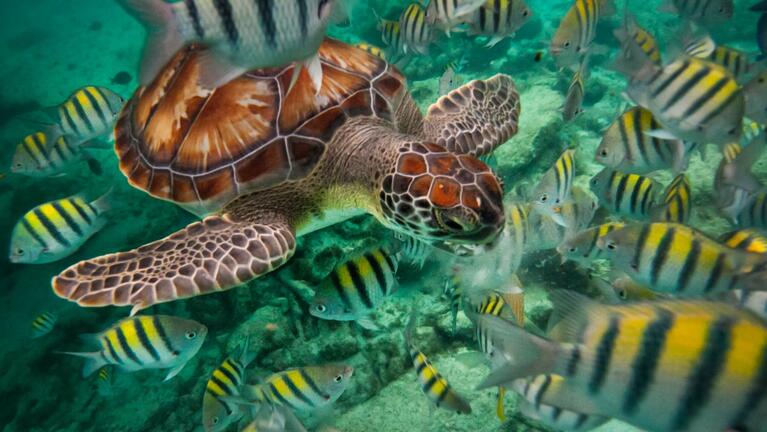 The much-larger cousins of Gran Cenote's reptiles – green, loggerhead and hawksbill turtles – arrive in their hundreds on the protected eastern beaches of Isla Mujeres during the Cancun low season.
Egg-laden females push their way across the sands to the tideline most evenings in order to deposit the yet-to-be-born next generation. Males and immature females fill their stomachs amongst the reefs, making them a regular sighting on snorkeling and scuba diving expeditions.
But that's not all! With nesting turtles comes hatching turtles a couple of months later, meaning those eggs laid in June and July will be hatching out right about now. Most hatchings take place towards nightfall, bringing a wonderful end to any day on the island.
Do a little window shopping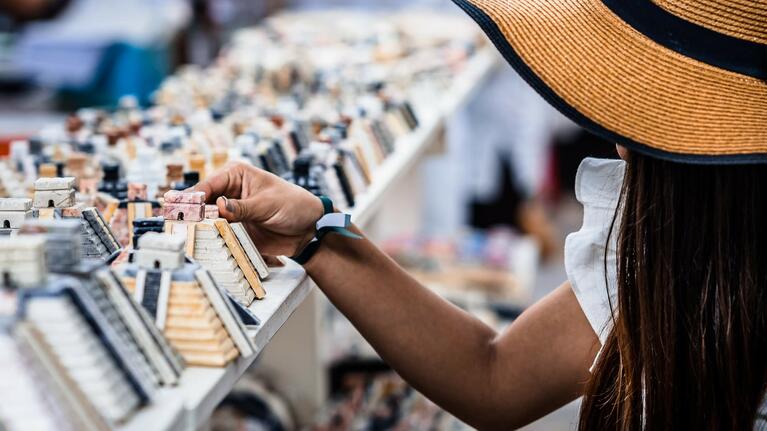 Mention any trip to Cancun in September and the inevitable response will be 'what about the rain?' We're not going to pretend the climate at this time of year is wall to wall sunshine, but nor can we say it's continuously raining – because it isn't.
Statistically, September is the wettest month of the year, and yet two thirds of its days are entirely rain free. Those days which do see rain generally save it up for a heavy downpour lasting two to three hours in the afternoon.
Check the local weather forecast and you can time these moments to coincide with a visit to one of Cancun's indoor attractions. Join a shopping tour of Cancun and you'll get to browse the stalls of Mercado (market) 28 as well as the boutique stores located within the Plaza Las Americas shopping mall.
Providing two contrasting experiences, Mercado 28 is a great place to pick up local art, decide on a souvenir and eat in authentic restaurants. Plaza Las Americas is where the middle and upper classes shop for the latest brands to make a name internationally.
Save in Cancun in September
Know what you're doing and a vacation in Cancun in September can be as epic as one during the high season. Only – you'll be saving a bunch of cash in the process.
Flight and accommodation deals aren't the only way to stretch your budget either. Check out Cancun's attractions with Go City, and you'll get incredible savings on admission costs without having to do much more than turn up whenever you fancy and show your pass on entry.