Cancun is renowned for its incredible beaches, fantastic resorts, and amazing nightlife. Located in the tropics, Cancun is a top-rated destination and you don't have to spend a fortune to experience Cancun. The city's central district, Hotel Zone, and Isla Mujeres, just offshore, offer many free or low-cost activities under $15 USD.
Some of the fabulous free or low-cost attractions in Cancun include:
Mayan Ruins and Mayan Museum
Plaza La Isla
Playa Delfines (Dolphin Beach)
Cancun Aquarium
Isla Mujeres
El Rey Archaeological Zone (El Rey Ruins)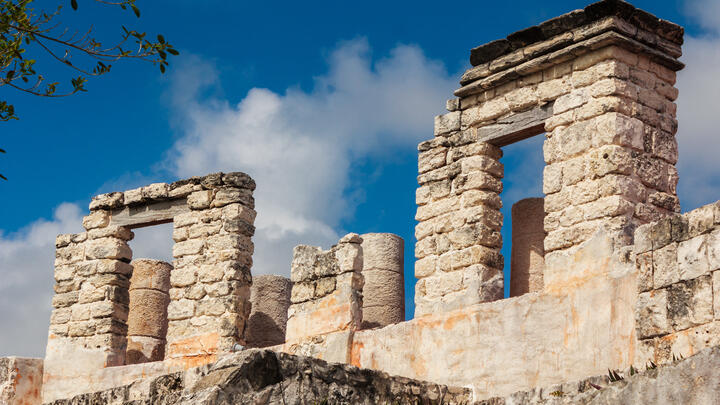 Cancun is the modern entry to the Mundo Maya (Mayan World).
Some Mayan cultural sites are located in the Hotel Zone, including the El Rey Ruins, which were the first ruins explored in Cancun. The El Rey Ruins cover about 700 meters and include two main streets and two squares. Most visitors immediately notice numerous iguanas that live among the stone buildings, which were once temples and a marketplace.
Getting in: Entrance to the El Rey Ruins is 50 Pesos (about $2.70). You can buy water at the ruins, but don't buy fruit for the iguanas: you will see signs warning you not to feed them.
Playa Delfines (Dolphin Beach)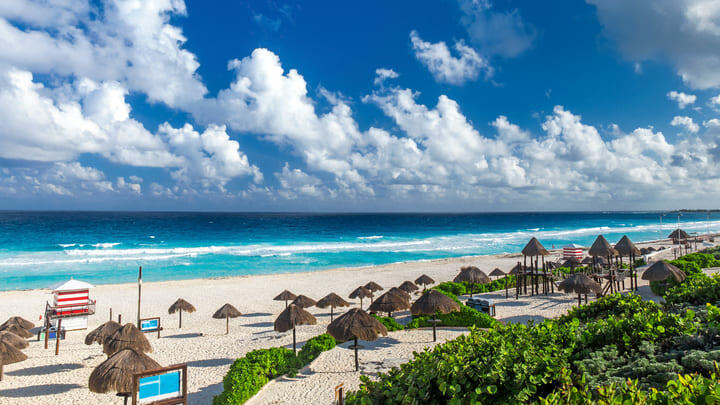 Located by the "Cancun Spot" sign, Playa Delfines (Dolphin Beach) is a public beach with wide white sand, blue water, and ample public parking. It is the last beach on Boulevard Kukulkan in the Hotel Zone, located at Km 19.5. Playa Delfines has a children's playground and is often less busy than other beaches in Cancun.
The waves can be strong at Playa Delfines because it isn't sheltered by Isla Mujeres. You will also find a lot of fruit, local food, and water vendors. You can feed the iguanas at this beach, but there is no shade, so bring umbrellas or plan to arrive early to stake out one of the free palapas (palm umbrellas).
Getting in: Playa Delfines is free and open to the public.
The "Cancun Spot"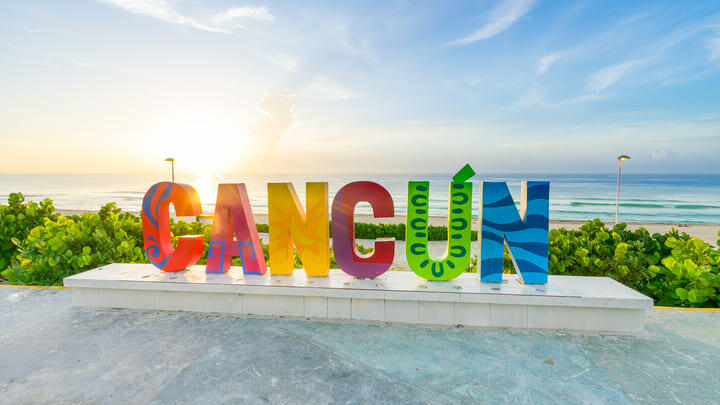 One quick free "must" in Cancun is stopping to take pictures at the "Cancun Spot." Located at Playa Delfines, the "Spot" is a brightly-painted metal sign which offers free Wi-Fi. Travelers report long lines at the "Spot" during peak hours, so like the nearby beach, it's often best to visit in the morning.
Getting in: The "Cancun Spot" is free and open to the public.
Mayan Museum of Cancun and San Miguelito Ruins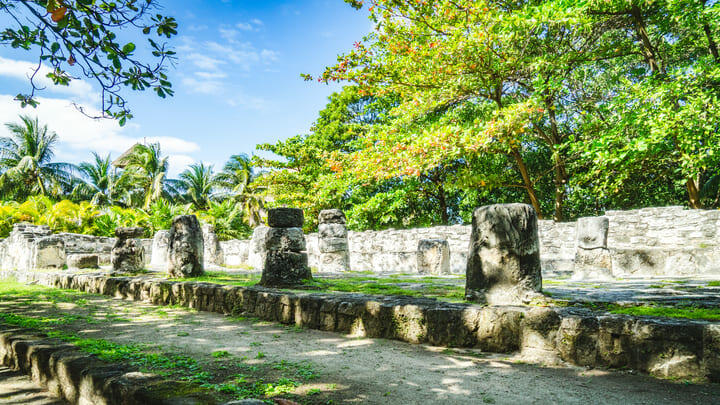 Open to the public between 9AM and 6PM, the Mayan Museum is the primary museum exhibiting Mayan relics in Cancun and the surrounding area. The Museum includes exhibits and the ancient Mayan site of San Miguelito. Located in the Hotel Zone, the museum has three galleries that include 350 Mayan artifacts and treasures, from weapons to necklaces and sculptures.
The precious artifacts are regarded as the most representative of Mayan culture including the great Mayan cities of Chichen Itza and Palenque.
Getting in: The cost of entry is 57 Pesos (about $3.00), which includes the museum and the San Miguelito Archaeological Zone.
Plaza La Isla Cancun
This 162-store Plaza La Isla is the largest shopping center in Cancun. In addition to international stores like Zara and Benetton, Plaza La Isla has a number of local boutiques and shops. The Plaza includes an entertainment and game center, a theater, and a wax museum.
You can also visit its interactive aquarium or take a ride on the Venice-style canal that winds its way through the shopping village. Plaza La Isla Cancun also hosts regular free music events including mariachi, traditional Mexican ballads, and other musical genres.
Getting in: The Plaza is free and open to the public.
Ka'Yok Planetario de Cancun (Cancun Planetarium)
Located in central Cancun near Walmart on Avenida Coba, Cancun's planetarium is considered the most modern and up-to-date of its kind in southeastern Mexico. The planetarium has a hemispherical screen showing the known universe, and the observatory has two telescopes allowing you to observe the afternoon or night sky. Also on-site you'll find a museum devoted to water use and another about the Mayan worldview and astronomical knowledge.
Getting in: Admission is available for purchase upon arrival approximately 40 Pesos (about $2.15).
Parque de Las Palapas (Palapas Park)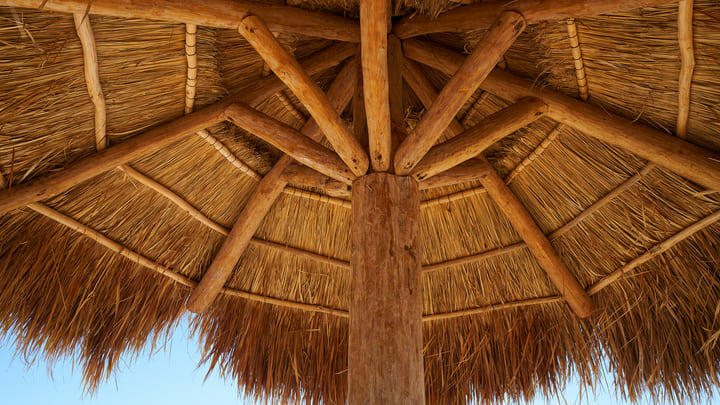 Las Palapas Park is located in the SM 22 district a short distance from the Municipal Palace. A "palapa" is the palm frond shelter found everywhere in Cancun and you will find a few of these in the park along with white umbrellas and other outdoor shelters and seating.
The park is an outdoor square and mall in the heart of Cancun which features musical performances, many outdoor seating areas, and local vendors. You will find outdoor performers from mimes to street artists along with many cultural presentations, from dancers to singing.
Isla Mujeres (Isle of Women)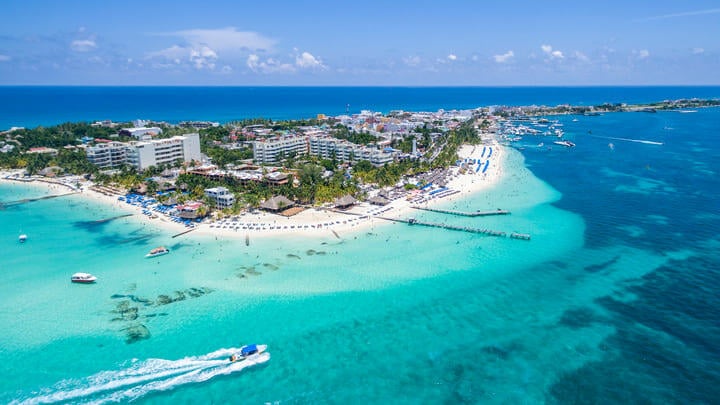 Off the shore of Cancun lies beautiful Isla Mujeres. The primary cost to visit the island are ferries that leave from Ultramar, Puerto Juarez, or Punta Sam. Each ferry costs between 40 and 72 Pesos (about $2.15 to $3.90), depending on your departure location and ferry speed. The slowest, cheapest ferry leaves from Punta Sam, but this ferry also accommodates cars.
Isla Mujeres is about 5 kilometers long, and many people choose to rent a bicycle or golf cart to get around and see the entire island. East-facing Playa Norte (North Beach) is considered one of Mexico's most beautiful beaches. You can easily relax in the pristine white sand and order fresh seafood or beverages. Isla Mujeres is a destination all of its own with spectacular snorkeling, zip-lines, and many other beautiful beaches in addition to Playa Norte.
A few additional no-cost sights on Isla Mujeres include the Punta Sur Sculpture Park, which ends at a Mayan site dedicated to the Mayan Goddess Ixchel. The 19th-century stone Hacienda del Pirata Mundaca built by Spanish Pirate Fermin Mundaca documents his homesickness amid romantic Spanish settings.
Tortugranja (Sea Turtle Sanctuary)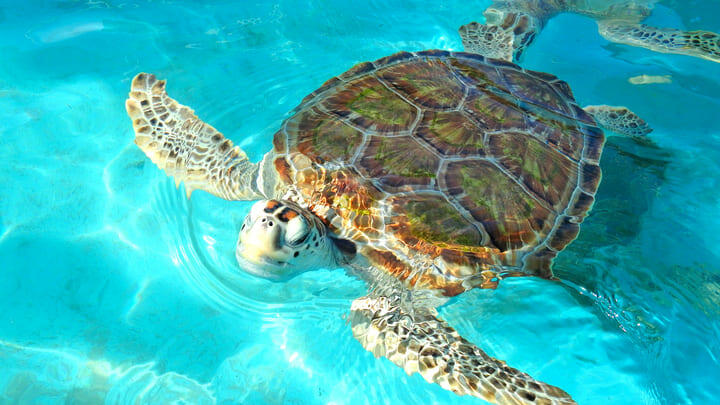 Located on Isla Mujeres, the Sea Turtle Sanctuary costs approximately 30 Pesos (about $1.61). The sanctuary includes a turtle hatchery and a small aquarium. You can see examples of the three sea turtle species which visit Cancun's waters and beaches. You will be able to see the turtle's life cycle, eggs, and how the young turtles hatch.
 
Save on attraction admission with Go City®
There's no need to blow a huge budget in Cancun - with these options you can see lots that the area has to offer and not spend a fortune. To save money on your sightseeing extravaganza, check out the Cancun attractions you can visit with Go City®, where you can save on admission to top attractions vs paying separately at the gate.