Traveling to Cancun for the vacation of a lifetime? We've put together a go-to guide packed with information for getting around Cancun and beyond, including getting to and from the airport.
Cancun is relatively easy to navigate and get around, as many of the best attractions and sightseeing spots are located in the Hotel Zone. The Hotel Zone is the main tourist area of Cancun and is very walkable. Aside from that, there are tons of taxis available and great public transportation options like the bus.
Driving or renting a car in Cancun is typically only suggested for visitors who plan to explore areas outside of the heart of Cancun frequently during the trip.  Renting a car in a foreign city can be tricky and it's very important to inspect the car and insurance policy before operating the vehicle.
Whether you're a first-time tourist or a frequent visitor of the Mexican paradise, this guide will provide you with great tips and tricks for navigating. Planning to see lots of Cancun attractions? Check out the Go Cancun pass - the more you do, the more you save.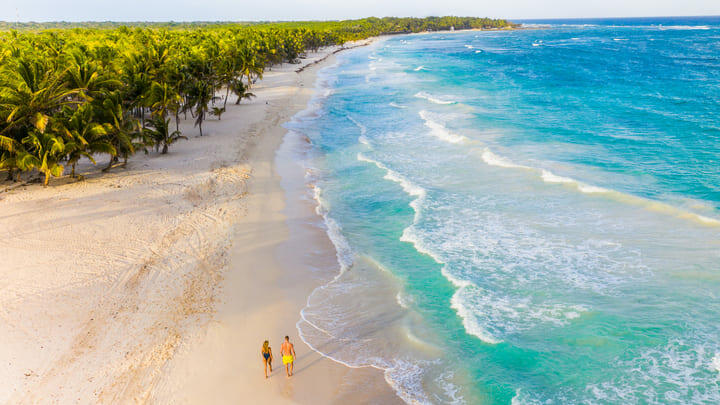 Cancun Public Transportation
Most travelers in Cancun agree that the bus is the best way to get around. With routes that can connect you between the Hotel Zone, Boulevard Kukulcán (downtown) and Avenida Tulum, you can get around to just about everything on your bucket list by bus.
The buses run every five minutes, with the most popular routes being R1 and R2. Either of these routes will take you back and forth between downtown and the Hotel Zone. A one-way fare typically costs $10.50 Pesos which is roughly 50 cents in USD. The buses do not accept American coins and it is often hard for drivers to break big bills, so make sure to carry Pesos on you if you plan to utilize the bus system.
It is also important to keep your bus tickets - you can use them to redeem discounts at local stores. If you're unsure where you need to get off the bus, let your driver know your destination. They will be happy to let you know when the bus has arrived at your stop. It's also helpful to remember that buses running along the ocean-side of the road are headed north towards downtown. Buses running along the lagoon-side of the road are running south towards the Hotel Zone.
There are also regional buses that run between Cancun and other popular tourist towns. These buses are operated by ADO and are typically a bit more expensive than the local bus service. You can book tickets for buses that will take you between Cancun, Tulum, Playa Del Carmen and Chichén Itzá. If you plan to visit any of these locations, remember that many of the attractions on Go Cancun pass include round-trip transportation.
RutaDirecta is a great site for mapping out your local bus route
For more information about regional buses, check ADO's website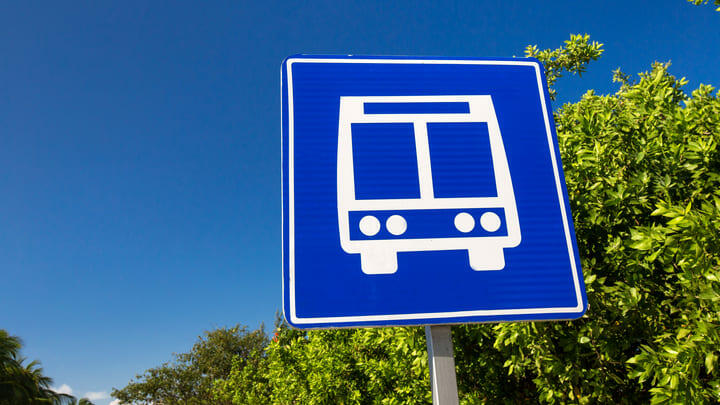 Walking
Once you've made it to popular spots like the Hotel Zone or Boulevard Kukulcán, it's very easy to explore the areas on foot. The Hotel Zone is home to many attractions, restaurants, shops, and hotels. Nearly all hotels and residences are walkable to a beach.
Walking up and down the strip you'll find Senor Frogs, Carlos n Charlies, Cancun Wax Museum, and many different boat tours and snorkel excursions that deport from the marinas. While Cancun itself is rather spread out, you'll find that it's very easy to walk around once you've arrived at the most popular areas of the city.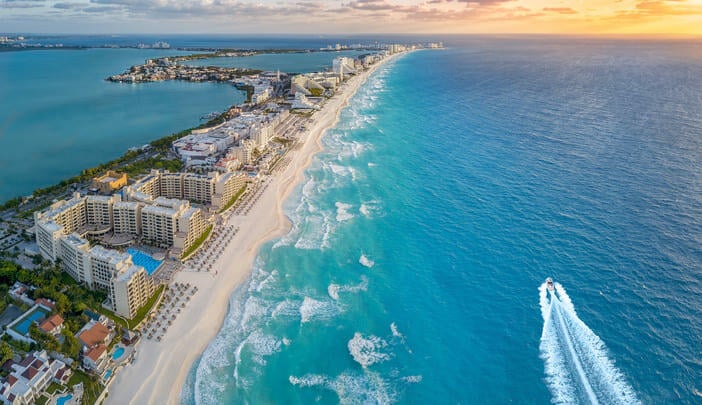 Taxis
You'll never need to worry about finding a taxi in Cancun, they're just about everywhere! There are no metered taxi rates in Cancun, so be sure to discuss your fare before departing. Depending on how far you're going and where you're being picked up from, your ride can cost anywhere between $10-$25 USD. Your fares may be lower if you are able to pay in Pesos and drivers do not always have change for American bills.
If you're planning to take a taxi from the airport, expect to pay somewhere around $40-50 USD. You can purchase a taxi ride at one of the information desks within the airport or negotiate with drivers waiting at the pickup gates. It's important to check for your cab driver's permit, which they are required to display in a prominent place. Always cross-reference license plate information as well. Uber is also available in Cancun but is not a popular mode of transportation. It is much easier to find a taxi in the area.
Renting Cars & Parking
Since the taxis are plentiful and the buses provide an easy way to connect you between downtown and the Hotel Zone, renting a car is only suggested if you plan to travel further distances. If you choose to rent a car, make sure to thoroughly inspect the vehicle and insurance/rental agreement before operating it. Renting a car in a foreign country can be a bit more complicated than expected. There is also limited parking in popular tourist areas like the Hotel Zone.
In the past, visitors in Cancun who have rented cars have noted that local police tend to pull over tourists, so always make sure you are abiding by all traffic laws. It is important to know possible moving violation ticket prices beforehand so you do not get overcharged.
The best way to get to further destinations, like Playa Del Carmen or Tulum, is to arrange a bus ride with ADO or take advantage of the many attractions on Go Cancun pass that offer included transportation.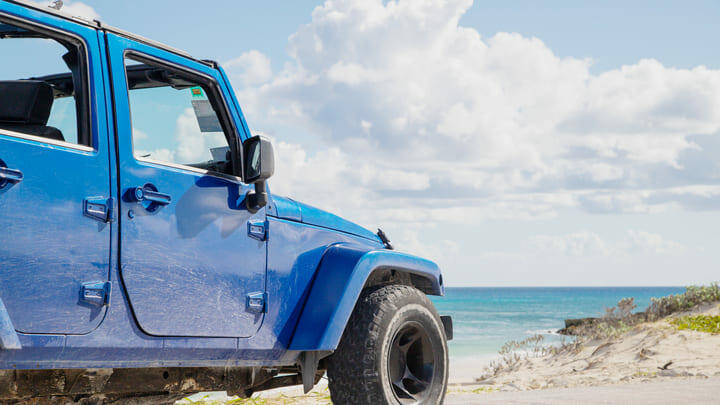 Ferry
If you plan to visit Isla Mujeres (which you should!), then you should definitely be familiar with the ferry system in Cancun. Isla Mujeres is a picturesque little island located 15 minutes off the coast of Cancun. Ferries run all day between the island from three different docks in Cancun. El Embarcadero, Playa Tortugas, and Playa Caracol are all located in the Hotel Zone.
Service is generally provided from 9 am to 9 pm at each departure location and ferries run every 30 minutes. Ferry fares typically cost $19 USD for adults and $14 USD for kids for a round trip ride. Another way to get to Isla Mujeres is to use Go Cancun pass. The pass offers several attractions in Isla Mujeres that include round-trip ferry transportation.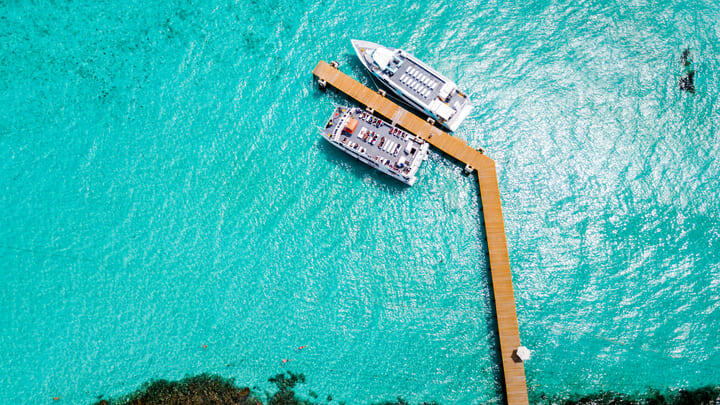 By Plane
Cancun International Airport is located approximately 25 minutes outside of the Hotel Zone. You'll have the option to pre-book a shuttle directly to your hotel or you can grab a taxi upon arrival. To get a taxi, simply follow signs to ground transportation.
Remember that local traffic can add a significant amount of time to your trip so plan accordingly. You can also arrange a bus ride with ADO to the bus terminal in downtown Cancun. From there, you can hop on a local bus route and get to your hotel easily.
If you're traveling with a lot of luggage, it's much easier to book a shuttle or taxi. It's hassle-free and very affordable.