Planning a romantic trip to Cancun this Valentine's Day? Visiting Cancun is always a good idea. With more flights to the peninsula than ever before, it's becoming more accessible to travelers from all over the world who want to take in Cancun's gorgeous sights and sunshine vibes. But, with so many options to keep you and your lover occupied, how do you even begin to plan a romantic Valentine's Day adventure? To help you narrow it down, we've curated a few of our favorite choices.  
Our pick of romantic things to do in Cancun includes...
All Day Adventure Park at Puerto Morelos
Dinner Cruise 
Parasailing
Catamaran Sail to Isla Mujeres
Chichen Itza, Cenote & Valladolid Trip
1. Tulum-Tankha Cenotes Eco-Adventure Tour
If you and your date are the type of couple who love to experience a new place with all your sensesto get out, get some mud on your shoes, and explore--this is the perfect choice for you. The Tulum-Tankha Cenotes Eco-Adventure Tour lets you experience the natural beauty of Cancun firsthand. First, you'll visit the world-famous architectural dig at Tulum, on a tour of ancient Mayan temples. You'll get to explore the cenotes (stunning sinkholes that evidence the area's massive underground river system) at the Eco-Adventure Park, and you'll also have the option to enjoy an adrenaline-pumping ride on their aerial zip line a kayak trip around the park's waterways. This tour also includes a buffet-style lunch, because it's a full-day adventure. To make the most of this adventure with your valentine, wear lightweight clothing, comfortable walking shoes, and a hat! Biodegradable sunscreen and insect repellant are also a must. When you get back to your hotel at the end of the day, there's nothing better than debriefing on the beach with a cocktail and a sunset. 
The day begins with a spot of snorkeling at Puerto Morales, home to the second-largest barrier reef in the world. The crystal blue waters and the colorful reef are sure to get those sparks flying, even underwater! You'll have some time to relax on the sandy beaches and grab a bite to eat. 
Next up is a jungle adventure. You and your partner can jump on a 4 x 4 and fly through the jungle 
2. Dinner Cruise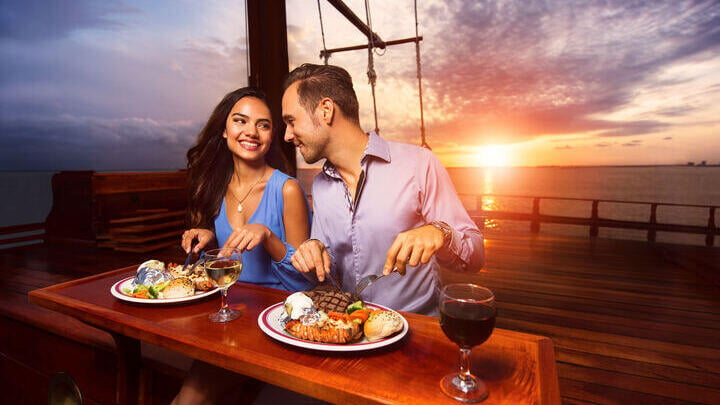 Perhaps the best way to experience Cancun is by getting off the mainland and onto the water – and a sunset dinner cruise is a lovely way to do that while creating Valentine's Day memories that are sure to last.
On a Columbus Romantic Dinner Cruise, you'll board a re-creation of the Spanish Galleon – the same type of ship that Christopher Columbus commanded when he sailed to the New World. Your cruise will last for two and a half hours, giving you plenty of time to savor a mouthwatering steak or veggie dinner, to take in the picturesque views of the Cancun lagoon, and to enjoy an incomparable Cancun sunset.
Live saxophone music and an open bar complete the experience with a warm, romantic Cancun atmosphere you won't find anywhere else. Be prepared for cooler breezes after sunset – you might want a light sweater, even though you're in the Caribbean. Professional photos are taken onboard and can be purchased for $20 each, the perfect way to remember a truly one-of-a-kind Valentine's Day. 
3. Parasailing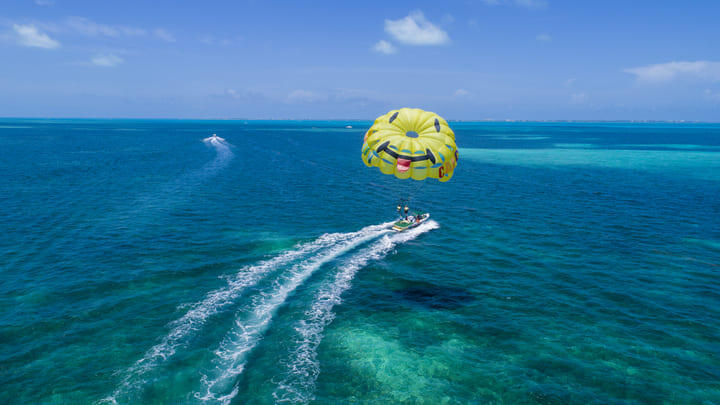 If you really want to impress your date with an unforgettable Valentine's Day experience, why not do it from the skies above Cancun's pristine beaches?
Parasailing is an exciting adventure that you and your date can experience side by side. You'll spend 10-12 minutes in the sky as you glide along a three-mile-long stretch of beach, and you'll have a walkie-talkie so you can tell staff how high or low you want to go.
The views while parasailing can't be matched – unless you're prepared to charter a helicopter for yourself and your Valentine, but that just doesn't offer the same rush as feeling the ocean breeze on your face while you fly above those crisp ocean waters. If you want to get wet, wear a swimsuit; otherwise, wear light, comfortable clothing--it'll be hot out there! Sunscreen is a must and sunglasses with a neck strap are highly recommended.
4. Catamaran Tour to Isla Mujeres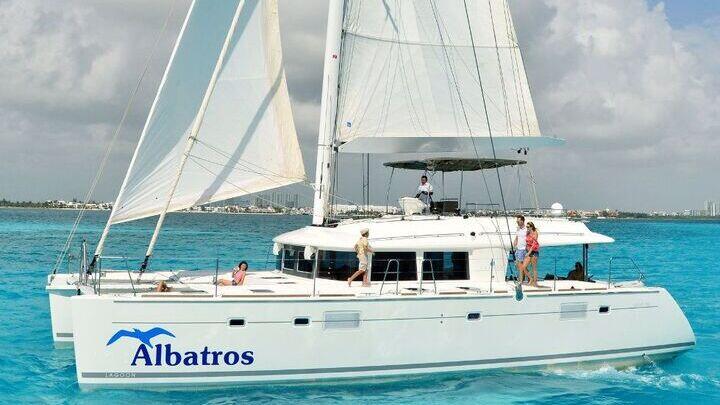 This luxury tour has it all: snorkeling on one of the Caribbean's most colorful reefs. Sailing over turquoise-blue waters. Exploring downtown Isla Mujeres on foot. A mouthwatering lunch with your choice of exclusive drinks.
You'll be taken all the way to El Farito, the most famous reef in the area with to-die-for snorkeling that can only be accessed by boat. Don your swimsuit and hop into the water to explore the underwater sculptures, breathtaking coral, and mesmerizing rainbow-colored fish. Then hop back aboard to sail to Isla Mujeres, where you'll enjoy a buffet lunch and have plenty of free time to explore the city's tiendas (shops) and cafes.
Bilingual tour guides will always be near to answer your questions and facilitate your adventure with your Valentine. As with pretty much any other Cancun adventure--apply sunscreen before and after. Wear comfortable, light clothes. And pack a swimsuit! 
5. Chichén Itzá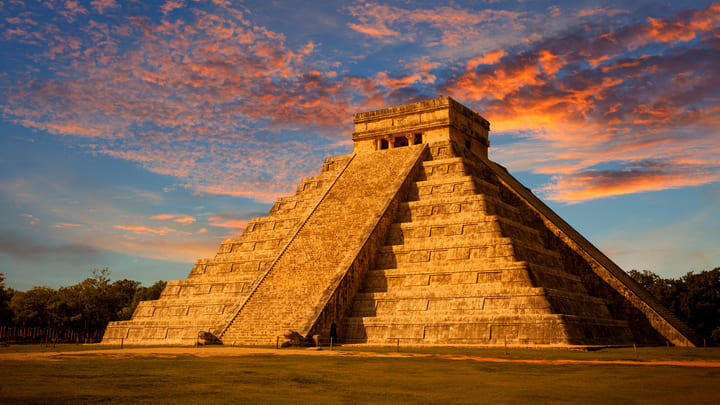 Exploring Mayan temples, swimming in a beautiful cenote, and visiting an enchanting colonial town. What better way to spend a romantic day with your partner? 
Chichen Itza is one of the most important and most visited archaeological sites in Mexico 
The best way to experience Chichén Itzá is by spending a full day at the iconic World Heritage site. This day trip includes transportation to and from Chichén Itzá, the famous Mayan ruins of what was once a large, prosperous Mesoamerican city.
You'll have plenty of free time to explore Chichén Itzá at your own pace – a luxury not afforded by most tours. It's a gorgeous place to wander, explore, and lose track of time with your date. Once you're through exploring the archaeological site, you'll have access to the Mayaland Resort and its facilities, including botanical gardens and a luxurious swimming pool and lounge area, which is the perfect way to unwind after a day of exploring.
Once you're through exploring, you'll head to Hacienda Selva Maya for a chance to enjoy a typical Mexican lunch. 
Wear comfortable, light clothes and shoes and sunscreen, and pack a swimsuit if you'd like to take a dip in the pool after exploring the ruins.
Remember to Save on Admission
Keep in mind that when it comes to connecting to your date, it's not always about going to the biggest and best; sometimes it's about slowing down and just enjoying the escape with the one you love. And for that, all you need are a couple of beach towels, a stretch of white sand, and your favorite person.
If you're trying to make the most of your Cancun vacation this February, though, a Go Cancun pass makes it easy to plan your adventures and get the most for your money--rather than trying to figure out how to pack it all in once you get there.