Take a quick turn around the web and you'll soon discover that July falls within Cancun's wet season. But although it's low season, don't give up your dreams of visiting Cancun in July just yet.
The month's wet season designation tricks many into believing July isn't a good time to visit Cancun. However, the reality on the beaches of the Yucatan Peninsula is very different to what you might be imagining.
Five days of rain is all you'll experience on average, and even then, this generally consists of a nothing more than heavy afternoon downpour of as little as 15 minutes. They rarely last longer than two or three hours. And whilst there's an outside chance of a hurricane making landfall at this time of year, the last time this happened was way back in 2005.
Wet season? We hear you ask. What wet season? Here's some of what you can get up to in Cancun in July.
Seek out the sea breeze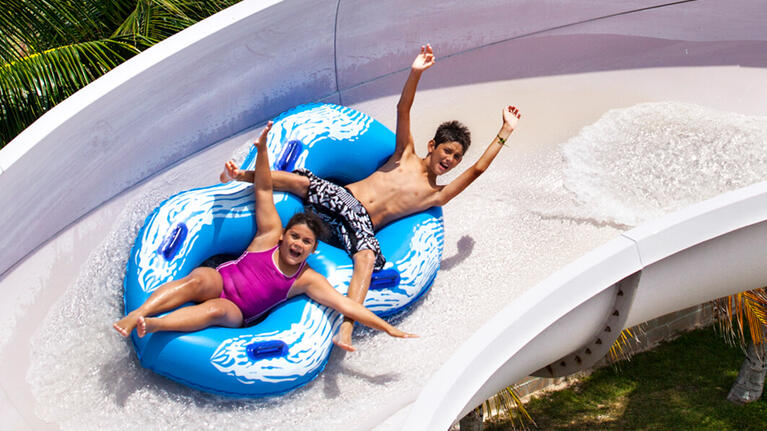 With temperatures on land maxing out at 34°C and humidity levels which can top 80%, sticking close to Cancun's Caribbean shores is a good way to minimize the heat.
Getting out onto the water is incredibly easy in Cancun, with catamaran cruises to Isla Mujeres, shipwreck snorkeling tours and even the galleries of an underwater museum to consider. Between them they offer an incredible array of ways to enjoy the region's turquoise waters and teeming coral reefs.
The Caribbean's only seafront amusement and water park, Ventura Park provides a heady mix of high-octane rides and calmer ways to appreciate the water, such as its Lazy River and Wave Pool, making it a great shout for families.
All ages are also welcome at the majority of Cancun's cenotes. Natural sinkholes formed from collapsed limestone caves and flooded by a mix of underwater rivers and rain water, they are a stunning addition to the region's geography.
Ranging from simple holes in the ground to magnificent forms with diving platforms up to ten meters high, their cool waters will soon see you adopt the right frame of mine.
Take a road trip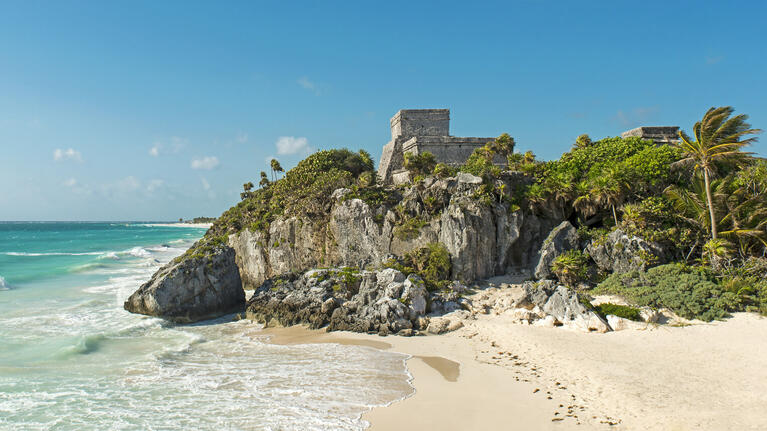 With the Riviera Maya on your doorstep, Cancun is the perfect starting point for a coastal road trip in search of Mayan ruins and tiny coves. So why not rent a car for the day and head down Federal Highway 307?
Whether you ramp up the air-con or wind down the windows is entirely up to you, as you head south from Puerto Morelos to the beaches, bars and boutique stores of Playa del Carmen and the archeology site of Tulum – where temples stand guard over the coast.
Along the way, consider stopping for a couple of hours at the ecoparks of Xel-Ha or Xcaret. Xel-Ha counts jungle and river trails amongst its highlights, whilst Xcaret is best thought of as part water park, part cabaret show and part wildlife reserve.
Meet Cancun's most-loved creatures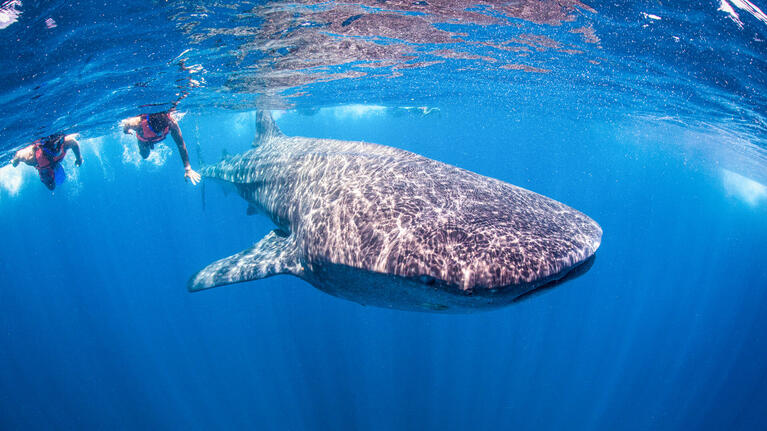 Animal lovers certainly won't be short of things to do in Cancun in July. Since May at least three species of turtle have been dragging themselves up onto the beaches after dark in order to dig holes in which to lay their eggs.
This continues through July, with the added bonus of the very first eggs to be laid starting to hatch, carpeting the sands of Isla Mujeres with newborns eager to reach the relative safety of the open ocean.
Though the giants of the deep, the turtles don't face any threat from the whale sharks which linger in Cancun's warm tropical waters at this time of year, since they eat nothing larger than microscopic plankton.
Swimming and snorkeling beside these magnificent creatures are unforgettable experiences, celebrated on the island at the annual Whale Shark Festival at the end of July.
Discover the nightlife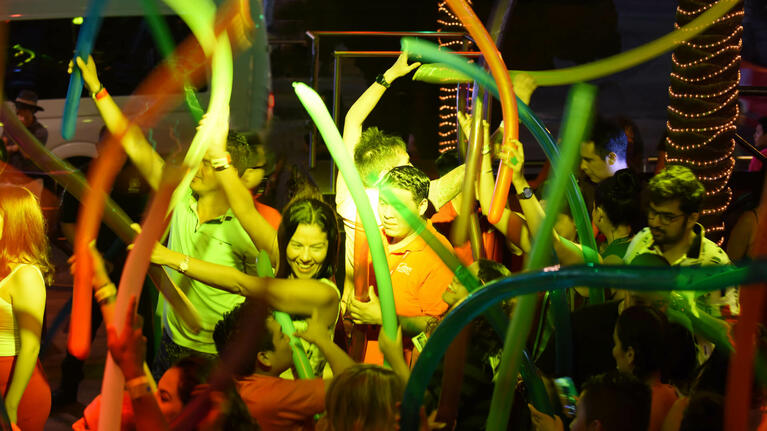 Another end of July celebration to mark in your diary is July 25's El Día Fuera del Tiempo. Translating as 'the day out of time', it marks the Mayan year end, and is a traditional time to reflect on the past twelve months. There are festivities right along the Riviera Maya. Originally focusing on Tulum, they now include events in Cancun itself.
But whatever day you turn up in July you can be sure of a good time. With a reputation as one of the best places to party south of the Rio Grande, Cancun's hotel zone is awash with neon signs and dance floors just waiting to be filled. One of the top spots for many years has been Congo Bar, whose DJs spin the decks until close to sunrise.
Take in some culture
If the thought of those occasional afternoon downpours is still leaving you unsure of what to do in Cancun in July, remember that the city isn't all about outdoor adventures. There's also plenty to discover under cover, with a pick of great museums and galleries thanks to a thriving cultural scene.
Museo Maya displays a wealth of important artefacts linked to the region's historic inhabitants, including items discovered at Chichen Itza and Comalcalco. They reveal many of the secrets to the Mayans' success and ultimate demise at the hands of the Spanish conquistadors.
Forming part of Xcaret ecopark, the Mexican Folk Art Museum details the nation's modern culture, including items such as ghoulish Day of the Dead dolls in a dazzling series of colorful galleries depicting everyday life.
The 3D Museum of Wonders in Playa del Carmen lives up to its name and is a museum that will keep the kids entertained until the clouds clear. Filled with three-dimensional optical illusions, it is the work of artist Kurt Wenner, whose 60 creations literally leap from the walls in all manner of sizes and shapes.
Save on Cancun July attraction admission
Comparatively crowd-free by Cancun standards and budget-friendly to boot, July is a great month to visit despite being placed within the region's wet season. Take it easy in the building humidity by sticking to the shoreline or heading to the range of water-based attractions and activities on offer. Take Go City with you and you'll save big on admission costs at the same time!