Looking for the best things to do in Cancun at night? You've found them! Below, we'll cover all the best experiences you'll find when the sun goes down. So have a nap, settle down, and strap in, because we're pulling an all-nighter!
Including:
Romantic dinner cruises
Great views of Cancun's skyline
Bar hopping fun
Night time snorkeling
and more!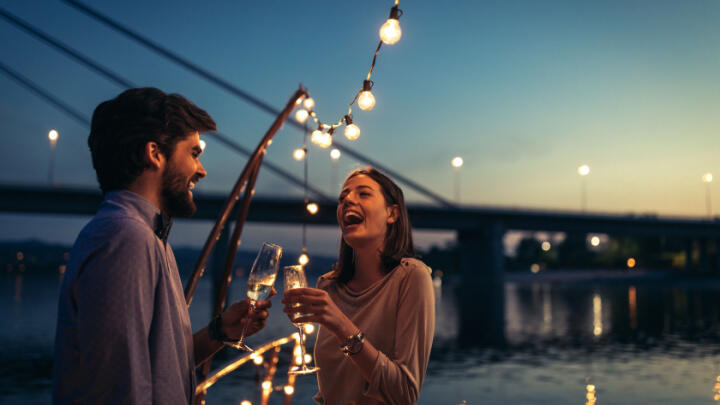 Ahoy there, lovers! If you've never boarded a Spanish Galleon and sailed the seven seas while having a romantic dinner for two, then this one's for you! Because that's exactly what this is!
Soak in the breathtaking views of Cancun's glistening shoreline while gorging on a mouthwatering multi-course dinner. From succulent steak to veggie delights, your veggie/meaty need will be more than met. And with an open bar, you can keep the drinks flowing as you toast to the good life.
But wait, there's more! There's even a live saxophone band onboard, so you can boogie the night away while sparks fly. And, if you want to capture the magic of the moment, you can get commemorative snaps for just $20.
You can even get a lift to and from your hotel for a few bucks. And if you're celebrating a special occasion like your birthday or anniversary, just give them a heads up, and they'll add some extra sparkle to your night. If your trip to Cancun is a romantic one, this dinner cruise is easily one of the best things to do at night in the city!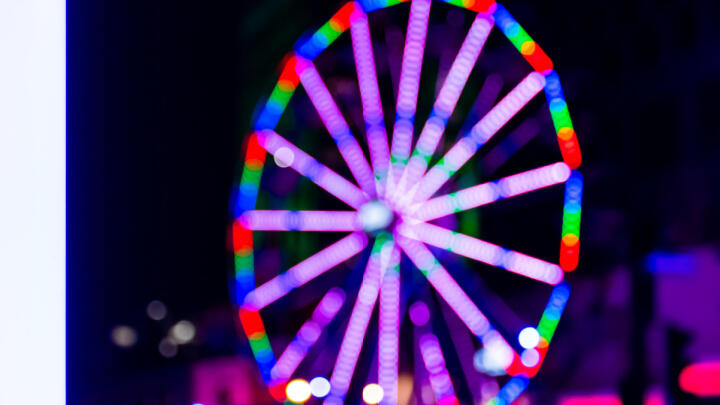 Take a late-night ride through the sky and watch the sunset over the gorgeous ocean and beaches aboard the Sky Wheel. This colossal 177-foot-tall observation wheel offers a 20-minute breezy ride with some of the best views of the city.
Each gondola is spacious enough to comfortably accommodate six to eight people, so there's plenty of room for your friends or family. These cozy capsules boast 360-degree crystal windows and air conditioning that keep you cool as a cucumber while you ride.
As you rise to the top, feast your eyes on the serene lagoon on one side and the seemingly infinite, crystal-blue ocean on the other. Take a chill pill and enjoy the peaceful loop with your entourage as you complete four or five rotations on the wheel. And don't worry; that'll give you ample time to capture the ultimate Instagram-worthy shot!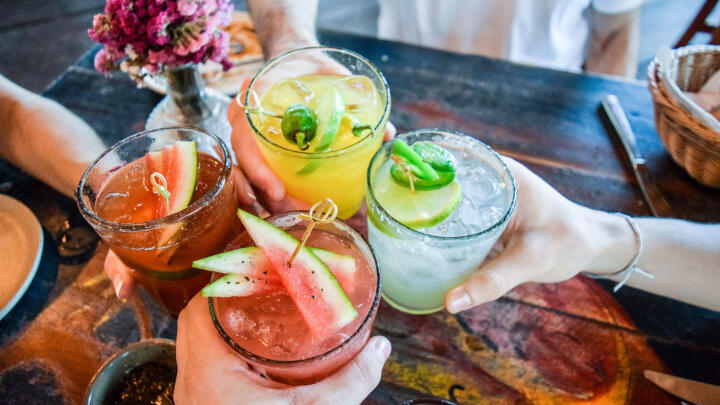 Take a break from the hustle and bustle of life and get your chill on at Fred's House. This hip and modern American seafood restaurant and oyster bar is situated on the lagoon side of Cancun's Hotel Zone, making it the perfect place to relax after a day of adventure.
With Go City, your pass unlocks $20 to splurge on drinks from their fully stocked bar, where you'll find a plethora of tantalizing options. From refreshing cocktails to fine wines, you'll find something to take the edge off on your oh-so-strenuous vacation. They even do signature drinks that'll make you feel like a VIP, and their delicious local beer will quench your thirst like nothing else.
Whether you're hanging out with your pals or having a chill night with the fam, this happening hotspot is definitely worth a visit.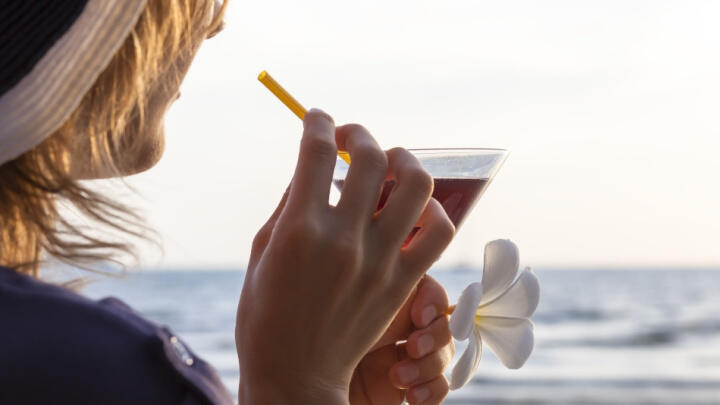 Located smack dab in the heart of Cancun's party central, Congo Bar Cancun is a mecca for the wild and crazy crowd. This open-air bar is always jam-packed with locals and tourists who are out to have a good time.
Go-go dancers are on hand to entertain the crowd while DJs spin and scratch on the decks to keep your head bobbing. And, every now and then, get ready for a massive ballo n and confetti shower that will make you feel like you're living your best life.
Get your conga line game face on, grab your party props, and get ready for an epic night of fun and entertainment. Plus, the cherry on top, your ticket includes a complimentary domestic bar from 9PM until 3.30AM, so you don't have to break the bank for a drink. Beers, spirits, and cocktails are all available, so really, you've no excuse!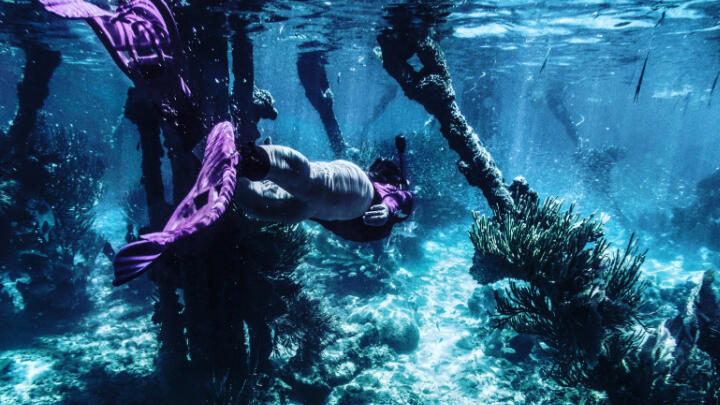 Ever snorkeled with the devil in the pale moonlight? Dive into the shallow waters of the Great Mayan Reef and prepare to be amazed by the vibrant sea life of Cancun. Snorkeling at night is a once-in-a-lifetime experience that will blow your mind!
Your Moonlight Bioluminescence Snorkeling trip will take around 90 minutes in total and includes a briefing before you start, and then three stops at three unique reefs. The first reef is a coral reef, where you'll find octo us, moray eels, squid, lobsters, and crabs swimming around the unique reef formations. Reef two is where you have your best shot at swimming with a sea turtle or two. Most snorkelers consider this their favorite part of the Moonlight Snorkel Tour. And at the third, you'll switch off all lights and see the 'Tinkerbell Experience'; hundreds of tiny bioluminescent particles will provide all the wonderful, natural light you'll need!
You'll be given a briefing prior to entering the water, so there's no need to worry if you're a newbie. And, when you're done, you'll get a free souvenir photo included in your trip to commemorate your undersea adventure. Easily one of the best things to do at Night in Cancun for nature lovers!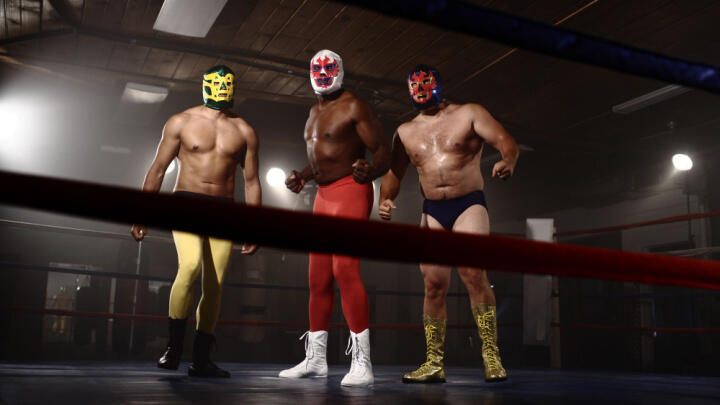 Witness the true power and key strength of Mexican wrestling! AKA Lucha Libre! Join the enthusiastic locals as you cheer on your wrestler of choice in an edge-of-your-seat match that will leave you breathless.
But before the action-packed show, you'll need some fuel. How do five tacos sound? Juicy, melt-in-your-mouth slow-cooked pork, marinated in a heavenly blend of spices and achiote paste and served in freshly made corn tortillas with all the trimmings. That'll do nicely. And, to wash it all down, enjoy a selection of refreshing Mexican beers.
Once you're fueled up, your guide will take you straight to the skip-the-line entrance for the Lucha Libre show. Brace yourself for flying attacks, acrobatics, and larger-than-life displays of showmanship, as the técnicos (goodies) and rudos (baddies) face off in the ring, garbed in their iconic colorful masks and skin-tight spandex suits. For a perfect evening of entertainment, this Lucha Libre show is one of the best things to do in Cancun at night!
And those are our picks of the best things to do in Cancun at night! Looking for some daytime distractions? Check out Go City. With our All-Inclusive Pass and Explorer Pass, you can see all of Cancun's hottest attractions for one low price!