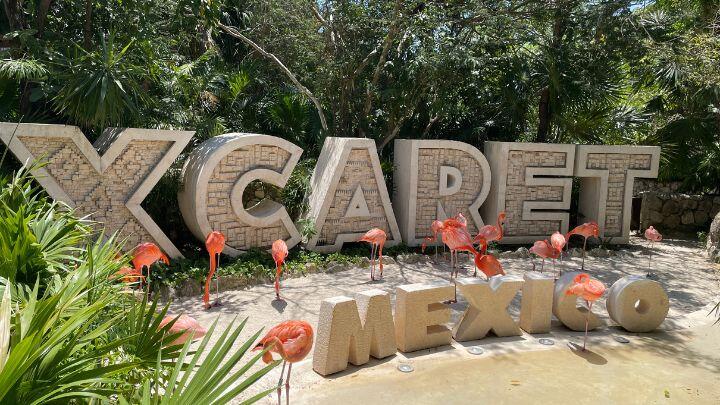 Looking for things to do in Cancun? The sun-soaked Mexican paradise is awash with fun, cultural and adrenaline experiences and happily, in between relaxing on the beach. you can take your pick of them when you pick up a 1, 2, 3, 4, 5 or 7-day All-Inclusive Pass, the very best way to make great memories and savings too.
The natural wonderland of Xcaret Park is one of the highlights of the Riviera Maya - breathtaking by day and possibly even more magical by night. Here we guide you through the adventures on offer when you visit Xcaret Park at night including:

• Tropical jungle trails and wildlife
• Underground river swimming
• Xcaret Mexico Espectacular show
• The Coral Reef Aquarium, Aviary and Butterfly Pavilion
Your pass also includes admission to the Cancun Scenic Tower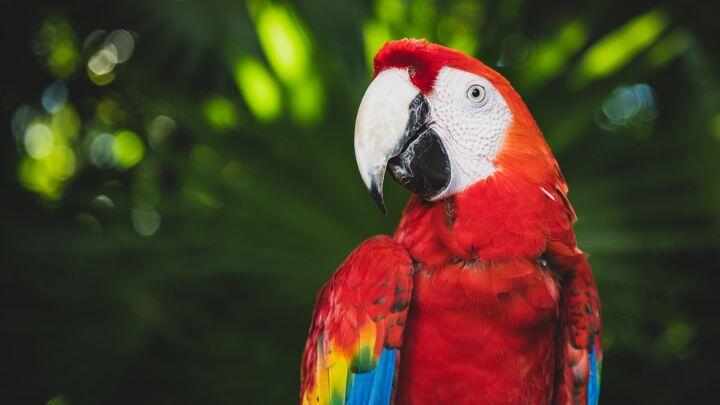 What to do at Xcaret at night
Whatever the time of day, there's always something new to discover in this tropical eco-archaeological park of over 50 attractions. Roam the jungle trails and come face to face with jaguar, deer, macaws, stingrays and manatees. Visit the Coral Reef Aquarium (until 6.30PM), the Butterfly Pavilion and the Aviary (until 6.30PM). As the evening golden hour falls, the lush grounds are even more magical, the pristine beaches less crowded, the river swims deliciously cooling and the Mexico Espectacular show not to be missed!
Evening tickets are valid from 4PM to 10.30PM.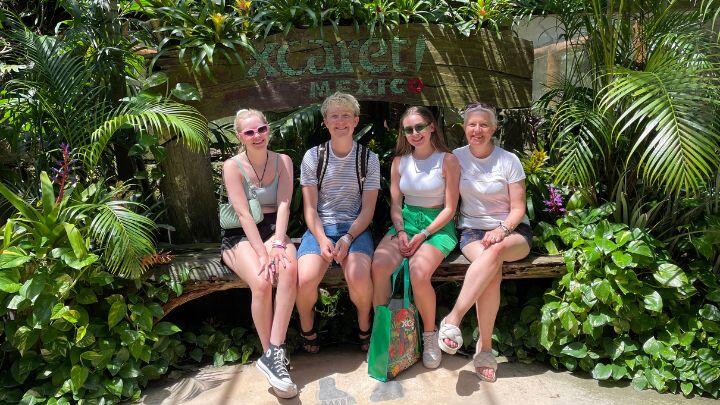 What to take to Xcaret at night
We'd suggest wearing comfortable clothes and shoes to explore the park.
Remember to pack or wear your swimwear and towel. You can put your belongings in a locker or drybag to pick up at the end of your river swim. Maybe take a waterproof camera, phone or phone cover to capture your adventures, though you can also buy images taken at automatic photo points. Snacks, drinks and alcohol are available to buy for the evening show.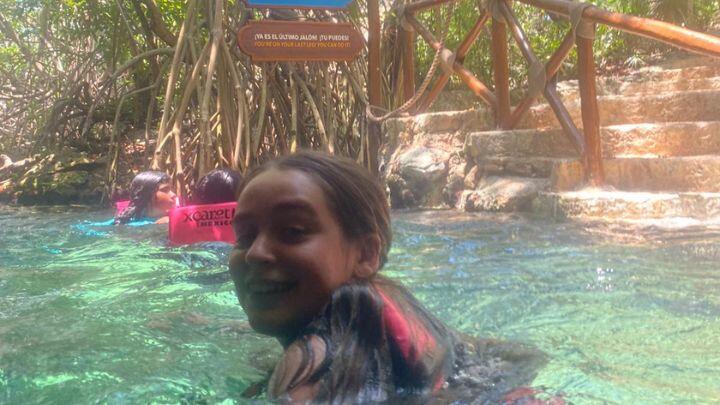 River swimming at Xcaret
Evening tickets are valid from 4PM with river swimming available until 5.30PM so you might want to head there first for this fun and refreshing experience. This part of Mexico is pitted with enticing xenotes (watering holes and underground rivers). Grab your mandatory buoyancy aid to float in the sparkling water, swim through caves, drift under canopies of tropical vegetation, waft through the mangroves and watch exotic birds (and even bats!)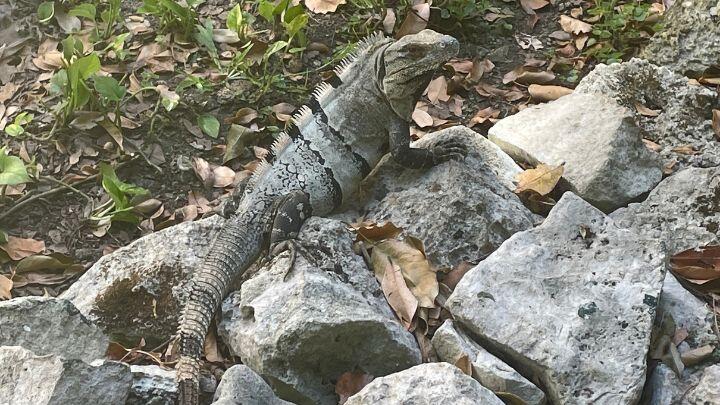 Children's World at Xcaret
All ages will be entranced by the shows, wildlife and beautiful surroundings, but there's still an area especially for those aged 6-12 years, open until 6PM. The Secret Adventure features tunnels, waterslides, hanging bridges, a wading pool, a jet fountain and a sandbox.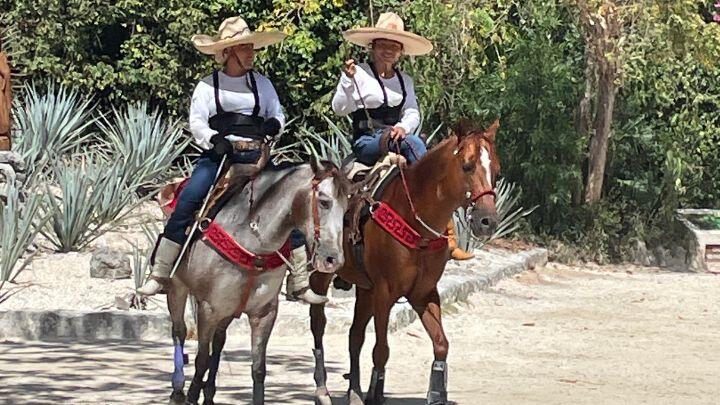 Entertainment at Xcaret 
Listen for the drum-beat and follow the aroma of copal (a resin traditionally burned by the Mayan people) to the Mayan village, where pre-Hispanic dances are performed at nightfall. Don't miss the Horse Exhibition where charros and escaramuzas (Mexican horsemen and women) display their riding and roping skills on magnificent Aztec horses.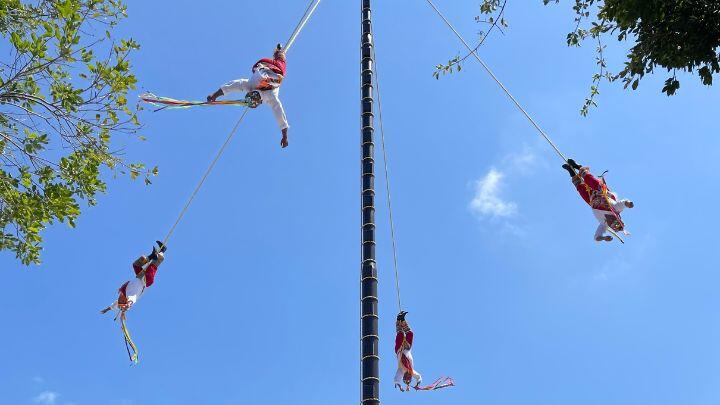 Xcaret Flying men
Los Voladores de Papantlya (Flying Men) will leave you with your jaw on the floor as they fall headfirst from a tall pole and spin by their feet in a time-honoured ritual that is listed by Unesco as an 'Intangible Cultural Heritage of Humanity' (!) Watch as five men climb to the top and one plays a traditional flute and drum in honour of the sun and the four elements. Then gasp as the dancers fall, their long ropes unwinding, spiralling closer and closer to the ground, like exotic birds. There are outdoor shows throughout  the day, but in the evening you can watch them fly as part of the Mexico Espectacular show.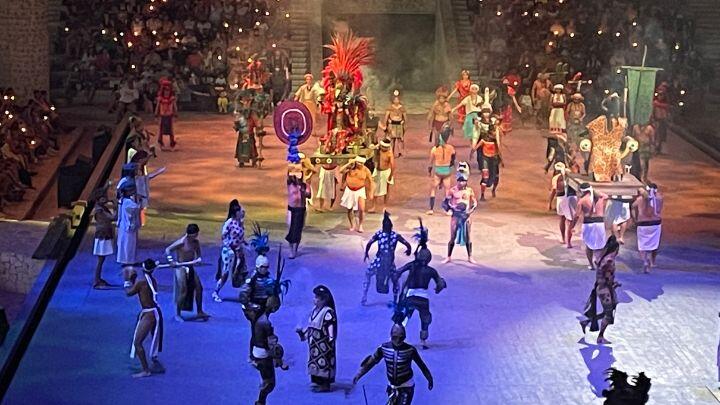 Xcaret Mexico Espectacular show
Take your place in the enormous Gran Tlachco theater for the famous evening extravaganza, featuring over 300 artists re-enacting 500 years of history, folklore and traditions. Watch the arena flicker to life as you light a candle along with the other audience members. Follow the scenes of Mexico's legendary birth, of encounters between Spaniards and Aztecs and soak up the spectacular costumes, sights, sounds, dancers, musicians, singers, sportsmen and horses from every part of the country.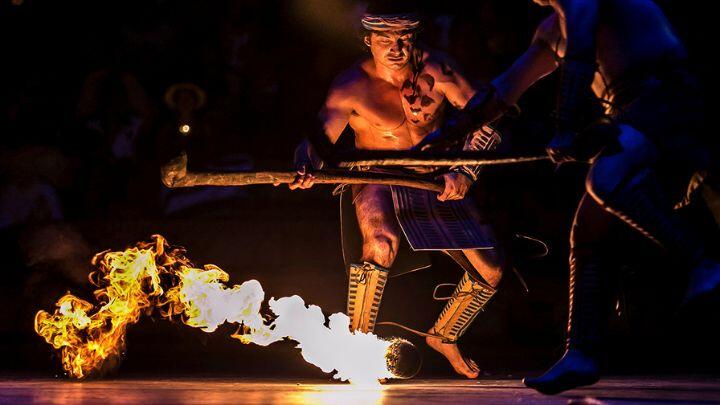 Cheer on the teams in the Mayan ballgame, one of the most famous ritual sports, as two teams try to score through a high-up hoop - traditionally with life or death consequences!
Thrill as a ball of fire speeds hazardlously between players' feet as they thwack it toward the fire-pit goals of Mayan fire hockey.
It's a long but endlessly engrossing show for all ages, as the performers celebrate Mexico past and present.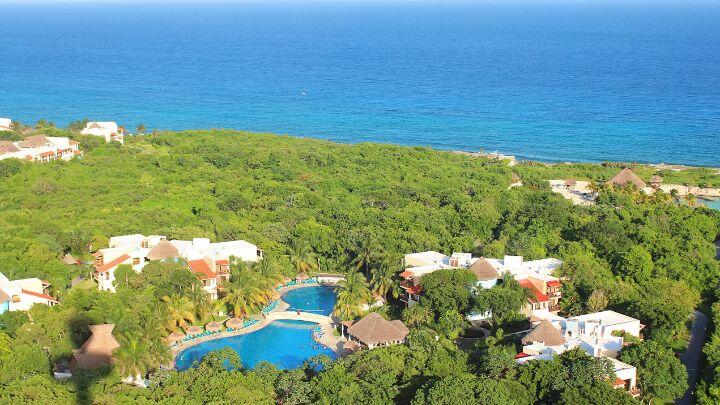 Cancun Scenic Tower
Your Xcaret park wristband also gives you entry to this dizzying viewpoint, found in the Cancun Hotel Zone at  El Embarcadero Isla Mujeres by Xcaret, Blvd Kuklucan Km4. 
Climb aboard the elevator and be whisked 260ft up to a revolving platform for stunning views of the Caribbean sea. Cameras at the ready for those evening photo opps as the golden light falls across the waves and sparkling lights flicker around the tropical landscape.
 

We're sure you can't wait to 'xperience the 'xcitement of Xcaret! For huge savings on combined admission to this and a whole host of other attractions and experience in and around Cancun, check out our Explorer Pass and All-Inclusive Pass, remembering that Xcaret at night is only available on the All-Inclusive Pass.

Enjoy your adventures - with Go City.