You've done the sensible thing and decided to spend 5 days in Chicago. Fantastic! The US 'second city' has a range of attractions that many other destinations simply can't compete against – from magnificent art galleries to lake shore beaches.
With a 5 day Chicago itinerary you'll have the time you need to take in the city's atmosphere alongside its landmark buildings. You'll also be able to enjoy some of the city's more off-beat things to see and do.
For a round up of all that's going on in Chicago, check out our favorite way of spending 5 days in the city.
Day 1 – Downtown Chicago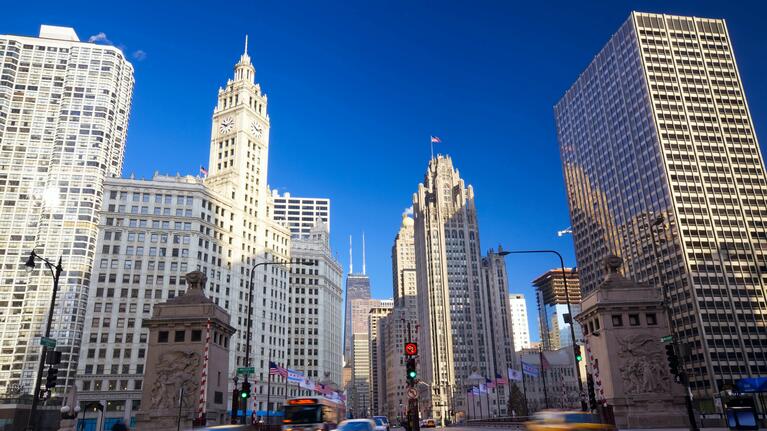 With your first hours in Chicago, it's a good idea to get to grips with the downtown area – otherwise known as the Loop. The location of many of the city's major landmarks, you'll be spending much of your time here so it makes sense to get a feel of what's located where.
Whilst one of the most walkable cities in North America, you're not going to want to wear out your shoe leather on day 1. Nor are you going to want to tackle Chicago's public transportation, so instead head to one of the dozen stops included on the city's Hop-on Hop-off sightseeing bus.
The whole circular tour lasts for two hours and is accompanied by an audio narration providing a perfect introduction to the city. However, it's unlikely you're going to be able to avoid jumping off at a couple of points of interest.
North Michigan Avenue – better known as the Magnificent Mile – is one of the city's top places to be, blending suited office workers with luxury brands, much-loved restaurants, historic landmarks such as the Old Water Tower and views from 1000 feet up from the floor-to-ceiling windows of 360 CHICAGO in the John Hancock Center.
Showing all that Chicago has to offer, it's just a short stroll to the Museum of Contemporary Art – turn off on either East Pearson Street or East Chicago Avenue to get there for an afternoon amongst the greats of twentieth century art.
Day 2 – Lake Michigan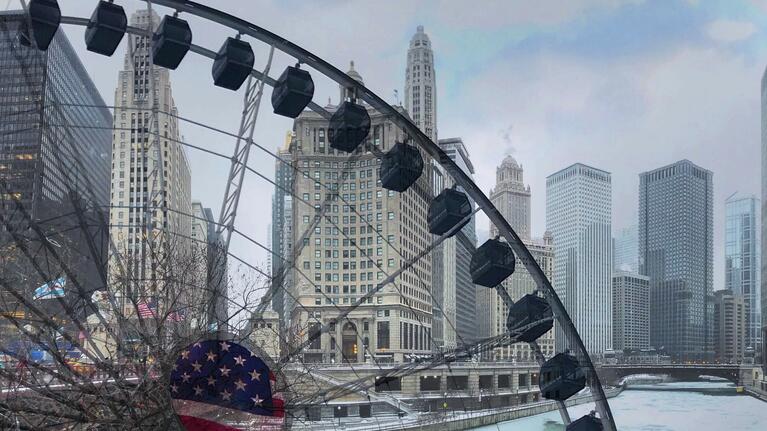 You will have already seen its vast expanse from 360 CHICAGO, but day 2 gives you the chance to explore the Lake Michigan shoreline. Start to the north of the Loop in Lincoln Park for views of western lowland gorillas and kangaroos at Lincoln Park Zoo. Then soak up the sun on North Avenue Beach (weather permitting).
If you can tear yourself away from the beautiful setting, keep the shoreline to your left as you wander south back into the Loop by way of the upmarket Gold Coast neighborhood. On reaching Navy Pier, there are further options for taking in the Chicago skyline, by slipping into one of the gondolas of Centennial Wheel, which rise to a height of almost 200 feet.
Swap gondolas and sidewalks for the lakeshore cycle track by picking up a bike at the pier's Bike and Roll rentals. Ease yourself into the saddle by making the short journey to Chicago's Museum Campus, incorporating the Field Museum, Shedd Aquarium and Adler Planetarium, either one of which will round off the afternoon hours with aplomb.
Day 3 – Chicago from the water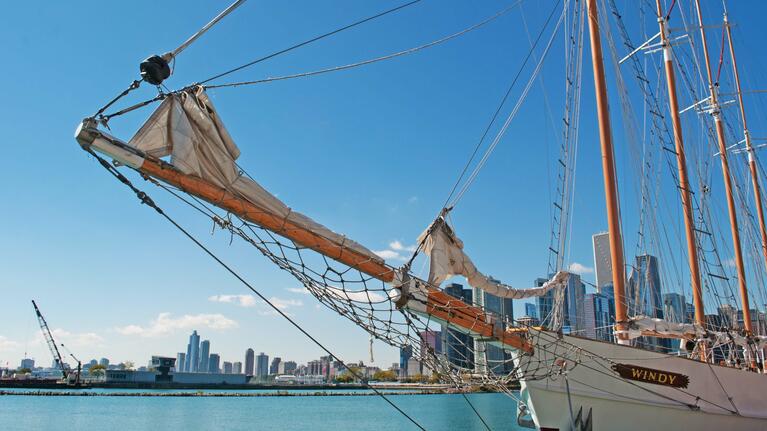 You've taken it in from high up and cycled along it, so there's nothing more to do than get onto the water and explore Chicago from another angle, especially if your visit to the Shedd Aquarium gave you a feel for life in and on the waves yesterday.
Unveiling hidden gems amongst the world-famous landmarks, taking a cruise along the three branches of the Chicago River is like slipping through the city's two centuries of history. Its shift in architectural styles reveals itself as you cruise the calm blue waters beneath bridges and past structures including the giant art deco Merchandise Mart building and Willis Tower – for many years the tallest building in the world.
Follow the river to its natural conclusion and you'll find yourself floating on Lake Michigan. A Skyline Lake Tour does a similar job to river cruises, but arguably on an even greater scale. Departing from Navy Pier, tours take in the lakeshore forming the natural eastern boundary of the Loop, with commentary providing interesting tidbits of information, such as the fact Batman's Gotham City is based on the skyscrapers of Chicago.
But for an extra-special tour on the water don't miss your chance to board Windy, Chicago's official tall ship. With its sails filled with the wind the city is famous for, you'll tack across Lake Michigan in a fashion almost entirely unchanged since the birth of steam.
Day 4 – Chicago culture and more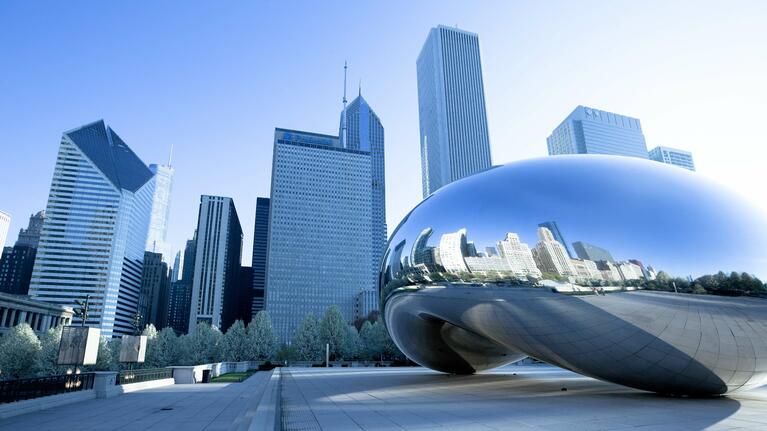 Keep up the pace of your Chicago in 5 days trip by starting day 4 with a few hours in another of the city's top museums – the Museum of Science and Industry. A great choice for all the family, there are plenty of interactive exhibits, alongside flight simulators, important landmarks in transport and a gallery of exquisite model ships – should your trip aboard the Windy have gotten you hooked on all things nautical.
Continue your exploration of Chicago's culture by seeing a show. The Second City theater is well-known in comedy circles as the place to head for improv and the chance to catch the next big thing before the rest of the world. The Chicago Theater has a busy schedule of plays and pop concerts. Failing that, it's also possible to head behind the scenes with a Chicago Theater Marquee Tour.
Then enjoy a bite to eat. AT&T Plaza beneath the Cloud Gate sculpture in Millennium Park is home to an open-air restaurant during the warmer months of the year – replaced by one of the city's top skating destinations during the winter.
Day 5 – Get active
End your 5 days in Chicago by mixing up the museum visits and river tours with some physical activity. Maggie Daley Park – immediately east of Millennium Park – has plenty of ways to do this, from free climbing walls and tennis courts to a skating ribbon from November to March.
If you need a breather, there are shady groves for picnics in the sun, alongside one of the finest children's playgrounds we've seen rising high above it all.
One of Major League Baseball's oldest arenas, Wrigley Field is a must-see for sports fans. Home of the Chicago Cubs, there's no better way to understand the city psyche than attending a game. Alternatives include basketball from the Chicago Bulls and ice hockey from the Blackhawks both at the United Center.
Save on admission in Chicago
Sounds expensive? 5 days in Chicago doesn't have to be! Go City lets you enter many of Chicago's top attractions and landmarks with incredible savings versus advertised prices. It means you can do much more on your trip to Chicago than you thought you could without having to worry about your bank balance once!