Planning your trip to Chicago? During your visit there is one place on Michigan Ave that is a definite must see destination. The Art Institute of Chicago was recently voted as the #1 Museum in the World by TripAdvisor. The museum houses a spectacular array of over 300,000 works, from modern and contemporary, architecture, design, and photography to ancient artifacts, and Impressionist paintings by Monet. Check out our helpful guide for visiting Chicago's art museum, (the Art Institute of Chicago) packed full of ways to save on admission, tips for visiting, other nearby attractions, and much more.
Looking for Chicago Art Museum Discount Tickets?
We've got you covered – Art Institute of Chicago admission is available with the below money saving options, so you can choose the attraction pass that's right for you: 1. All-Inclusive Pass – All you can do. Includes admission to dozens of attractions. 2. Explorer Pass – Choose as you go. Includes admission of up to 5 attractions. 3. Build Your Own Pass – Select the attractions you want to visit prior to visiting. See all available passes, attractions & prices – Learn more. Recently Voted #1 Museum in the World by TripAdvisor!
Tips for Visiting the Art Institute of Chicago
Kids under 14 can visit for FREE! The Art Institute is a perfect family outing. Admission to the Ryan Learning Center is always free.
A limited number of strollers are available free of charge at both the Michigan Avenue and Modern Wing entrances.
The Go Chicago Card includes the Art Institute of Chicago Fast Pass, which allows customers to bypass the general admission lines at entrances and offers expedited access to the permanent collection galleries and non-ticketed special exhibitions.
Take public transportation to get there, or call up one of the car share drivers from Uber or Lyft.  By foot the museum is so much more accessible than trying to find parking.
Use the audio tour or download the app.  Without some leadership or an actual tour guide the museum can be a bit overwhelming.  So much to see—so little time.
There are so many great pieces of art you'll want to photograph while you're visiting.  Bring your camera so that you share the memories with your friends and neighbors back home.
All restrooms are equipped with changing tables. There is a family restroom on the first level near the Modern Wing entrance. Drinking fountains are also available near every restroom.
Backpacks and backpack-style baby carriers are not allowed in the galleries.
Best Times to Visit
If you can, plan to visit the Art Institute early on a weekday, between noon and 3 pm, when there will likely be fewer people there. Before you go inside make sure to check out "In an Attitude of Defiance" the lion on the south side, and "On the Prowl" his north side sibling.
What to See at the Museum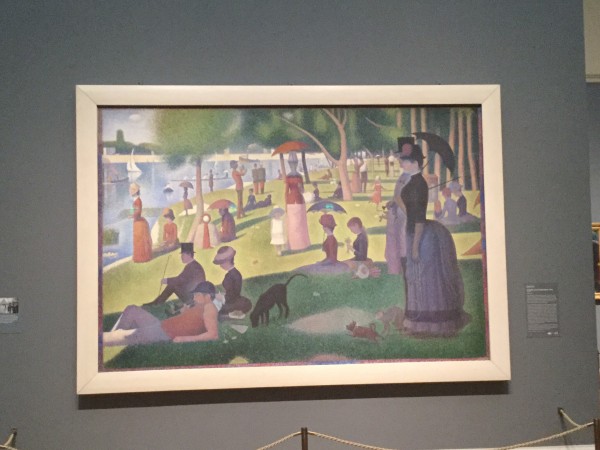 This museum is world renowned, and noted as holding some very famous pieces of art in its permanent collection. Some of these well-known pieces are: the Chagall stained glass windows—America Windows, Matisse's "Bathers by the River," Grant Wood's "American Gothic," and Georgia O'Keeffe's "Black Cross, New Mexico." The expansive collection of the Institute encompasses over 5,000 years of human expression from cultures all over the world. It is most famous for its Impressionist, Post-Impressionist, and American paintings. There are more than thirty of Claude Monet's paintings including a number of Water Lilies. Other important works at the Institute are in the collection of pieces by Pierre Auguste Renoir, most notably Two Sisters (On the Terrace), and Gustave Caillebotte's Paris Street; Rainy Day. With so much to see, you may have a difficult time narrowing the many options available to check out during your visit. Here are a few of our favorites that we suggest viewing.. El Greco's The Assumption of the Virgin is located in Gallery 211 on the Second Level.  This was the artist's first major commission.  It was commissioned for the church of Santo Domingo el Antiguo in Toledo. Georges Seurat's A Sunday on La Grande Jatte—1884, located in Galery 201, on the Second Level.  This is his best known and largest painting in which Seurat depicts people relaxing in a suburban park. Claude Monet's Stacks of Wheat, Gallery 243, Second Level the depicted stacks were actually on Monet's farm and they stood approximately 15 to 20 feet high. Thorne Miniature Rooms, Gallery 11, Lower Level.  These are 68 miniature rooms that offer a glimpse of 1930 interiors and furnishings.  They are constructed on a scale of 1 inch to 1 foot. Seated Buddha, Gallery 141, First Level.  The Buddha statue comes from the coastal town of Nagapattinam in Southern India.  It is carved from granite.  This was originally intended to grace a monastic site in India. Statue of Young Dionysos, Gallery 150, First Level.  This is a piece on loan anonymously.  A rare bronze statue, one of the very few large scale from antiquity in North America. Edward Hopper's Nighthawks, Gallery 262, Second Level.  This oil and canvas painting was inspired by a restaurant located in New York's Greenwich Avenue.  It is one of the best known images of 20th century art. Grant Wood's American Gothic, Gallery 263, Second Level. Painted in 1930, American Gothic was inspired as he "imagined American Gothic people with their faces stretched out long to go with this American Gothic house."  This was after seeing the house in the painting up for sale, in Iowa. Marc Chagall's America Windows, Gallery 144, First Level.  American Windows appeared in the 1980's hit movie, Ferris Bueller's Day Off. Henri Matisse's Bathers by the River, Gallery 391, Third Level.  After years of training, Matisse painted Bathers and it has become one of his five most pivotal works.  This piece is said to have facilitated the evolution of his style as an artist. Pablo Picasso's The Old Guitarist, Gallery 391, Third Level. Picasso painted this when he was 22 years old, a haunting image produced during his "Blue Period," during which he restricted himself to monochromatic blue pallets. Andy Warhol's Liz #3, Gallery 292, Second Level.  Warhol's depiction of a young Elizabeth Taylor is a work of acrylic and silk screen on linen.
Nearby Attractions
  The Art Institute of Chicago is located in Grant Park, a wonderful place to spend some time during your vacation. Also, you will be within walking distance of Millennium Park, the Chicago Bean, and Maggie Daley Park. The Crown Fountain is also close by and the
Chicago Architectural Foundation
is located just under a mile away.
Places to Eat Nearby
Ge Pa De Caffe  is located across the street from the museum and Millennium Park.  You can't forget to order a latte while you're there. Seven Lions Is also located across from the museum. They offer American cuisine at its best.  Known for their excellent brunch fare, they are moderately priced.
Need to Know
Hours
Friday-Wednesday, 10:30 am-5:00 pm. Last admission at 4:30 pm.
Thursday, 10:30 am-8:00 pm.
Closings: Thanksgiving Day, Christmas Day and New Year's Day. All holidays and hours are subject to change without notice.
Getting In If you purchase a Go Chicago Card, enter from Michigan Avenue using the middle set of doors labeled Fast Pass. You may also use the Modern Wing entrance on Monroe Avenue. Look for the Fast Pass signs once inside to skip the line.
Directions & Address
111 South Michigan Avenue (at Adams Street) Chicago, IL 60603 Public Transportation: Take CTA: Brown, Orange, Purple, Pink, and Green lines to Adams St./Wabash Ave. stop. Red and blue lines to Monroe Street. Metra to Van Buren/Jackson and Buses #3, 4, 6, 7, 14, 126, 145, 147, and 151 to the museum.
Save on Tickets with a Go Chicago Card
Remember, the Go Chicago® Card is the best choice for maximum savings and flexibility, which includes Art Institute of Chicago tickets, plus admission to your choice of other top attractions. Save up to 55% on top museums, tours, and activities vs. paying at the gate. Visit multiple Chicago attractions for one low price.