Regularly marked out as one of the best times to visit, Chicago in October boasts a packed diary of events without the massed ranks of summer leaving you feeling lost in the crowd.
Temperatures start to drop, but the sun still has enough warmth in its rays to allow you to explore the epic fall foliage or delight in the multitude of Halloween-inspired activities that take place towards the end of the month.
Need some inspiration for what to do in Chicago in October? We've got it in bucketloads!
Take in the fall color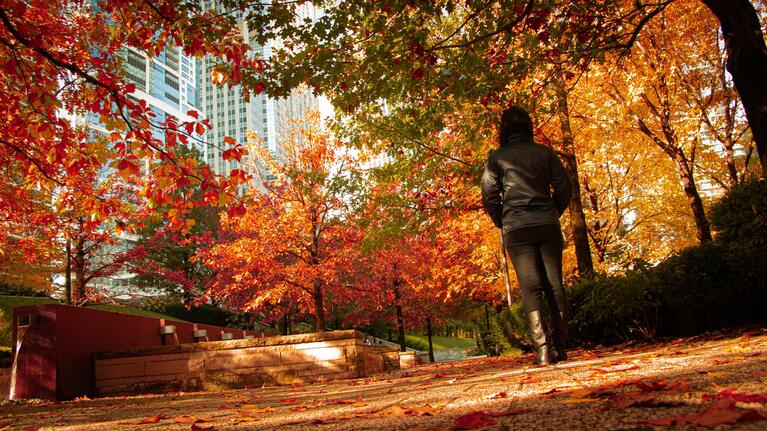 Giving New England a good run for its money when it comes to fall color, Chicago in October sits perfectly placed to take advantage of the natural spectacle. Nor do you have to travel for miles out of the city to get a first-hand glimpse.
In the heart of downtown, both Millennium Park and the Chicago Riverwalk Park are good places to start, whilst in the northern suburbs Lincoln Park also takes some beating. Slightly further afield, Morton Arboretum's giant wooden artworks gain a beautiful backdrop of color from around 4,000 different species of tree. It issues a weekly fall color report on its website so you know when it's at its best.
At the same time, Chicago Botanic Garden has a dedicated fall color tree walk within its 385 acre site, as well as hosting Night of 1000 Jack-o'-Lanterns. Spanning several days rather than just one night, it sees the garden's evenings take on the ethereal glow of more than 1000 hand-carved pumpkins some up to 150 lbs in weight.
Halloween in Chicago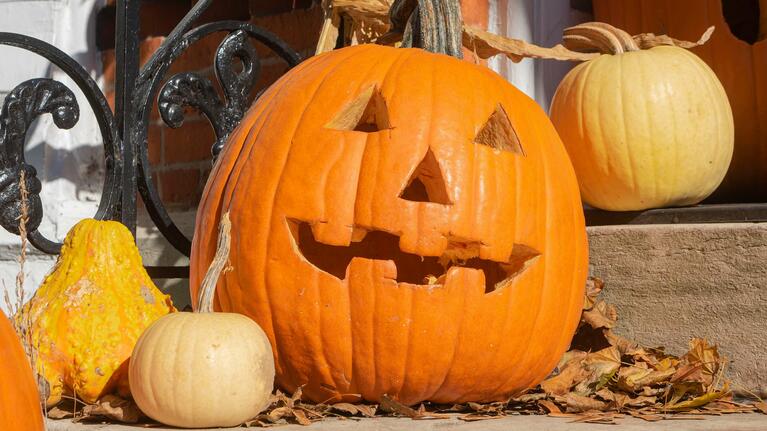 Unsurprisingly, the Botanic Garden isn't the only Chicago attraction that gets into the Halloween spirit. Tickets to the top costume balls sell out quickly, with that at the Congress Plaza Hotel – one of America's most haunted – particularly sought after.
Elsewhere, the main LGBTQ+ neighborhood of Northalsted (otherwise known as Boystown) in the West Lakeview district puts on one of the best street parades, matching movie-worthy costumes with moves from the likes of Michael Jackson's Thriller video.
If it's the movies and that are your bag, theaters across the city have classic screenings of horror's greatest hits and the Chicago Theater is just one performance space with additional ghostly goings on.
Other attractions to look out for, especially for those with their own transport, are the pumpkin patches outside of the city where you can pick the perfect jack-o'-lantern from the field where it grew. Ghost tours also feature heavily, although it's just as much fun to join a classic Hop-On Hop-Off sightseeing bus and make up your own ghoulish tales along the way.
Explore the city's grand buildings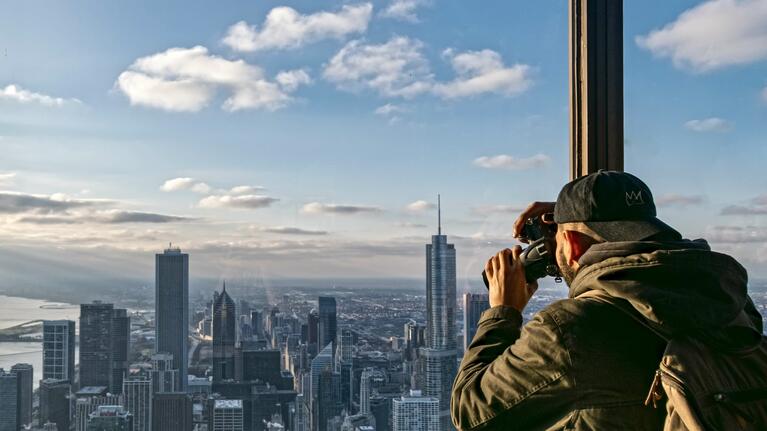 Haunted houses are the only places to head when thinking about things to do in Chicago in October thanks to the Open House Weekend amongst other events unique to Halloween month. This free annual festival takes visitors behind the scenes of some of the city's most intriguing – yet usually closed – structures. It normally takes place on the weekend nearest October's midpoint.
Another way to see the city's famed skyline is by signing up for the Chicago Marathon. Boasting some of the fastest course times around, it is one of just six races which make up the World Marathon Majors. Starting and ending at Grant Park, the 26.219 mile race passes through the top sights of downtown before connecting up the city's four professional sports stadiums.
However, there's no need for running shoes to get such a wide-ranging view of the city with 360 CHICAGO. Especially popular at sunset, this observation deck stands 1000-feet above the shopfronts of the Magnificent Mile, providing panoramic vistas that stretch for miles from north, south, east and west.
Become a culture vulture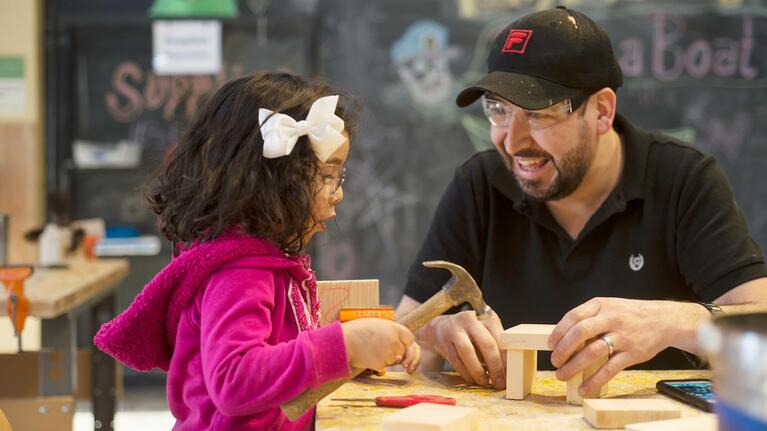 From its 94th floor vantage points you'll also be looking down on Chicago's excellent crop of museums. The Field Museum, Shedd Aquarium and Adler Planetarium – all named after notable city philanthropists – lie in Museum Campus on the shore of Lake Michigan by 12th Street Beach. However, we'd suggest starting any exploration of the city's cultural institutions on the other side of the Chicago River at the Museum of Contemporary Art.
It's constantly rotating collection of artworks date from the 1920s to the present day. Known for being able to spot the next big thing – the museum hosted Frida Kahlo's and Jeff Koons' first US shows – its walls hang with some of the most-important works of the twentieth century. There's also a restaurant designed by Chris Ofili, winner of Britain's top art award, the Turner Prize.
Wander down to Navy Pier, and you'll find yourself beside Chicago Children's Museum. It has exhibition spaces specifically designed for babies right up to children 9+, with a massive number of interactive displays from treehouses to paleontological digs. Strike it lucky and your little ones might even uncover a new Suchomimus dinosaur skeleton like the one on show at the entrance atrium.
Alternatively, you might decide to ignite the imagination of the next generation at the city's LEGOLAND Discovery Center. Having checked out the Lego version of Chicago, it will be time to take to the mini roller coasters or enter worlds that include a jungle full of animals and a pirate island.
Hunt for presidential attractions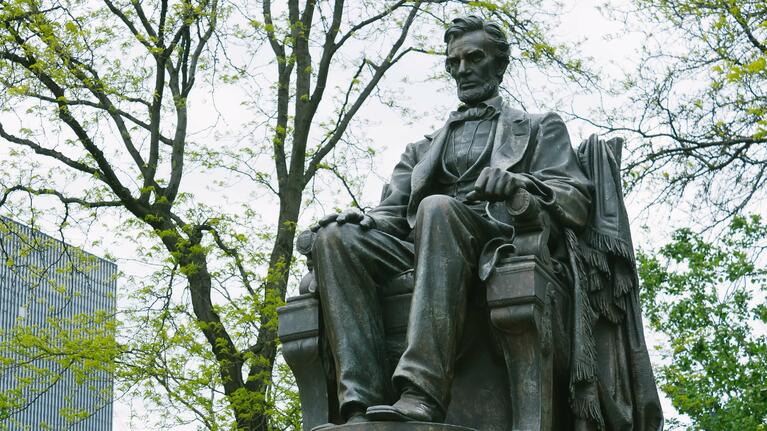 Easter may be half a year away, but that doesn't mean you can't go on another form of treasure hunt by connecting together Chicago's many links with the nation's past presidents. Not only is Grant Park named after Ulysses S Grant, but it also hosts a fine sculpture of Abraham Lincoln, who was elected to the House of Representatives for the state of Illinois before his Oval Office ambitions became a reality.
Jackson Park, named (you guessed it) after President Andrew Jackson, is located on Chicago's South Side. Containing the Japanese-style Osaka Garden, it will soon be home to the Barack Obama Presidential Center, dedicated to the presidency of the 44th – and first African American – President of the United States.
Save in Chicago in October
October is a great time to visit Chicago. The heat of summer may be gone for the year, but so are the biggest crowds, leaving the city feeling much more breathable for anyone looking to take advantage of the huge array of events that take place.
But don't forget about Chicago's year-round attractions, because by traveling with Go City you'll make massive savings on admission costs to many of them!