Christkindlmarkets, snow-covered streets and stunning seasonal light displays means we've probably already successfully answered the question 'should I visit Chicago in December?'.
Filled to brimming with festive fun and events unique to the most wonderful time of year, Christmas in Chicago is a period that will bring a smile to the faces of all but the grinchiest of grinches.
Looking for things to do in Chicago at Christmas? Look no further than this round up of the very best!
What to expect from Christmas in Chicago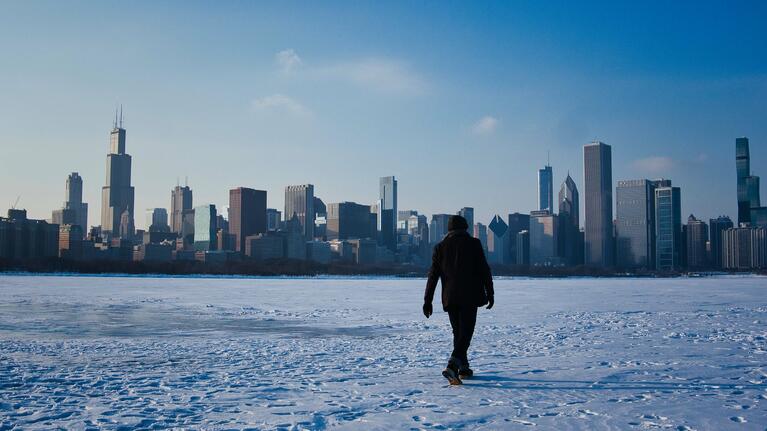 Part of what makes the city such a fantastic December destination is Chicago's Christmas weather. Snowy and cold, it's exactly what many of us want – and expect – from the festive season.
Daytime temperatures aren't all that different to what Santa's elves will be used to at his North Pole workshop, with highs of 35°F. They regularly drop below freezing by night to averages of 23°F. Clearly, you're going to want to ensure you've packed your woolens.
On the plus side, December is the second-driest month of the Chicago year, with just a couple of inches of rain – and up to eight inches of snow. Skies are largely clear, making days sunny and crisp.
Another part of what makes Christmas in Chicago so special is the city's collection of long-held seasonal traditions, discussed in more detail below.
Brighten the winter nights with Chicago's seasonal lights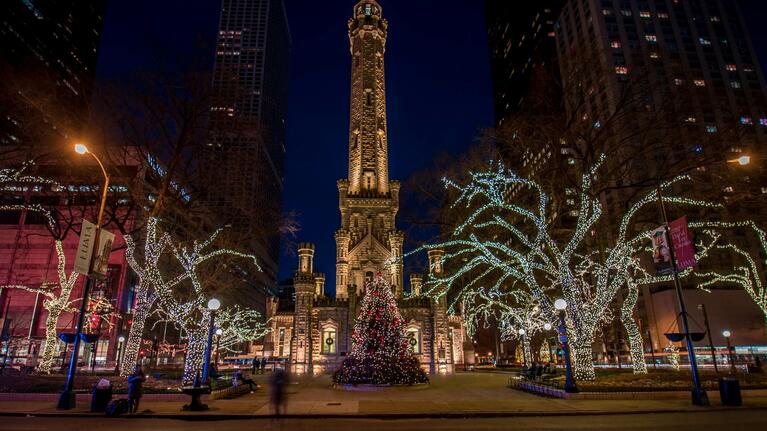 You don't have to look far in central Chicago to get your fill of Christmas lights once the sun has set over the shores of Lake Michigan. In addition to its Endangered Species Carousel and Lionel Train Adventure rides, Lincoln Park Zoo sparkles with over 2.5 million bulbs, incorporating several scenes that move to music.
Head south from the zoo and you'll soon end up on the Magnificent (or Mag) Mile, which is a blaze of lights adorned to its trees from an impressive switch on festival in the last week of November right through until New Year.
Millennium Park in the Loop – part of Downtown Chicago – has been the location of the city's official Christmas tree since 2015, although the tradition goes back more than 100 years. However, it has to compete for attention with the avant-garde lighting installations that appear at Chicago Botanic Garden at about the same time.
The nearby Daley Plaza hosts a Menorah lighting at the start of December – complete with donuts – for anyone celebrating Hanukkah.
Grab your chance to do some last minute shopping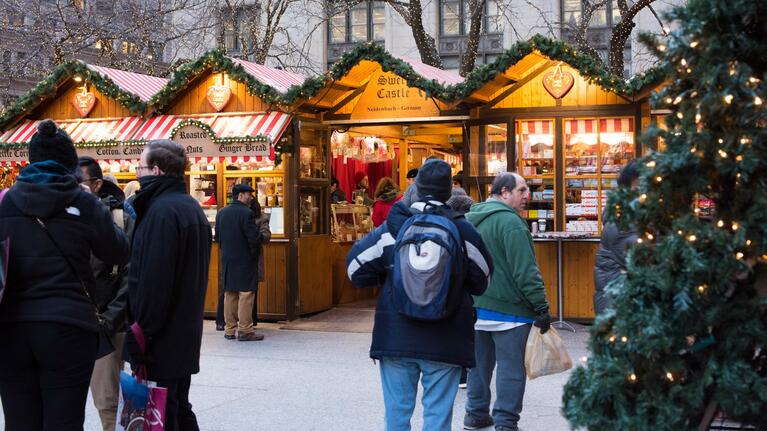 Daley Plaza is also one of Chicago's top seasonal shopping locations since it's home to the city's German-style Christkindlmarket. Visitors are free to peruse the selection of local sellers, whose stalls are packed with decorations, clothing accessories and their fair share of sweet treats and mulled wine – rather than the Chicago-style pizza you might plumb for at other times of year.
The Bridgeport Art Center's Renegade Craft Fair is another bastion of independent sellers, with around 250 displaying their wares, which range from bespoke pieces of jewelry to stylish household items sure to add a little je ne sais quoi to your abode.
Keep your ear to the ground from the end of November, and it's more than likely you'll also hear word of the large number of pop-up one day or weekend markets taking place in and around attractions right across the city.
Don't forget about the city's all-year shopping options in all the excitement of the season. If just one destination is worth mentioning it's the Magnificent Mile, defined as Michigan Avenue between Oak Street and Michigan Avenue Bridge.
Whatever your budget, you'll find something to suit here, from well-known department stores to luxury brands Burberry and Tiffany & Co. There's also a branch of Macy's at Water Tower Place, although many prefer the holiday windows of the historic Macy's store on State Street.
Show off your skills on the ice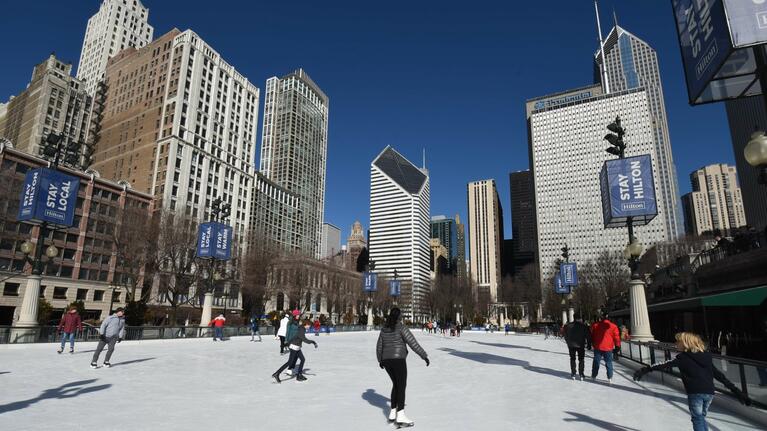 The start of winter sees a number of free ice rinks appear in the city, including not one but two within proximity to Millennium Park. The first is the McCormick Tribune ice rink nestled beside the steamy windows of the Park Grill restaurant and the stainless-steel Anish Kapoor sculpture known as 'the bean' but officially called Cloud Gate at the heart of AT&T Plaza.
The second is Maggie Daley Park Skating Ribbon next door. A sort of wide skating track, it winds its way through the park with its backdrop of downtown skyscrapers, past snowy pine trees and outdoor climbing walls awaiting the warmer weather.
But if 'the bean' has you yearning to discover more of the city's art, look no further than the Museum of Contemporary Art, whose permanent collection includes around 2,500 individual works by twentieth century greats including Andy Warhol and Jasper Johns.
Take in the exhibitions and shows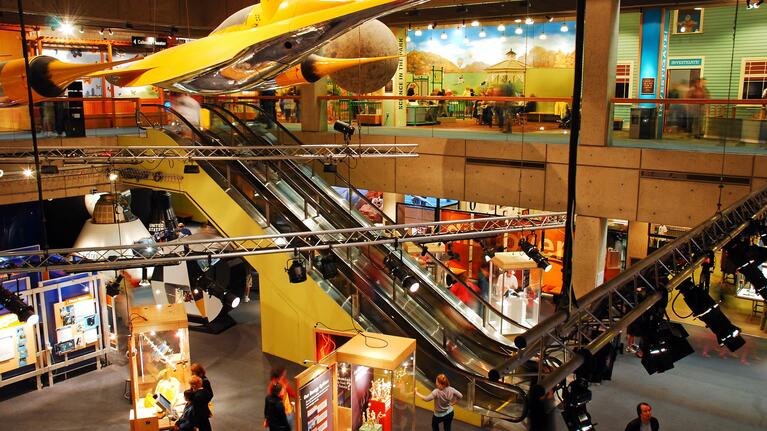 Many of the city's other museums also get into the holiday spirit. The Museum of Science and Industry – whose rather staid name is contrasted by the hands-on modern attractions within – hosts their annual Christmas Around the World exhibition, which now also includes the winter celebrations of non-Christian cultures from Diwali's birthplace of India to China's Spring Festival commemorations.
Christmas shows in Chicago are also a big part of the scene in December in the city. One of the biggest hubs for theater in the US outside of New York's Broadway, companies big and small go all out to wow their audiences, whether that's through Christmas classics such as performances of A Christmas Carol or the Nutcracker, or newly written plays that will tug at the heartstrings.
If people watching is more your thing, and the wintry streets don't provide the opportunity, you could do far worse than head to nightspots of North Clark Street such as Simon's Tavern. Often voted as the city's best bar, it has been serving up tots of its signature glogg (mulled wine) for nine decades.
Save on Christmas in Chicago
When it comes to winter wonderlands, the US doesn't get much better than Christmas in Chicago. And when it comes to making the most of your time – and budget – in the city, things don't get better than Go City.
Offering up great discounts on many of the city's top attractions even over the festive season, travel with Go City and you can save big on entry to attractions you were planning to visit anyway. Now that's a Christmas gift everyone would surely love to receive!