This Go Chicago Card review was submitted by Lindsay L, as part of our Blog Ambassador Program – a fun way to visit top Chicago attractions for free, share your experience and be featured on our blog. [clear-line] After many months of research, I was recently fortunate enough to be able to try out a Go Chicago Card on my trip to the Windy City. I selected an all-inclusive, 5-Day Go Chicago Card (both to fit the length of my vacation and to account for the number of attractions I wanted to see). The Go Chicago Card made my vacation much easier and more affordable, too. Seeing attractions was a breeze, and the ability to use the pass on my phone really made things more convenient. Plus, I saved a lot on admission versus buying tickets to each museum or tour individually. In a city like Chicago with high admission rates to places like the Art Institute or city bus tours, that makes a huge difference.
My 5-Day Chicago Itinerary
If you're flying into the city and want to avoid renting a car (which I highly recommend due to incredibly high parking prices in Chicago), take the CTA mass transit system into the city from either airport. It's also worth purchasing a multi-day CTA pass to get around on the bus or train during your trip – it's much more affordable than cabs. I actually spent a week in Chicago, but only used five of those days to sightsee. Because the Go Chicago Card is purchased in increments of consecutive calendar days, I saved my free days at the end of the week for shopping (who wouldn't want to take advantage of the Mag Mile?). So, here's an overview of what I saw during my vacation with the 5-Day Go Chicago Card:
Day 1: Hop-on Hop-off Big Bus Tour & Skydeck Chicago @ Willis Tower
Day 2: Museum Campus (The Field Museum & Shedd Aquarium)
Day 3: 360 CHICAGO & Museum of Contemporary Art
Day 4: Chicago Architecture River Cruise & Navy Pier
Day 5: The Art Institute & Millennium Park
Keep in mind that while I visited during warmer weather, if you're coming to Chicago in the winter months, some attractions like tours or cruises are weather dependent (like the Chicago Architecture River Cruise).
DAY 1
Hop-on Hop-off Big Bus Tour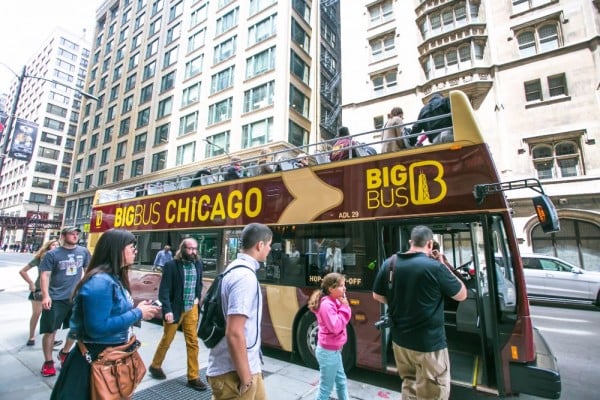 Because I haven't spent much time in Chicago before, I wanted to start off with a tour to get a sense of the city. The hop-on hop-off option by Big Bus is a great introduction to Chicago, with some genuinely interesting narration by charming and often funny tour guides. You can choose to ride the entire loop (which I did) or get off at one of many marked stops to explore further. Some key stops include Millennium Park, the John Hancock Center (which is where I got on), Museum Campus, the Willis Tower, and many more. If you choose to stay on for the whole loop, the entire tour takes about 2 to 2.5 hours. For me, after riding most of the loop I decided I wanted to check out the Willis Tower's top attraction, Skydeck Chicago (more on that below). The buses come by about every half hour or less, so if you disembark you don't have to wait too long to get back on. Overall, I highly recommend it as a great way to orient yourself in the city.
SkyDeck Chicago
The other thing I did on my first day in Chicago was to go to the SkyDeck in Willis Tower (formerly Sears Tower). The views are stunning, and the interactive exhibits at the top are pretty neat and informative. I would expect heavy crowds if you visit in the afternoon, but the lines move fairly quickly in my experience. One thing I especially enjoyed is The Ledge – it's this glass balcony that extends out beyond the edge of the building so when you step on it you feel like you're standing in the middle of the air! Definitely fun but only for the brave. I decided to see both SkyDeck Chicago and 360 CHICAGO to compare the two, so while I'll save my comments on 360 CHICAGO for later in this post, I will say that I found the SkyDeck to be a surprisingly unique experience. If you have the time, it is cool to do both.
DAY 2
The Field Museum
The next day I took the bus from near my hotel down to the Museum Campus area of Chicago. It was an easy ride and a lot of tourists and locals take the bus, so it wasn't hard to figure out how to get down there. I was most excited to start out with the Field Museum because I've read so much about their collections and their special exhibits. The highlights of the Field Museum definitely include: the paleontology section – SUE the T. Rex was way cool, and the other dinosaur fossils were quite impressive; the gemstone hall; and the Ancient Egyptian artifacts and Ancient Chinese artifacts. Both the Egyptian and Chinese artifacts have dedicated areas filled with amazingly preserved and beautiful pieces of art, architecture, religious objects, everyday artifacts, and more. Fans of archaeology will be particularly impressed. I recommend visiting your included special exhibit, too, which can otherwise be an additional (sometimes pricey) upgrade. I would also recommend downloading the Field Museum app (which is free) – especially if you have kids because it has some nice additional content for families.
Shedd Aquarium
Next up on my list was the Shedd Aquarium. This stunning institution was definitely a smart choice for my second attraction of the day. The exhibits here are simply enchanting. My favorites were the Caribbean Reef (you're literally getting a 360-degree view from under the water) and Amazon Rising, where you can see a really diverse selection of plant and animal species. During the late spring and summer months, you can also play around with the Stingray Touch exhibit, which is a really fun experience and an interesting tactile sensation. If you have kids, the Polar Play Zone looked like a lot of fun, too! It was very busy when I visited so I'd expect lines if you come in the middle of the day. As an added bonus, I totally got to skip the line with my Go Chicago Card. There was a longish line the day I visited, so it was definitely worth it! Note: The Museum Campus also includes the Adler Planetarium. I decided that there wasn't enough time to see all three in one day, and it was the attraction that I had to cut for time. If you want to see all three, you'd need to devote at least two days.
DAY 3
360 CHICAGO
I was really interested to see the differences between 360 CHICAGO in the John Hancock Center and the SkyDeck in Willis Tower, so I made it a point to check out the second one on my third day. My hotel was in the area, so I actually just took a walk to the Hancock Center. It's a little complicated to find the entrance, but once you get in there you can see there's a place for Go Card holders to skip the ticket line (you still wait in the elevator line, though). Once you get up the top, you can immediately see why people love both observation decks. The views here are closer to the lake, so you see less of the city, but it's totally panoramic and you can see super far on a clear day. They also have some cool exhibits and photographs, plus a little café at the top where you can sit and sip some coffee while enjoying the view. There was the option to upgrade to their "TILT" attraction (which I did not do), but it looked really fun – you get to stand in a safe, enclosed space where they literally "tilt" you out past the building's edge. I would honestly say my favorite of the two is 360 CHICAGO, but both have their merits.
Museum of Contemporary Art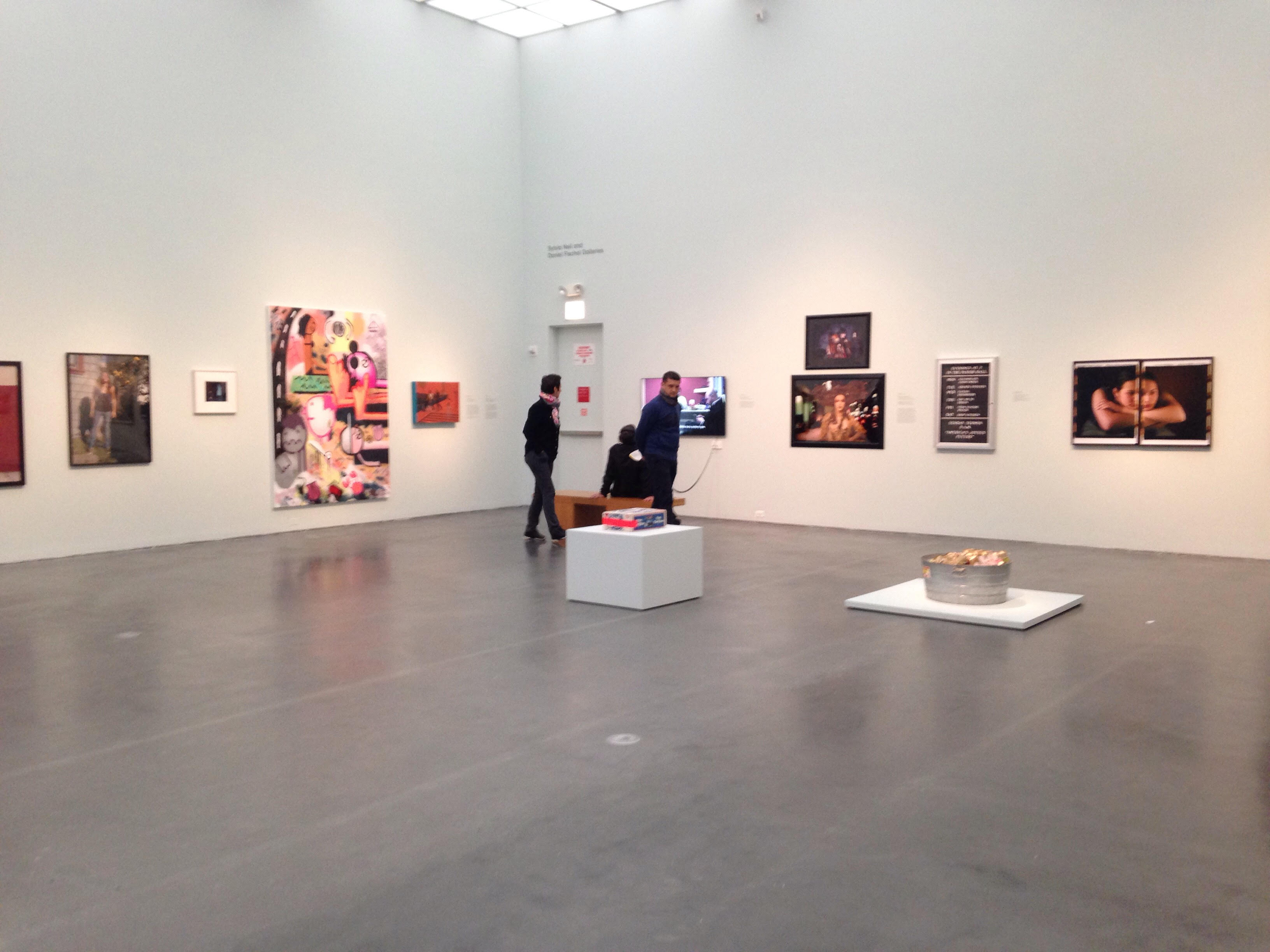 I chose this next option because it was within easy walking distance of 360 CHICAGO and my hotel - and because I love art museums. The Museum of Contemporary Art is a gem. It's kind of hidden back in the neighborhood area of Gold Coast, but it's also recently been renovated and has some truly amazing works of art. There are a couple of levels, divided into a few distinct exhibition areas. It's not too large, but the galleries themselves are more than spacious enough for some really inspiring exhibits. The exhibits change seasonally – even what they show from their permanent collections – so I can't speak to what you'll see, but they have everything from photography and sculpture to painting and installation artwork, most of it from the mid-twentieth century or later (there is some earlier stuff, too, but not as much). The MCA also has a brand new bar and restaurant (called Marisol) which I checked out with my traveling companion. We really enjoyed the food, and the decoration was atmospheric and beautiful.
DAY 4
Chicago Architecture River Cruise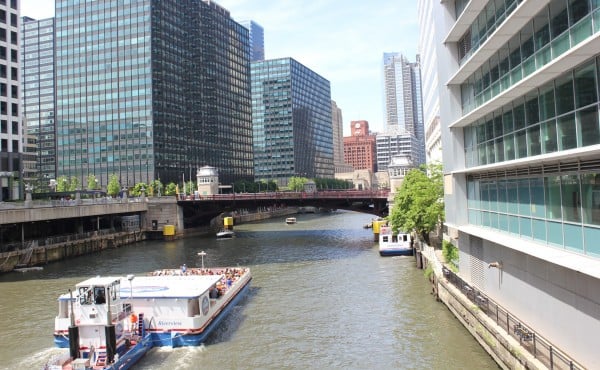 On my fourth day in Chicago, I took another bus out to Navy Pier to pick up the famed Chicago Architecture River Cruise. It's the one tour that everyone recommends to all the tourists and the new locals alike, so I knew I had to see what it was all about. Remember to arrive at least 15 minutes before your tour time, because in nicer weather it does fill up fast and you'll want to get a good seat. I went on a cooler day, and I would definitely recommend bundling up. The entire trip takes about an hour, and you'll travel up multiple branches of the Chicago River. The tour takes you past many of the major landmarks and architectural marvels of Chicago, including the Tribune Tower, the Wrigley Building, Marina City, and more. My Instagram definitely got some beautiful shots from this tour – no filter needed!
Navy Pier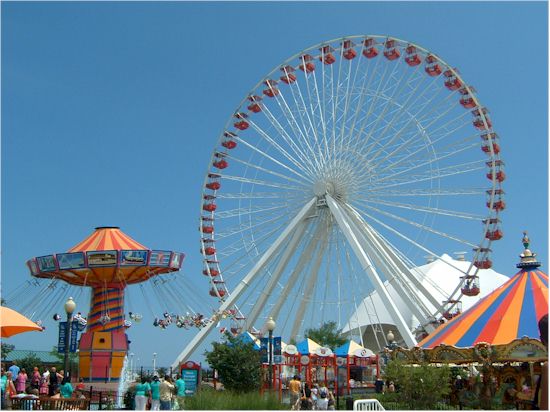 Since I was already in the neighborhood, I decided to just stick around Navy Pier for a while after my cruise. There's a ton to do on the Pier itself – including shopping, dining, theatre, and more – as well as places to rent bikes or pick up other boat tours and cruises. Those of you traveling with kids will want to check out the Chicago Children's Museum, which is also located right on Navy Pier and is immensely popular with locals. For nostalgia's sake, I took a spin on the Ferris wheel (ride tickets included with the Go Chicago Card) and then walked around to enjoy the sights and sounds of this bustling neighborhood.
DAY 5
The Art Institute of Chicago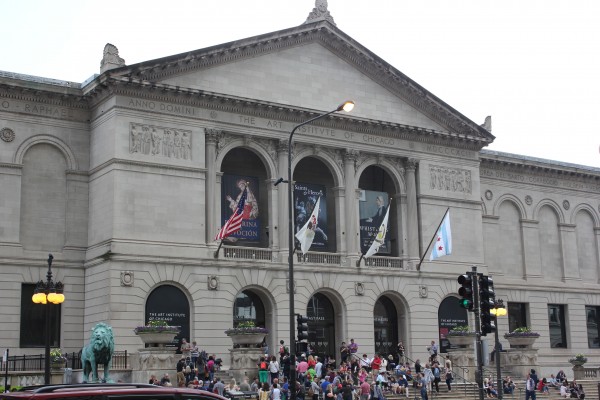 With the last day of my Go Chicago Card, I knew I had to hit up one of the best museums in the entire world – the Art Institute of Chicago. This massive art museum has floors upon floors, galleries upon galleries, of gorgeous, unique, and inspiring works of art. Plus, with the Go Chicago Card, you get to skip the line! This is especially helpful on weekends (when I was visiting). They've got practically anything you can think of, from ancient coins and jade work to contemporary paintings and sculpture, and probably multiple examples, too! A few famous must-see pieces while you are there: the Chagall windows, some works by Georgia O'Keeffe, Edward Hopper's Nighthawks, the classical sculpture collection, and basically anything in the Modern Wing. They also host a number of really neat special exhibits (which are an upgrade from your basic admission), but if they're up your alley they're totally worth it. The Art Institute also recently released an app, which I also recommend downloading. It's free and provides some docent-level inside info on the exhibits, displays, and individual pieces.
Millennium Park
After I finished up several hours at the Art Institute, I decided to stroll around Millennium Park to relax and soak up the sights of Chicago. There are a couple of famous sculptures and art installations here, including the Bean (Cloudgate) and the Crown Fountain (which flashes between different photographs as it spits out water), as well as the Lurie Gardens, the Pritzker Pavilion, and more. You can come here to take in a concert during the summer months, too, usually free. They also have plenty of festivals, ranging from cheap food festivals to pricey music events. Overall, it's a new cultural heart of the city and everyone seems to love it. I certainly did!
DAYS 6 & 7
Honestly? Shopping, dining, and drinking. The food scene in Chicago is fantastic, and the retail scene is even better. If you're only in town for a few days, save at least a little time to walk the Magnificent Mile and window shop, at the very least. As far as dining goes, River North has scads of options which are less touristy than you'd find around the Loop, but there are good choices everywhere you go. Read Yelp reviews for some ideas – they're pretty good guides.
My Tips for Planning with Your Go Chicago Card
I do highly recommend downloading the Go City Card app – it will make your life so much easier.
Some tours require reservations, so be sure to check in advance to see if anything you want to do needs a call-ahead so you don't get disappointed.
The guidebook that comes with your pass can be really helpful, but the Go Chicago Card website has even more info on each attraction that can be invaluable when planning your vacation.
It's also a good idea to visit the website of the attractions you want to see. They'll have the most up-to-date info and the most detail on your visit – plus, it's exciting to see what you have in store for you!
To maximize the value of your Go Chicago Card, I recommend planning in advance. It can be fun to decide on the fly what you want to see, but you'll be able to plan transit, dining, budget, etc., much better if you have any idea of what attractions you want to see on which days.
Don't underestimate how much time you will spend at an attraction. I originally thought it would only take me two hours at the Art Institute and I was totally wrong. Conversely, if you have kids, you know to plan in backups for when they get tired and/or cranky.
While some attractions offer food, if you have dietary restrictions or have a picky eater in your party, it may be better to eat before or after your attraction visit. It's usually cheaper, and there are plenty of affordable places to eat near major attractions in Chicago.
And of course, you don't have to do what I did, either! There are more than 25 Chicago area attractions to choose from, including multiple different types of tours and cruises. I'm sure you'll be able to craft the perfect vacation for you and your family. Hopefully my Go Chicago Card review has been some help to those of you looking to experience the best of Chicago for less! I found it to be an incredibly useful tool for exploring the city and a big way to save money on my travels, and I'm sure you will, too. With this 5-Day Go Chicago Card All-Inclusive Pass itinerary, I saved over $80 compared to what I would have spent purchasing admission tickets at each attraction.