Flying in and out of the primary Chicago Airport— O'Hare International Airport —can be a big challenge if you're not familiar with it. But Chicago is worth the effort. Chicago is among the most cosmopolitan of American cities. Chicago is a globally desirable vacation destination. It is comprised of dozens of diverse neighborhoods with their character and flavor and populated by people from all over the world. Whether you want to see world-class art museums or natural history museums. If you want to tour this historic city, or just enjoy their Michelin Star-earning cuisine. Chicago has it all. To help you out with your Chicago flights, we've pulled together this brief guide to the Chicago airport.
Overview
O'Hare International Airport (IATA identifier ORD), usually known as simply O'Hare, is the main airport in the Chicago metropolitan area. The airport offers non-stop flights to nearly 230 destinations throughout the world. It is one of the best airports in the country for international travel.  It was originally built in the 1940s but has recently been greatly modernized. Today, O'Hare also earns the distinction of the sixth-busiest airport in the entire world. It's larger both in size and in air traffic than the other international airport in Chicago (Midway) and is the largest hub for United Airlines.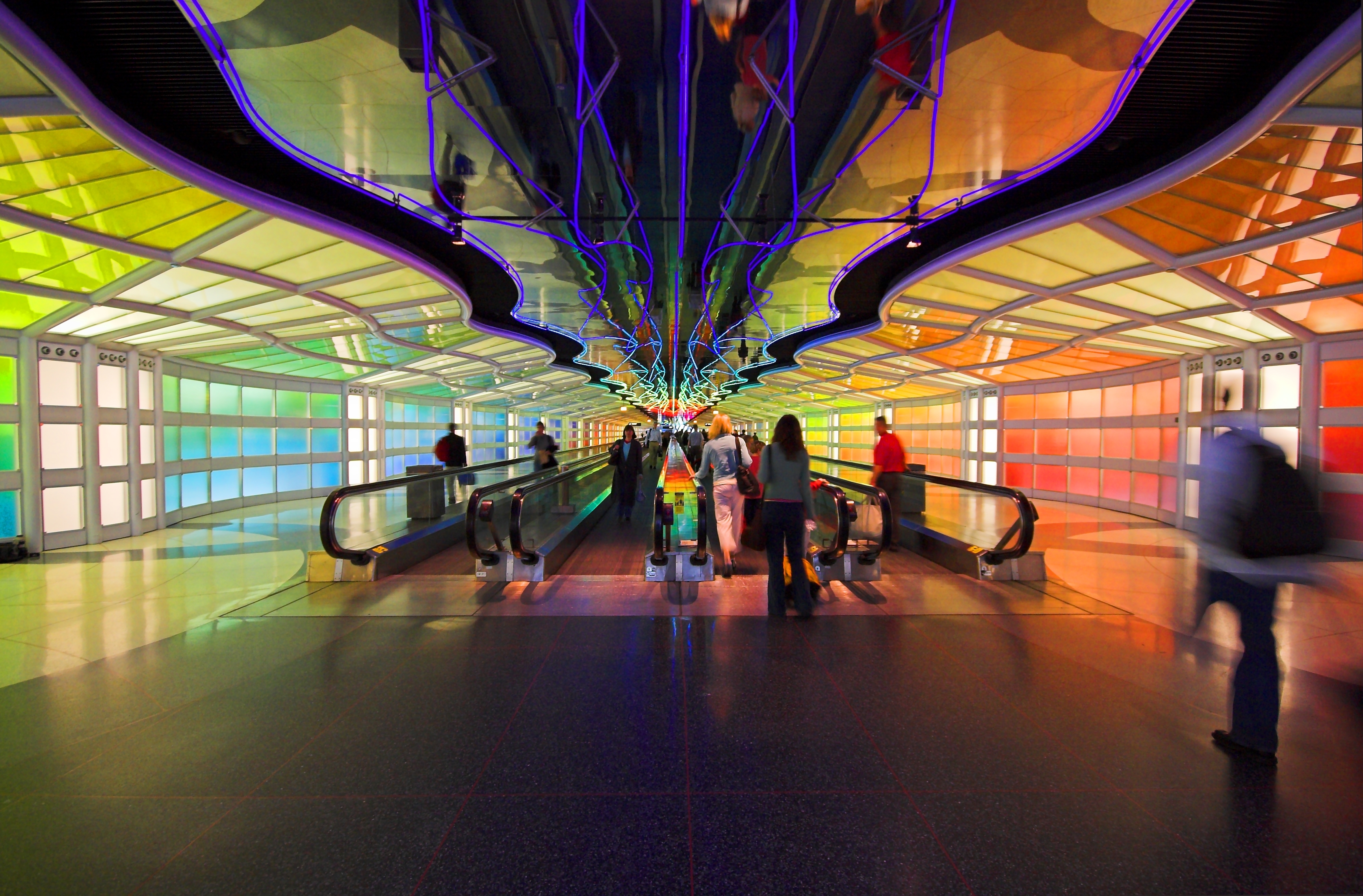 Security
Like all modern airports, O'Hare utilizes the TSA to screen passengers entering the gate areas. Remember to consult TSA regulations before arriving at the airport. Check what you can carry on (particularly liquids or food items), and what can be packed in checked luggage. When going through security lines, be sure to remove all requested items from your carry-on and person to expedite the process. TSA agents will be present to answer questions and guide you through the lines. Families traveling with children should be aware that kids under the age of 12 can leave their shoes, light jackets, and hats on per TSA regulations. Children capable of walking need to walk through the sensors and metal detectors on their own. Infants must be removed from their carriers and carried through by a parent. For more information on getting through TSA screening procedures with little ones, check out their official guide to traveling with children. Security lines at busy airports are notorious for getting backed up. Depending upon multiple factors, ORD has significant delays. Especially during peak tourist season (late spring to early fall) and the holidays, flights from Chicago are very busy and security lines can take significantly longer than they should. We recommend getting there a few hours in advance of your departing flight, especially if your destination is international.
Shopping & Dining
Past security is four passenger terminals with a total of 191 gates. Somewhat confusingly, these terminals are numbered 1, 2, 3, and 5. Most inbound international flights will arrive in Terminal 5. Each terminal offers plenty in the way of shopping, dining, and other amenities.
Shopping
Regarding shopping, O'Hare is a great place to find Chicago-themed souvenirs, luxury goods, and toys and books. There are multiple Barbara's Bookstores for everything the in-flight reader could want. Additionally, there are more than a dozen Hudson News outlets). Avid shoppers can also find plenty of high-end stores from Emporio Armani to Michael Kors. There are even two Field Museum stores for any traveler that didn't make it to the museum. And of course, there are multiple duty-free stores with everything from alcohol and tobacco to perfume and luxury handbags. Check out the Chicago Sports store for that Cubs hat or Blackhawks keychain. 
Dining
O'Hare has plenty of dining options. As one might expect, you can find Chicago-style hotdogs and pizza, as well as plenty of typical fast-food options. It also boasts some more unique dining offerings, like Beaudevin wine bar and café, the tasty but pricey Burger Federation, and a few Goose Island Beer Company bars. You can enjoy hot pretzels, fresh sandwiches and salads, smoothies, and loads more. If you're going to be around Terminal 5, we recommend the R.J. Grunt's Burgers & Fries for some good local grub. For a full list of restaurants at O'Hare, consult their airport dining guide. 
Amenities
O'Hare is also distinctive for its additional amenities. You can find a yoga room which is a free, serene space in Terminal 3 to practice yoga to unwind, de-stress, and de-tense. There is an aeroponic garden (also in Terminal 3), and the Hilton Health Club, offering gym facilities and showers for travelers—it's especially popular with frequent flyers. The Health Club is located inside the Hilton hotel, right across from the domestic terminals.
Car Rental, Shuttles, and Ride Share
When planning how to get to and from O'Hare, it's important to be aware of all your options. You can find everything from convenient public transit to traditional taxis, plus hotel shuttles and more.
Public transport
The most affordable option is to take the CTA Blue Line train directly from the airport. Follow signs that say "Train to City" and you'll end up at the station. You may pay for your fare with cash or credit, and the train runs 24 hours. There are also affordable Metra trains and Pace buses.
Taxis
As far as taxis go, keep in mind that you're going to pay a steep fare to get to downtown Chicago. O'Hare is a decent distance from the city center and it will cost about $30-$40 per one way. There will be some variations depending upon where your hotel is. Taxis are located in front of the Baggage Claims in each terminal. You may decrease your costs with a shared taxi ride, but many travelers find the savings aren't worth the inconvenience of the extra stops.
Rideshare
Rideshare companies like Uber and Lyft are limited to specific pick-up places in O'Hare. The only pick-up places are in Terminal 2 and Terminal 5. Consult your app for specific details on where to await your driver. You can also opt for a shuttle or regional bus to get to and from the airport. If you're looking for those, head for the Bus/Shuttle Center on Level 1 of the Main Parking Garage near Terminal 1. 
Rental cars
Rental car companies are located in the Multi-Modal Facility, some distance from the main airport. You'll need to board a free shuttle to get to this facility—the shuttle will pick up at the Lower Level curb front, right outside of baggage claim. Consult signs for the closest location in your terminal. It's helpful to make rental car reservations in advance of your arrival, as O'Hare's popularity often means that rental cars sell out quickly. 
Save on Chicago Attractions
After you've got your Chicago airport experience all settled, you'll need to start looking into fun things to do in Chicago. Save on the best cruises, museums, tours, and more in Chicago with the Go Chicago pass.  You can save up to 55% on combined admission to all the top things to do in the city, from Shedd Aquarium and the Field Museum to bus tours, an architecture river cruise, and the Art Institute of Chicago. Don't forget to share your adventure with us! Tag @GoCity or use the hashtag #GoCityPass in your vacation photos and we'll feature you on our page. Follow the Go City Instagram and Facebook pages for competitions, special offers, and events and inspiration for your chosen destination, too!