With bright lights, colorful buildings, and bustling crowds, Navy Pier is the life of the party when it comes to the Chicago tourist scene. It's one of the most-visited attractions in the Midwest! There's so much to do here that you can spend an entire weekend at this hot destination.
There are plenty of fun Navy Pier attractions to check out, from amusement park rides to museums and restaurants. So, if you're looking for some great Navy Pier attractions and things to do nearby during your trip to Chicago, check out our list of the best local activities and attractions, including...
Navy Pier Centennial Wheel & Rides
Architecture River Cruise
Chicago Children's Museum
360 CHICAGO
And more!
Attractions & Things to do at Navy Pier
Centennial Wheel & Rides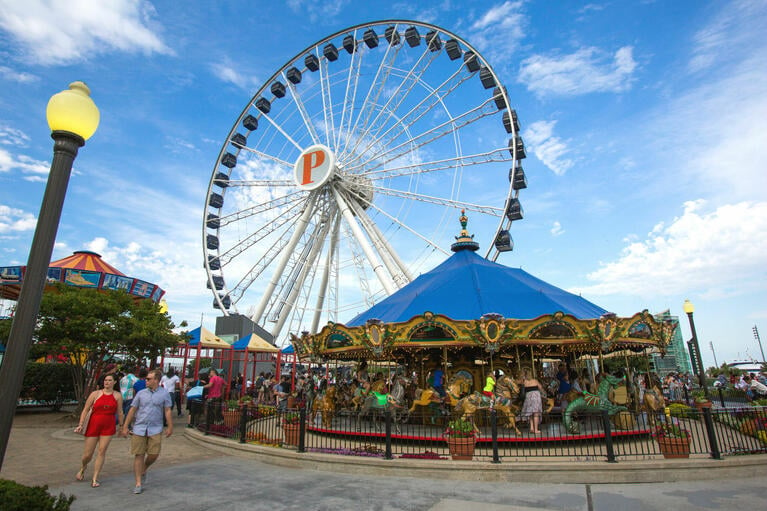 The rides of Navy Pier are the true stars of the show. Although it doesn't boast a full amusement park, this carefully curated selection of rides makes for a delightful afternoon spent with the kids. Ride to the top of the iconic Navy Pier Centennial Wheel for excellent views of the Chicago skyline, soar in the air on a wave swinger, and take a leisurely spin around a classic carousel.
The Centennial Wheel really is the Navy Pier attraction that you absolutely must check out.
Architecture River Cruise
Boarding at Navy Pier, the Chicago Architecture River Cruise is one of Chicago's most popular attractions.
The city is famous for its significant architectural landmarks, from the grand Carbide & Carbon Building and the Art Deco Chicago Board of Trade Building to the stunning Aqua skyscraper. The styles of the buildings vary and have created some of the most important and long-lasting architectural trends in history. See these distinctive buildings on your route while discovering how they came to be built in the Windy City.
Classic Lake Tour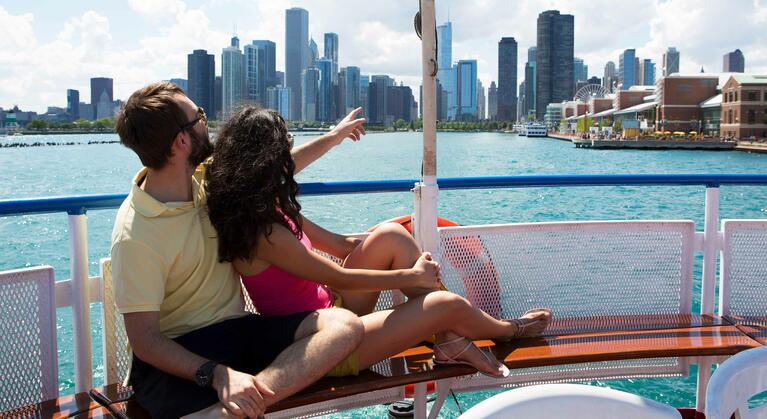 The Skyline Lake Tour is a favorite with first-time visitors. In a comprehensive 40-minute tour, learn all about the famous Chicago waterfront skyline. You'll see all the major waterfront sights, too, from Navy Pier itself to the Lighthouse to Museum Campus.
The professional tour guide will narrate as you tour around the waterfront. The Classic Lake Tour is informative as well as entertaining, so will definitely be a hit with the whole family.
Tall Ship Windy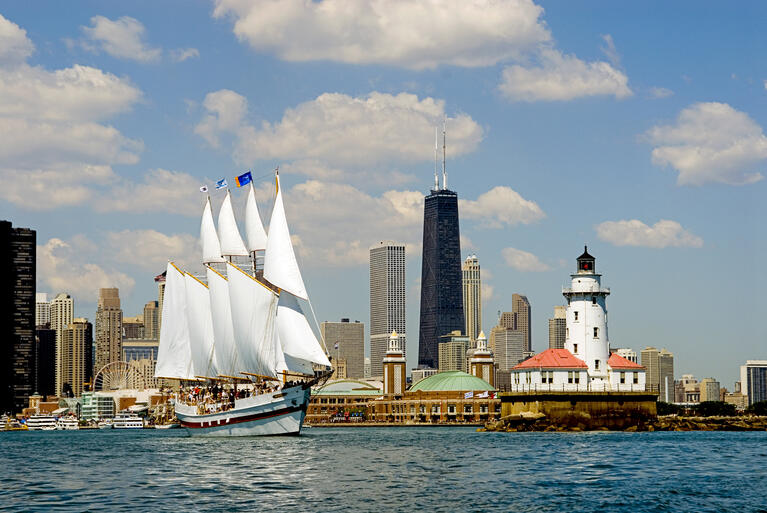 For those of you who love the idea of sailing the open seas on a traditional ship, the Tall Ship Windy is a must do. The Tall Ship Windy is a 150-foot, 4 master schooner, and is the pride of the Chicago Waterfront. It offers several sails each day, featuring themes like pirate cruises. Take to the seas with the whole family and explore Chicago on this exciting expedition!
Bike & Roll Chicago Bike Rentals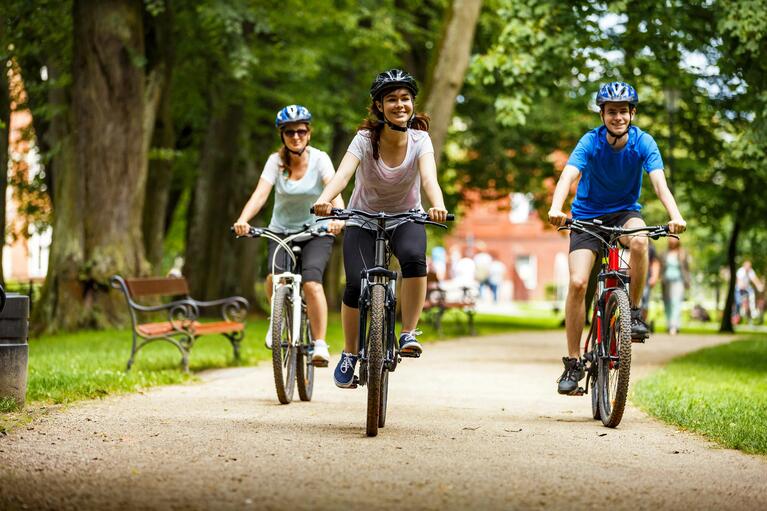 If you love the great outdoors, or don't want to skip your exercise entirely on your vacation, why not explore Chicago by bike? Rent a bike and pedal around 26 miles of lakefront trails, then head inland to Chicago's major parks.
Ride north to Lincoln Park to see the zoo and Chicago History Museum, Or, ride south to Grant Park and the Museum Campus. Whichever direction you choose to roam, you'll find something new and exciting to see on your route. All while keeping fit!
Chicago Children's Museum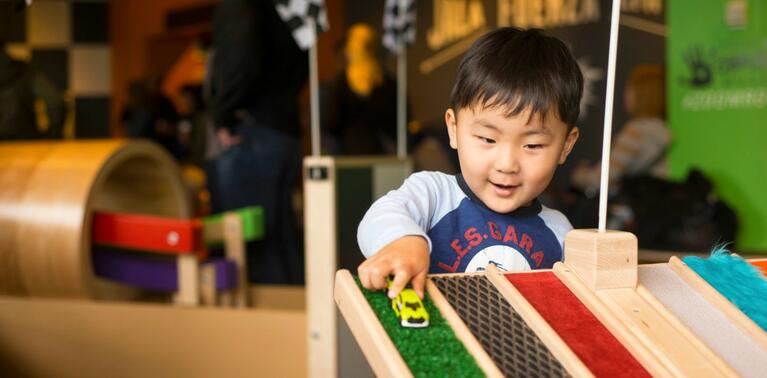 The Chicago Children's Museum is a top destination for kids and families. It's an educational experience like no other. Featuring tons of hands-on exhibits, free daily art classes, and live demonstrations, there is something to inspire every kid. Be sure to check out the "Dinosaur Expedition" exhibit, where kids can explore an excavation pit full of fossils! This Navy Pier attraction is one of the most popular family things to do in the area.
Chicago Shakespeare Theater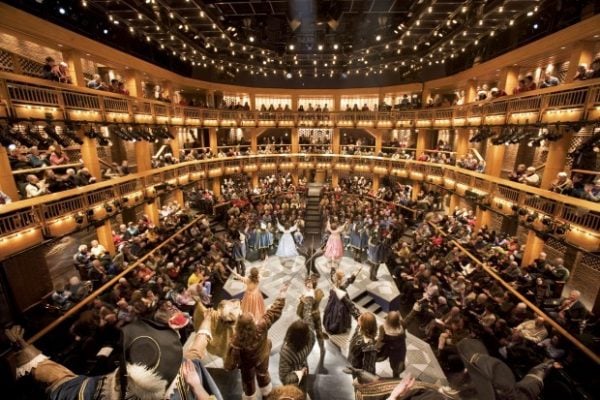 Photo by NWI Times
Fans of Shakespeare – or of theater in general – should not pass up the opportunity to take in a performance at this well regarded venue. From your Shakespearean classics like Hamlet and Macbeth to innovative adaptations in foreign languages, you'll find a wide array of performances to choose from.
Navy Pier IMAX
Everybody loves a good IMAX movie!  There is a diverse selection of IMAX shows to attend at NAVY Pier. They show everything from made-for-IMAX classics like the space-driven A Beautiful Planet to silver screen movies adapted for IMAX viewing. These shows combine stellar sound quality and crystal clear pictures into one amazing movie.
Crystal Gardens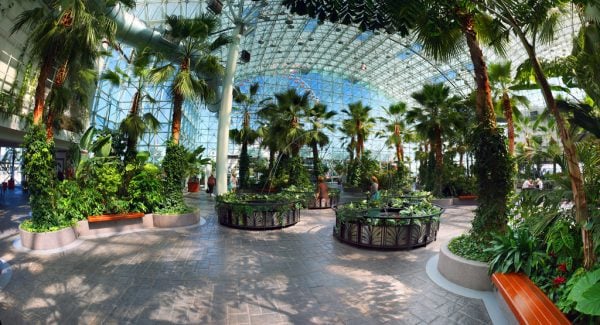 Photo by Lea R. Jet
This stunning, one-acre indoor botanical garden is a gorgeous setting any time of year. The six-story glass atrium contains some of the most beautiful natural scenes in Chicago. It features more than 80 palm trees, verdant foliage and picturesque fountains. Be sure to bring your camera!
Attractions & Things to Do Around Navy Pier
360 CHICAGO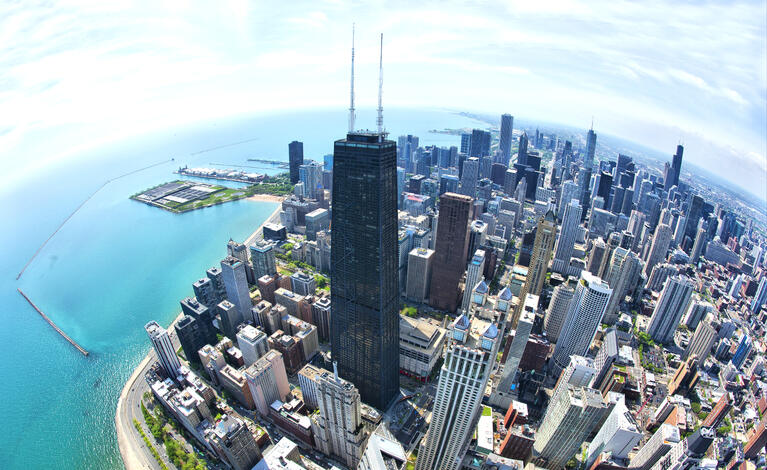 If you're in search of a unique perspective on Chicago, look no further than 360 CHICAGO. It's a premier observation deck that provides views from an astonishing 94 stories above ground level. The sunny observation space provides amazing panoramic views of the Chicago skyline, Lake Michigan, and the city below.
The interactive exhibit is newly redesigned and offers enlightening historical learning as you travel to the top. Located on the Magnificent Mile, 360 CHICAGO is also a convenient stop on a busy day of explorations.
Museum of Contemporary Art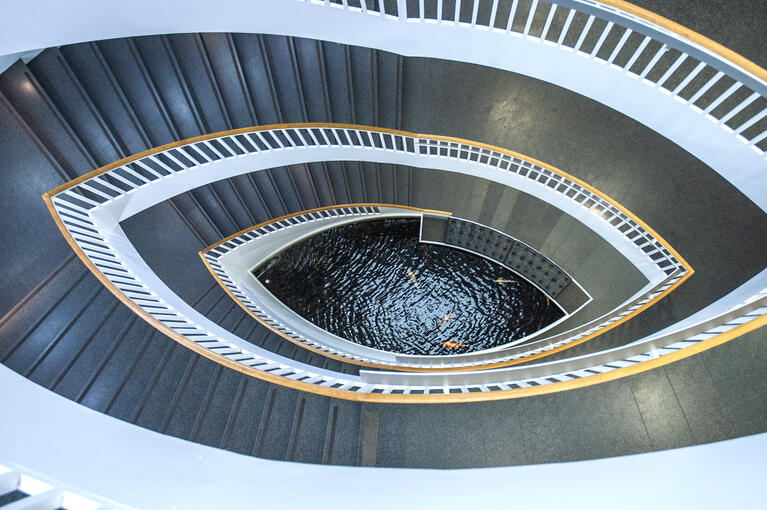 The Museum of Contemporary Art is one of the top art museums in the city. It is particularly renowned for its creative and cutting-edge collections of the most recent developments in contemporary art. Often focusing on the work of living artists, you'll see exhibits that won't be found anywhere else.
From exhibits full of unique sculptures to collections of cartoons, you're bound to find art to fall in love with. Their frequent rotating exhibits also make it an easy place to visit again and again. You're sure to always see something new.
Historic Water Tower & Pumping Station
The second-oldest water tower in the US, the historic Chicago Water Tower is a charming piece of old architecture in the middle of a bustling and colorful modern district. Today, it's actually an art gallery featuring the work of local artists, and it's a nice break from the rush of Michigan Avenue. Don't forget to also check out the nearby shopping mall that shares its name!
Michigan Avenue/Magnificent Mile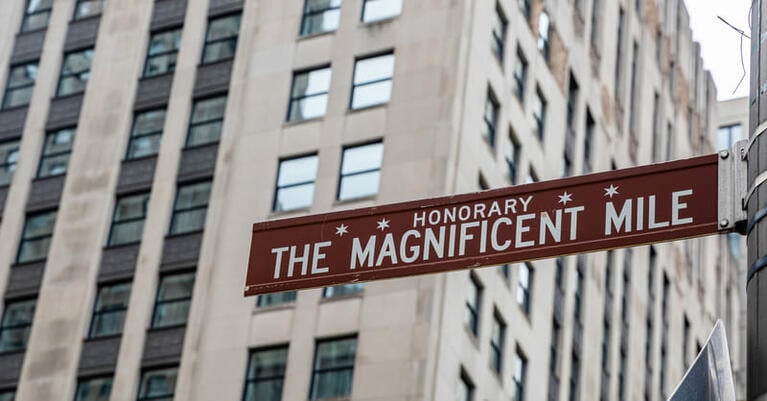 Anyone who wants the true Chicago experience should at least walk a few blocks along Michigan Avenue. Featuring everything from high-end couture brands to fast fashion to Target, there's something to meet every shopping budget in this neighborhood. Whether or not you want to buy anything, it's worth it just for the creatively decorated windows and people watching.
Save on Navy Pier Attractions Admission
There you have it - a few great recommendations for great Navy Pier attractions and things to do nearby during your trip to Chicago. Admission to many of these top Chicago attractions and activities and more are included on the Go Chicago pass.
Choose as you go from dozens of top attractions and save on combined admission vs. paying at the gate. See all available passes, attractions & prices – Learn more.