The Art Institute of Chicago is an iconic art museum, famous not only in Chicago but across the country for its cutting edge exhibits, unparalleled collections, and impressive programming. They frequently host rotating special exhibitions as a complement to their regular collections. Special exhibitions sometimes feature pieces on loan from other museums and cultural institutions, often alongside pieces from the Art Institute's own collections, or can simply be a new exhibit formed from pieces not typically on display. Special exhibitions more importantly tell a particular story, about a person, time period, or artistic movement. Encompassing work in one genre, or multiple genres, including contextual documents and other information, these exhibitions are always enlightening and fascinating for the artistically inclined. Whether you've visited this beloved institution annually or you're a first time visitor, there's always something new to experience. So if you're in Chicago this summer, pay a visit to the Art Institute to check out their recent and upcoming special exhibits.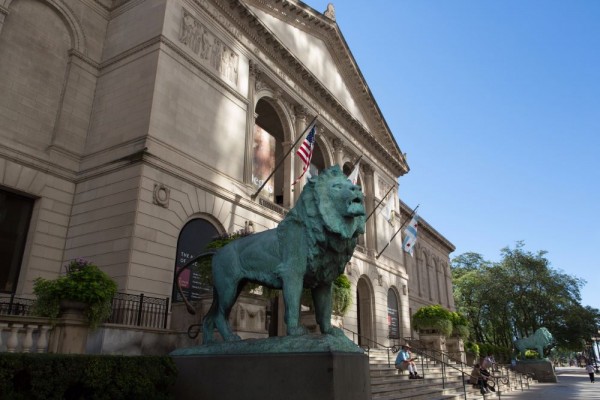 Connoisseurship of Japanese Prints
April 6 - June 23, 2019 Drawing upon the artistic and cultural concept of connoisseurship--in this case, meaning the ability to assess and compare similar artistic items--this exhibition brings together a fine collection of rare and special Japanese prints. Also known as ukiyo-e, or "pictures of the floating world," these are the prints you may be familiar with of waves, clouds, or trees in that evocative Japanese style. Because prints are replicated from a base original, the slight differences between each print are part of what we pay attention to in making those comparisons. Artists featured in this exhibition include Hokusai, Utamaro, Sharaku, and others. All three of the Art Institute's Great Wave prints will be in display, including one that still has the original color of the sky and background.
Rembrandt Portraits
March 3 - June 9, 2019 Pulling together several works of one of Europe's most legendary portrait-painters, this exhibit showcases two pieces on loan from the Norton Simon Museum (in Pasadena, CA) alongside items from the Art Institute's own collections. Viewers are invited to note the differences and similarities in composition between each of the portraits, as exhibition cards call attention to details like the shade and tone of the background, the position of the sitter, and any props used to complete the composition. Seen as a group, these portraits reveal how complex Rembrandt's approach to this common artistic genre really was. The paintings included in this exhibition include Old Man with a Gold Chain (1631), his Self-Portrait (1636-38), Young Woman at an Open Half-Door (1645), and Portrait of a Boy (1655-60)
Everyone's Art Gallery: Posters of the London Underground
May 25 - September 5, 2019 Featuring 100 different posters out of a collection of almost 350 items in total, this exhibition showcases the vibrant and vivacious modes of advertisement used by the Underground Electric Railways London. Designed to encourage visitors to use the underground railway, visit cultural attractions, and explore the city, these posters were not only tourism advertisements but works of art unto themselves. These posters were commissioned by Frank Pick, the man in charge of the media campaign in the early decades of the twentieth century. He hired up-and-coming young artists to create this colorful and innovative posters, and then donated the collection to the Art Institute. Centralizing places and attractions like the zoo, several museums, and Hampton Court (one of the royal palaces), these posters tell a story of the developing landscape in London in the early 1900s. Some famous artists have made a few of these posters, too, including Charles Paine, Frederick Herrick, and Edward McKnight Kauffer.
Manet and Modern Beauty
May 26 - September 8, 2019 The first exhibition of Édouard Manet's work in half a century, this exciting new exhibit focuses on his later career. Intended to highlight for viewers the transformation of his style throughout his career, this selection of fashionable portraits of both women and men showcase Manet's shifting ideas about beauty and fashion. By the end of the 1870s, Manet had an established career as a history painter, but became interested in taking his works in a new direction. He began to experiment with modern subjects and new techniques, including the use of pastel and watercolor to depict actresses, models, and even his wife. In doing so, he created a new association between modernity and femininity. "Manet and Modern Beauty" features his innovative paintings alongside sketches, letters, studies, and more. Designed to fully contextualize his late-career shift in depicting femininity and gender, this exhibition is a fascinating showcase of multiple works.
Save on Admission to the Art Institute
Visiting Chicago and looking to see these fantastic exhibitions during your time at the Art Institute? Use a Go Chicago pass and get general admission to the Art Institute at a significant discount. Then, just pay a small upgrade fee for your chosen special exhibit. You'll even receive Fast Pass admission to the museum, meaning you don't need to wait in long summer lines. Enjoy your visit, and don't forget to visit the exhibition pop-up shop on your way out for that perfect artsy souvenir!