Spending time with friends and family during Thanksgiving in Chicago this year? Make the most of your holiday in Chicago by adding these seasonal activities to your itinerary. If you're researching some activities for Thanksgiving in Chicago 2019, check out these suggestions for local activities and more seasonal things to do in November. Some fun things to do this Thanksgiving in Chicago include...
Hop-on Hop-off bus
Christmas Market
Christmas tree lighting
ZooLights
Thanksgiving Day Parade
Mag Mile Lights festival
Holiday windows
and more!
They're a great way to explore Chicago during the holidays and get an early glimpse of their famous holiday decorations.
Save on Attraction Admission
Regular admission to a number of these Chicago attractions is included in the Go Chicago® pass. Choose as you go from dozens of top attractions and save up to 55% on combined admission vs. paying at the gate. See all available passes, attractions & prices. Please note, some of these special November events may be separately ticketed and not included on the Go Chicago® pass.
Chicago Christmas Tree Lighting
Millennium Park November 16, 2019
This year's ceremony will be held in the Millennium Park location, although you can also watch from the comfort of your home or hotel room (which you may want to do if it's typical November weather!). If you do choose to venture outside, Millennium Park is also home to a number of excellent Chicago attractions, from the award-winning Art Institute of Chicago to the charming Lurie Garden (pretty fascinating even in the cold weather). The Art Institute of Chicago also has some exciting exhibitions at this time of year, so be sure to stop by. The gallery also has late closing on Thursdays, making it a great evening activity, too.
Getting In:
Admission to the Christmas Tree Lighting is free.
Art Institute of Chicago tickets
is included with the Go Chicago® pass.
Chicago's Museum Campus
If you're looking for some indoor attractions in the Chicago fall weather, you can't go wrong with the fine institutions at the Museum Campus. Choose from the popular Shedd Aquarium, the fascinating Adler Planetarium, and my favorite, The Field Museum. Don't miss the newest addition to the Field Museum, Máximo the Titanosaur! Each of these offers something unique to visitors, from an astonishing collection of natural and historical artifacts to some of the ocean's most majestic creatures. Take the kids and spend the whole day at the Museum Campus! Plan to visit at least two of these museums on the same day to maximize your time and the value of your card.
Getting In: 
Admission to all
three Museum Campus institutions
is included with the Go Chicago® pass.
Go for a Family Bike Ride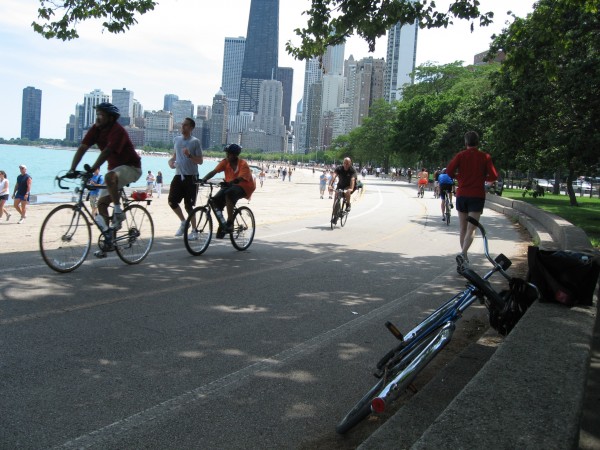 A bike ride is the best way to get your exercise in Chicago while staying warm in the crisp fall air. It's the perfect way to be out and active, as you zoom around the parks, along the lakeside, and throughout the city. Check out the City of Chicago Bike Map to plan your route before you go. With 20 miles of lake-front paved paths, Chicago offers plenty of opportunities to explore the beauties of nature in autumn. A fair warning, however: lakeside rides can be pretty chilly in November, so be sure to wear weather-appropriate technical gear to stay warm and dry while riding! Getting In: Bike rentals by Bike and Roll Chicago are included with the Go Chicago® pass.
ZooLights
Lincoln Park Zoo Opens Friday, November 29, 2019
This November, head to the Lincoln Park Zoo to see some of the loveliest lights around. Marvel at fascinating 3-D displays, watch some master ice-carving and let the kids enjoy hands-on festive craft-making on select dates. For the adults, there's also delicious mulled wine or frosty brews. Plus, don't miss out on this historic train and carousel rides! On November 27, 2018, visitors can also enjoy the special Holiday Market, which can be an excellent opportunity to score unique presents for your loved ones. A fantastic free event that's great for the whole family, it's sure to be an evening of wonder and joy. Zoo Lights runs from 4:30 - 9:00 pm.
Getting In: 
Admission to Zoo Lights is free on most nights.
Lincoln Park Zoo ride tickets
are included with the Go Chicago pass.
Big Bus Hop-on Hop-off Chicago Tour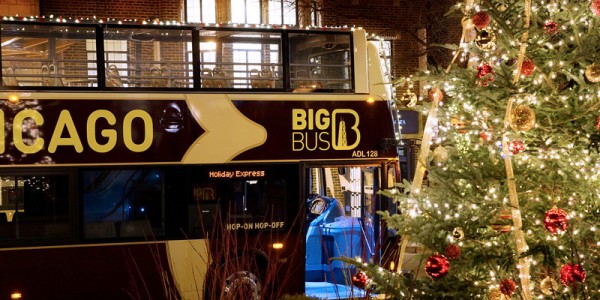 If you don't often spend much time in Chicago, or have never been before, then a bus tour is in order! This time of year is a particularly lovely time to enjoy a bus tour, too. You'll get to see tons of holiday decorations and festive preparations. A hop-on hop-off version like this tour from Big Bus provides you with maximum flexibility. You can ride the loop for a few hours, or spend the entire getting off at places that interest you. As a bonus, Big Bus Chicago picks up near the John Hancock Tower, home to the 360 CHICAGO Observatory, which should also be on your to-do list. Getting In: Big Bus Chicago tickets are included with the Go Chicago Card. 360 CHICAGO tickets are also included with the Go Chicago pass.
McDonald's Thanksgiving Day Parade
Downtown Chicago November 28, 2019
This parade has it all. In addition to the nation's best marching bands, ginormous helium balloons of your favorite cartoon characters, and gorgeously decorated floats, you can expect tons of musical talent, too! Arrive early to snag a spot along the parade route, or enjoy watching snuggled in your living room. The parade begins at 8:00 am (Central Time) and proceeds along State Street from Congress to Randolph. Getting In: Admission to the McDonald's Thanksgiving Day Parade is free.
Thanksgiving Dinner at the Palmer House Hilton
The Loop November 22, 2018
If you're not one for cooking at home – or, if like many Chicagoans, you're dealing with a big family in a small apartment – check out one of the many fabulous spreads throughout the city. One of the most famous is the Thanksgiving Dinner held each year at the Lockwood Restaurant in the historic Palmer House hotel. It's a bit pricey, but the elegant atmosphere and unsurpassed dining experience are worth it. Remember to make reservations soon, as it books up quickly for this special event.
Getting In: 
Thanksgiving Dinner at the Palmer House Hilton is separately ticketed and is not included with the Go Chicago® pass. For more information and to make reservations, please visit the
restaurant website
.
Christkindlmarket
Downtown Chicago November 15 - December 24, 2019
Thanksgiving is right about the time when Chicago's famed Christkindlmarket gets going, a lovely tradition you won't want to miss out on. It's basically a combination of a Christmas craft fair and a German food extravaganza - two of our favorite things in one! It's a great place to get some Christmas gifts and is a wonderful way to experience Chicago's strong German heritage. One fun tradition I particularly love is sipping on their delicious hot spiced cider, which comes in a collectible mug. The mug designs are different each year, too!
Getting In: 
Admission to Christkindlmarket is free.
Holiday Windows
The Magnificent Mile Late November - December
Given its eclectic mixture of high-end stores and funky independent shops, it's not surprising that the Magnificent Mile is even more beautiful during the holidays. Right around Thanksgiving, you'll start to see the holiday decorations go up. If you're anything like me you'll be tempted to photograph all of them. Get some holiday shopping done and enjoy the first taste of the December holidays.
Getting In: 
Window-peeping on the Magnificent Mile is free.
Mag Mile Lights Festival
November 22-23, 2019 Michigan Avenue
If you're in town the weekend before Thanksgiving, don't miss out on the BMO Harris Magnificent Mile Lights Festival! It's a beautiful celebration of light and color along one of the city's most vibrant neighborhoods. Plus, it's an especially family-friendly event, too, featuring your kids' favorite cartoon and media characters. Don't forget to take advantage of the special offers going on during this event at locations throughout the neighborhood!
Getting In: 
Admission to the Magnificent Mile Lights Festival is free.
Remember to Save on Admission
We listed just a few fun suggestions for things to do in November and Thanksgiving in Chicago 2019. Of course, there are plenty of other activities to help fill your itinerary. Remember, many of these great options are included on the Go Chicago® pass. You can save up to 55% on combined admission vs. paying at the gate. Please note, the November and Thanksgiving events taking place at some of these attractions may be separately ticketed and not included with the Go Chicago® pass. Consider adding a few of these fun options to your November weekend itineraries.