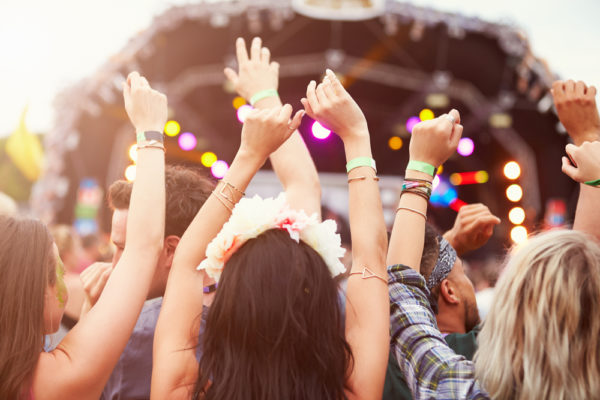 One of the most iconic music festivals of our time, Lollapalooza, is a Chicago legend. Taking place each summer in Grant Park since 2005, this high-energy festival is a must for music lovers. While tickets don't come cheap, the high price-tag is worth the experience for many.
Featuring music from a wide variety of genres ranging from alternative rock and metal to pop and EDM, Lollapalooza appeals to music lovers from across the spectrum. Its Grant Park location also makes the festival appealing to vacationers hoping to build it into a bigger Chicago trip. After all, Chicago is known for its music scene and Lollapalooza is only part of that heritage.
Here are the official details on Lollapalooza 2019, including highlights of the lineup (organized by day), a poster with complete performance info, ticketing information, and some tips for enjoying this signature event. We've also included transit and lodging info for those looking for the complete package.
Lollapalooza 2019 runs from
August 1 – 4, 2019
. The festival hours are from 11 am to 10 pm each day. Kidapalooza, the accompanying festival for families, runs from 11 am to 7 pm each day in a separate but adjacent area.
Lollapalooza 2019 Lineup & Schedule
August 1 Highlights
The Strokes

The Chainsmokers

Hozier

H.E.R.

Lil Baby
August 2 Highlights
Childish Gambino

Tame Impala

Janelle Monáe

21 Savage

Death Cab for Cutie
August 3 Highlights
Twenty One Pilots

J Balvin

Lil Wayne

Tenacious D

Madeon
August 4 Highlights
Ariana Grande

Flume

Kacey Musgraves

Meek Mill

The Revivalists
There's also a Kidapalooza line-up, with performances just for the little ones. Here's the complete selection of family-friendly bands and shows.
The Pop Ups

123 Andres

Q Brothers

Falu's Bazaar

Sonia de los Santos

Joanie Leeds & the Nightlights

DJs Amira & Kayla

School of Rock Allstars
Full Schedule
Tickets
Tickets are available in one or four-day passes. You can also opt to upgrade to a cabana or purchase tickets as a group. One-day general admission starts at $130 per person, with extra bells and whistles available for up to 2k for a one-day platinum level pass. 
Four-day general admission starts at $340 per person, so if you are interested in seeing many acts over multiple days, you certainly get your money's worth. You can also upgrade your four-day passes for a significant chunk of change up to the platinum level.
There are payment plan options for the tickets as well, should you want to make the investment but don't quite have the cash at the moment. Keep in mind that you should only purchase your tickets directly from Lollapalooza or from a verified reseller—fraudulent tickets can be a real problem with a big event like this.
Tips for Visiting Lollapalooza
Lollapalooza has an official app! It should be your go-to for all festival details. It's available for

Android

and

iPhone

.

Ticketing to Lollapalooza is handled via wristband (which should be activated in advance). You may leave and re-enter the festival up to three times per, and they'll scan your wristband to keep track of that.

If you'd like to leave your money and credit cards at home, register for Lolla Cashless, where you can link a payment method to your wristband. It's pretty painless and is very convenient.

As a high-profile music festival, Lollapalooza has very strict rules about what can be brought onto the festival grounds. Review the

allowed and prohibited items list

before attending so you don't need to ditch something last minute.

You will also need to go through intense security screening, not unlike an airport. So be prepared to go through scanners and withstand a light pat-down.

The festival prohibits outside liquids on the event grounds (so no sneaking in that flask). You should, however, drink water while waiting in the security line because Chicago summers are legendarily hot.

Blankets of all types are encouraged to make your viewing experience less susceptible to grass stains. However, chairs, umbrellas, or any sort of shade-causing structure are prohibited. If you'll need shade, rent a cabana.

Pets are not allowed, but service animals are, of course, welcome.

If you're not one to carry a portable charger and your phone has a tendency to lose battery, we recommend a locker rental. They're available for one or four days, and include a charging station inside (as well as being a handy space to store your stuff).

Children 10 and younger are admitted free of charge with one paying adult. There is a limit of two children per adult, however, so big families will need multiple adult escorts.
Transport Options for Lollapalooza
Getting to and from the festival can be a challenge if you aren't a Chicago native, as its downtown location means it could be pretty far from your hotel. There are a number of transit options, including rideshare like Uber or Lyft, the city's mass transit system CTA (
plan your trip here
), or the plain old taxi. 
There is also parking, should you want to drive yourself, but we don't recommend that. There are a limited number of garages, and the prices are quite high. A more eco-friendly (and budget-friendly) means of transportation is via bicycle—and the festival just happens to offer bike parking at Congress and Michigan (south of the main entrance).
As for getting to Chicago itself, the city is served by two airports: Midway and O'Hare. Both are on mass transit lines and it's easy to get to the city from either. Midway is smaller and a bit easier to navigate, but O'Hare serves more airlines and has more flights. If you live downstate, or in the general area, Amtrak is also an option.
Hotel & Lodging Options for Lollapalooza
One option for those visiting Chicago exclusively for Lollapalooza is to purchase one of their unique Lolla Hotel Packages. You can opt for a package that includes your hotel and your ticket all at once (
found here
) or just go through their site for discounted hotel reservations at participating partner hotels.  
We recommend using their services to find a hotel for many reasons, not least of which is that they guarantee they'll match any lower rate (at a comparable hotel in the vicinity). It's an easy way to find lodging and you'll get the most bang for your buck. Of course, if you're willing to stay pretty far from Grant Park to save from dough and just take the hike each day, that's a smart choice, too.
Save on More Chicago Attractions
Should Lollapalooza be only a part of your planned vacation to Chicago, you'll be wanting to make your other activities a bit more affordable.
Snag a
Go Chicago pass
to save on top Chicago attractions like Shedd Aquarium, the Art Institute, Skydeck Chicago, and many more. You'll pay up to 55% less than gate price, and can save your hard-earned money for Lolla souvenirs.