Made up of a long list of neighborhoods and districts each offering something different, deciding where to stay in Chicago can be a bit of a headache, especially if you're a first-time visitor to the city.
Whatever you're looking for out of a leisure trip to the windy city, our pick of the best areas of Chicago to stay is sure to be a help!
The Loop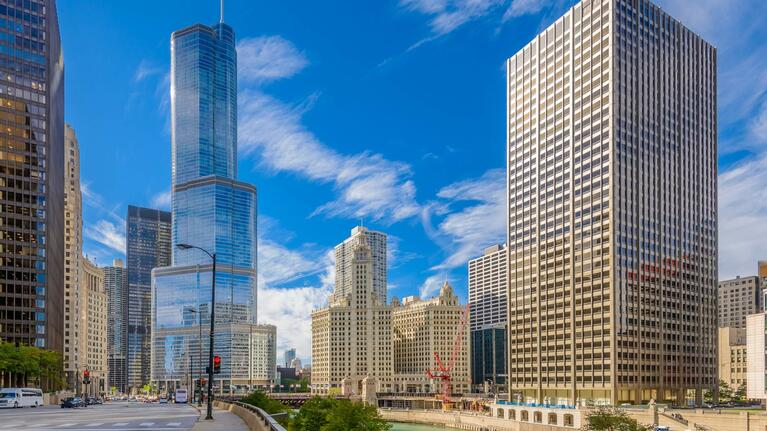 Enclosed by the Chicago River to one side and Grant Park to the other, the Loop is probably the best place to stay in Chicago for those new to the city since its streets include the central business district and many of the city's top attractions, including the Willis Tower's Skydeck observation level and the Art Institute of Chicago. It takes its name from the elevated railway which has looped around it since the Great Fire of 1871.
Synonymous to most with the downtown area, it's also one of the commercial hubs of the city. Being at the heart of the action (Route 66 starts here too), there's no shortage of hotels either.
Predominantly populated by luxury stays – the Hyatts and Radisson Blus of this world – budget travelers will likely find themselves looking at more affordable neighborhoods nearby, such as Lincoln Park. However, the Loop does it have a good quantity of backpacker hostels for those just looking for a central place to lay their head at the end of a long day of sightseeing.
Streeterville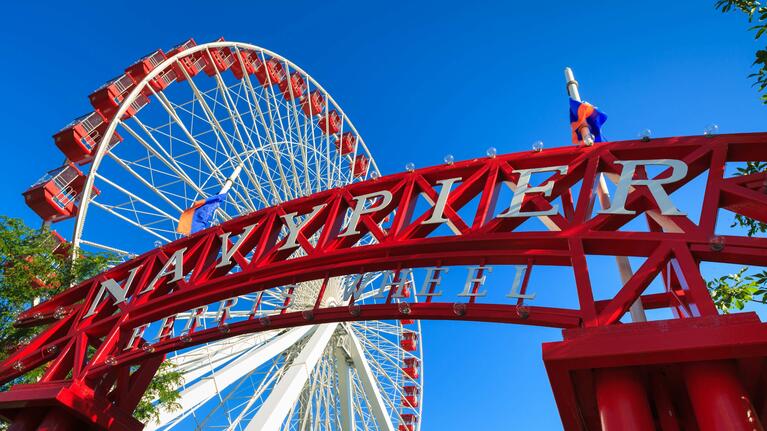 Immediately north of the Loop on the shores of Lake Michigan, the Streeterville neighborhood is still close enough to downtown to be a worthwhile base and is a good pick for solo travelers and visiting couples.
Known to be a very safe neighborhood in Chicago for visitors, it has some similarities to its southern counterpart. Gleaming tower blocks line the Magnificent Mile (a part of North Michigan Avenue), containing roughly 450 stores as well as the famed 875 North Michigan Avenue (John Hancock Center).
Its southern extent stretches out into Lake Michigan thanks to the 50 acre Navy Pier. Its rides include Centennial Wheel, which replicates the world's first Ferris Wheel, built in 1893 for the World's Fair.
Lincoln Park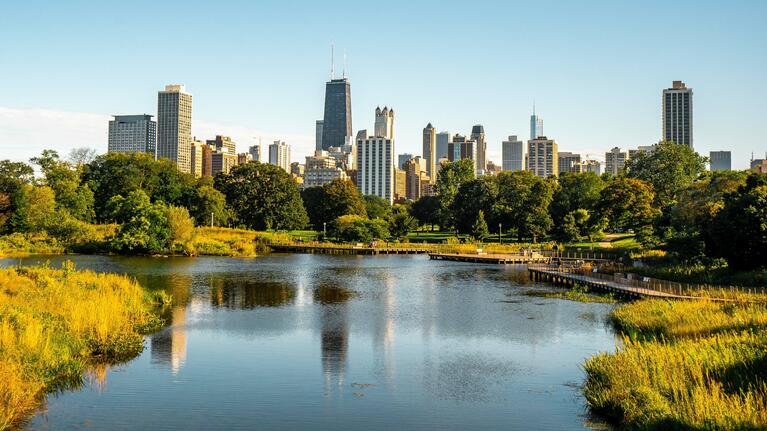 A little further out, but linked to the rest of the city by a number of metro stations and lines, Lincoln Park is one of the largest and most affluent districts in Chicago's North Side. It is popular with young families and urban professionals, ensuring it feels fresh and ever changing.
Named after the city's largest park, which sits beside Lake Michigan for an uninterrupted seven mile run, the area is one of the best parts of Chicago for those on a budget. Attractions include the 32,000 creatures which call Lincoln Park Zoo their home, as well as Chicago History Museum, the first port of call for anyone interested in discovering how Chicago became one of the world's leading cities.
Lincoln Park also contains the northern half of Old Town, where buildings remain low to the ground – at least by Chicago standards – to create a homely feel. This is where you'll find the Second City Theater, the previous stomping ground of everyone from Tina Fey to John Belushi.
River North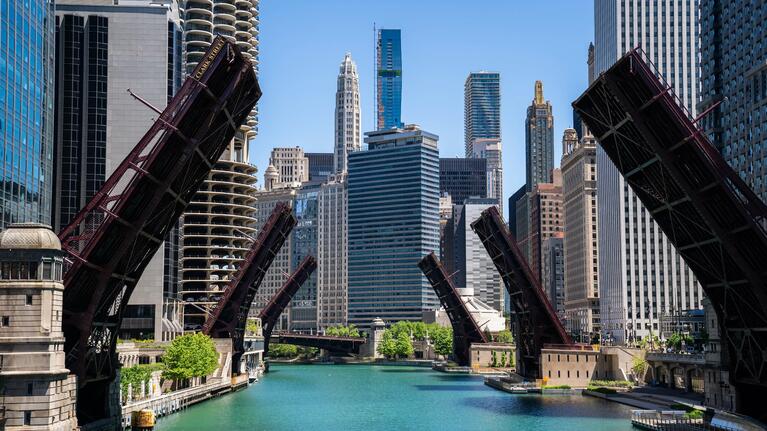 It may not have the lake shore, but River North does have a reputation as the coolest place to stay in Chicago. Separated from Streeterville by the Magnificent Mile, River North oozes stylishness and perhaps contradiction too – it has more galleries than anywhere outside of Manhattan, but is also known for its nightlife. For this, you should head to Hubbard Street.
The banks of the Chicago River have to be the top place for a stroll in the area, whilst landmark buildings to look out for include the Wrigley Building and the monumental behemoth of a structure known as Merchandise Mart, whose exterior façade becomes the world's largest projector screen for a few months of each year.
A good range of restaurants, many with riverside terraces, means you're unlikely to go hungry for long.
West Loop
That said, foodies should stake their claim to accommodation in West Loop, which – that's right – is west of the Loop.
Occasionally also known as the Near West Side, West Loop shines from a gastronomic perspective, with Greektown and Little Italy just two destinations you should be aware of thanks to the twentieth century's influx of immigrants into this former industrial port area.
Randolph Street is otherwise known as Restaurant Row for good reason, but for sumptuous food without any pretension head to the French Market tucked inside Ogilvie train station. Its 30+ independent vendors make it one of the best spots in the city for fresh ingredients as well as mouthwatering dishes from sushi to empanadas. Seating is available.
Wicker Park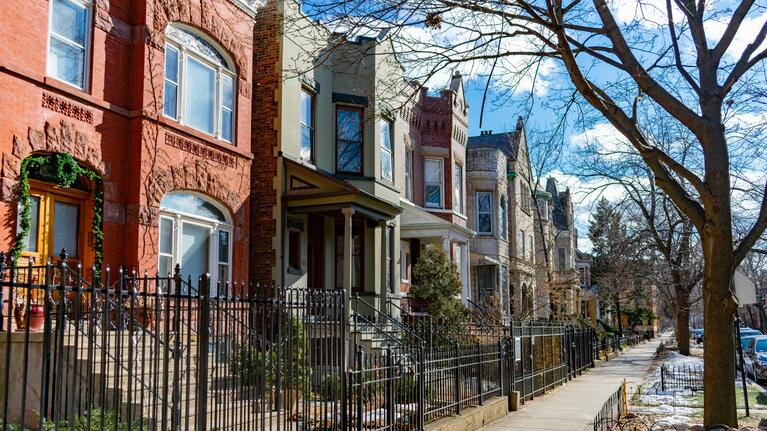 Well-to-do Wicker Park is growing in confidence when it comes to where to stay in Chicago. Northwest of West Loop and centered around the Damen metro stop, this neighborhood has the sort of self-assurance which usually leads to great things. And Wicker Park is no exception to this rule.
A charmingly informal blend of eclectically-stocked clothing stores, groundbreaking restaurants and we-just-have-to-stop-there bakeries, Wicker Park is also pretty hot when it comes to night spots, with a wealth of live music venues all vying to be the place to head.
With median house prices of $550,000 it can never really be called hipster, but that's certainly the vibe it gives off.
Budgeting for trips to Chicago
Finding where to stay in Chicago that's right for you comes down to a balance of location, feel and price. The best neighborhoods in Chicago for visitors are generally those in and around the downtown area, although the closer you are to the Loop, the higher the per night cost you're probably looking at.
When it comes to attraction admission, you can make incredible savings simply by opting to travel with Go City. Our pre-pay passes take all the mystery out of budgeting for trips to Chicago whilst providing you with great savings on many of the city's top attractions.