You like animals, right? Of course you do! What kind of monster doesn't go all gooey at the sight of cute kitties, playful pups and adorable aardvarks? Well, good news: Chicago has animals in spades. We're talking Lincoln Park and Brookfield zoos, dedicated dog parks, cat cafés and, more specifically, critters both alive and dead at, respectively, the mighty Shedd Aquarium and the Field Museum of Natural History. These Museum Campus giants are two of Chicago's biggest, best and most popular attractions, but how do they compare against one other? We got to know their resident critters (and other key exhibits) to find out…
Shedd Aquarium Vs Field Museum: A Short History
First opened way back in 1930, this vast, purpose-built aquarium was for many years the largest indoor facility of its kind in the world. Almost a century later, it remains one of the biggest and most-visited aquariums in the States, welcoming over two million visitors every year. The aquarium, bankrolled by retail magnate and philanthropist John G.Shedd back in the 1920s, doubled in size in the late 20th and early 21st centuries with the addition of the vast Abbott Oceanarium and Wild Reef. As of today, it holds around 32,000 animals across 1,500 species including fish, marine mammals, amphibians, birds, snakes and insects. In 1987, it was declared a National Historic Landmark. Quirky fact: Shedd Aquarium was home to an enigmatic lungfish named Granddad who arrived at the facility for the 1933-34 Chicago World's Fair and remained there until his death in 2017, claiming the title of longest-living fish in a zoological environment. Whether he was born with the name Granddad or had the moniker bestowed in his twilight years is unconfirmed.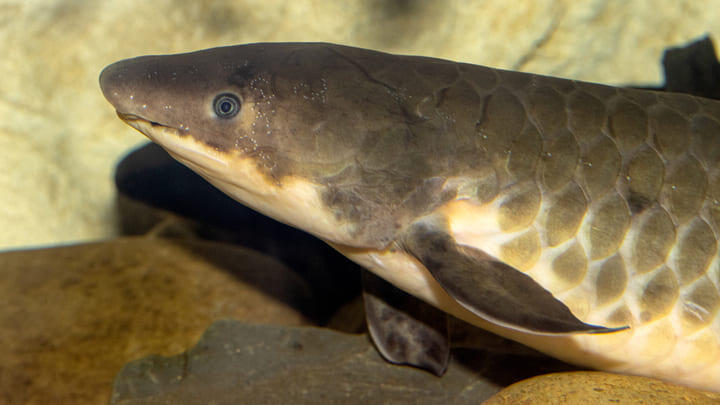 The Shedd Aquarium was actually built as a companion attraction to its older sibling the Field Museum, a natural history museum conceived around exhibits acquired from the 1893 Chicago World's Fair and opened in 1894. The museum was largely funded by entrepreneur and department store magnate Marshall Field, John G. Shedd's mentor. It was, and remains, one of the biggest and best natural history museums on the planet, drawing in around two million visitors annually to a collection of some 40 million specimens and artifacts that includes – deep breath – animal dioramas, dinosaur skeletons, meteorite fragments, Ancient Egyptian mummies and a vast library. Quirky fact: the phrase 'the customer is always right' is attributed to OG museum benefactor Marshall Field.
Shedd Aquarium: What to See and Do
You'll want to dedicate at least a half day to exploring this massive aquarium, with its multiple showcases of aquatic habitats from around the globe in zones including the Caribbean Reef, the Oceanarium and Amazon Rising. Daily shows and presentations allow you to learn more about the many thousands of critters here; you can even book behind the scenes tours and close encounters with some of the animals. Must-see highlights include…
The Abbott Oceanarium
Not just any old oceanarium, the Abbott is the planet's biggest. This fabulous coastal ecosystem contains three million gallons of water and is home to majestic marine mammals including beluga whales, Pacific white-sided dolphins, sea lions and sea otters. The lower level allows you to observe these graceful animals in their natural habitat.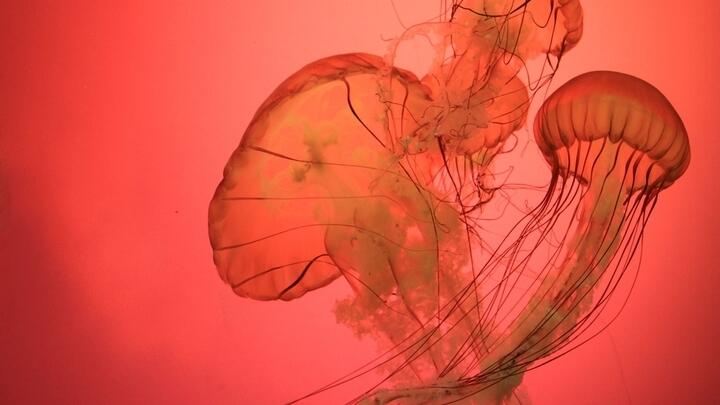 Amazon Rising
Step inside this flooded forest exhibit to get up close and personal with some of the most exotic, colorful and downright dangerous creatures in the Americas. We're talking red-bellied piranhas, emerald green boas, dwarf caimans and electric blue poison dart frogs.
Caribbean Reef
Take a peep into the huge rotunda-style tank, inside which cownose rays hang out with endangered green sea turtles, bonnethead sharks cruise up to the glass to peer right back at you, and schools of colorful tropical fish including angelfish, butterflyfish and parrotfish paint rainbows in the water.
Polar Play Zone
Penguin suits, a mini submarine and an icy-cold touch pool make the Polar Play Zone great fun for kids. There are also (real) penguins, friendly belugas, cute sea otters and otherworldly moon jellies to keep everyone entertained. Yes, even the least-easily-impressed teen.
Field Museum: What to See and Do
So, if you've spend half a day at the Shedd Aquarium, surely the logical thing to do is pop next door and spend the other half at the Field Museum, am I right? That said, the sheer variety of things to look at here means no visit can ever really be long enough. There's 4.6 billion years of history in the massive collection – that's even older than some US presidents! We're talking ancient meteorite fossils, a menagerie of stuffed animals (some of them quite famous!), Ancient Egyptian mummies and the largest, most complete T Rex skeleton ever discovered. Must-see highlights include…
Inside Ancient Egypt
Learn about how the Ancient Egyptians lived – and died – in this utterly fascinating exhibit. Step inside an authentic burial chamber and try to stifle a shiver as you come face to mummified face with the preserved remains of 23 humans and 30 animals. Floor-to-ceiling heiroglyphs, scenes from the Nile River Valley and a shrine to the cat-goddess Bastet add to the chilly atmosphere.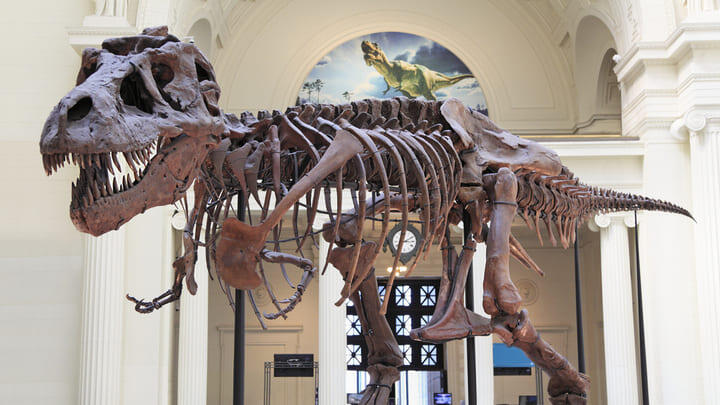 The Dynamic Dino Duo
Probably the most Instagrammed pieces in the entire collection, Sue the T Rex and her even larger companion Máximo, an aptly named titanosaur, are absolute must-sees on any visit. You'll find Sue terrorizing visitors in The Griffin Halls of Evolving Planet and her somewhat more placid plant-eating pal towering over the Stanley Field Hall, where he stands at a whopping 28 feet tall and 122 feet long. That's even longer than your average blue whale, fact fans!
Animal Antics
The Field Museum boasts some of the most realistic animal dioramas on the planet, with many considered to be artistic masterpieces. Check out Carl Akeley's celebrated Four Seasons diorama, a large-scale exhibit depicting wild white-tailed deer across the seasons of the year. You can also meet the fearsome man-eating lions of Tsavo and a polar bear protecting her cubs.
Fast facts: Shedd Aquarium
Tickets
An All-Inclusive attraction pass from Go City includes general admission and saves you money when visiting multiple attractions in Chicago. Buy a 1, 2, 3 or 5-day pass to access as many attractions as you like in that time period, including the Field Museum, Adler Planetarium and Museum of Contemporary Art. You can book tickets for general admission as well as experiences including shark-feeding and sea otter encounters via the Shedd Aquarium website.
Opening Hours
Generally open daily from 9AM to 5PM daily, with some seasonal variation. Check the calendar on the Shedd Aquarium website for the most up-to-date information.
Getting There
Both the Shedd Aquarium and Field Museum are in Chicago's Museum Campus. Get there via Chicago's Lakefront Trail and park up your bike in dedicated racks at the East and West entrances. Buses 130 and 146 also service the museum and paid parking is available at several locations on campus.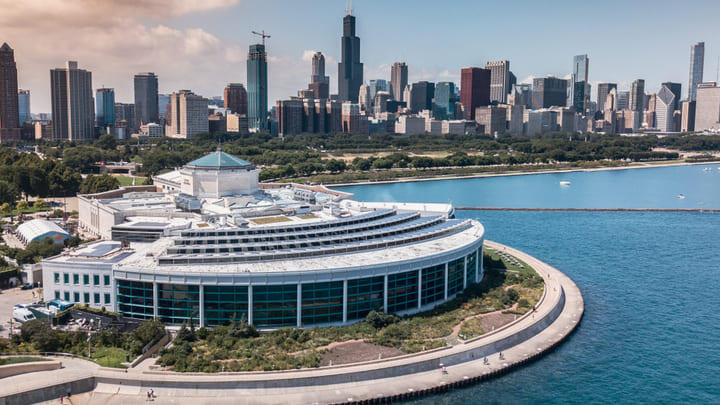 Fast facts: Field Museum
Tickets
You can buy tickets with add-ons including a 3D movie plus access to ticketed exhibitions direct from the Field Museum website. Alternatively, an attraction pass from Go City includes general admission plus one ticketed exhibition at the Field Museum, as well saving you money when visiting multiple attractions such as the Skydeck Chicago and the Museum of Science and Industry.
Opening Hours
Open daily from 9AM to 5PM, with last admission at 4PM. Closed on Thanksgiving and Christmas Day.
Save on attractions

in Chicago

 
Save on admission to Chicago attractions with Go City. Check out @GoCity on Instagram for the latest top tips and attraction info.