If you're planning on traveling to the UAE, you're probably searching for that perfect combination of traditional culture and modern comforts that the Emirates have to offer. But where, specifically, you want to focus your explorations can be a little bit of a challenge.
Both Dubai and Abu Dhabi have excellent attractions for Western visitors to enjoy, along with a nice selection of more traditional Arab activities. To help you decide whether you want to visit Dubai or Abu Dhabi, we've put together a guide comparing the two on multiple points, including:
Location & Demographics
Popular Cultural Attractions
Popular Outdoors Attractions
Popular Tours
Location & Demographics
Dubai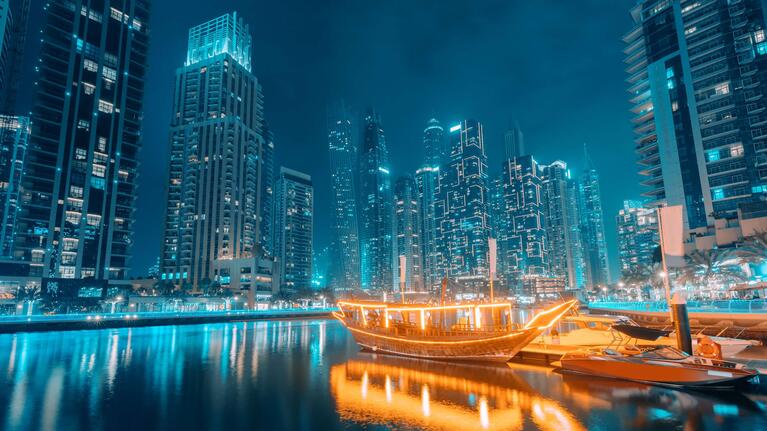 While both Dubai and Abu Dhabi are located on the southeast coast of the Persian Gulf in the United Arab Emirates, Dubai is further north. Dubai is also the largest city in the Emirates, and the most densely populated. It's typically a popular destination for travelers from the West looking for city-based explorations because it has a modern urban vibe as well as plenty of family-style attractions.
Abu Dhabi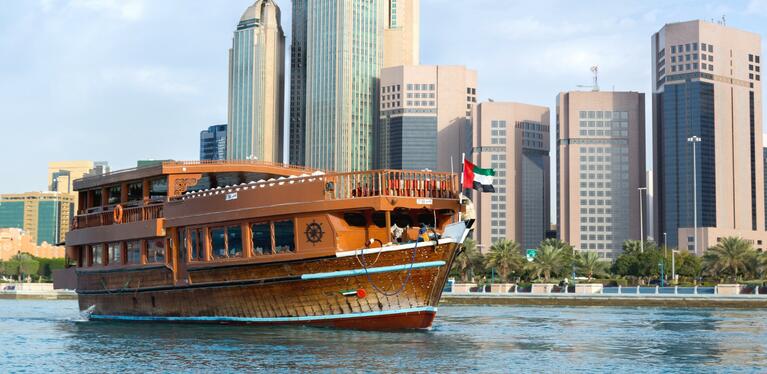 Abu Dhabi is further south, about an hour and a half away from Dubai (measuring from city center to city center).
When looking for places to go similar to Dubai, then where better than Abu Dhabi for a bit more glitz and glam? Just with a little less hectic energy. It's actually the capital city of the Emirates and the second most populated city. Abu Dhabi is also known for its natural attractions and outdoorsy activities due to its unique location on an island that juts out into the Persian Gulf.
It's filled with parks, gardens, and public beaches, and is an excellent destination for the eco-conscious traveler. You can easily travel between the two via bus or car, but keep in mind that it is a 3-hour round trip, so it may make sense to stay in each city on the days you'll be exploring there to avoid losing too much time to transit.
Popular Cultural Attractions
Both cities offer a bevy of cultural attractions to curious travelers from the West. You'll find everything from historic buildings to hyper-modern construction, as well as museums, theme parks, and more.
Dubai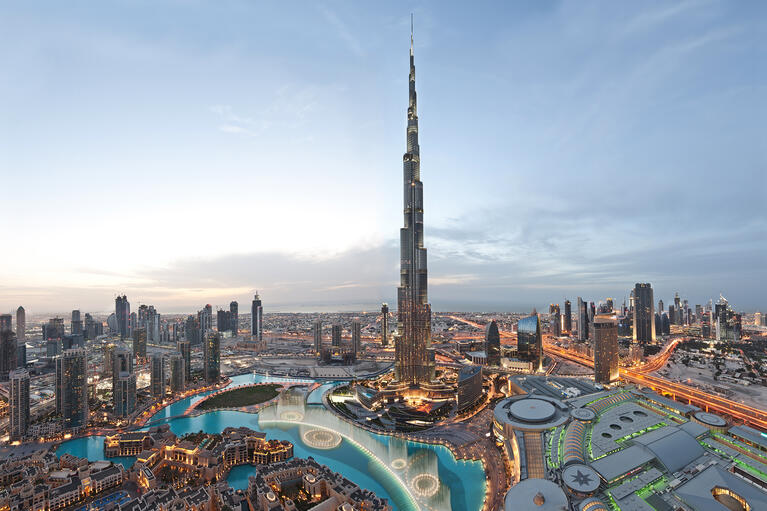 Dubai is home to perhaps the most iconic building on Earth – the Burj Khalifa. The tallest building in the world, the Burj Khalifa has an impressive observation deck, spanning multiple stories in the tower and providing panoramic vistas of the city and ocean below.
It's also home to luxury hotels on a scale practically unheard of outside of the Emirates. The Burj Al Arab, for example, is one of the world's most elite hotels. Even if you can't stay there, it's worth a walk by to see their signature sail shape.
If you're a fan of theme parks, you'll find that Dubai is unrivaled when it comes to these types of attractions. You can explore IMG Worlds of Adventure, MOTIONGATE Dubai, Bollywood Parks Dubai, LEGOLAND® Dubai, and so much more.
As far as water parks go, Aquaventure is a top destination. As for museums, Dubai is home to many smaller cultural attractions (many of which offer free or low-cost admission), as well as the Dubai Museum, the expansive new Etihad Museum, and the fascinating, family-friendly Hatta Heritage Village.
Abu Dhabi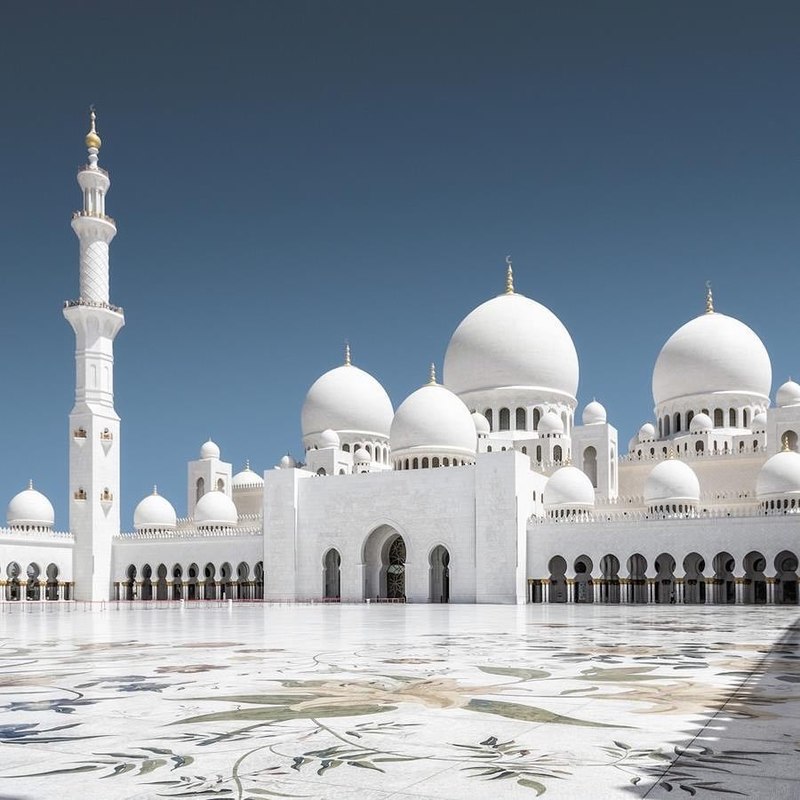 As the wealthiest city in the Emirates, Abu Dhabi is no slouch when it comes to amazing architecture and beautiful buildings. Their most famous offering comes in the form of the Sheik Zayed Grand Mosque, which some say is the most visually striking mosque in the entire world.
Abu Dhabi is also home to a selection of athletic venues with their own impressive architectural designs, including the Zayed Sports City Stadium, Al Jazeera Stadium, and the Yas Marina Circuit, host to the Abu Dhabi Grand Prix.
There are also some theme parks and water parks here, although there are fewer than in Dubai. The most popular are Yas Waterworld Abu Dhabi and the indoor Ferrari World Abu Dhabi. For museum lovers, Saadiyat Island is a must-visit destination that will only become more popular as it continues to be developed. For now, you'll find the Louvre Abu Dhabi, which is the largest art museum in the Arabian Peninsula.
With a pass by Go City, you'll find numerous tours and attractions that take you from Dubai to Abu Dhabi so you can experience the best of both these wonderful cities.
Popular Outdoors Attractions
Both cities are subject to the same extreme temperatures during certain times of the year, but when it's not summer you'll find plenty of outdoorsy activities to do in both Dubai and Abu Dhabi. There are more water-based activities in Abu Dhabi by virtue of its island location, but Dubai is no slouch with Palm Jumeirah and its associated activities.
Dubai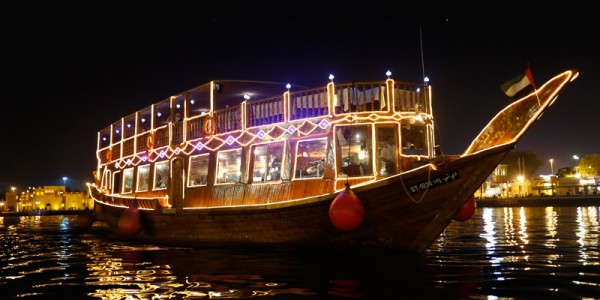 If you want to enjoy basically any water sport you can think of, Dubai is an excellent destination. Embark on a kayaking adventure, try your hand at windsurfing, or get a bit of exercise with some stand-up paddleboarding.
You also have multiple cruise options (including a few dinner cruises), so you can enjoy the beautiful, vibrant waters around Palm Jumeirah at your leisure. Cycling enthusiasts will also love the opportunity to explore Jumeirah Beach with a convenient bike rental. For those visitors looking to explore the greater natural world of Dubai, a desert safari is a top option or a 4x4 quad bike ride in the desert is a thrilling way to enjoy the sand dunes.
Abu Dhabi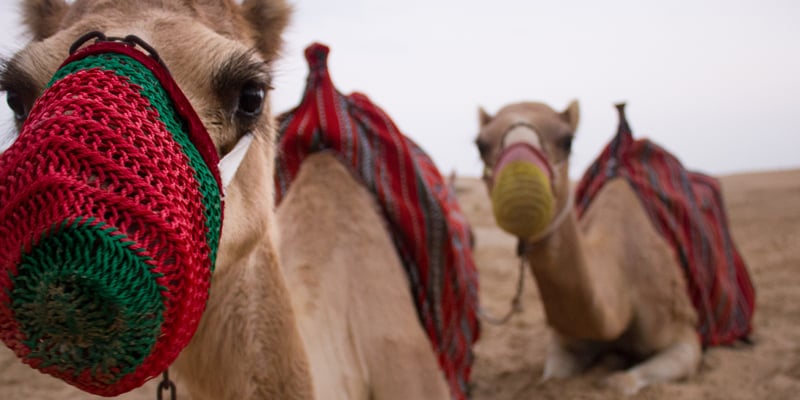 Home to the Eastern Mangrove Lagoon National Park, Abu Dhabi is an outdoorsman's paradise. Visitors love to explore these gorgeous waters, whether it's by kayak tour or a boat tour. There are other places to enjoy the water in Abu Dhabi, too, including the region around Yas Island. Take a sightseeing cruise that allows you to sit back and relax and spend some time swimming, too.
There are also some charming sunset cruise options that are great for couples. An especially unique thing to do in Abu Dhabi is a camel-trekking tour: this distinctively Arab activity is often on many bucket lists. You could also choose from a desert safari with bbq dinner to get a deep dive into life in this otherworldly landscape.
Popular Tours
Both Abu Dhabi and Dubai offer a variety of tours to help visitors to explore their respective neighborhoods, highlights, and hidden gems. Many of the same companies operate in both cities (for big, international tourism organizations), although each also plays host to many small businesses.
Dubai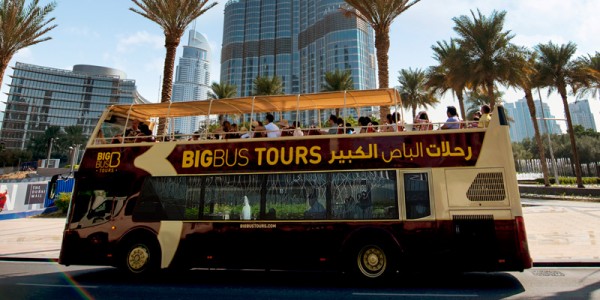 The hop-on hop-off Dubai tour from Big Bus is the most popular way of exploring this city. It offers multiple stops across several tourist-friendly neighborhoods with three routes to choose from. Sightseeing doesn't have to be confined to land, either – especially in a city like this! You'll be able to enjoy a speedboat sightseeing tour in Dubai Marina, another must-see part of the city or a similar sightseeing speedboat cruise option explores the Palm instead.
Abu Dhabi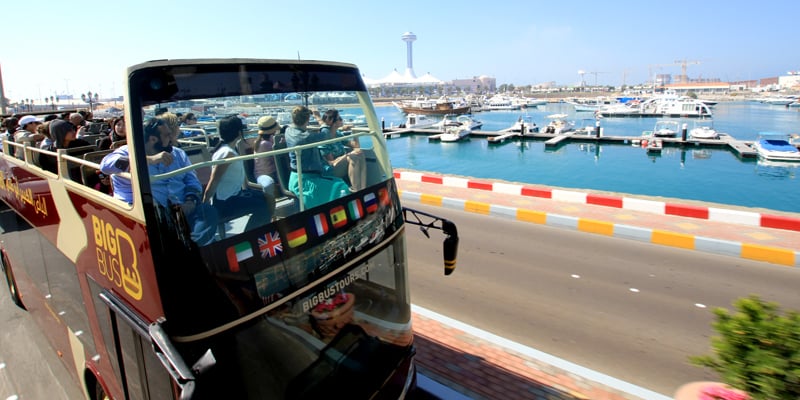 There's also a hop-on hop-off Abu Dhabi tour from Big Bus that's very convenient for visitors to this city. Choose from two routes (Yas Route or City Route) and enjoy pre-recorded commentary in eight languages. If you want to explore the city via the water, there are many daytime cruise options to choose from.
The biggest differences between visiting Dubai vs. Abu Dhabi
Both Dubai and Abu Dhabi have much to entice the Western traveler. From food and culture to entertainment and water sports, you'll find it all at these top destinations. However, there are some key differences.
At the risk of generalizing a bit, you'll find more nature-oriented activities and eco-friendly things to do in Abu Dhabi. Because of its island location, Abu Dhabi has plenty of cruises and boat activities, too. On the other hand, you'll find more high-end things to do in Dubai, from shopping and dining to theater and music. It's the flashier city and has a lot to offer those looking for top-notch entertainment.
Dubai is the slightly more popular destination for Westerners (and more heavily populated city), so you'll find a greater familiarity with English, better nightlife, and more tolerance of Western habits (including alcohol consumption – available at the resorts and hotels). Abu Dhabi, however, has much to offer curious travelers who are interested in exploring the cultural side of things, including mosques, museums, and even a famous falcon hospital. It's a bit quieter but can make for a very peaceful getaway.
 
Thinking About Visiting Abu Dhabi or Dubai?
If you're interested in exploring the wealth of cultural and natural attractions that either Emirate has to offer, you'll want to check out the passes offered by Go City®. You can save on admission to top Dubai and Abu Dhabi attractions, including tours, cruises, cultural attractions, and more.
Whether you want to see iconic Dubai things like the Burj Khalifa or local color like a camel-trekking tour, Go City® has got you covered. All you have to do is take your pick between the All-Inclusive Pass or the Explorer Pass.