One of the world's top stopover destinations, it's easy to add a sojourn in Dubai to a long haul trip. Breaking your journey for a few days rarely adds much to the overall price of your flight, and many nationalities are able to visit as tourists without having to worry about visas. What's more, Dubai has attractions other destinations would cry out for. Not only does it feature the world's tallest building, but top museums, prestigious beaches and one of the world's largest gatherings of amusement parks. There's easily enough to fill 5 days in Dubai to brimming. Not convinced? Take a look at the following 5 day Dubai itinerary and we think it will change your mind completely.
Day 1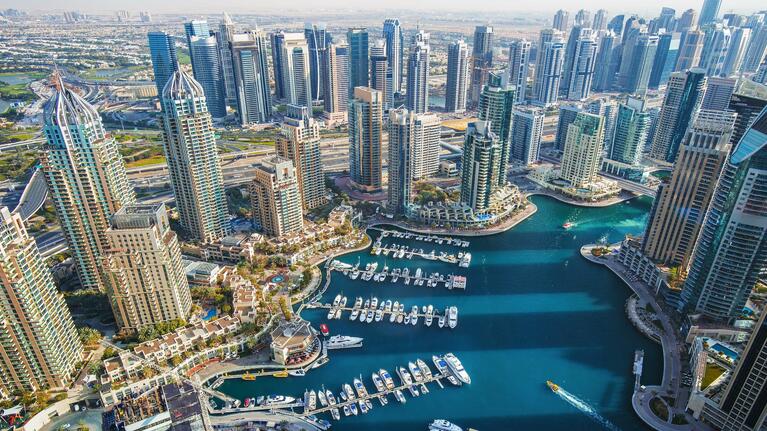 Start your exploration of all that glitters at Dubai Marina. Grab some brunch – an especially popular pastime with expat workers on the weekend but possible any day of the week – at one of the café-bars which line this man made harbor filled with yachts from around the world.
Having absorbed some of the genteel ambience of this part of town, follow the marina promenade towards Ain Dubai, the city's giant coastal observation wheel. Reaching a height of 250 meters above the Persian Gulf, or twice the reach of the London Eye, rides take around 40 minutes and provide a constantly changing view of many of Dubai's top sights, including the Burj Al Arab luxury hotel and the fronds of the Palm.
Time it right and you can then take advantage of the passenger craft that connect Dubai Marina with Dubai Creek further north several times a day. Skirting the Palm and sailing along Dubai's long waterfront, it's just one way to take in your first glimpses of the emirate as a whole and much more fun than the metro system too.
If the metro has a benefit – beyond cleanliness, air conditioning and excellent service – it's that it has its own stop at the Burj Khalifa and Dubai Mall. The mall contains around 1200 stores and 200 places to eat and drink, as well as Dubai Aquarium and Underwater Zoo. Views from its western exits take in Dubai Fountain and the Burj Khalifa, with sunset the perfect time to visit At The Top – the name given to its observation decks.
Day 2
If the Burj Khalifa represents the future of the region, Old Dubai remains its gateway into the past. Roughly delineated as the area at the northern entrance of Dubai Creek, it's here you'll find the oldest parts of the city.
Dubai Museum occupies the oldest structure in Dubai, the Al Fahidi Fort. Constructed in 1787, and used for everything from a defensive post to a prison, it became a museum in 1971. Its open courtyard and mix of old and new architecture display a collection detailing the culture and traditions of its people.
Then cross the creek on an abra, a vessel that has been making the same journey since the Bur Dubai neighborhood was first settled. It will see you arrive at Deira, a district known for souks sweeping inland from wharfs where dhow trading boats continue to be unloaded with all a city could need: spices, fridges and huge sacks of rice amongst them.
Despite their maze-like reputation the souks – marketplaces for gold, spices and fabrics – are relatively easy to navigate. A stop at a tea or coffee house makes people watching a cinch before ending the day amid the quiet streets and historic homes of Al Shindagha back across the creek.
Day 3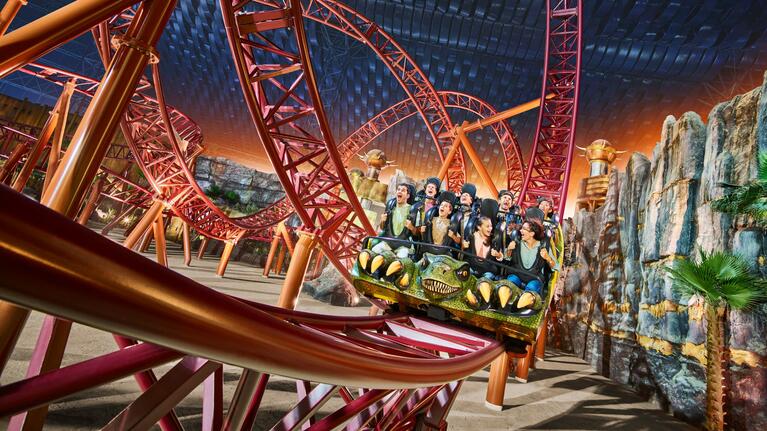 If – somehow – you're still wondering what to do in Dubai for 5 days we'd recommend adding one or two of its theme parks to your bucket list.
Families with younger kids can do much worse than LEGOLAND Dubai. With more than 60 million individual bricks used in its creation, it is made up of six different lands or zones, with attractions both indoors and outdoors. You won't want to miss the miniland of Middle Eastern landmarks, nor the 40-plus rides suitable for those aged two to 12.
Recreating the razzamatazz of Indian cinema, BOLLYWOOD PARKS is the first theme park of its kind in the region. Visitors are able to go behind the scenes of the movie making process in between taking a seat on rides including the world's tallest swing ride.
But for a full-on adrenaline rush, save your afternoon for IMG Worlds of Adventure. The five worlds in question include the Jurassic setting of Lost Valley, with one of Dubai's fastest and tallest roller coasters, The Velociraptor. Another zone is based around some of Marvel's best loved comic book superheroes, including Thor Thunder Spin and Spider-man Doc Ock's Revenge.
Day 4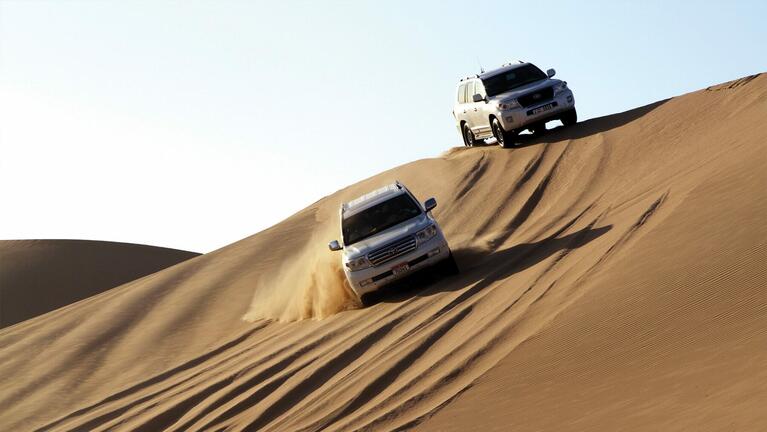 The adventures can continue on day 4 in Dubai's desert regions. Just a short drive from downtown and Old Dubai, the desert inland is far from being the barren landscape of our imaginations. Begin the day with a sunrise flight in a hot air balloon to take in the majesty of the area. You might even witness the solitary figures of rare Arabian oryx in the dunes.
For the chance of a close up encounter with these animals, join one of the handful of operators permitted to run safaris to the Dubai Desert Conservation Reserve. It's an area which has helped bring the species back from the brink of extinction, with no animals remaining in the wild at the creation of the United Arab Emirates in 1972.
Additional ways to discover the desert aren't hard to find. The ultimate in desert adventures is perhaps the opportunity to roar over the dunes on top of a 4x4 quad bike. Including hotel pickup, you'll be taken to a part of the desert reserved for quad bike rides and will also have the chance to jump on the back of a camel and sandboard!
Day 5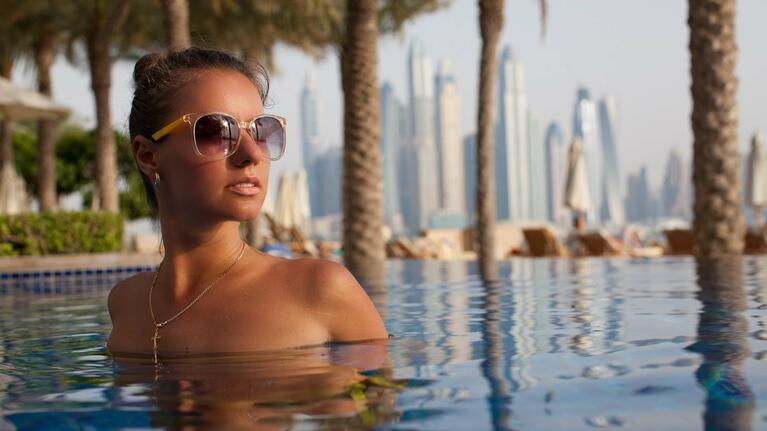 After a hectic 96 hours, use the last of your 5 days in Dubai to take things easy. Dubai's climate means that even in the winter months when Emirati's are wrapped up in thicker fabrics most visitors won't need much more than a T-shirt.
Opt for a few hours on one of the beaches and you won't even need that. The closest to most accommodation is Jumeirah Public Beach. Sometimes known as Sunset Beach – for obvious westward facing reasons – it's a broad expanse of clean sand with a full range of facilities, from showers to WiFi. The waves are gentle enough for swimmers, with floodlights allowing nighttime dips, but also suitable for those looking to get onto a surfboard for the first time.
Whilst a day by the beach is relaxing enough, a treatment or two at one of Dubai's spas is sure to bring your heart rate down even further. All the top hotels have their own inhouse spas and treatment rooms, with plenty of traditional style hammams brought to new audiences too.
Making the most of 5 days in Dubai
Few other destinations can offer the range of attractions as 5 days in Dubai. Make your trip with Go City and you can experience many of them whilst making significant savings on advertised admission costs. For the very latest, check out @GoCity on Instagram and Facebook!