From sleepy Middle Eastern backwater to adventure hub within a single generation. From traditional, conservative culture to a world city in the same time frame. This is how Dubai rolls.
Having grown wealthy off the back of oil revenues and having plenty of ready cash to hand thanks to an absence of income tax (just imagine!) the adventure industry has taken the emirate by storm.
It means there are few extreme sports that can't be enjoyed in Dubai, nor activities that don't suit the adventurously minded. From ziplines to mountain bike tracks, these are the most adventurous things to do in Dubai.
Adventures with a view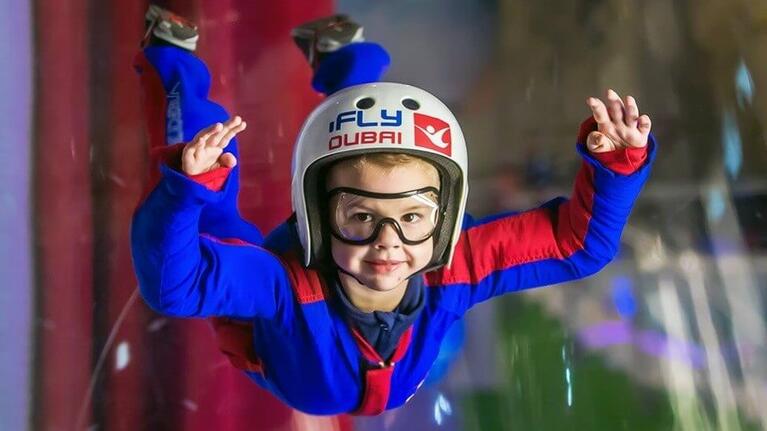 Even the At The Top observation decks on the 124th and 125th floors of the Burj Khalifa can't compete with the height achieved with Skydive Dubai, whose landing zone nestles on the edge of Dubai Marina. Their location ensures magnificent views of the Palm Jumeirah – the artificial palm-shaped archipelago that wowed the world when it was created in the early 2000s – from 4000 meters up. iFly Dubai provides a great indoor alternative using giant fans to give you the lift you need.
A similar freefall experience can be had at XLine Dubai. The world's longest urban zipline, and one of its fastest and steepest, it stretches across Dubai Marina for an entire kilometer. Shooting over the luxury private yachts moored here from Amwaj Towers to Dubai Marina Mall, zipliners hit speeds of 80 km/h tucked into the head-first superman-style harnesses.
Sufferers of vertigo should also avoid our next recommendation – tackling the Edge Walk of the Sky Views bridge connecting two residential towers from over 50 stories up. Created by the same team of architects as the Burj Khalifa, Edge Walk is another way of taking in the cityscape without obstructions, just a safety harness!
Unique ways to keep cool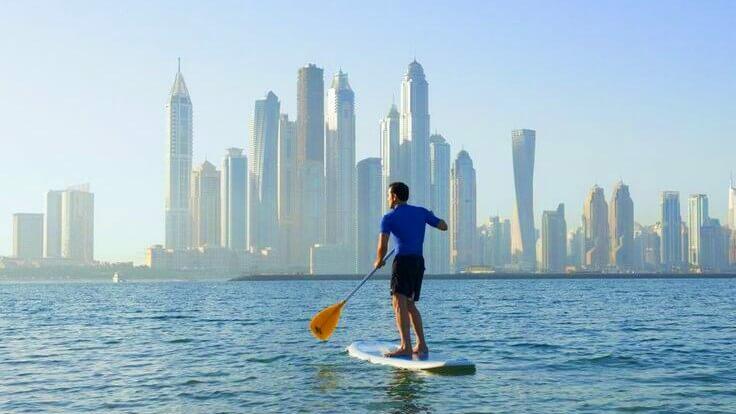 If supping from an ice cold drink simply doesn't cut it, there's a long list of adventurous things to do in Dubai that will not only keep you cool but also make you look cool at the same time.
The new kid on the block of Dubai extreme sports is flyboarding, which you can try from the waters around the Ain Dubai observation wheel. Combining the look of a wakeboard with the propulsion power of a jet ski, flyboarders can reach heights of nine meters as they hover above the waves.
A slightly more relaxing way to take to the waters of the Persian Gulf is with a stand-up paddleboarding lesson and tour around the Palm Jumeirah. Having mastered the basics – staying upright – you'll drift between the Sofitel and Atlantis, taking in many of Dubai's top sights from a distance along the way.
Should stand-up paddleboarding somehow not hit the right spot, other water-based outdoor adventure activities in Dubai include kite surfing and parasailing. Kite Beach is the place to head, with several schools and rental agencies standing by to provide all you need to do battle with the offshore winds.
Max out your adrenaline at Dubai's amusement parks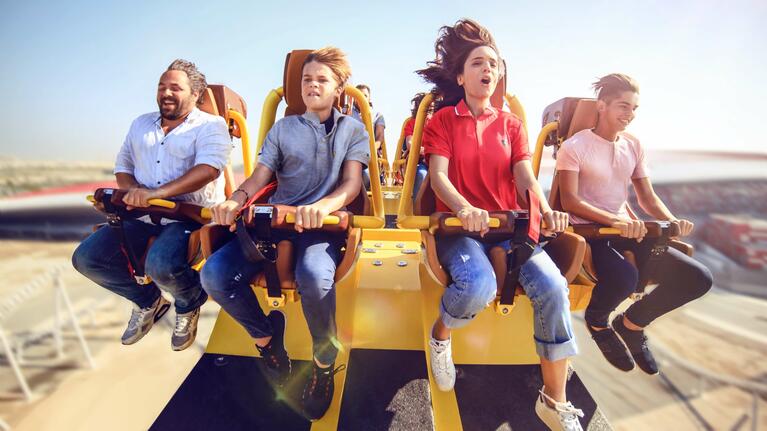 Those who travel the world based on a country's theme parks might well just set up camp in Dubai and never leave. It has one of the largest numbers per square kilometer of anywhere on Earth, ranging from the child-orientated to the family-friendly.
Continuing the watery theme, Aquaventure Waterpark at Atlantis The Palm has a good pick of adrenaline-inducing slides and rides. But for those in a mixed group with some who enjoy the thrill of feeling out of control and some who don't, it also has lots of places to relax, including a 700 meter private beach.
Relaxing is not a word generally associated with IMG Worlds of Adventure, whose four 'worlds' include the popular roller coasters of the Marvel zone as well as Lost Valley – full of dinosaurs and prehistoric planting. Younger children are well catered for too, with Powderpuff Girls and Ben 10 based adventures set to broaden the minds and smiles of visitors yet to hit double figures.
Meanwhile, hop across the passport-free border to the capital of the United Arab Emirates, Abu Dhabi, for your chance to ride the fastest roller coaster yet created. It's Ferrari World's Formula Rossa that holds the record, with other attractions including simulators, live driving experiences and a whole host of other car-based challenges.
Head offroad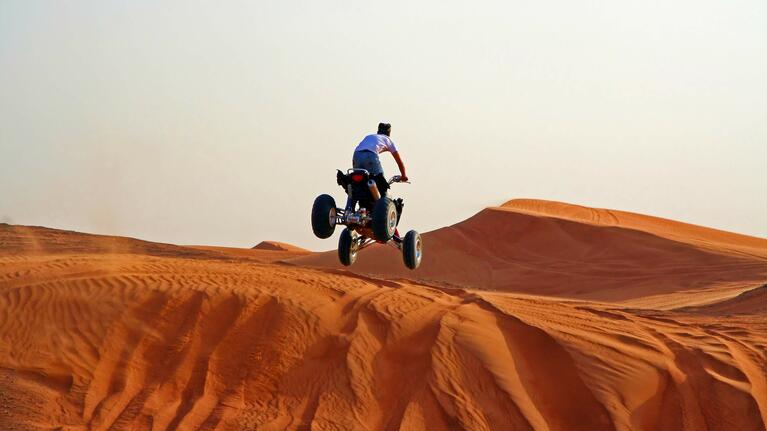 Whilst the tracks connected with Ferrari World will have you burning rubber in no time, heading offroad is even more adventurous. Only a short distance – yet a world away – from the glitz of downtown Dubai, the desert offers an array of potential adventures.
Head out on a 4x4 quad bike tour and in addition to taking to a specialty track by quad bike you'll also get to spend the morning traveling across the desert on the back of a camel and try to stay upright as you slide down one of the biggest dunes in the region strapped to a sandboard.
But if you prefer two wheels to four, there are adventurous things to do in Dubai for you too. Suburban Mushrif Park has its own offroad bike track for those keen to remain within touching distance of central Dubai. Further afield, the gravel paths around Hatta Heritage Village in the Hajar Mountains offer up a more challenging experience as well as epic vistas across the waters of Hatta Reservoir.
Adventurous things to do in Dubai with Go City
The adventure and extreme sports scene in Dubai may be relatively new, but Emirati's have certainly made up for lost time. The extensive list of adventurous things to do in Dubai include attractions with a view, those based around the region's warm waters and those taking advantage of its desert location.
One of the best ways of seeing many of Dubai's biggest attractions is with Go City. Our passes exist to bring you huge savings on attraction admission, making them a must-have for any trip to Dubai, whether you've got your eye on the adventurous or intend to spend your time exploring in a more sedate manner!