Picture the scene, if you will. You've booked your trip to Dubai, and you're excited. Looking forward to the warm weather and sunny days, you pack your bag with all your summer bits. You board the plane, eager for the long trip to be over so you can step into the desert oasis that is Dubai. You wake just as the pilot announces that your journey is nearly over. The wheels hit the tarmac, and your heart skips a beat. It's finally time.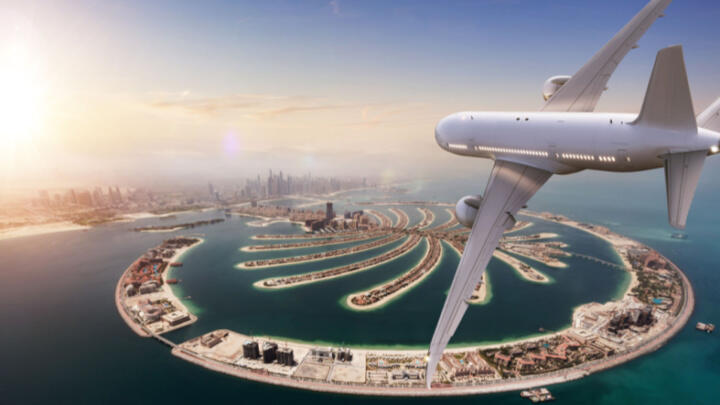 But when you finally get through security and leave the airport, this feeling washes over you. You brush it off at first; surely it's just nerves bundled with excitement? You head to a bus stop, but you can't read the listings. You open your GPS app, and you're having trouble connecting. The world begins to close in on you, choking you with all its sunny goodness. What if you never find your hotel? What if you're stuck here, on the cusp of paradise, doomed never to see Dubai in all its glory? Just like that movie with Tom Hanks, where he hangs out in an airport for years.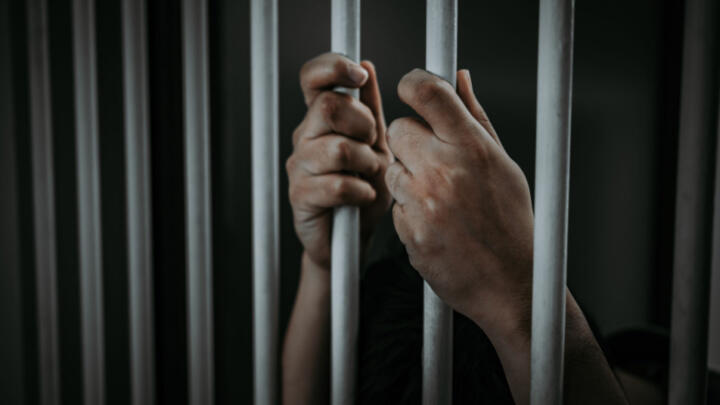 Airport jail, probably
Now imagine none of this happened, because you booked an airport transfer weeks ago, and your driver's here to greet you with a smile and some sweet aviator shades. Feeling like a diplomat, or someone of equal import, you shimmy into the backseat of an air-conditioned vehicle, and before you know it, you arrive at your hotel. Doesn't that sound way better than the whole 'eternal airport limbo' we made up earlier? So, here's everything you need to know about travel from Dubai airport, including transfers!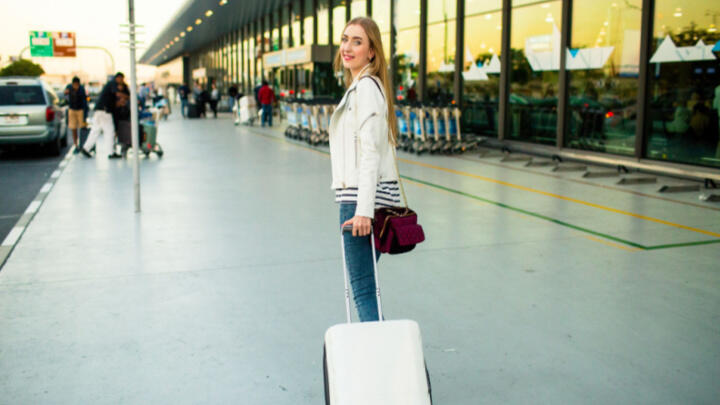 Travel in Dubai - how long are airport transfers?
The good news is that, if you're staying in the city center, it's only a 3-mile drive from Dubai International Airport. This will take roughly 25 minutes, or double that if you're staying in Downtown Dubai. 
Travel in Dubai - why you should book a transfer from the airport
As a stranger in a strange land, it couldn't hurt to get some know-how from the locals. And that's what you'll get in spades if you book an airport transfer. Cab drivers will be able to provide you with local tips and tricks with a vacation twist, so be sure to strike up a conversation and see what tasty gossip nuggets you can mine. 
Besides, you may have already started celebrating your vacation on the plane, so leaving the driving up to someone else might be the best, and legal, course of action!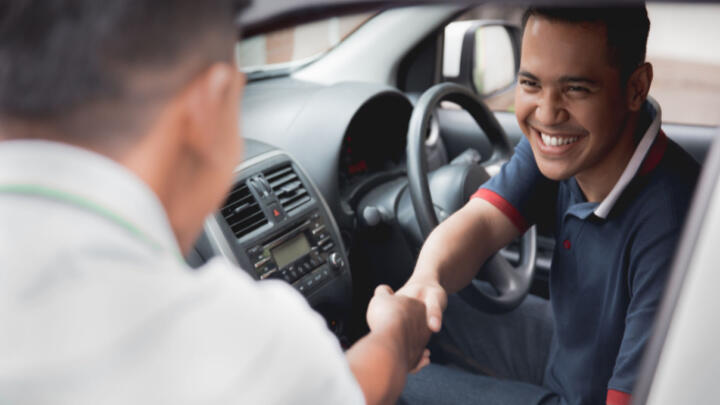 We've touched on the stress many holiday-goers can feel when they leave the airport in an unfamiliar place. Not knowing the local language can be a barrier between you and public transport. So it's good to know that when you get off the plane, you'll have a car and driver waiting for you, who knows exactly where to take you!
And better still, as they know your route, you'll already have a pre-agreed price. Hell, you may have already paid for the trip. With airport transfers, you don't have to worry about getting scammed or overcharged, or having enough local currency on you to pay. 
Travel in Dubai - types of transfer vehicles from the airport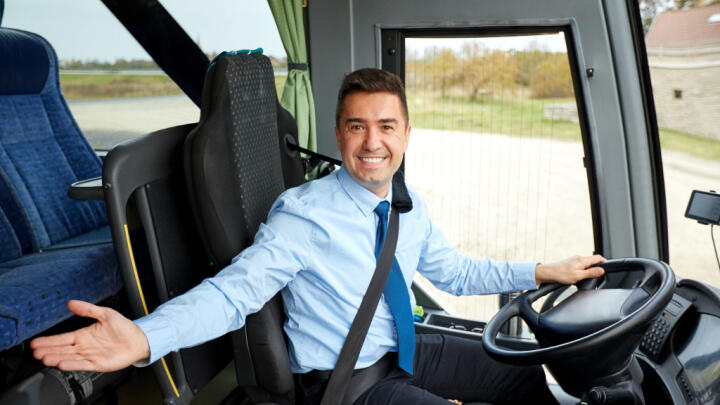 A cheap and cheerful shuttle will certainly do the job, with prices around $7-10. However, you will be traveling with others, and that may mean you end up making multiple stops before your desired destination. That also means your journey will be significantly longer at around 60 minutes, and you'll only have a small personal allowance for luggage. If you're traveling in a group, you're probably better off with one of the more expensive alternatives. 
These come in all sorts of shapes and sizes, with some (around $25) allowing up to 3 passengers, and others like mini-buses (around $35), allowing up to 7 passengers. The quality/brand of the vehicle will determine the price you pay, with classier rides being significantly more expensive for the same short journey. But hey, if you want to pay over $200 to ride in style for 15 minutes, you do you!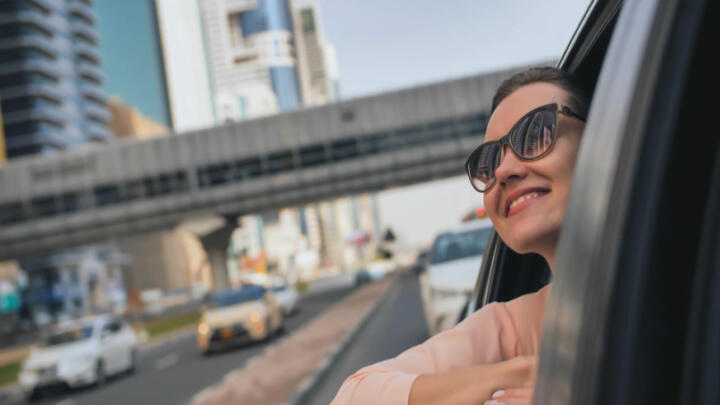 This one's for the extended family-type trips, where you meet three cousins you never knew existed. Seating anywhere from 35 up to 50 people, you'll pay handsomely for the privilege, but it's unarguably the best way for huge groups to travel. 
Travel in Dubai - final tips on airport transfers
Whenever you book a transfer, make sure to research the travel company online to see their reviews. That way, you hopefully won't be surprised by false advertising, or end up in a car that's falling apart. 
Make sure that your luggage allowance is enough for the transfer vehicle you hire! At best, you might be stuck with heavy bags on your lap for the journey. At worst, they might refuse to take you entirely!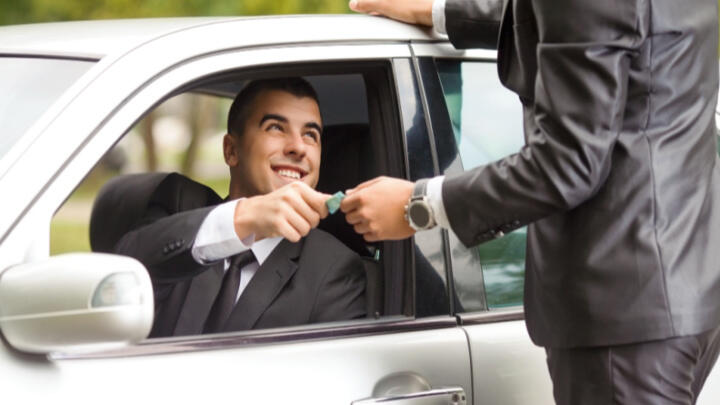 If your driver is super helpful and goes above and beyond in regards to their advice, hints and tips, or they're clearly making an effort to be chatty, be sure to tip them right back. But like, with money rather than life advice or anything. 
And finally, make sure you keep all receipts/emails with your booking info handy, either printed out on paper or on your phone's mailbox. That way, if you do run into any problems, you'll have quick access to the info you'll need to resolve the problem!
And that about covers everything you need to know about air travel and transfers in Dubai Airport! Looking for fun in Dubai without the fuss? Look no further than Go City. With our All-Inclusive Pass or Explorer Pass, you can see all of Dubai's best bits when and how you want. If you seek some extreme sports to get the blood pumping, why not check out our guide to the best thrill-seeking activities in the city? Live for the night? Read up on our recommendations for the best neon-soaked activities. Hungry and want to know what's good? We've got you covered, thanks to your ultimate guide to the best eats in Dubai.