Mammals ventured out of the big drink many millions of years ago, and eventually, some of them became us. But our fascination with the oceans never really disappeared. Since early humans were able to use tools, we've been keen to throw ourselves back onto the waves and sail away. But what are we sailing away from? Our problems? Our past?
Anyway, what about boats? Pretty cool, right? Let's talk about boats and why you should ride them. Firstly, fun. Boats are fun. Facts. Secondly, they let you see another side of a city - the waterside. So, if you're vacationing in Dubai, we hope you're pumped to read about the best boat tours available, because we're pumped to tell you about them!
Including: 
Ain Dubai boat tour
Black Pearl Sightseeing Cruise
Sunset Dinner Cruise Dubai Marina
Speed Boat Sightseeing Dubai Tour
Yas Island Sightseeing Cruise
and more!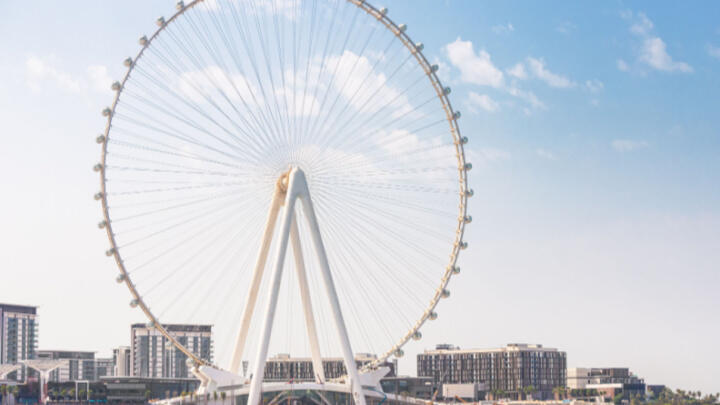 Let's kick off our list with a delightful sunset tour of Dubai's opulent marina. After boarding a luxury yacht, you'll pass by the multi-million dollar high-rise flats at Bluewaters Island and the skyscrapers of Jumeirah Beach Residence, as well as the typically stunning views of the city's skyline. 
Then, get your cameras ready for the tour's crown jewel - Ain Dubai. The largest observation wheel on the planet dwarfs the London Eye at nearly twice its size. And, at 250m tall, you can imagine how great the views are from up there!
With tours leaving at 6:30PM or 9PM, you can have your tour bathed in twilight, or immerse yourself in the midnight glow of Dubai's neon magnificence. The choice is yours.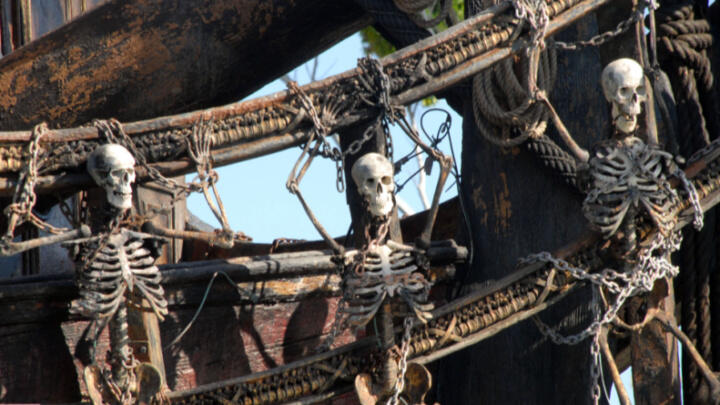 Image courtesy of Mana Photo/Shutterstock
If you're bringing the little one along with you, then why not sail away with their favorite drunk pirate, Captain Jack Sparrow? Yes, now, all their pirating dreams - and maybe yours - can come true on this sightseeing cruise atop Sparrow's famous Black Pearl galleon. 
With the Captain as your guide, you'll travel through the stunning Ras al Khor (Dubai Creek Harbour) and on to Mohamed Bin Rashid where you'll pause to marvel at the views of the Burj Khalifa.
Make sure to have your camera ready, because you'll want to take photos of the magnificent scenery you pass on your voyage. Oh, and maybe a few pics with the Captain himself, should he be able to stay on his two feet!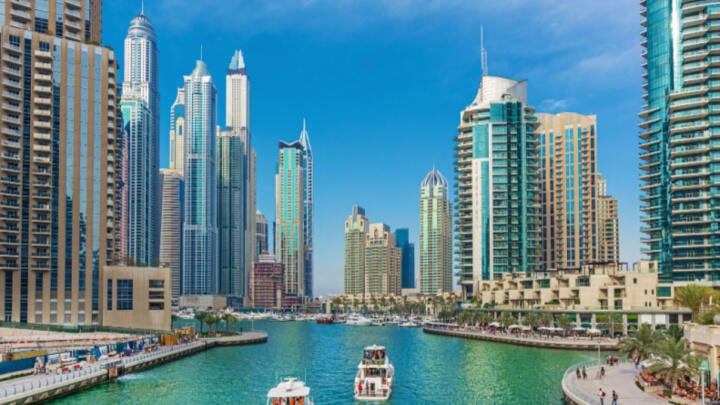 How does a seaside dinner cruise at sunset sound? Good, yeah? If so, this will be one of your best boat tours in Dubai! Enjoy a mouth-watering dinner, live music and entertainment, and stunning views on this tour of Dubai Marina. 
Hop aboard, grab a drink, and sit down for a cruise like no other. Thanks to the floor-to-ceiling glass windows on the bottom deck, or the open-air of the top deck, you'll see the Marina, the tallest block of towers in the world, and the Cayan Tower with its impressive architectural twist. As well as skyscraping sights, you'll also take in views of the Jumeirah Beach Residence (JBR) and its waterfront. 
And the dinner itself? Sublime, thanks to the generous buffet on board. Sample pasta dishes, fill your bowl with noodles, and top it all off with a decadent dessert of crumble or brownies. Delish.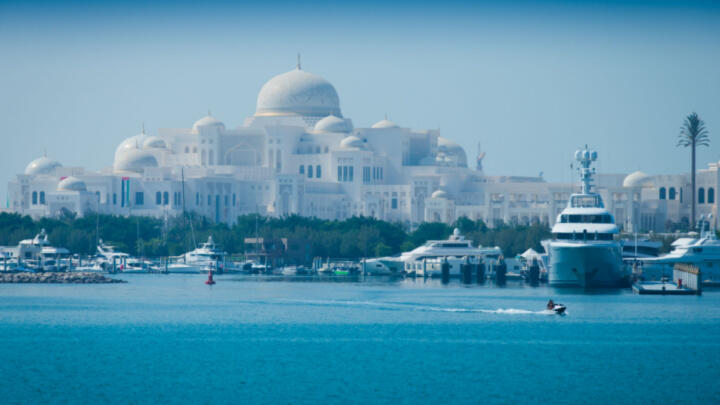 If the thought of cruising across the waves fills your lungs with yawn matter, you'll want something a little faster. Well hold onto your hats, then, because you can also see Dubai's shoreline at a breakneck pace thanks to this speed boat sightseeing tour of the city!
For 90 minutes, you'll be flung around the open ocean as you set your sights on the beautiful Dubai skyline. Speed past the Marina as your guide fills you in on the city's history and lines your brain with sweet, sweet knowledge. You'll even see luxury hotels, the royal sheik's palaces, and high-profile villas. Lovely.
But don't worry, it's not all speed. You'll have the chance to slow down on occasion and put your photo clicking finger to work.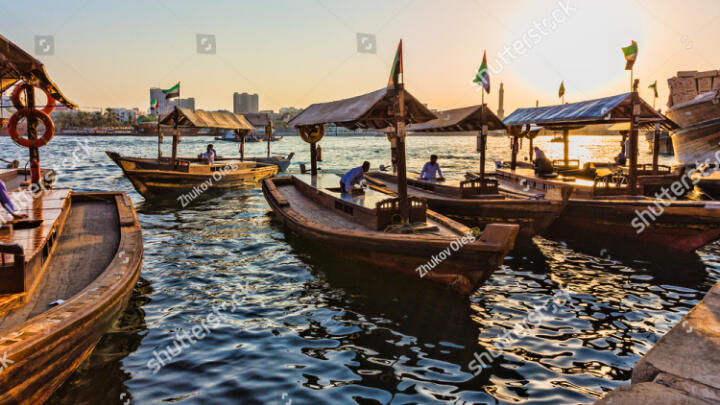 Or, if you really want to relax and see some parts of the city you'd otherwise miss, check out this architectural boat tour of Dubai Creek, Deira, and Bur Dubai. 
Boarding a traditional, handcrafted dhow boat, the slower pace gives you the chance to soak up Dubai's rich culture, while your commentary track fills you in on the ins and outs of each location. 
And, if you're a little parched from the warm weather, do not fear - you'll get a complimentary soft drink or water bottle when you board. They really thought of everything, didn't they?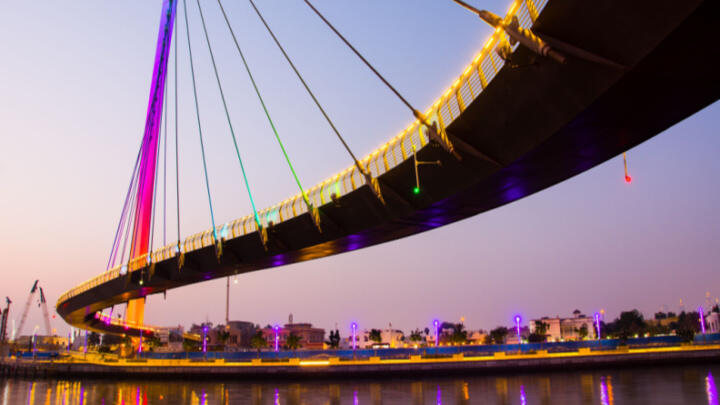 Explore Dubai's Canal City and Marina with this picturesque hour-long cruise of the harbor! 
See the architectural marvel of Dubai up close on this fascinating boat tour of the shore. Take as many pics for your socials as possible, making your followers envious beyond your wildest dreams. And, sip on a refreshing complimentary drink as you sail. Not bad at all.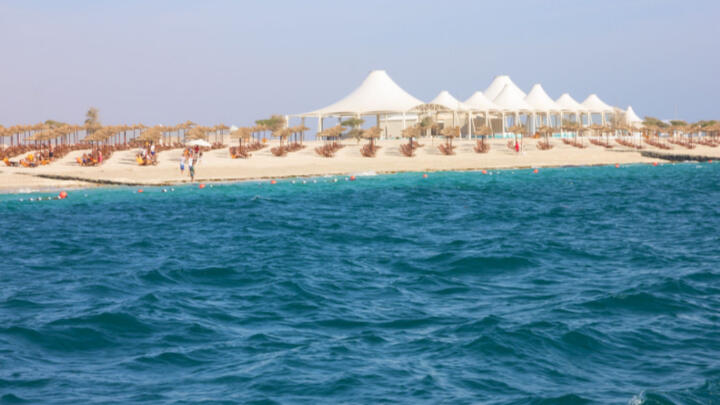 Venture beyond Dubai on a handcrafted boat as you explore the shores of Yas Island. 
You'll pass by recognizable landmarks from the United Arab Emirates, such as Al Zaina, Al Bandar, and Al Seef. You'll even get a closer look at the famous Yas Marina F1 Race Circuit. You might not be in a car, but you can pretend you're racing on the circuit yourself, if that floats your boat. Floats your boat? An unintentional pun, we assure you. 
Those are our picks for the best boat tours in Dubai! Looking for other memorable adventures to experience while in Dubai? Why not check out Go City? With our All-Inclusive Pass or Explorer Pass, you can see all of Dubai's best bits when and how you want. There's so much to do, see, and experience that no matter what you decide to do, you'll love your time in the city!