There's something magical about the desert. It feels almost alien, like an unexplored world. Full of wonder and beauty, it's a place that needs to be respected too. We've all seen films and TV shows about people lost in the desert, seeing mirages of wells and fresh water. You might be drawn to the desert, but it can be dangerous venturing forth alone. 
Speaking of deserts, Dubai. Dubai has plenty of desert surrounding it. In fact, what we now know as Dubai is only 200 years old. It was a city built literally amongst the sand. So it's no surprise that, in a city known for its abundance of entertainment opportunities, Dubai has some of the best desert safari tours on the planet. These curated experiences come in all shapes and sizes, from relaxing treks to adrenaline-fueled races. But no matter which you pick, you can be sure that you'll be safe and well taken care of in the desert! So which one is for you? These are our picks of the best desert safari tours in Dubai!
Including:
Thrill Buggy Rides in Dubai's desert
4x4 Quad Bike Ride in Desert (Sahara Adventure)
Camel Trekking
Desert Safari and BBQ Dinner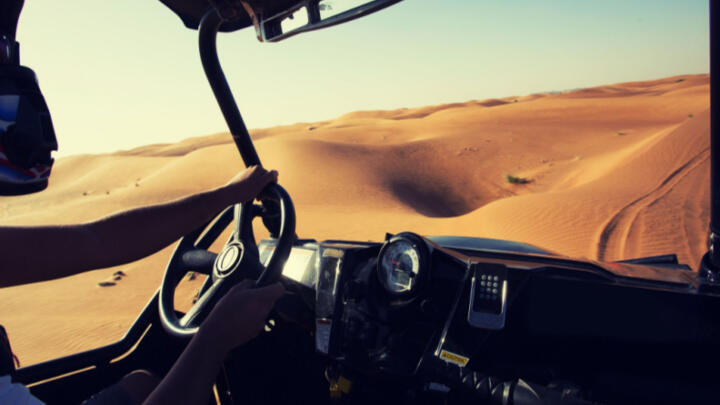 Let's kick off this list with the heart-pumping variety of desert safari tours! If you've never ridden over the dunes outside Dubai in a dune buggy, can you say you've truly lived? Change all that, and get behind the wheel of a dune raider with this amazing day buggy ride. 
After you're escorted from your hotel in a 4x4, your journey to the dunes will be full of photo ops. Cameras at the ready, boys and girls. Then, you'll arrive at base camp, board your metal hog, and take the beast for a spin. 
For 30 glorious minutes, you'll be free to bob, dip, and glide across Dubai's fine white sand. And don't worry, you'll buddy up with an instructor to make sure you don't hurt yourself, them, or their buggy. Perhaps the latter is the most important one there. Do you think dune buggies are cheap? Think again. 
Nothing quite beats the roar and rumble of an 800cc buggy. Trust us; if you're the daring sort, this will be one of the best desert safari tours for you in Dubai.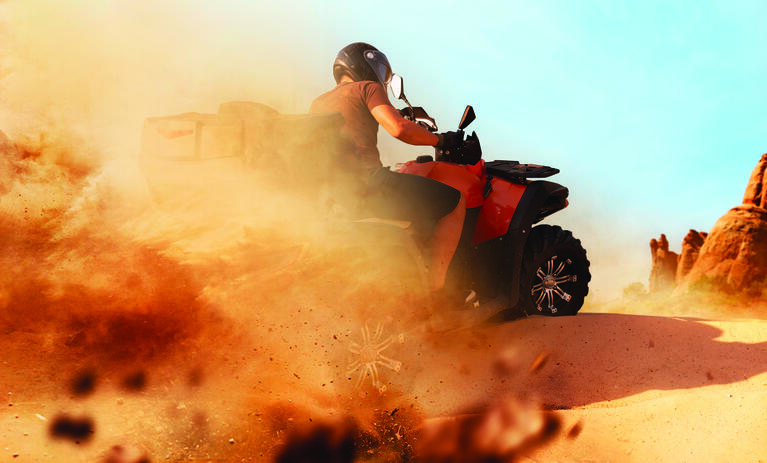 If dune buggies don't quite do it for you, why not try a quad bike instead? These four-wheeled wonders can make quick work of Dubai's dunes, so consider doing some sweet dune jumps on this tour of the desert. 
After your ride drops you at camp, you'll hop on the desert's original form of transport, a two-humped camel, to tour the surroundings. After you've fulfilled your dream of embodying Laurence of Arabia, you'll reach a specially designed track nestled deep in the beautiful dunes. And then, well, it's game on. 
If you're with buddies, you can race them. If you're with strangers, you have to race them. Show them true dominance and key strength. Show them who you really are. And then, when you're done, you'll get a lift right back to your hotel. Nice.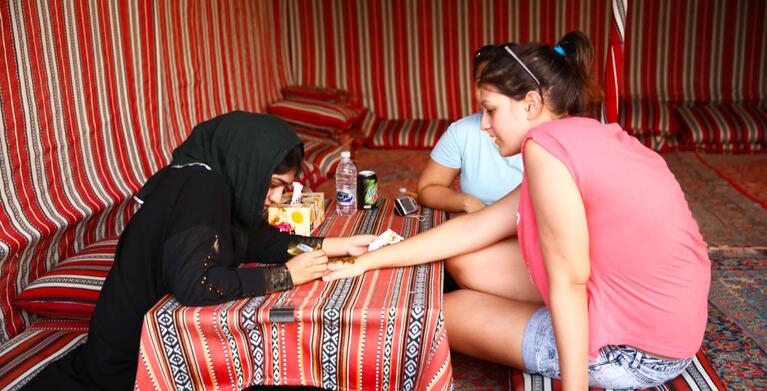 If your idea of a desert safari is less action and more relaxin', then you're in luck. Thanks to this desert safari and BBQ dinner, you can enjoy a more laid-back approach to Dubai's desert. 
You'll still get your 4x4 tour of the dunes, right from your hotel's door. And yes, you'll still have plenty of time to snap pics of the mesmerizing scenery. But when you reach the desert camp, you'll be treated to a traditional BBQ meal and feast on grilled meats and other Arabian specialties. Make sure you have a light lunch - you'll want as much space as possible to gorge on all the goodness. 
You'll also be treated to a host of entertainment, including belly dancing, a traditional Egyptian dance show, some smoky shisha, sandboarding, camel riding, henna painting, and more. However, if you're in a food coma, just kick back and let everyone else have all the fun.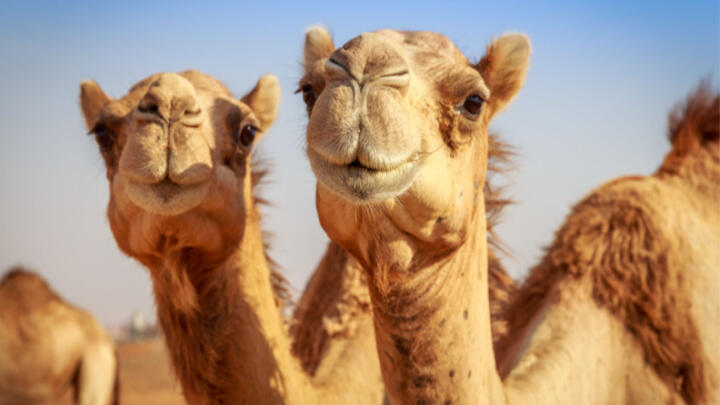 If you're looking for something a bit more exciting than a BBQ but a bit less full-on than quad biking or dune buggin', then they even have something for you. They're called camels, you silly goose, and they're nature's answer to our four-wheeled friends. Did you know camels have three sets of eyelids and two sets of eyelashes, all to keep out sand? Weird. 
Like before, you'll be escorted to a camp deep in the dunes in comfort - and air conditioning. From there, you'll saddle up and ride these curious creatures for a 30-minute trek of the glorious dunes. Then, when you're done, you'll be taken back to camp, where you can refuel, relax, and enjoy complimentary coffee, tea, dates, and more before heading back to the city. Some might call that cameltastic. Not us, because it sounds weird. We prefer cameltacular. Sorry.  
And those were our picks for the best desert safari tours in Dubai! Safari's are fun, but have you thought about what else you want to do on your vacation? Dubai is stacked with entertainment opportunities and attractions at every turn - where do you begin to plan it all? Go City may be able to help. With our All-Inclusive Pass or Explorer Pass, you can see all of Dubai's best bits when and how you want. We cover the very best Dubai attractions, so if you want all of the fun without all the fuss, go check us out.