The word souvenir comes from the French for 'memory'. Find the right souvenir and the memories of your trip to Dubai will live on long after you've returned home. What you pick will largely depend on your travels and experiences, but in case you're struggling for ideas, we've put together a selection of the best Dubai souvenirs right here!
1. Stuffed dates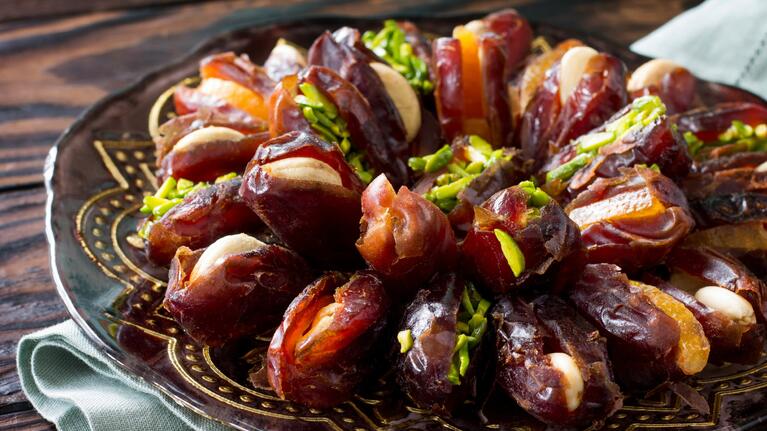 Sticky, sweet and symbolic of everything that is exotic in the western psyche, dates play a huge role in Emirati culture. It's with dates that the Ramadan fast is broken each night at sundown and the fruit also represents both prosperity and fertility. A common gift when visiting someone's home, there are around 100 different varieties to choose between.
So loved are they, that there are dedicated date stores, where you'll not only find them in their natural state, but also stuffed. Authentic versions see them stuffed with chopped pistachio nuts or almonds. However, you'll now find them filled with everything from dried mango to coconut and white chocolate creams. Taste one, and you're bound to walk out with a bag full!
2. Colorful lanterns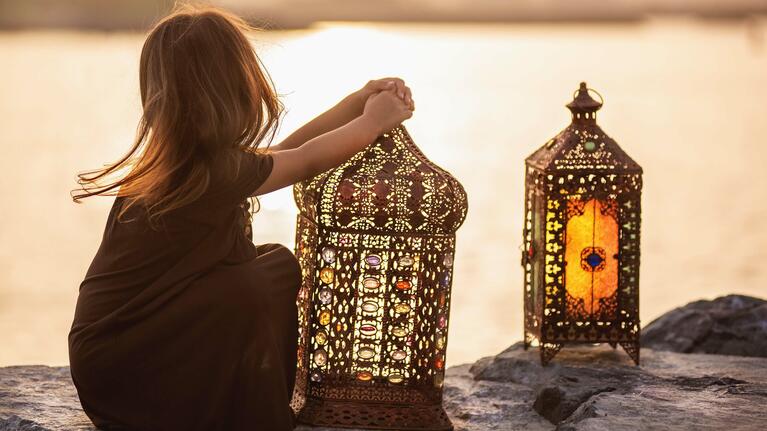 Whilst we're talking of tradition, let's mention the intricate forms and colorful glass of the region's lanterns. Coming in a range of sizes – perfect for hand and hold luggage – they won't fail to add color to any interior, slipping effortlessly into bohemian spaces and providing a focal point in more minimalist designs.
Reminiscent of scenes in the Arabian Nights, many of the best modern examples can be found amongst the bright murals of Al Karama district. But if you have your eye on an historic version, head to Al Quoz's Antique Museum store.
3. Locally-made chocolate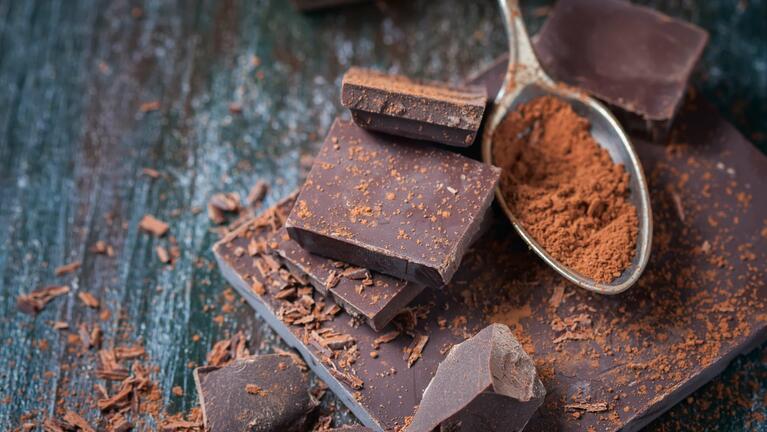 Believe it or not, Dubai is a producer of chocolate as well as dates – sometimes combined to magnificent effect. Though many of the raw ingredients, including the cacao pods, have to be imported from abroad, you'll still find that the best bars have a twist of the emirate about them. One example is the use of camel milk in its production.
The entire process can be explored from start to finish at the Mirzam chocolate factory, which is also in Al Quoz district. And once you've watched the workers hand-wrap each bar, there's plenty of opportunity to unwrap them again to try concoctions such as dark chocolate with cardamom and white chocolate with saffron.
4. Khanjars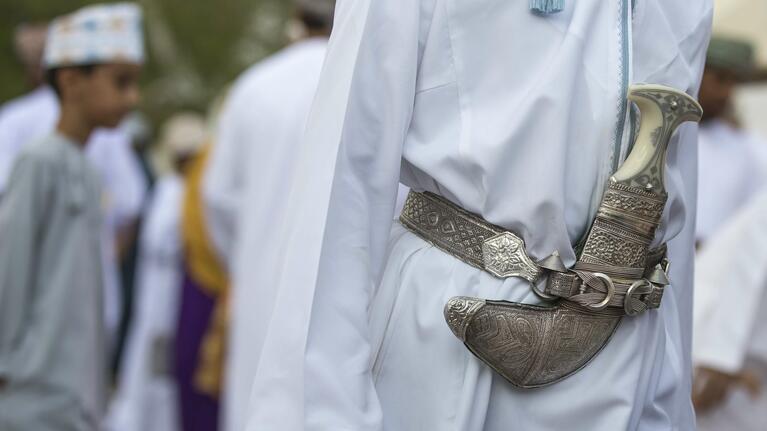 The curve-bladed daggers known as khanjars have been used by the Bedouin of Dubai's deserts for centuries and are often seen carried symbolically by tribal leaders to this day. An authentic version will set you back several thousand dollars, however budget-friendly reproductions make ideal souvenirs. They can be found in stores and galleries across the city.
To see the real thing, you can either check out the collections of the Dubai Museum at Al Fahidi Fort, or head out for a desert safari and BBQ dinner. Set within a Bedouin camp, khanjars are sure to be close at hand.
5. Spices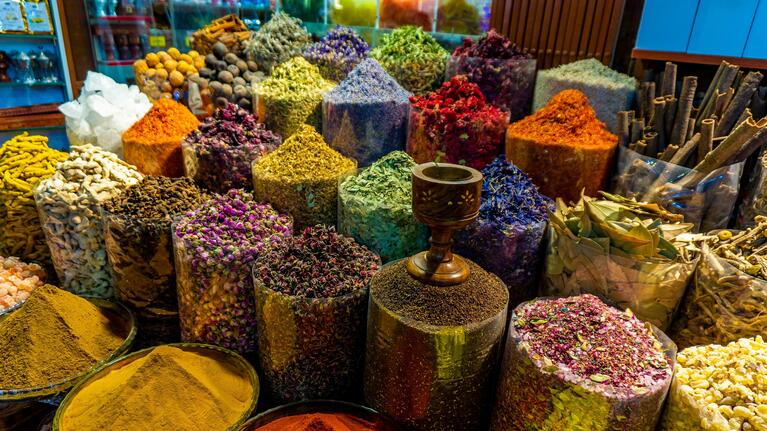 A very different experience from your run of the mill supermarket or grocery store, the Spice Souk in Deira is filled with pleasant aromas. A short distance from the wharfs where spices from as far afield as India are unloaded, a trip to the souk is about getting up close to the spices, examining their look and smell before purchase.
Traders will be more than happy to help you out, guiding you through produce which also includes a blend of teas. For something specifically Emirati grab yourself a small bag of bezaar. Each trader will probably have their own mix, consisting of spices including coriander, cumin, fennel, fenugreek, cinnamon and turmeric. You might even be able to taste some during a dhow dinner cruise along Dubai Creek or sunset dinner cruise in Dubai Marina.
6. Woven handicrafts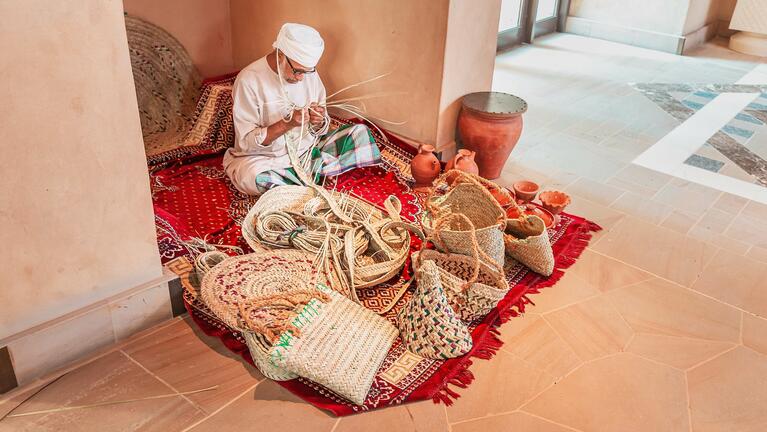 Useful, light on your luggage allowance and kind on the environment, woven handicrafts have been the practice of Bedouin women for as long as their menfolk have been carrying khanjars, whilst fishermen are also known to weave in their down time too. Made from the leaves of date palms as well as cottons and wools, they come in a variety of forms.
For authentic everyday examples head to the souks of Old Dubai, but for items that are chic too, there are stores across the emirate. Left plain or colored with traditional dyes, you'll find everything from coaster sets to rugs and baskets.
7. Bakhoor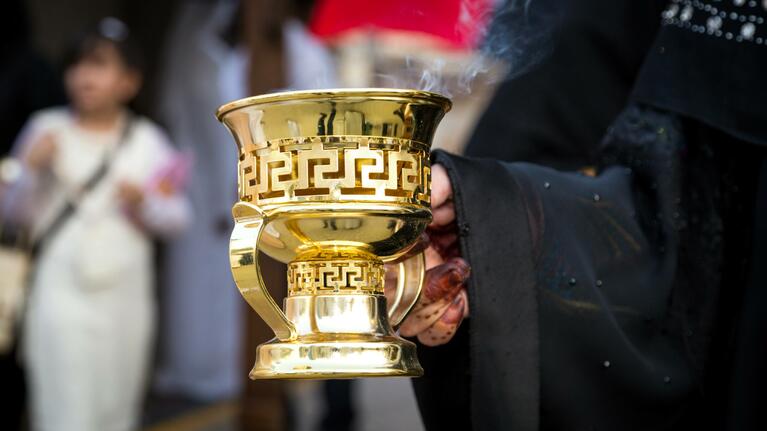 Another of the best Dubai souvenirs found in the souks is bakhoor. It's generally called an incense, although it's not the resin of a tree like frankincense. Instead, bakhoor is a concoction of sweet-smelling sandalwood carrying gums, oud (a natural perfume from the agar tree) and oils such as argan oil.
The best blends contain visible chips of sandalwood, with powered versions also available. To get the best of them, you'll then need to place the bakhoor on hot coals to release the fragrance.
8. Sand art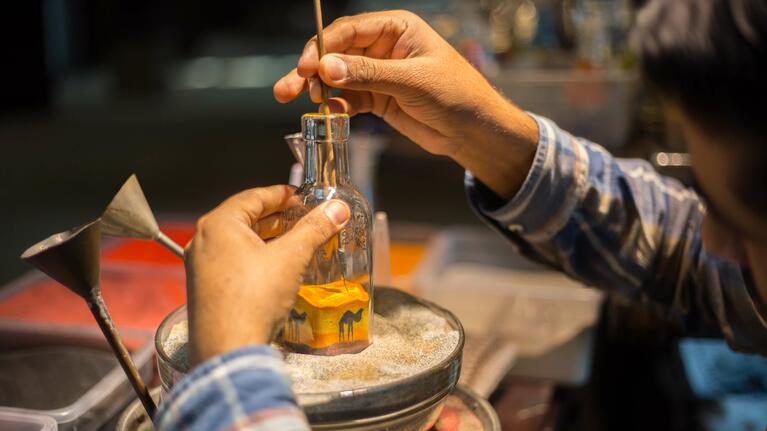 The best Dubai souvenirs don't have to be expensive. Some of the most fun are the sand art forms filling everything from large glass bowls to old Coca-Cola bottles. The artistry of these hand-made keepsakes is first rate, with their artists even able to customize them if you're willing to hang around for a while.
Because they are hand made, each one is unique, though they tend to have imagery of camels in the desert and the Hajar Mountains. In short, they are a great way of remembering any time you may have spent in the desert as well as Dubai more generally!
9. Drums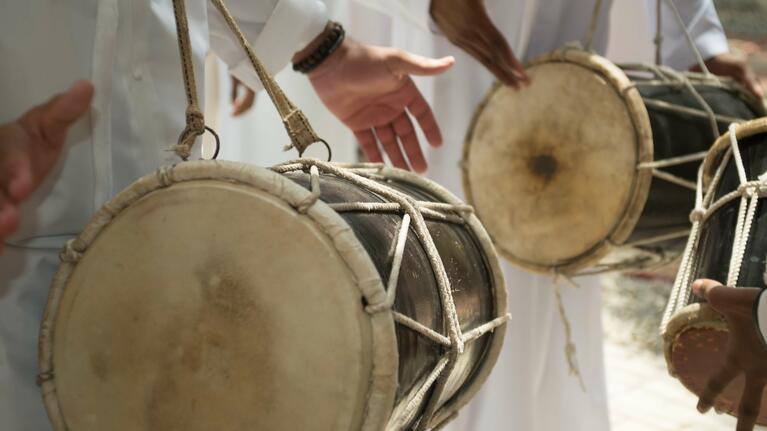 If you're looking for a statement piece, you've found it with Dubai's drums. Used to accompany tribal dances, they come in a variety of forms (and even keyring versions should a life-sized drum be too much to countenance).
Struck with a stick rather than with the hand, the largest Emirati drum is called al ras, and is usually hung from the shoulders when played. Smaller versions include the daf – which has a similar shape to a tambourine without the cymbals – and the doumbek with its figure of eight shape.
Finding the best souvenirs in Dubai with Go City
There's no better souvenir than the memories which come with the experience of gazing out across Dubai from the At The Top observation decks of the tallest building in the world or taking a stand-up paddleboard lesson and tour through the waters of the Palm Jumeirah.
However, many of us want to remember our trips abroad with a physical memento. The best Dubai souvenirs certainly won't disappoint, so make sure you leave time to stop by the souks and malls in between using Go City to obtain significant reductions on admission to many of Dubai's top attractions.