Dubai is known for its shopping. Its malls strive to be world beating when it comes to both size and the experiences they offer – is there anywhere else in the world you can watch a screening of the latest Hollywood blockbuster, ski and scuba dive all in the same afternoon in the same place? Probably not.
But Dubai's malls aren't the only place to satisfy your need to splurge. A trading post long before the advent of modern stores, you shouldn't miss Dubai's souks and markets either. Which are the best markets in Dubai? We've brought together our hit list for anyone not sure where to start.
The Ripe Market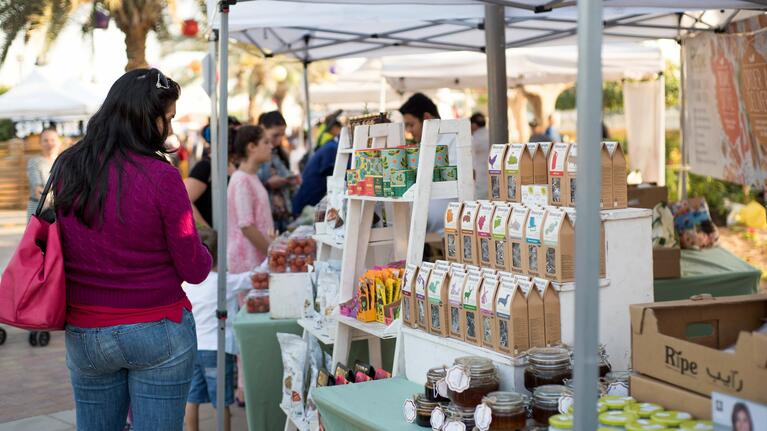 Running throughout the year, The Ripe Market was one of the first of a new crop of marketplaces to set up in Dubai. Primarily focused on foodstuffs, its stalls are piled high with fresh organic produce, tasty looking vegetables and regional delicacies, whilst food trucks stand ready for anyone wanting to sample a range of cuisines then and there.
In the winter months, The Ripe Market occupies an outdoor space within Police Academy Park, beside Ski Dubai and the Mall of the Emirates. In the hotter summer months, it moves inside, to the Times Square Center every Saturday.
Market at The Beach
With something for everyone, Market at The Beach is exactly as it sounds. Located on the shoreline at Jumeirah Beach Residences (JBR) from first thing in the morning until last thing at night, the stalls here are split into two zones.
Operating over the winter months, one section is dedicated to fashion, small homeware items and jewelry, whilst the other offers up a tempting array of meals which can be enjoyed on the beach alongside views across the water towards the Ain Dubai Ferris wheel.
Spice Souk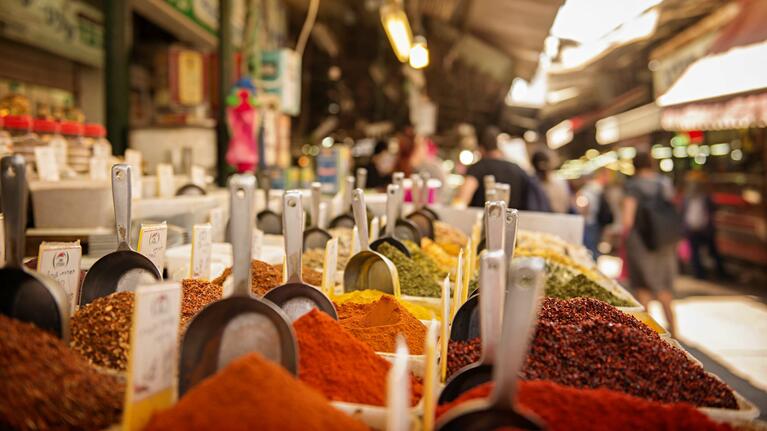 The aroma of spices will probably reach you long before you reach the Spice Souk's official boundaries. Sacks of saffron and armfuls of cinnamon sticks release a rich scent alongside a selection of teas and sweets.
For a taste of Dubai, look out for bezaar, a blend of spices made up of coriander, cumin, fennel, fenugreek, cinnamon and turmeric. It's used in recipes including majboos, a savory rice dish similar to pilaf.
Dubai Flea Market
Fans of previously-loved items and upcycling shouldn't miss Dubai Flea Market. Popping up at one of several locations multiple times each month, be sure to check in advance whether it's Zabeel Park, Ibn Battuta Mall or some other address you'll need to head to.
Find the right place and you'll be met by roughly 300 different stalls. The strict requirement for sale items to be second-hand ensures a certain level of uniqueness and spontaneity in purchasing, with fabrics, ceramics, furniture and clothing just some of what's on offer. Throw a little friendly haggling into the mix, and the whole event is difficult to resist.
Gold Souk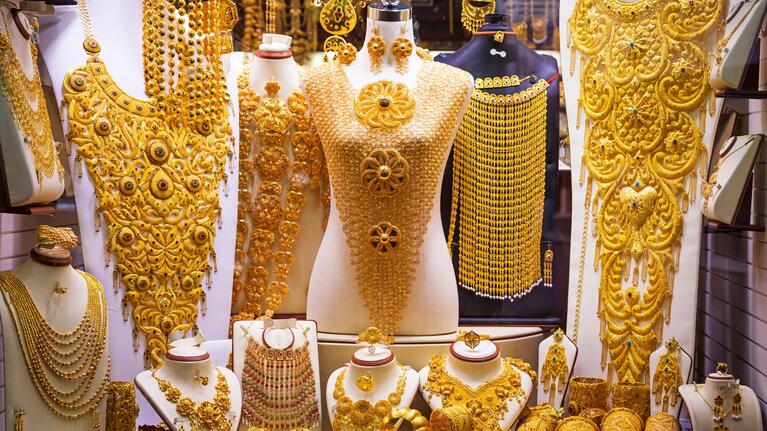 For traditional shopping, head to the Gold Souk in the Deira neighborhood, which has been the center for the region's gold trade for centuries. Partially covered, its narrow alleyways are lined with hundreds of independent jewelry stores showing off their best wares in glittering window displays.
As one of its oldest souks, it has to be considered one of the best markets in Dubai too. Irrespective of whether you're looking for a piece of gold or just looking to discover its streets for the experience, the designs you see will have you admiring the craftsmanship on display.
ARTE
Standing for 'Artisans of the Emirates', ARTE is a weekend market that's been going from strength to strength during its 15 years of existence. It connects Dubai's small time makers and craftspeople with an audience of appreciative buyers at pop-ups in malls including Mercato and Times Square Center.
Around 150 different makers have items available at any one event, with a guarantee that each and every piece on sale has been designed and made by vendors themselves. It means that for unique Dubai souvenirs, there's probably nowhere better to find textiles, soaps, pottery and greetings cards.
The Farmer's Market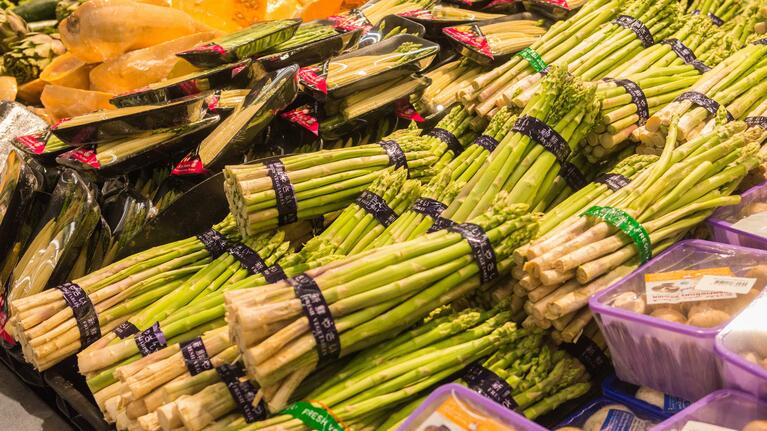 An alternative place to The Ripe Market for vegetables is The Farmer's Market. Created as an outlet for those brave souls growing produce in one of Earth's driest environments, this is one of the top food markets in Dubai and appears on Bay Avenue on weekends during the winter.
The focus is on fresh produce, whether that's eggs or eggplants, which may be of limited interest to visitors to Dubai. However, there's also usually a good selection of edibles which make nice mementos of your trip, including local honeys and jams. The best thing is that most of the produce is sold by the farmers themselves, allowing a rare connection between grower and buyer.
Global Village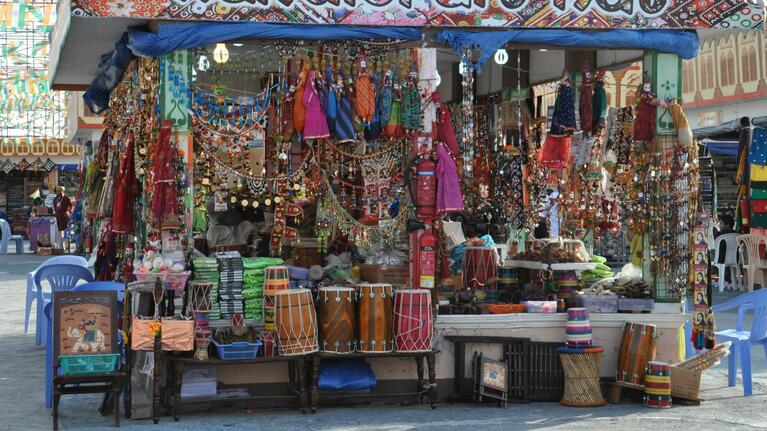 If the Spice Souk has history and authenticity on its side, Global Village has variety. Amidst the funfair rides and interpretations of the Kremlin in Moscow and Leaning Tower of Pisa in… Pisa are stalls selling trinkets from every continent.
Just down the road from IMG Worlds of Adventure, some may find the whole enterprise slightly baffling. However, if you've any children in tow they're sure to learn something. Nor has Global Village forgotten its 1990s roots as a group of stalls carrying everything from Afghan carpets to argan oil from Morocco.
Souk Al Marfa
Situated along the waterfront of the new development on the Deira Islands, Souk Al Marfa provides a modern take on Dubai's traditional souks. This enclosed space is now home to around 400 stores which have a little bit of everything. It will soon rival the city's big malls with around 1000 shops once fully opened. So whilst it may not meet some definitions of a market, it does fill a gap between the original souks of Deira and Dubai's modern megamalls.
Visiting the best markets in Dubai
Markets and Middle Eastern destinations such as Dubai have gone hand in hand since before recorded history. The best markets in Dubai are as diverse as any you'll find, with traditional souks and modern farmers' markets creating plenty of choice.
Include a stop at one of our market picks during your vacation in Dubai and you won't regret it. Travel to Dubai with Go City and you won't regret that either! We offer visitors substantial savings on admission to many top attractions so you get to see the sights without worrying about your budget.