While Dubai often takes center stage among the Emirates, Abu Dhabi is a major cultural destination in its own right. It's well-worth the time and effort to spend a few days in this quieter but no less engaging city. You'll find a plethora of attractions and activities to enjoy, from swimming and kayaking to museums and theme parks.
Save on Admission to Top Attractions
Many of these top attractions are available on the Go Dubai® Card. Choose as you go from many of the most popular Abu Dhabi attractions and save up to 52% off combined admission vs. paying at the gate. For all available passes, attractions, and prices – Learn more.
Daylight Cruise in Abu Dhabi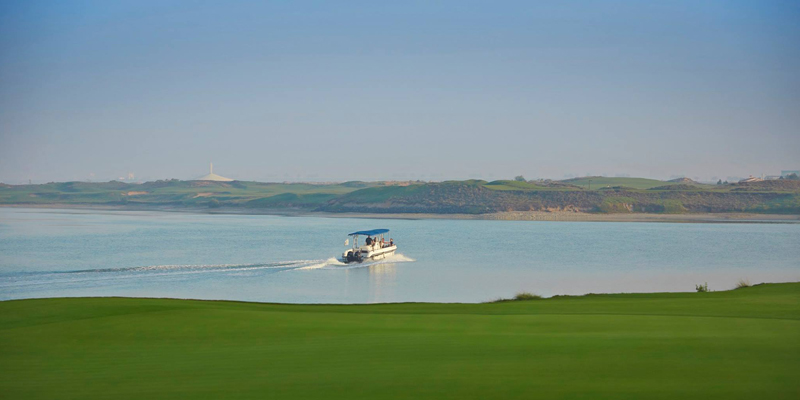 One thing to keep in mind is that like Dubai (and all of the Emirates), Abu Dhabi is very hot most of the year. Cool off with a luxurious daylight cruise that showcases both the city skyline of Abu Dhabi and the hidden secrets of their famous mangroves. Other sights include their historic Emirati heritage buildings, schools of fish, flocks of heron, and much more wildlife. Getting In: Daylight Cruise in Abu Dhabi tickets are included with the Go Dubai® Card.
Cruise N' Dip in Abu Dhabi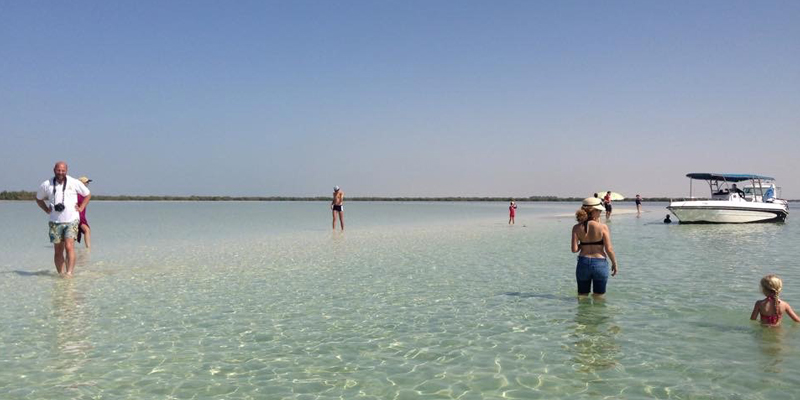 If you love the idea of the cruise but are itching to get in the water itself, this might be an excellent option for you. This two-hour excursion departs from the flashy Yas Marina (the departure point for many cruises and home to some pretty snazzy private yachts, etc.). You'll cruise around for a while then drop anchor to allow for 45 minutes of leisurely swimming time. There's also plenty of comfy seating to relax when you're done swimming, and snacks and food to be had for purchase (you could also opt to bring your own). Getting In: Cruise n' Dip in Abu Dhabi tickets are included with the Go Dubai® Card. 
Sunset Cruise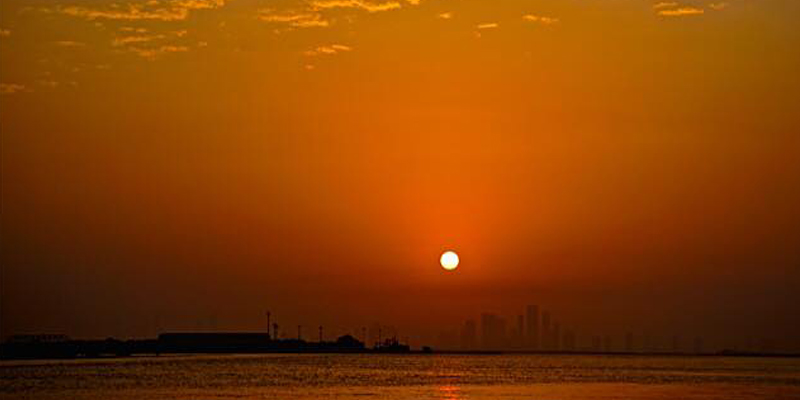 I know, we keep suggesting cruises (and there are more water activities to come), but…this one is worth your consideration. A sunset cruise is a truly unique opportunity to see Abu Dhabi when it's both cooler in temperature and more charmingly illuminated at night. Sunsets in Abu Dhabi are nothing to scoff at, either. You'll enjoy a 1.5-hour cruise around the inshore islands, by Raha Beach and past Samaliyah Island (which is home to a traditional village and some mangrove forests). Getting In: Sunset Cruise tickets are included with the Go Dubai® Card.
Kayak Tour of the Mangroves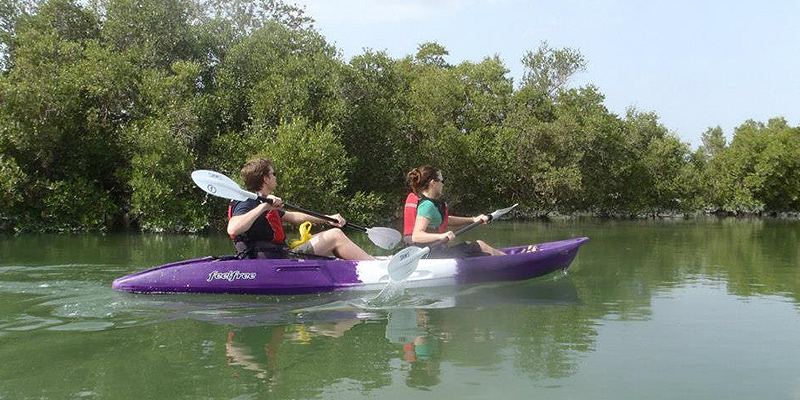 If your interest in water activities in Abu Dhabi is more of the active type, or, if you're really fascinated by their stunning mangrove forests, this kayak tour is a smart bet. A two-hour, guided adventure around the Eastern Mangroves, this easy kayak tour is suitable for all visitors, so it's perfect even if you have about zero experience in the kayak department. The Eastern Mangroves are a lush wild habitat for multiple critters, including flamingos, turtles, multiple species of fish, sea snakes, and many more. Because you'll be in a non-invasive kayak, you can actually get quite close to this natural treasure, too! Getting In: Kayak Tour of the Mangroves tickets are included with the Go Dubai® Card.
Eco-Donut Boat Rental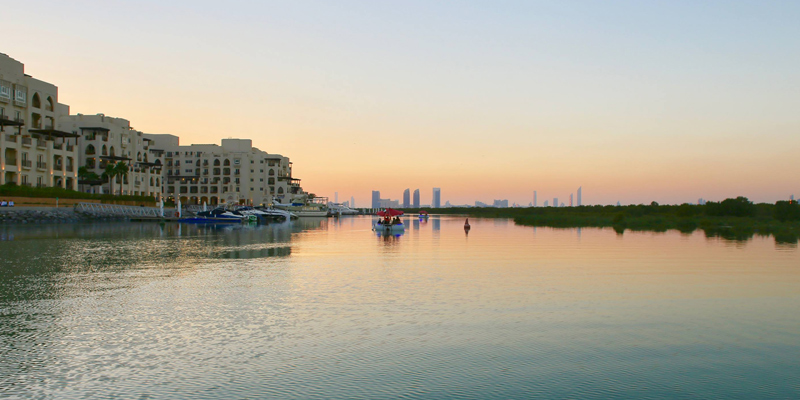 More of a peaceful and less labor-intensive water sport than a kayaking excursion, the eco-donut is the slower, sillier cousin of the above attraction. You'll still float around the main channels of the Eastern Mangroves, but it's more leisurely and involves a large umbrella to shade you from the sun. (There's also a cooler in the middle if you want to bring some refreshments). These boats are super environmentally-friendly, too, so they are another excellent option for responsibly touring the park. A smart choice for the eco-conscious tourist. Getting In: Eco-Donut Boat Rentals are included with the Go Dubai® Card.
Camel Trekking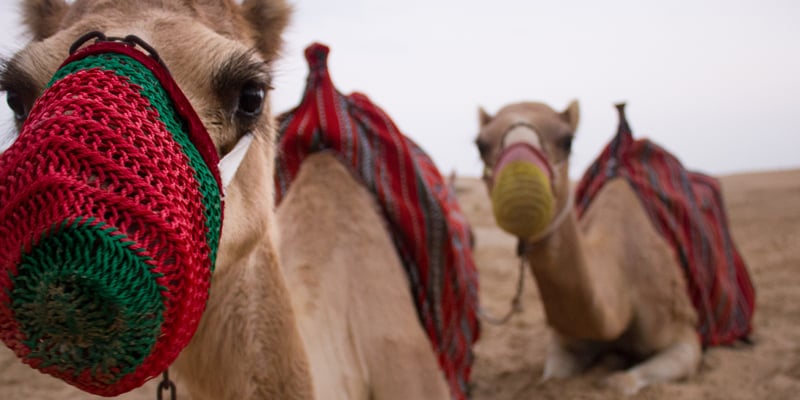 You simply can't visit the Emirates without riding a camel! It's practically the signature attraction in the region and is on many bucket lists. It's a delightful experience that doubles as a way to explore the desert and a means to indulge in our historic vision of a lost Arabia. You'll get a 30-minute ride atop a camel. Enjoy the journey to a private desert camp, where tour staff awaits with coffee/tea, dates, and more. It's a bit out of the city, so the entire excursion includes transportation to and from Abu Dhabi. Getting In: Camel Trekking tickets are included with the Go Dubai® Card.
Morning Desert Safari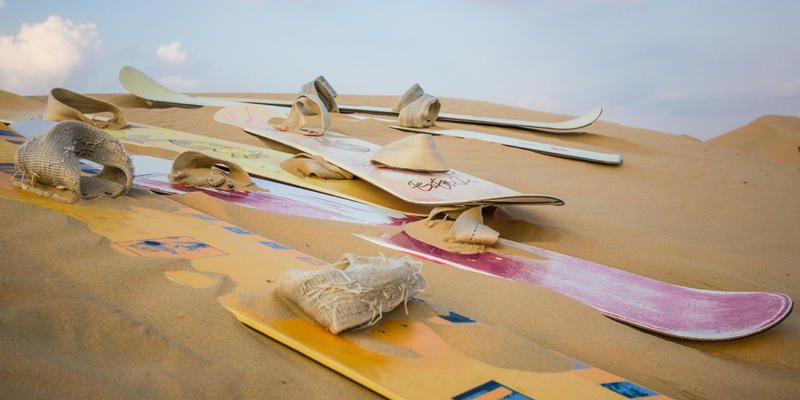 Keep your cool on another top Emirati attraction – the desert safari. This particular option is a four-hour adventure, featuring a ride aboard a 4X4 vehicle, a camel ride, a chance to try your hand at "sand boarding" (basically what it sounds like), and some light refreshments. It's a comprehensive excursion that's well-worth the time it takes to get out of the city into the wild and wonderful desert. The fact that it's in the morning may help with the temps, too. Getting In: Morning Desert Safari tickets are included with the Go Dubai® Card.
Desert Safari and BBQ Dinner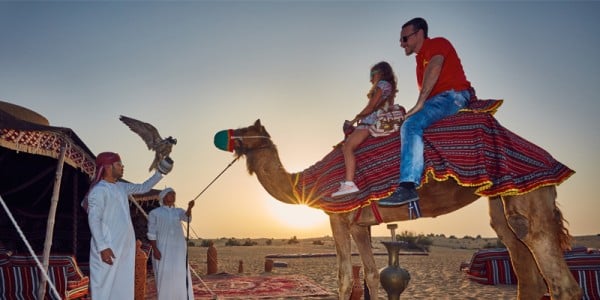 If you prefer your safaris in the evening, then this might be a better option. It's also longer (clocking in at about six hours), so it's also a bigger investment of time and resources. This adventure also includes a trip to a camel farm – surely a unique experience – and a visit to a traditional Arabic desert camp, which offers fun activities and entertainment such as henna painting, belly dancing, sand-boarding, camel rides, and more. Once the sun sets, you can enjoy a somewhat incongruous but totally delicious barbecue dinner. Just one look up at the sky and you'll quickly understand the appeal of the desert – all those stars will truly amaze. Getting In: Desert Safari and BBQ Dinner tickets are included with the Go Dubai® Card.
Sheik Zayed Grand Mosque Center
The largest and arguably most beautiful mosque in the entire country, Sheik Zayed Grand Mosque is an architectural marvel. Encompassing 82 white domes, its distinctive style evokes desert elegance and grandeur. Western visitors may tour the mosque during certain times of the day and week (which also vary during certain times of year, such as Ramadan), as long as they adhere to the "mosque manners" (which does require a hair covering for women).
Getting In:
It's free to visit the Sheik Zayed Grand Mosque.
Yas Island
This multi-purpose luxury island was designed to be a major destination for visitors from all over. Here you'll find a variety of high-end attractions, luxury theme parks, and astonishing activities. Some of the available things to do on Yas Island include:
Ferrari World, an indoor amusement park.
Yas Waterworld, featuring massive slides and surfable waves.
Warner Bros. World Abu Dhabi, which includes all of your WB favorites.
And, coming in 2020, SeaWorld Abu Dhabi, which is to be the first SeaWorld without orcas.
You'll also find a luxury beach, one of the best golf courses in the world, a few entertainment venues, and more. Getting In: Various attractions on Yas Island incur additional admission costs; these costs are not included with the Go Dubai® Card.
Saadiyat Island
Although it's still a work-in-progress, the tourism center that is Saadiyat Island is all about preserving and honoring Arabic culture and heritage. It's a quick drive from downtown Abu Dhabi and will soon feature massive developments including museums, entertainment venues, hotels, plus facilities for locals like schools. The highlight of the Saadiyat culture district is the collection of prestigious museums that will highlight art from around the world and across the Emirates. Museums include:
The Louvre Abu Dhabi, which partners with the one in Paris to share collections.
To Come: The Guggenheim Abu Dhabi
To Come: The Zayed National Museum
To Come: Abu Dhabi Performing Arts Center
Right now, the only one you can enjoy is the Louvre Abu Dhabi, but if you're planning a trip for the future keep an eye on Saadiyat Island to see what might be opening. Getting In: Various attractions on Saadiyat Island may incur additional admission costs, although some are free to enjoy; any costs are not included with the Go Dubai® Card.
The Corniche
If you truly want to say you've experienced Abu Dhabi, you need to spend a little time on the Corniche. Technically Corniche Road, this famous recreation area is located on the western side, and encompasses everything from play areas for the kids to pedestrian and cycling paths. There's also a public beach, plentiful fountains, parkland, and more. You'll even find plenty of restaurants and cafés along the path should you want to stop for refreshment. Getting In: The Corniche is free to explore.
Heritage Village
A project of the Emirates Heritage Club, this fascinating attraction is actually a recreated village designed to mimic traditional Arabic culture. So, you'll find things like a souk, an early version of a mosque, a desert encampment, and more. There are typically staff members demonstrating traditional crafts or professions, such as making pottery, glass-blowing, or weaving on a loom. You might also see metalwork and spinning, too, with the chance to try your hand at some traditional crafts. There are also opportunities to purchase unique souvenirs, spices, and soaps and to explore some genuine Arabic artifacts from the pre-modern Abu Dhabi era (those are, of course, not for sale). Getting In: Heritage Village is free to explore.
Let's Recap 
So these are our top picks for things to do in Abu Dhabi for first-time visitors. There's a nice mix of activities, excursions, and museums, with some theme parks thrown in for good measure. So whether you want to explore Mangroves National Park by kayak, ride through the desert on camel back, or enjoy the glamour of hyper-modern Abu Dhabi, there's an attraction option for you. Remember, you can save on admission to a number of these top Abu Dhabi activities with the Go Dubai® Card.