Dubai offers a full range of activities and attractions for almost any age. Whether you're a thrill-seeker who wants to tackle an indoor ski slope at Ski Dubai or windsurf at the Palm Jumeirah, there's something for everyone.
If you prefer a relaxed day at the beach, a chance to browse some of the world's most extravagant shops, or to indulge in top-rated global cuisines, Dubai is the place for you, too.
There's a little bit of practically everything in this fantastic global city! To make the most of your visit to Dubai, take a look at this 3 days in Dubai itinerary combining some of the city's most desirable excursions and activities for both families and other leisure travelers to partake in.
Hop-On Hop-Off Big Bus Dubai Sightseeing Tour
Ski Dubai
At The Top - Burj Khalifa
Kayak Tour of Palm Jumeira
Aquaventure Waterpark
Sunset Dinner Cruise of Dubai Marina
And more!
Looking for more itinerary suggestions? Then check out our week in Dubai itinerary, or one day in Dubai, or weekend in Dubai suggestions.
Day 1: Explore Sheikh Zayed Road
Stop #1: Hop-On Hop-Off Big Bus Dubai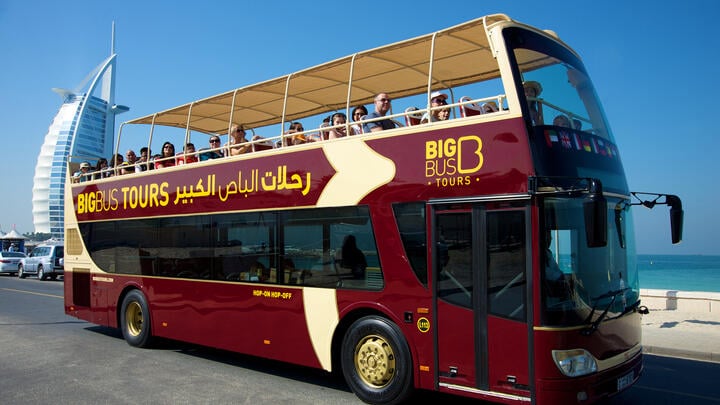 Get an early start and grab a seat on the Hop On Hop Off Big Bus Dubai. You'll have an elevated view of the city from the comfort of an open-top bus as it rolls through the Emirate. An onboard guide provides interesting history and entertaining anecdotes to give color to each site and landmark.
You'll have the chance to see more than 40 different points of interest on the 9-stop bus tour, with the ability to hop off and explore at your leisure. Popular tour highlights include The Burj Khalifa, Souk Madinat, The Palm, Dubai Marina, and more.
Stop #2: Ski Dubai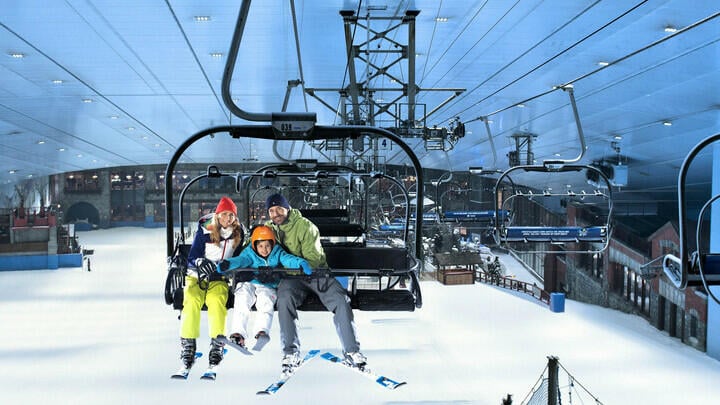 Next up is Ski Dubai, the Middle East's biggest indoor ski resort and the world's first indoor black diamond run. While unexpected in the middle of the desert, it's just par for the course when it comes to all the astonishing things you'll find in Dubai.
This amazing venue houses five ski slopes of different steepness and difficulty, a sled and toboggan run, an ice cave and a live penguin zone (we're not kidding - King and Gentoo penguins periodically roam the slopes – away from skiers, of course). Even if you've never skied or snowboarded before, Ski Dubai offers lessons for rookies and beginners. 
Use your pass to access the wintery wonderland with a Snow Classic pass, or take to the slopes with Ski Dubai Ski Slope access.
Stop #3: Dhow Dinner Cruise Dubai Creek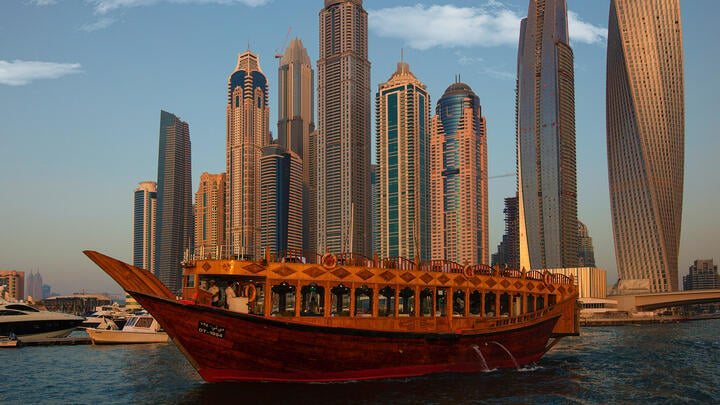 A perfect way to round out your first day in Dubai is with a delightful cruise on the authentic dhow boats that you'll see all over the area. A dinner cruise aboard one of these vessels is a fun option, as it combines the wonder and excitement of sightseeing with the relaxation and fun of a 5-star dinner buffet. On this two-hour cruise, you'll set sail along the charming Dubai Creek, a historic body of water that divides the downtown area into two distinct banks.
As you may notice from the picture above, this dhow cruise also highlights the beautiful balance between historic and modern that Dubai maintains. You'll get to see top local sights, including the National Bank of Dubai, the Chamber of Commerce Building, and many more waterfront landmarks. Here's another place where you'll need to have your camera or phone at the ready, as all these buildings will be beautifully illuminated in the evening.
Day 2: Major Landmarks & Fun for the Kids
Stop #1: At The Top - Burj Khalifa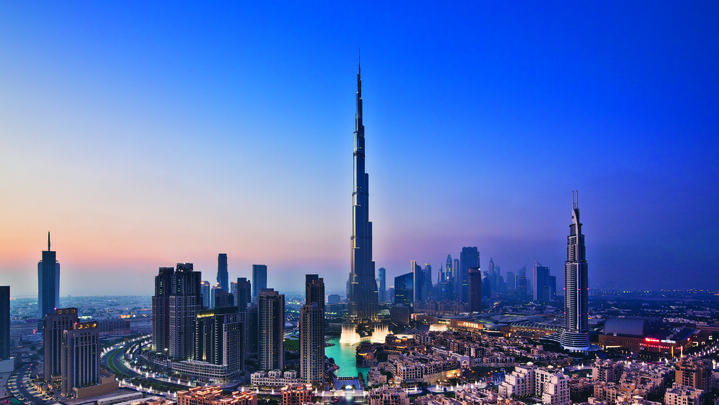 Of course, you can't visit Dubai without taking the opportunity to ascend to the top of the tallest structure in the entire world - the Burj Khalifa. This marvel of modern engineering towers above the already impressive Dubai skyline, and a visit to the At the Top observation area provides unparalleled views of the city below.
Head up to the observation deck, where you'll find interactive displays and informative exhibits that tell you about the construction of this iconic building, the history of the region, and fascinating information about Dubai as a city. It's a must-do for any traveler to Dubai; don't forget that perfect photo!
Stop #2: IMG Worlds of Adventure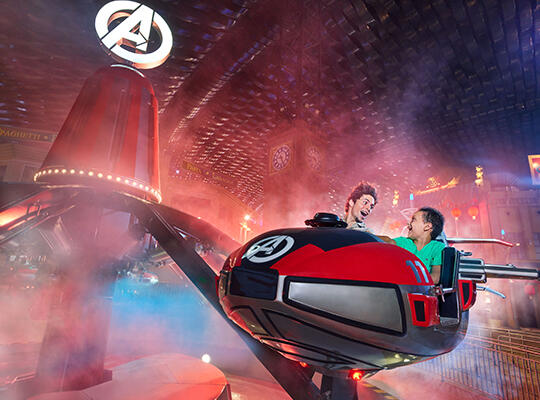 Head to IMG Worlds of Adventure, the world's largest indoor theme park, and one of the most epic entertainment destinations in Dubai!
Here you'll find all your favorite characters from Cartoon Network and the Marvel franchise while your way through a prehistoric-themed zone, a lost valley and a haunted hotel. Each area has its own themed rides and unique experiences to keep everyone entertained.
Don't miss the Velociraptor Dinosaur Adventure – this thrill ride launches you from the prehistoric jungles of the Lost Valley out into the desert of Dubai.
Stop #3: The Green Planet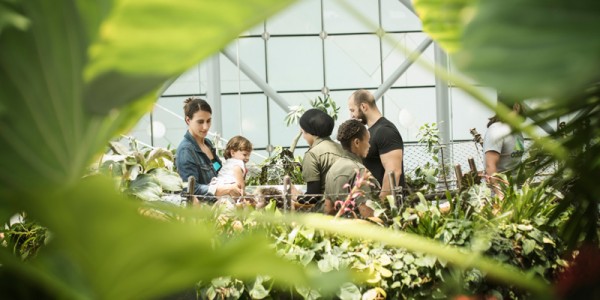 Visit one of the city's most amazing treasures – a vertical, four-story indoor rainforest. The focus of the Green Planet is on conservation and education, so you'll find a visit here to be both inspiring and informative. Traverse the entire rainforest as you visit different floors, exploring everything from the fascinating Flooded Rainforest to the impressive Canopy on the very top floor.
You'll see real live flora and fauna that live in tropical biomes around the world, like bright butterflies, colorful frogs, vibrant tropical birds, and much more. Again, make sure your phone or camera is charged because you will definitely want to snap a few photos in here!
Stop #4: Bateaux Dubai Gourmet Dinner Cruise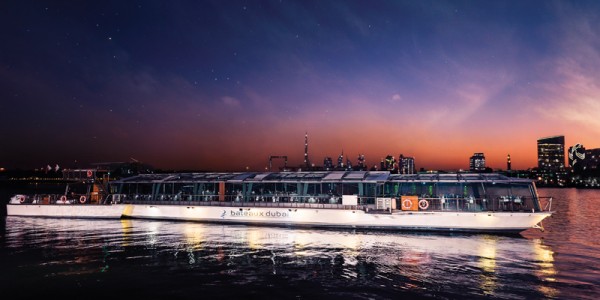 Cap off your second day with a luxury dinner cruise on the waterways of Dubai Creek. You'll partake in a delicious, four-course meal served aboard a floating restaurant – the epitome of Dubai opulence. The tempting buffet offers traditional Arabic cuisine alongside favorites including pasta, noodles, salads, soups, and much more. Make sure you leave room for the desserts...
See magnificent views of the city and the water around you as you float along peacefully in the middle of Dubai Creek, away from the hustle and bustle of the city. This exclusive opportunity is a rare chance to truly experience what being on a luxury vacation in Dubai can feel like.
Day 3: The Palm Jumeirah
Stop #1: Water Activities with SeaYou
Begin your third day in Dubai with another early start as you enjoy your morning from the sea. Watch the day begin on the amazing man made Palm Jumeirah island, from the top of a paddle board, on a kayak, or at the helm of wind surfing board. By booking a water activity from SeaYou you can fully experience the wonders of the Palm with a paddle boarding or wind surfing session or a guided kayak tour.
You'll create memories that will last a lifetime after your trip is over and gain a new sporting skill in your morning on the water.
Stop #2: Aquaventure Waterpark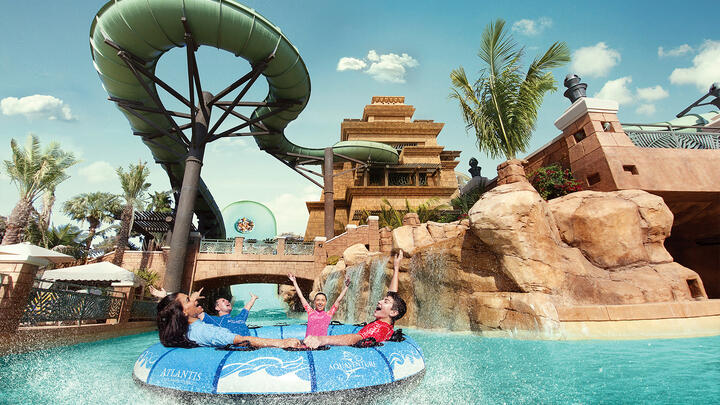 There's no need to dry off, as your next stop includes a visit to Atlantis, The Palm's most famous five-star hotel and resort. Make a splash at the Aquaventure Waterpark, which has some of the most thrilling water rides and attractions in the world. It's a truly unique experience that will be unlike any other waterpark you've ever been to.
Dubai is all about going big. Savor your afternoon with a spot at one of the Palm's excellent beach clubs as you warm yourself under the Arabian Gulf's bright sun.
Stop #3: Lost Chambers Aquarium
Also located at Atlantis, The Palm, is the Lost Chambers Aquarium. Here is where you can view multiple types of sea life, sharks, and tropical fish up close. The fun-packed aquarium features 10 themed chambers with diverse marine life from all over the world and lots of informative and entertaining activities.
You'll also want to go on one of the hourly Myth Tours (included with admission), which showcases the cultural influences on this special attraction.
 
Save on Attraction Admission
We hope that this 3 days in Dubai itinerary is useful to you as you plan your trip to this amazing city. Consider adding a few of these attractions to your own adventures, and we know you'll have a blast.
Many of the popular attractions in this Dubai itinerary are included with Go City. Visit the attractions outlined here and save on combined admission vs. paying at the gate. See all available Dubai attractions, passes, and prices. Remember, this 3 days in Dubai itinerary is just one of many ways to experience the area. Go City gives you the flexibility to create your own itinerary, so you can choose from dozens of popular attractions and create a vacation tailored to your interests.