Dubai is great - you've decided to vacation there, after all. But there's a whole wide world out there to explore, and it isn't going to explore itself. Instead, grab the travel bull by the travel horns, ignore that terrible turn of phrase, and plan some day trips and tours out of Dubai! Whether you're in the market for some culture, fancy getting your heart pumping, or simply want to ride an exotic animal, there's something for everyone. So, let's talk about the best day trips and tours from Dubai, which you should not miss!
Including:
Qasr Al Watan
Thrill Buggy Rides in Dubai's desert
Abu Dhabi's Highlights Day Trip from Dubai
4x4 Quad Bike Ride in Desert (Sahara Adventure)
Camel Trekking in Abu Dhabi
and more!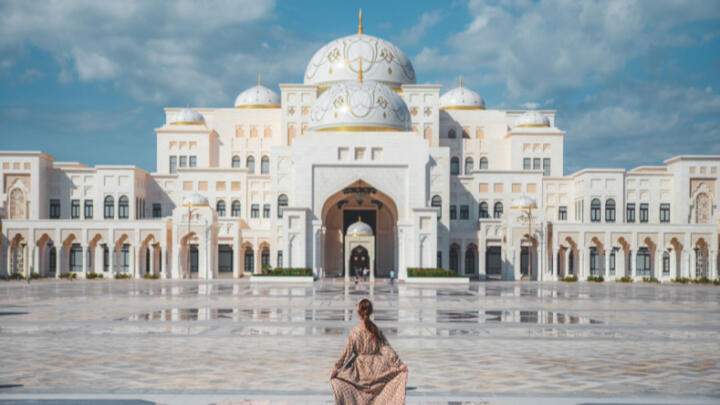 Learning might not be top of your list when it comes to fun. But learning about another culture is one of the coolest things about a vacation. So, why not gain a deeper understanding of Arabic culture and how the area contributed to the arts and science on a day trip to Qasr Al Watan in Abu Dhabi? 
On the outside, you'll be treated to a magnificent white palace housed in the Presidential Palace compound. On the inside, you'll discover buckets of information about Arab heritage and culture that shaped the history of the United Arab Emirates. By studying artifacts from the UAE's history, you'll learn how local traditions have evolved over the centuries. 
Then, there's the Qasr Al Watan Library, which culture vultures will love to dive into. All in all, Qasr Al Watan makes for one of the most fascinating day trips from Dubai. 
Switching gears now to something a bit more adrenaline-pumping. If you've never ridden over the dunes outside Dubai in a dune buggy, you've never truly lived. Change all that, and get behind the wheel on this amazing day trip out of Dubai. 
After you're escorted from your hotel in a 4x4, your journey to the dunes will be full of photo ops. Cameras at the ready, boys and girls. Then, you'll arrive at base camp, board your metal hog, and take the beast for a spin. 
For 30 glorious minutes, you'll be free to carve some sick sand or something. And your guide will be on hand to make sure you don't hurt yourself, or them, or their buggy. 
Ever felt 800ccs of pure, unadulterated dune buggy chugging beneath you? Nothing quite compares to it.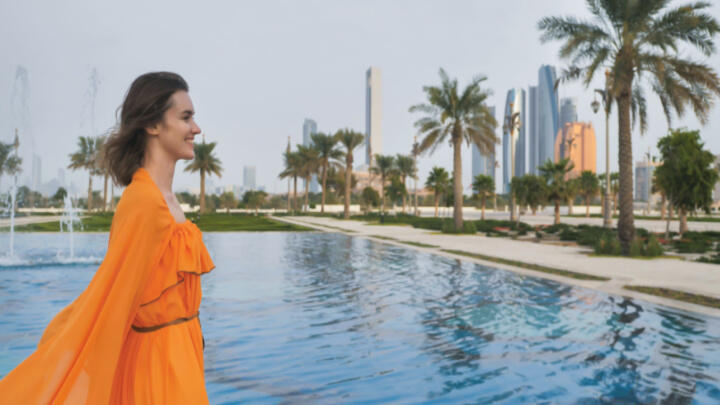 For those who don't know, Abu Dhabi is the capital of the United Arab Emirates. It may not be as well known or as beloved as its younger brother Dubai, but it's still well worth a visit. So, why not visit and experience one of the best day trips out of Dubai?
The capital is a mix of culture and modernity, offering a decidedly different atmosphere than its neighbors. Kicking off on the coast, 
you'll pass by famous spots such as the vast Jebel Ali Port, the National Exhibition Centre, Etihad Towers, the Louvre Museum, and Emirates Palace. All of them are worthy of more than a few pictures, so keep your phones charged and your memory free. 
The perfect answer to Dubai's extravagance, go see what all the fuss is about.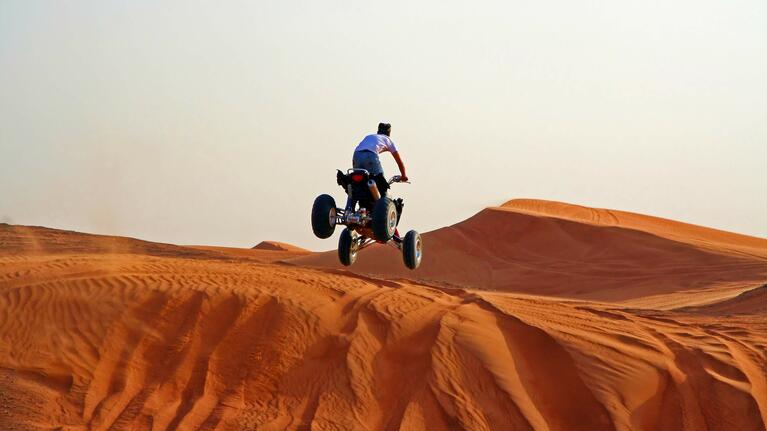 If dune buggies don't quite do it for you, why not try a quad bike instead? These four-wheeled wonders can make quick work of Dubai's dunes, so consider doing some sweet dune jumps on this tour of the desert. 
After your ride drops you at camp, you'll hop on a freaking camel to tour the surroundings. After you've fulfilled your dream of embodying Indiana Jones, you'll reach a specially designed track nestled deep in the beautiful dunes. And then, well, it's game on. 
Race to your heart's content. Race like nobody's watching. Race like your life depends on it. And then, when you're done, you'll get a lift right back to your hotel. Nice.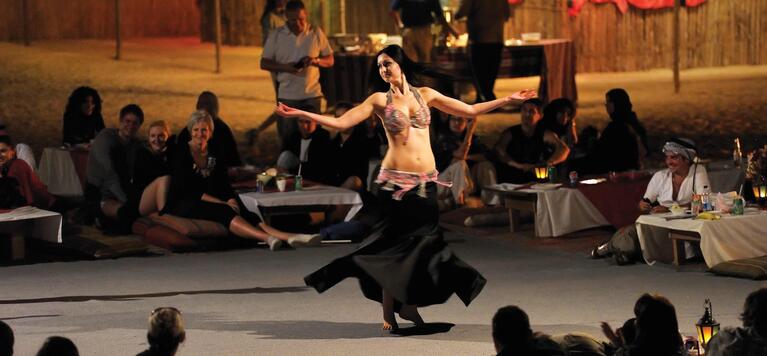 If you'd rather do the desert safari sans the thrillseeking, then you're in luck. Thanks to this desert safari and BBQ dinner, you can have your cake and eat it too. Well, not cake, mainly grilled meats and veg, but you see what we're saying. 
You'll still get your 4x4 tour of the dunes, from hotel to sandy sea. And yes, you'll still have plenty of time to snap pics of the mesmerizing scenery. But when you reach the desert camp, you'll be treated to a traditional BBQ meal and feast on grilled meats and other Arabian specialties. Doesn't that sound just delightful?
But wait, there's more! Because on top of the grilled goodness and laid-back vibes, you'll be able to enjoy belly dancing, a traditional Egyptian dance show, some smoky shisha, sandboarding, camel riding, henna painting, and more. But if you just want to lounge the night away, go right ahead. You make the rules. You are the golden god.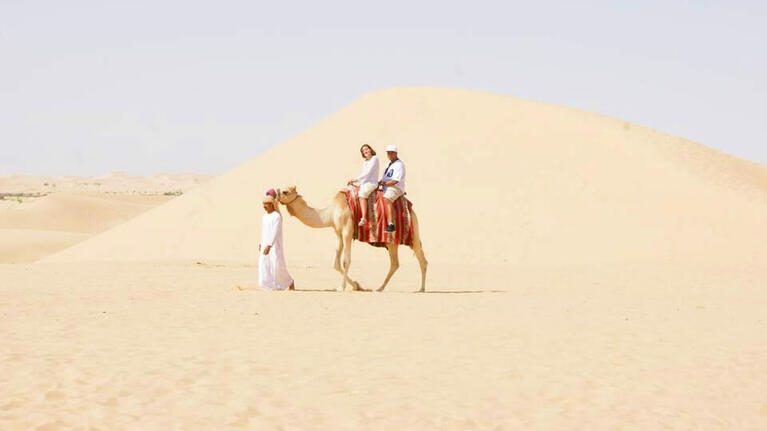 And finally, if dune buggies don't cut it, you're not interested in quad bikes, and you prefer living matter to machine, why not trek across the beautiful dunes on camelback? 
Do your best 'Laurence of Arabia' impression on this fantastic natural tour of the dunes. Like before, you'll be escorted in comfort (and air conditioning) to a camp deep in the dunes. From there, you'll saddle up, and ride these curious creatures for a half-hour track into the distant sands. Then, when you're done, you'll be taken back to camp, where you can refuel, relax, and enjoy complimentary coffee, tea, dates, and more before heading back to the city. Very nice.
And those were our picks for the best day trips and tours out of Dubai! If this has inspired you to make more plans during your vacation, do yourself a favor and check out Go City. With our All-Inclusive Pass or Explorer Pass, you can see all of Dubai's best bits when and how you want.