Planning a trip to Dubai? If you're wondering when's a good time to visit, try February. There are no better places to escape the winter chill than the UAE's own desert oasis. Need convincing? Check out our guide to Dubai in February and see for yourself!
Including:
Seasonal weather
Refreshing waterpark adventures
Secret skiing
Ice skating shenanigans
The best views in the city
and more!
Dubai in February: What to Expect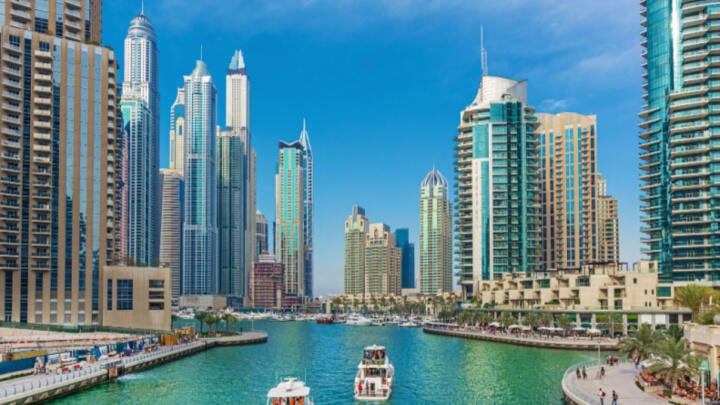 For those of your visiting from colder climates, February might be the perfect month to visit Dubai. You can expect highs of around 82°F and lows of around 64°F. So it's still warm, because of course it is, but at least the evenings will be cooler, and day temperatures are a little more temperate. Shorts, tees, and summer dresses are your best bets, and make sure to pack plenty of sunscreen to protect that pasty complexion. 
Dubai in February: What to Do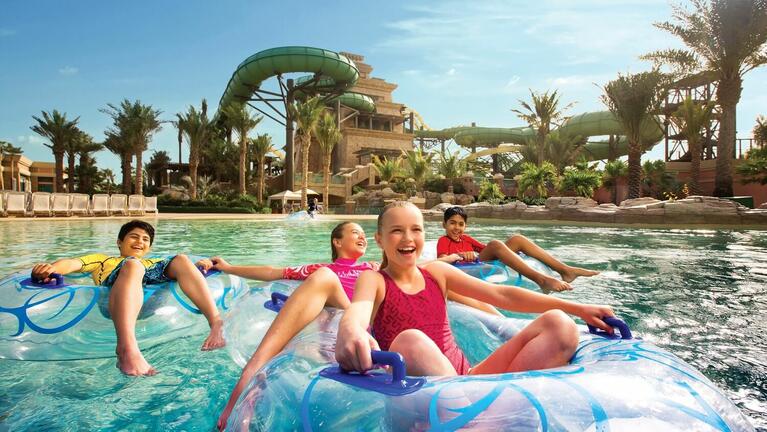 On the warmer days, there's nothing stopping you from channeling your inner summer child and seeking the cooling thrills of a waterpark. And why settle for less when you can have the best? Simply head to the grand Atlantis The Palm, and enter the wonderful watery world of Aquaventure Waterpark!
With rides such as the plummeting Leap of Faith, which drops you into a massive tube surrounded by exotic aquatic life, even adrenaline junkies are catered to! Or, if heights aren't your things, test your mettle at The Rapids, which puts you on a raft battling choppy waters for a mile. Even kids will get their fix thanks to the Splasher's Children's Play Area, 
which features tons of mini slides, climbing frames, and even tipping buckets, so they won't miss out on all the fun. 
It might sound strange, but splashing up a storm at a waterpark is definitely one of the best things to do in Dubai in February.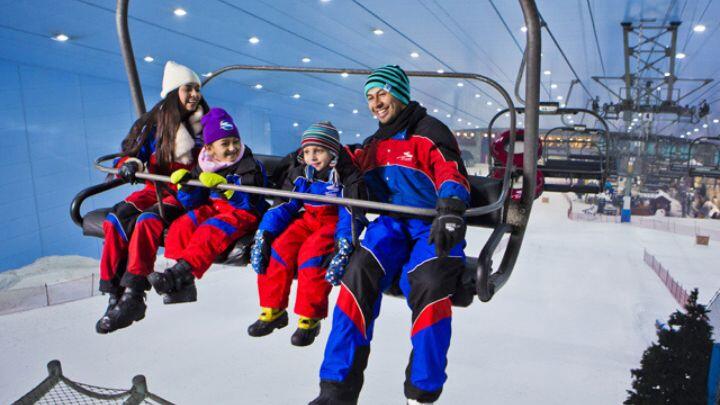 If - for some reason - the heat has you missing the winter chills back home, head to the slopes for some ski action. Yes, even in this desert oasis, you'll find cool arctic chills. You don't even have to climb a nearby mountain, simply head over to Ski Dubai and find a winter wonderland you'll not want to miss. 
Head indoors, and you'll be stunned to discover lovingly-recreated ski slopes where you can strut your stuff. In an effort to ensure genuine authenticity, you can even take a ski lift up to the top of the slopes, and every so often, a parade of penguins will grind proceedings to a halt in the cutest way possible. 
If you're a slope pro, there's no need to lug all your equipment on the plane ride over - all your skis, jackets, and boots will be provided by Ski Dubai when you enter. And for all your non-pros, they've got you covered too. Instructors are on hand to guide even the greenest of slope-goers.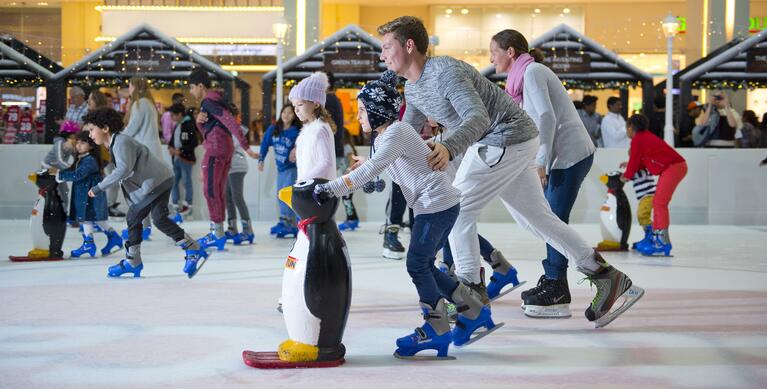 Speaking of missing the joys of winter, after wallowing in Dubai's sun and heat, you might be missing another mainstay of the chillier months - ice skating. But never fear, February traveler, because Dubai even has an Olympic-sized ice rink. You'll find it in the heart of Dubai Mall, and it's the perfect place to bust some moves, or at least try to stay upright. 
With skate hire on-site, safety marshalls on hand, and the ice being resurfaced every 2 hours, you'll enjoy a smooth and satisfying skate session. Impress the other skaters by attempting to go backward - it's the only way to get their respect.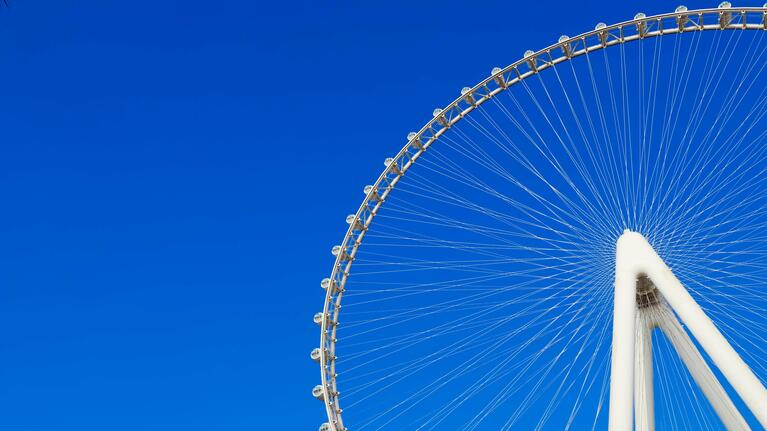 Dubai is a stunning city; that's just a warm, hard fact. The glistening of sunkissed waters, the beautiful reflective towers, and the horizon-spanning beaches are absolutely stunning. Seeing it from the ground is one thing, but the best way to see it all at once is up in the sky. So, why not ascend to the heavens and look upon the city on the world's tallest observation wheel? That's what you'll get at AIN Dubai because no one does it bigger or better than Abu Dhabi! 
Towering above the likes of The London Eye, AIN Dubai stretches up to over 820ft off the ground. So why not enter one of its 48 luxurious, air-conditioned cabins, get your cameras/phones at the ready, and snap away at some of the best views in the world? 
Keep an eye out for the likes of the Palm Jumeirah, Marina Beach, the Burj al Arab, and the striking Burj Khalifa in the distance.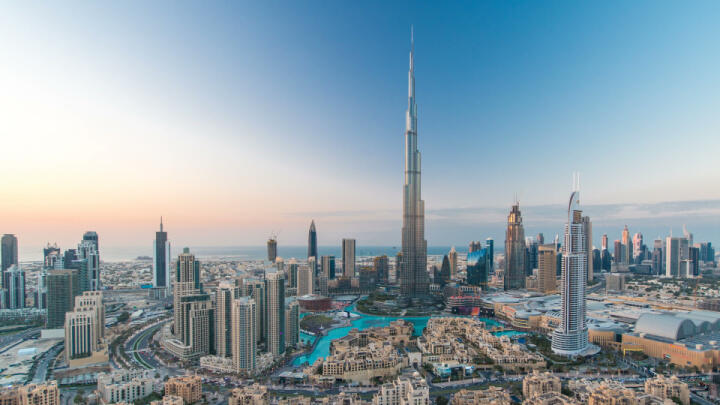 Speaking of getting high, why not ascend the aforementioned Burj Khalifa? If you thought AIN Dubai was high, wait until you see this bad boy. This isn't just any old large building; it's the largest building on the planet. 
At over 2,700ft, how will a measly human like you scale such a behemoth? Well, you'll start by entering a double-decker elevator and shooting up at over 10 meters per second. Thanks to the in-elevator media displays, even at those speeds, you'll have some time to learn about Dubai's and Burj Khalifa's history. Then, when you reach the top, you'll find telescopes with full HD cameras and high zoom, offering a unique, interactive way to learn about the Dubai landmarks and sights you'll see.
Further up, Level 125, you'll reach the viewing deck, where you can look out over the city and take as many photos of the little ant people as you like. Ambassadors are also dotted about the deck, and they'll fill you in on the history and trivia about the Burj Khalifa and Dubai skyline, too.
And that was our guide to Dubai in February! Need help planning the rest of your vacation? Check out Go City. With our All-Inclusive Pass or Explorer Pass, you can see all of Dubai's best bits when and how you want. We cover the very best Dubai attractions, so if you want all of the fun without all the fuss, we've got you covered.