Interested in visiting Dubai this summer? July might be the right month for you. Check out our guide to Dubai in July below, and see what's on offer!
Including:
Dubai weather in July
Dubai's beaches
Dubai's best water park
Cool nighttime tours
Chilled out skiing
and more!
Dubai in July: What to Expect
Dubai is notoriously warm all year round, and July is the hottest year you can visit. And when we say hot, we mean hot. On average, you can expect highs of 105°F or more and lows of around 91°F. As such, you really need to be prepared for your summer vacation if you decide to go in peak summer. 
If you're of the paler sensibility, perhaps pick another month, or plan to spend most of your time inside during the hotter hours. If you're brave and insist on July, then pack the lightest clothes you own, your largest hats, and enough sunscreen to cover yourself tenfold. Due to the high temperatures, we'll discuss some inside and outside experiences below. That way, you'll always have an escape from the intense heat and sun, should you need it. 
Dubai in July: What to Do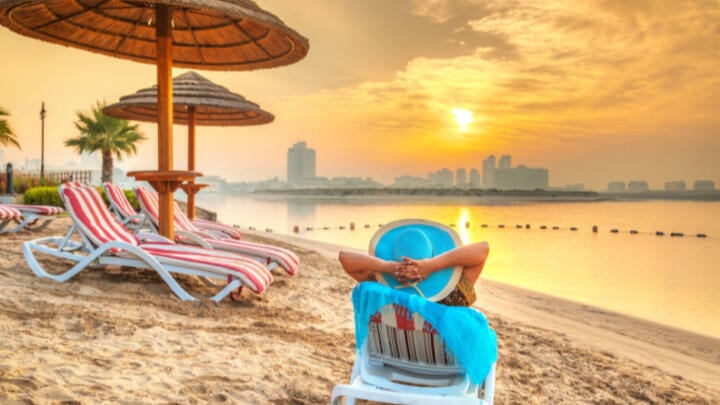 Dubai's beautiful beaches
Let's kick things off with some of the braver forays you can make into Dubai's heat. Dubai is known for many things, and its stunning beaches might just be the jewel in her crown. With endless white sand, crystal clear waters, and plenty of space to stretch out and relax, Dubai's beaches are magnificent. However, rather than heading there during the day, we'd recommend avoiding the sizzling sun and instead heading there after dark. You'll still get all the goodness of the beach, just minus the third-degree burns. 
Jumeirah Beach Residence - or JBR, is one of the city's biggest and best beaches. And while you can't swim there after dark, you can certainly lounge on its pristine beachfront through the night. 
Umm Suqeim Beach, on the other hand, does allow you to swim in its calm seas until the clock strikes midnight. Thanks to its Smart Power lighting system, the sea stays safe after the sun goes down. And, like JBR, you are free to lounge there after dark for as long as you like. 
Both are brilliant during the day, but on a sweltering July in Dubai, maybe settle for some post-sun fun instead.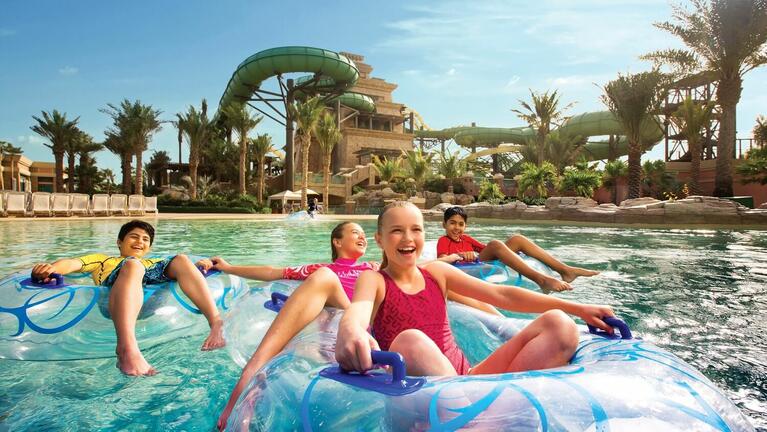 If you insist on the sun, at least compliment it with a healthy splash of cold water. At Aquaventure Waterpark at Atlantis the Palm, you'll get just that and a spoonful of fun while you're at it!
With rides such as the plummeting Leap of Faith, which drops you into a massive tube surrounded by exotic aquatic life, even adrenaline junkies are catered to! Or, if heights aren't your things, test your mettle at The Rapids, which puts you on a raft battling choppy waters for a mile. Even kids will get their fix thanks to the Splasher's Children's Play Area, 
which features tons of mini slides, climbing frames, and even tipping buckets, so they won't miss out on all the fun. 
Just make sure you bring your supplies of sunscreen with you and reapply it fastidiously. Waterslides can easily wipe the sunscreen off your back and leave you exposed to the intense sun. We speak from experience - reapply regularly! And if you need a break, they even have their own beach if you need to relax under a parasol.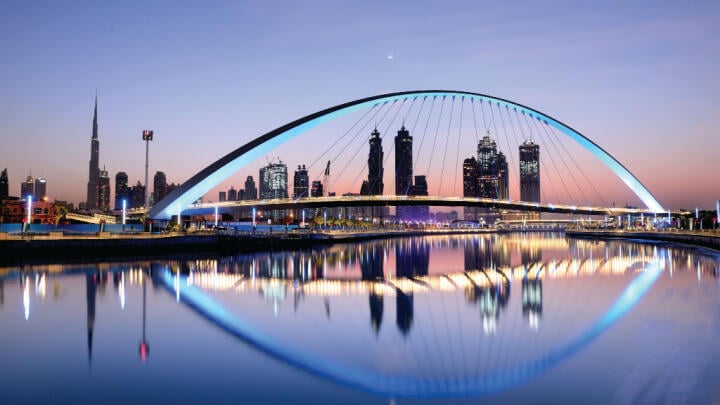 If you want to see all of Dubai's highlights but fear the sun's merciless rays, why not do so at night instead? On a Dubai Magical Night Tour, you'll get just that. 
With the cool Dubai breeze running through your hair, you'll join your guide on an open-top trip around the city. See the most recognizable Dubai landmarks, and do it all under the relative coolness of Dubai's July night sky. 
But will you see? Well, be sure to snap pictures of the grand Burj Khalifa (the tallest building in the world), Dubai Mall, the Burj Al Arab, Dubai Harbour, and more. You might not be in Dubai to see the sights specifically, but that doesn't mean you can't dedicate a cool night to learn more about them.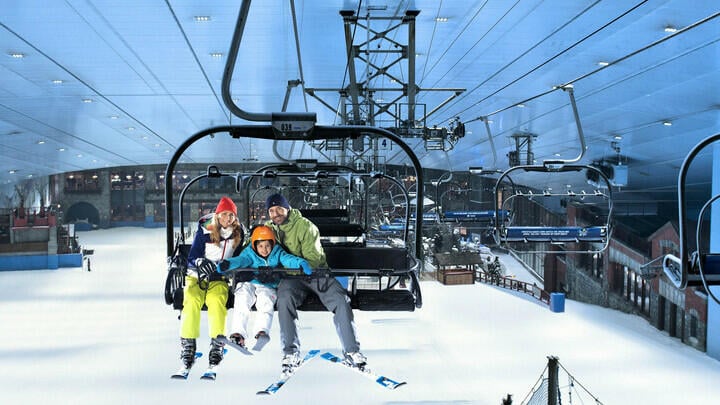 If it all gets too much and the heat has you beat, you may debate whether Dubai in July was a mistake. Should you have booked a winter holiday instead, full of snow, skis, and other chilly goodness? Well, wipe those hideous thoughts from your mind. You needn't settle for one or the other, thanks to Ski Dubai. It's the world's largest indoor ski center, and it is mind-bogglingly awesome. 
Inside, you'll discover lovingly-recreated ski slopes where you can strut your stuff. There's even a ski lift up to the top of the slopes! And every few hours, the festivities are stopped to welcome a family of penguins across the slopes. 
There's no need to pack all your ski equipment either, as everything is provided on arrival. Never skied before? Never fear; they'll teach you on-site.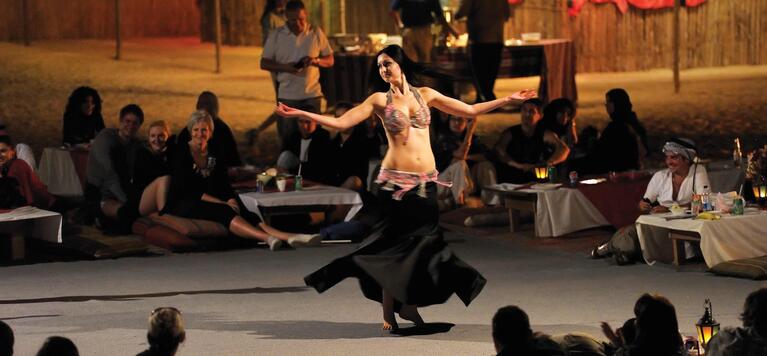 And finally, we'll end things on another evening escapade. Because, if it wasn't evident enough, we'd recommend avoiding the sun as much as you can if you visit Dubai in July. So why not try a desert safari and BBQ dinner? 
You'll receive 5-star treatment from the get-go, with a plush 4x4 picking you up from your hotel and taking you deep into Dubai's dunes. Once you reach camp, you'll be treated to a delicious BBQ featuring grilled meats, veg, and other delights. But that's not all; there are also activities and entertainment for you to enjoy long into the night. Watch a belly dancing show, smoke some authentic shisha, ride a camel, and even get some henna painted on you! Then, you'll be taken right back to your hotel when the night is over. Nice. 
And that's our guide to Dubai in July! If you're looking for more fun experiences on your Dubai vacation, try Go City. With our All-Inclusive Pass or Explorer Pass, you can see all of Dubai's best bits when and how you want.