If you're planning a vacation in Dubai, you'll need to know when to go. June might sound like the ideal month to pack your bags and jet off, but Dubai's intense summer can beat even the best of us. Check out our guide to Dubai in June below, and see if it's the perfect month for you!
Including:
Dubai weather in June
Snowy escapes
Beach beauties
Shady clubs
Water worlds
and more!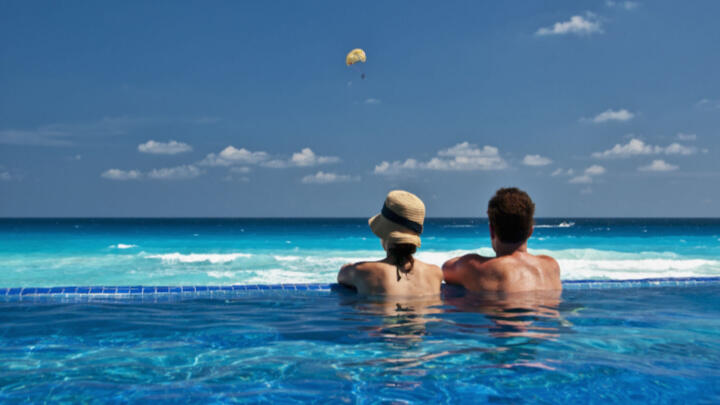 Dubai in June: What to Expect
June is the beginning of summer for those of us in the northern hemisphere. But in Dubai, what you think is summer started long ago. In this desert oasis, June is the beginning of the end times. Fire, brimstone, and every other joke you want to make about really, really hot places. Because temperatures in Dubai typically hit highs of 100°F, lows of 80°F, and not a drop of rain in sight. 
That could be a bit much for some of you. That's understandable, given what we're used to. As such, if high temperatures and 12 hours of sun aren't your thing, consider traveling in the winter months, where temperatures are much more bearable. 
It goes without saying that if you do decide to travel to Dubai during the summer, leave the jumpers and jackets at home. Pack the lightest clothes you own, the largest hats in your closet, and stuff the rest of your suitcase with factor 1000 sunscreen. It's the only way.
In the interest of keeping you alive, we're going to mix up our recommendations with plenty of outdoor, indoor, and nighttime experiences. After all, everyone needs a break. You are very welcome.
Dubai in June: What to Do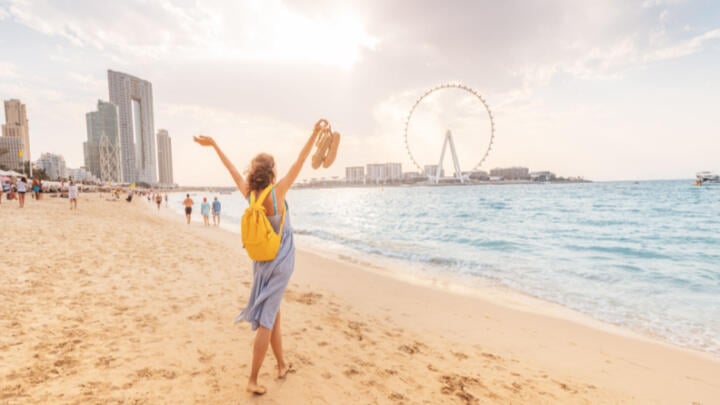 Risky Beaches
Dubai's known for its beautiful beaches, and we really have to talk about them. After all, kicking back and relaxing might be the main reason you're taking your Dubai vacation in June. However, might we suggest avoiding the searing sun and instead going at night? Your skin will thank you. Thankfully, Dubai's beaches are open 24 hours. 
Umm Suqeim Beach may be your best bet, as you can swim there until midnight. Most beaches ban swimming after dark due to the risk to swimmers, but at Umm Suqeim Beach, Smart Lights keep the shores lit until the clock strikes 12, so you can still get your lounging and swimming done in the dark. Nice.
Watery Goodness
Another way to keep cool when the heat rises is by submerging yourself in H20. But why stay static in a pool when you can blitz around at a water park? Dubai's full of brilliant places to slide, glide, and dive into the refreshing goodness.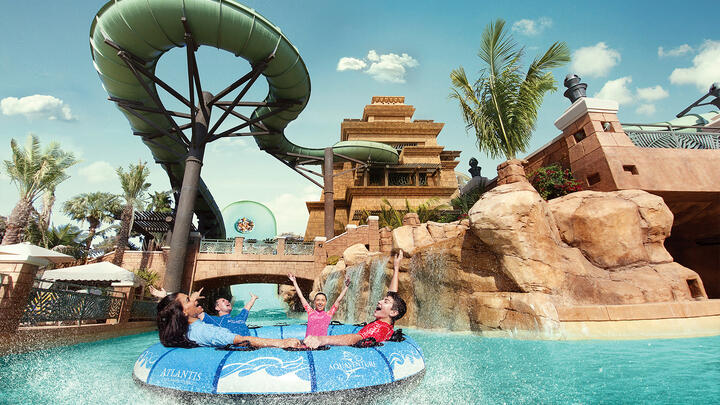 Aquaventure Waterpark at Atlantis The Palm is one of the best, with plenty of amazing rides for both kids and adults. From death-defying drops to snakey slides, they even have a kids-only area and their own beach if you need to relax.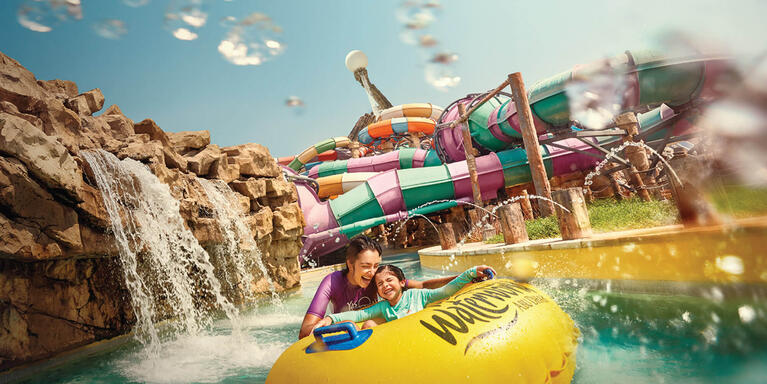 Another top water park is Yas Waterworld, but you'll need to travel to the nearby Yas Island to get there. Featuring over 40 amazing rides, including a flooded 5D Cinema experience, it's the perfect place to get your water fix.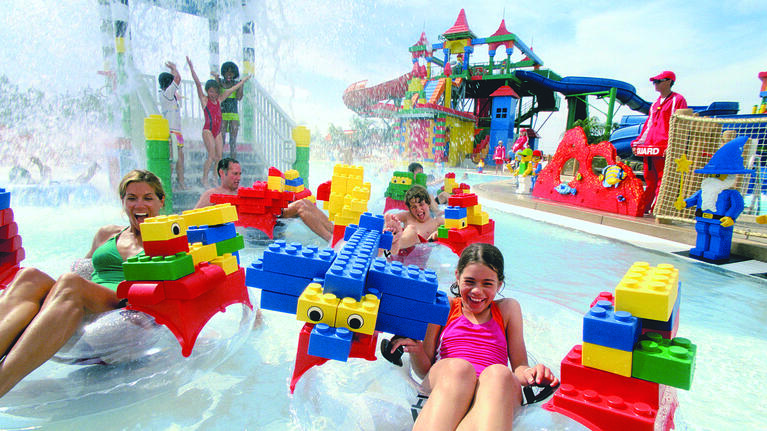 For kids, LEGOLAND® Water Park ticks all the boxes. Featuring 20 rides themed around many of their most recognizable characters, it might not be as exhilarating for adults as the other two, but there's nothing stopping you from getting on the rides and having a blast.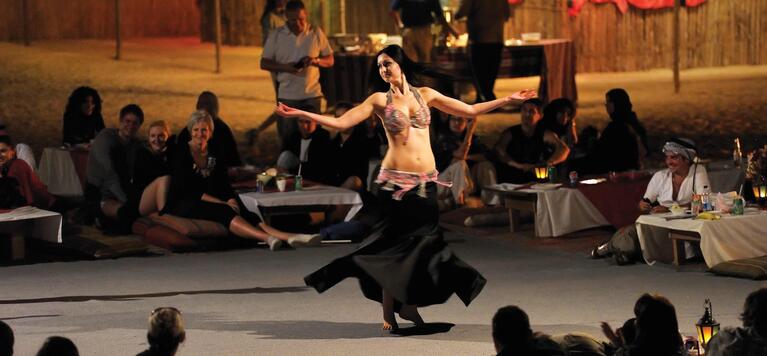 Magical desert tour
If you want to see the dunes around Dubai's outskirts but fear the mix of heat and desert could have you passing out, you're in luck. Thanks to this evening tour and BBQ experience, you can fit your experience around the weather. 
After an air-conditioned ride from your hotel to a camp in the dunes, you'll be treated to a fantastic BBQ meal with plenty of succulent meat and veg to fill you up. After the meal, the entertainment begins. Featuring belly dancing, shisha, camel riding, and henna tattoos, it's an evening packed with fun! Then, you'll be taken right back to your hotel when the night is over. You'll have the best sleep in months.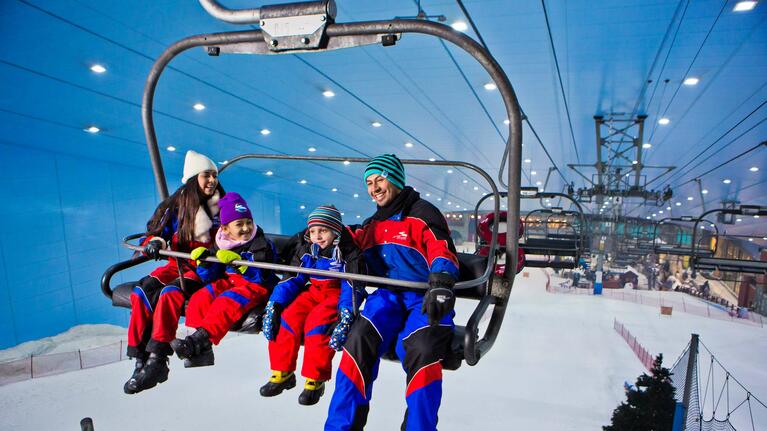 Hideaway on the slopes
When the heat wins out, it might be an extreme suggestion to up sticks and escape to a snowy paradise. But just because you take a few hours out to carve some powder doesn't mean Dubai has you beat. Far from it. 
Ski Dubai is what you seek - a winter wonderland right in the heart of Dubai.
The biggest indoor skiing center on the planet, Ski Dubai lets you ski, board, or sled down a multitude of artificial hills. Catering to newbies and experienced sorts, you'll have the chance to take a ski lift, see penguins, and get your chill on even in the oppressive June heat. 
And best of all, everything is provided for when you arrive, so there's no need to lug your skis on the plane. Easily one of the best ways to beat the June heat in Dubai.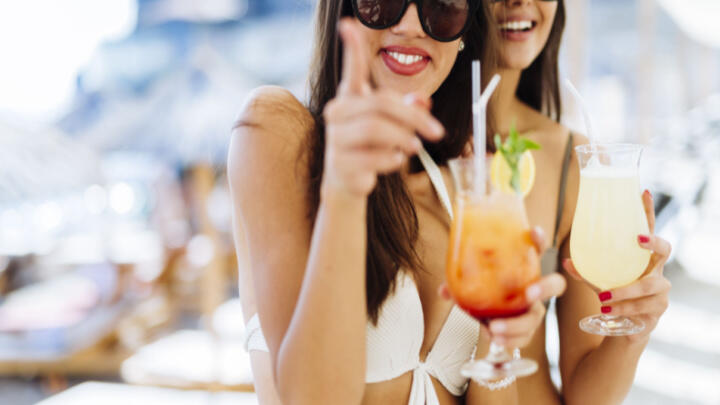 Go clubbing
And finally, we'll end our guide to Dubai in June with some more R&R. If you want all the relaxation of the beach with none of the direct sunlight, hit up one of Dubai's beach clubs. You'll find plenty of these relaxation stations in Dubai, but let's talk about our top picks below. 
Twiggy by La Cantine matches its arresting all-white facade with the biggest infinity pool of all Dubai's beach clubs, a rocking 60s aesthetic, and light Mediterranean bites that hit the spot. 
Nikki Beach marries live music and even a resident saxophonist with a refreshing drinks menu, all against the backdrop of the beautiful Pearl Jumeira coastline.
And DRIFT Beach offers not only lounge beds, cabanas, and light bites typical of the beach club scene in Dubai, it also gives you access to their own private beach. Sometimes, the draw of the sand is just too great. 
And that's our guide to Dubai in June! If the above wasn't enough, do you want to know what else awaits you in Dubai? Try Go City. With our All-Inclusive Pass or Explorer Pass, you can see all of Dubai's best bits when and how you want.