Dubai is fast becoming one of the places to visit. With its mix of larger-than-life attractions, year-round sun, and delightful beaches, it's no wonder you're considering it. But when is the best time to visit? Is Dubai in May perfect for your vacation plans? Check out our guide to Dubai, and decide for yourself if you should visit in May!
Including:
Dubai weather in May
Dubai's beaches at night
Wintery escapes from the warmth
Night delights in the desert
and more!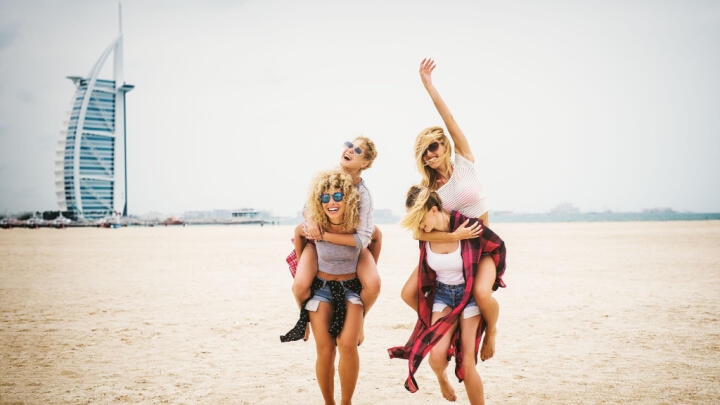 Dubai in May: What to Expect
For many of us, May is the perfect mix of spring freshness and summer sun. The flowers are well in bloom, temperatures are 75-80°F, and we're settling into the transition between jeans and shorts. Dubai does May different, to no one's surprise. It's when we really start to see the mercury rise, as you can expect highs of 99°F and lows of 73°F. High humidity and minimal rain only reinforce the intense heat. Unless you're built for it, you may want to pick a month outside of the May-September range. 
However, if May is the perfect vacation time for you logistically, you can still have a great time and see the sights while avoiding the worst of it. And if you're planning on hitting up some of Dubai's biggest attractions, you may actually have a better time of it, as tourism tends to dwindle in the summer period. That means fewer people, smaller queues, and more time for fun! So, let's explore the best way to enjoy Dubai in May. 
Dubai in May: What to Do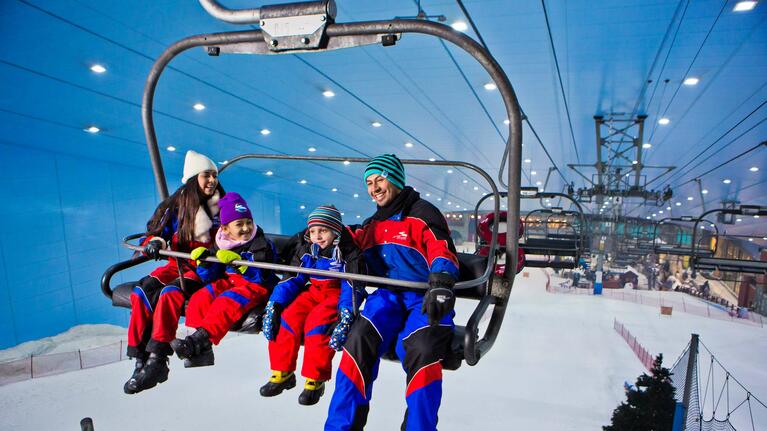 Snow Escapades
When the heat gets too much, where better to escape it than the snowy hills of a ski resort? But we're talking about Dubai here, a place with minimal summer rainfall and constant beating sun. Where in the world would one go to experience such alpine delights? Well,
Ski Dubai, of course! Dubai's very own indoor snowy paradise just happens to be the largest of its kind in the world, and you're more than welcome to strap up and get your ski on. 
This all-inclusive package ensures you needn't bring anything other than your ski brain, and the center's multiple slopes ensure you have plenty of space to get powdery. Ski lingo, baby. And if skiing's not your bag, you can snowboard, sled up, or even just sit and admire the cool temperatures. Plus, there are penguins sometimes, which is the icing on the chilly cake.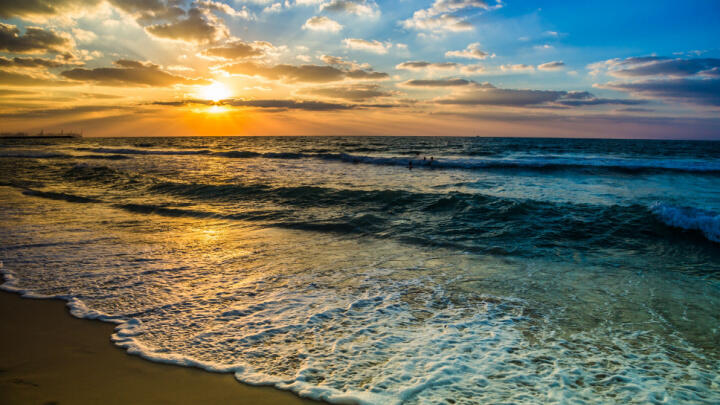 Sea, sand, and no sun?
Hitting the beach might be low on your itinerary when the sun can literally cook you in 20 minutes, but don't dismiss Dubai's sandy shores outright. Even under the cover of darkness, you can make the most of the space, and in some cases, the sea too. That's because many of Dubai's beaches are open to loungers 24/7. And in some cases, like with Umm Suqeim Beach, you can even take a dip in the sea after sundown. 
Thanks to Umm Suqeim Beach's Smart Light system, the waters stay lit until midnight, so you can safely - and legally - appreciate the cooling waters after the sun runs off. Lifeguards are still on duty, so no worries about any potential mishaps. However, once the clock strikes 12, you'll need to vacate the cooling waters and stick to the sands. But so what? Heading to a sandy paradise like Dubai, the last thing you want to do is miss the beach scene entirely. At least this way, you give your skin a rest, and ensure you don't spend the rest of your vacation in painful red lobster mode.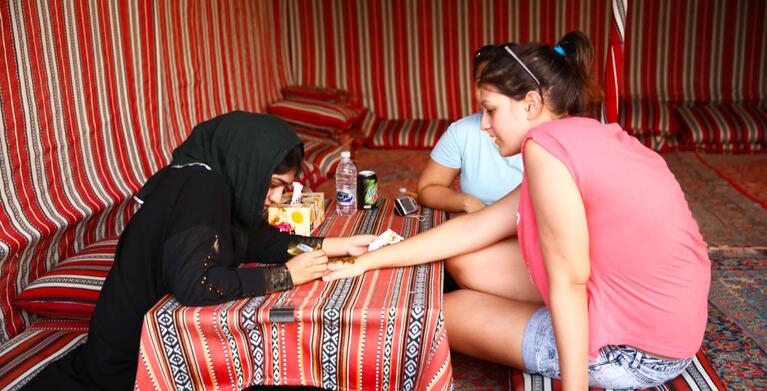 Night bites and dune gazing
Speaking of nighttime, another of Dubai's biggest draws is its magnificent dunes. As soon as you leave the outskirts of this young city, you're met with the endless, flowing sands of the beyond. And, while we wouldn't recommend heading out there on your own, they absolutely deserve to be explored. So, why not take a curated approach to exploration, and check out an evening tour and BBQ experience in the heart of Dubai's desert? 
Kicking off with a 5-star taxi service that will comfortably transport you from your hotel to the desert, you'll arrive at the party camp. Then, sit down and treat yourself to a BBQ feast of spiced meats, veg, and other delicious Dubai delicacies. When you're full to bursting, lounge back and appreciate the evening's entertainment. 
Featuring belly dancing, shisha, camel riding, and henna tattoos, it's an evening packed with fun! Then, you'll be taken right back to your hotel when the night is over. You'll have the best sleep in months.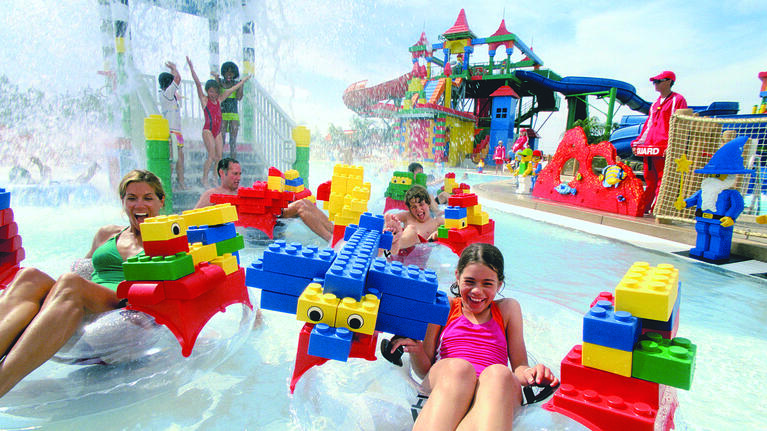 Burnt by the sun, but calmed by the waters
If you absolutely insist on meeting Dubai's unforgiving sun head-on, level the playing field at a water park. The H20 will help you cool off, at least. And good news, people, because Dubai has the water park game cornered thanks to some brilliant watery spaces. 
Aquaventure Waterpark at Atlantis The Palm is one of the best, with plenty of amazing rides for both kids and adults. From death-defying drops to snakey slides, they even have a kids-only area and their own beach if you need to relax. 
For kids, LEGOLAND® Water Park ticks all the boxes. Featuring 20 rides themed around many of their most recognizable characters, it might not be as exhilarating for adults as the other two, but there's nothing stopping you from getting on the rides and having a blast. 
Either way, our top tip to come out unscathed is to apply, apply, and reapply sunscreen regularly throughout your visit. Slides and sunscreen don't mix, as the former will scrape the latter right off. So, make sure to stay topped up!
Light bites
On hotter days, you might lose that hearty appetite. So, stay refueled with small dishes at Dubai's beach clubs. Not only will you get manageable dishes perfect for near-100° heat, but you'll have plenty of shade or air-conditioning to enjoy them in!
Twiggy by La Cantine is our pick, with its Mediterranean menu complimented by plenty of refreshing drinks and a massive infinity pool to cool off in. Perfect. 
And that's our guide to Dubai in May! Looking for more fun ideas to experience during your vacation? Try Go City. With our All-Inclusive Pass or Explorer Pass, you can see all of Dubai's best bits when and how you want.